Subron 6 ship at Seven Mile Beach, Grand Cayman, Cayman Islands
Island settings blend regal history with contemporary hotels
Palm trees sway in the breeze as ocean waves crash over crystal-blue shorelines with sprawling white-sand beaches that offer visitors peace and solitude. Don't be fooled. Although images of tropical paradise abound, many islands have a swashbuckling history that includes kings and castles, ruthless pirates and Spanish galleons filled with golden treasures.
For centuries, tropical islands captivated settlers, traders and invaders, while shipping channels lured buccaneers with great hiding places for their bounty. To this day, there are still tales of buried treasure, with diving trips to sunken schooners and beachcombing excursions for gold doubloons.
The real treasure in having a meeting on an island is not just the lore, but the people, cuisine and colony of resorts that will please even the most finicky traveler. Islands offer a blend of Old World and New World, where attendees can step back in time while enjoying modern amenities. Here's a brief guide to island history and where groups can stay while enjoying it.
Puerto Rico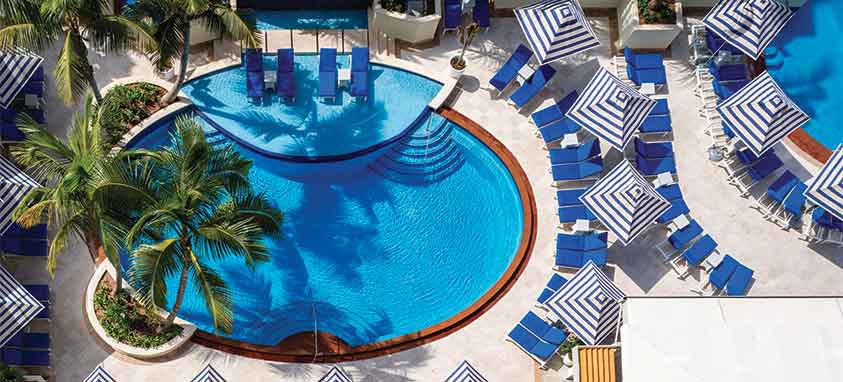 Condado Vanderbilt Hotel, San Juan, Puerto Rico
What to Know
On Christopher Columbus' second voyage to the New World, he found Puerto Rico. The island originally was called San Juan Bautista, for St. John the Baptist. The island and the town of Puerto Rico switched names much later.
Concerned about threats from European enemies, the Spanish constructed massive defensive structures around San Juan. These included San Felipe del Morro Castle, with its 18-foot-thick walls, San Cristobal and San Geronimo forts. Today, visitors can still see the remains of the 500-year-old walls, along with cobbled streets and colonial sites. Take a guided tour or just stroll the old town for a feel for life as it was centuries ago.
Where to Stay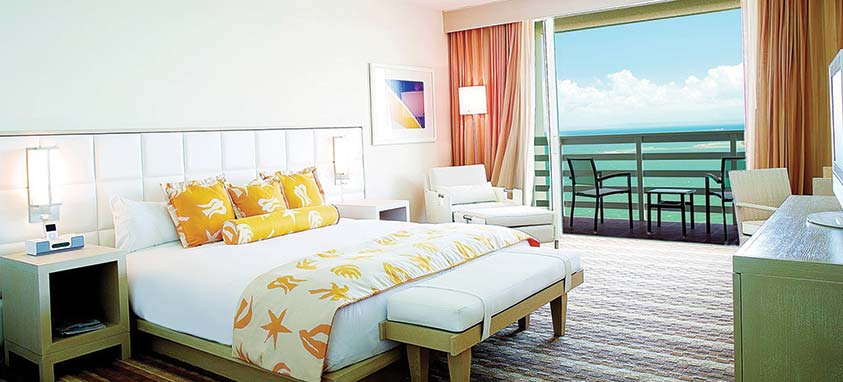 Guest room at El Conquistador, A Waldorf Astoria Resort, Fajardo, Puerto Rico
The grand dame of Puerto Rico is the Spanish Revival Condado Vanderbilt Hotel. It was opened in 1919 by Frederick William Vanderbilt, descendent of one of America's wealthiest families. A five-star hotel from the day its doors opened, it has hosted the likes of Errol Flynn, Bob Hope, Charles Lindbergh, and President Franklin D. Roosevelt and Eleanor Roosevelt. There are two 11-story towers (each floor has its own butler), with 319 guest accommodations, including 80 Commodore Suites and 40 Biltmore Suites. Groups have access to 30,000 sq. ft. of flexible meeting space, including a 5,000-square-foot terrace with ocean views.
History buffs will want to check out the 651-room Caribe Hilton, where Puerto Rico's official drink, the Pina Colada, was invented in 1954 by Ramon "Monchito" Marrero while working as a bartender. Set on a secluded peninsula between Old San Juan and the trendy Condado district, the hotel has 65,000 sq. ft. of indoor and outdoor event space that includes one of the island's largest exhibition halls. Also, minutes from the capital's historic center is Condado Plaza Hilton, with 572 guest rooms, four pools, 54,000 sq. ft. for meetings and views of the Atlantic Ocean and Condado Lagoon.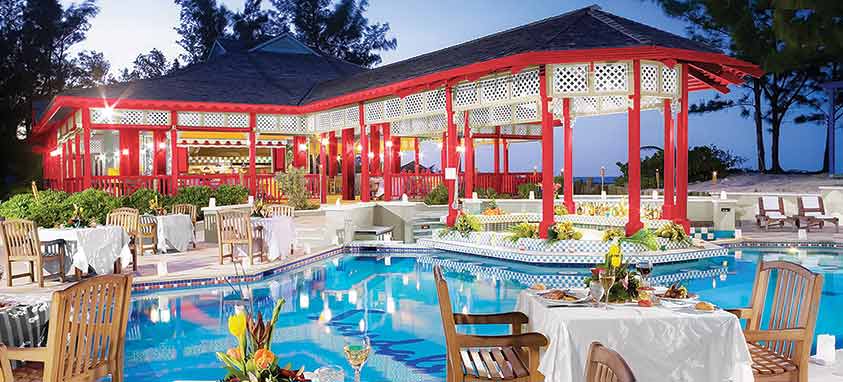 Seafood experience at Schooners restaurant, Sandals Royal Bahamian, Fajardo, Puerto Rico
Offering the best of all worlds is the recently renovated El San Juan Hotel, Curio Collection by Hilton, with easy access to historic castles and forts, and a location on Isla Verde Beach surrounded by 15 tropical acres. Look for 388 guest rooms and 40,000 sq. ft. of event space. For those who prefer casinos over castles, there's the 255-room Hilton Ponce Golf & Casino Resort, featuring golf, tennis, swimming and more than 24,000 sq. ft. of indoor and outdoor meeting, and function areas. Located on the Caribbean side of the island, the hotel is minutes from historic downtown Ponce.
Other hotels that focus on leisure over legends are the 750-room El Conquistador, A Waldorf Astoria Resort, providing 100,000 sq. ft. of event space; and the Wyndham Grand Rio Mar Beach Resort & Spa, with 400 guest rooms, two golf courses (designed by Tom & George Fazio and Greg Norman) and 100,000 sq. ft. of venue space, including a 500-acre oceanfront conference center.
Bahamas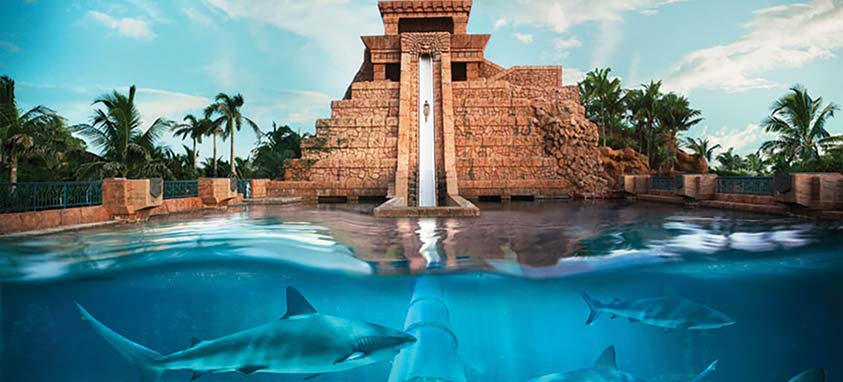 Mayan Temple slide at Atlantis Paradise Island, Bahamas
What to Know
Only 180 miles from the coast of Florida, the Bahamas is a coral-based archipelago with 700-plus islands. The northernmost are Grand Bahama and Paradise Island, the best-known destinations. The Bahamas attracted thousands of pirates in the 1600s and 1700s, the most famous being Blackbeard and Calico Jack.
Its numerous islands and shallow waters were great hiding places for treasure. At the time, Nassau was a commercial port, continually plagued by lawless seafaring men. After a royal governor was appointed to restore order, 300 pirates surrendered and the rest fled to sea. Visitors still find lots of treasure in the Bahamas in the form of luxury hotels, pristine beaches and diving excursions in search of buried treasure.
Where to Stay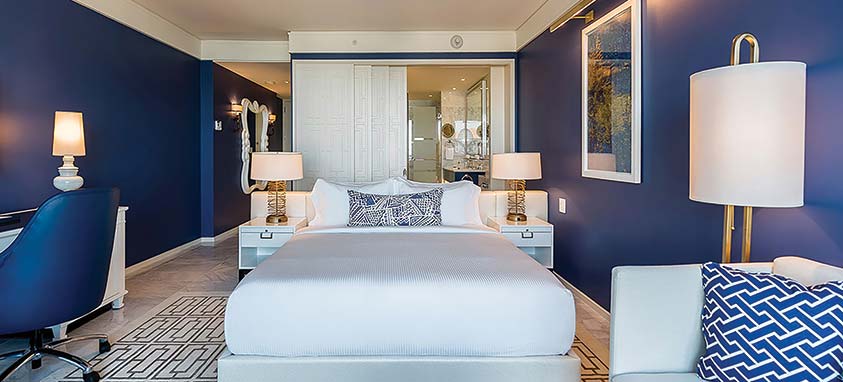 Guest room at Grand Hyatt Baha Mar, Nassau, Bahamas
The Europeans loved vacationing in the Bahamas. A favorite destination of the Duke and Duchess of Windsor was the Sandals Royal Bahamian, located at Nassau's Cable Beach. Combining the Old World charm of the 1940s and modern amenities, the hotel has 404 guest rooms, two colonnaded pools, 10 restaurants and its own offshore island. New to the resort are the River Pool Swim-up Suites, which come with their own butler. Event space includes a 6,588-square-foot ballroom.
The award-winning Grand Lucayan Bahamas recently introduced Lighthouse Pointe, a 196-room all-inclusive resort with a conference center, Colonial-style manor house and 50,000 sq. ft. of outdoor function space. Guests enjoy activities infused with the Bahamian style—from rum tastings to barefoot dancing in rhythm with the beat of a steel drum.
Atlantis Paradise Island is one of the crown jewels of the Bahamas. It has 3,805 guest rooms, its own conference center and a 50,000-square-foot ballroom. It incorporates 21 outdoor venues that integrate Atlantis' waterscape, marine habitats and beaches into 500,000 sq. ft. of function space.
New to Nassau is the deluxe Grand Hyatt Baha Mar, a $4.2 billion development that will eventually integrate three hotel brands with 2,300 total rooms. The Baha Mar was the first to open. There, guests can enjoy a luxury spa, world-class golf club, five pools and easy access to Caribbean beaches.
Hawaii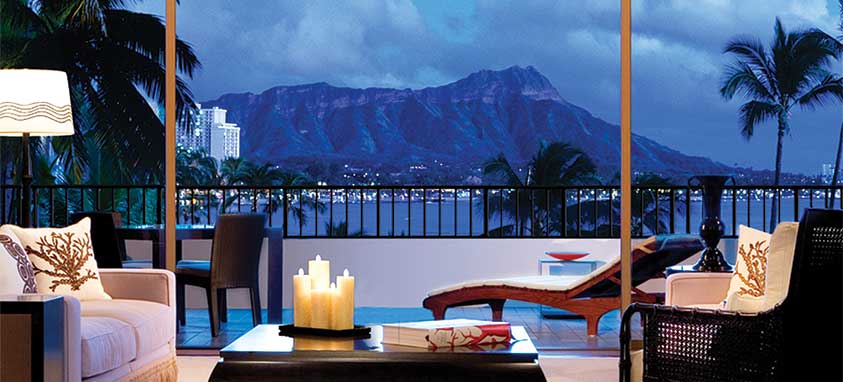 Suite with view at Halekulani, Hawaii
What to Know
Hawaii became the 50th state in 1959, but its history dates back some 1,500 years, when Polynesians landed on Hawaii Island after sailing more than 2,000 miles in canoes. Settlers from Tahiti arrived 500 years later, bringing a hierarchy based on a taboo system. Hawaiian culture flourished for the next few centuries, when hula and surfing became popular.
In 1778, British explorer Capt. James Cook landed on Kauai and introduced Hawaii to the world. A booming whaling industry followed, with more than 1,000 sailors from 400 ships taking leave in the seaside village of Lahaina, Maui. One of them was writer Herman Melville, who immortalized the trip in his novel, Moby Dick. Today, Hawaii boasts the only royal palace on U.S. soil.
Where to Stay
Hawaii is rich in historic hotels, including The Royal Hawaiian Resort Waikiki, a Luxury Collection Resort celebrating its 90th anniversary. Affectionately called "Pink Palace of the Pacific" for its pink, Spanish-Moorish architecture, the 528-room Oahu hotel was popular with dignitaries and film stars from the moment it opened in 1927. For meetings, there are five event spaces totaling 12,000 sq. ft., plus 66,000 sq. ft. of outdoor space, aptly called Ocean Lawn.
Planners looking for leisure over legacy can pop over to the 391-room Sheraton Kauai Resort in Koloa, providing more than 40,000 sq. ft. of flexible outdoor function space and more than 25,000 sq. ft. of indoor space. The 806-room Hyatt Regency Maui Resort and Spa, set on Kaanapali Beach, offers 100,000 sq. ft. of space. It features an event lawn for 500 and Monarchy Ballroom, with 18,375 sq. ft. of flexible function space.
On the island of Kauai, Koloa Landing Resort at Poipu is all about luxury. The 4,000-square foot day spa includes the island's only all-copper Ofuro Japanese soaking tub and three swimming pools with food service. Sam Choy-affiliated Holoholo Grill features gastro-inspired Hawaiian comfort food. Some 39,000 sq. ft. of indoor and outdoor space accommodates up to 1,000 people. The beachfront Grand Hyatt Kauai Resort and Spa includes a Robert Trent Jones Jr. golf course and open-air Anara spa. More than 65,000 sq. ft. of indoor and outdoor meeting space showcases the ocean and mountain views.
U.S. Virgin Islands
What to Know
The Spanish took control of the Virgin Islands in the 15th century. They named the islands Las Once Mil Virgenes—11,000 virgins—in honor of Ursula, martyred by the Huns for refusing to marry a pagan prince. However, Danes developed the islands.
Plantations proliferated. St. John and St. Croix maintained a thriving agricultural economy, while St. Thomas developed as a trade center. Little was heard from the area until the 20th century, when the United States purchased the islands from Denmark for $25 million in gold. Tourism grew and today the U.S. Virgin Islands offer a vibrant setting—a perfect balance of work and play.
Where to Stay
For sheer history, head to The Buccaneer on St. Croix, a bright-pink 340-acre hotel originally built in 1653. It offers 138 guest rooms and nearly 3,000 sq. ft. of event space. The Sugar Mill, a historical structure originally used to grind sugar cane, takes groups of 100 on tours.
St. Peter Great House & Botanical Gardens on St. Thomas is located 1,200 feet above Hull Bay and Magens Bay, with spectacular views of more than 15 islands. There are two 12,000-square-foot ballrooms for 650 total. Also on St. Thomas is Frenchman's Reef & Morning Star Marriott Beach Resort, with 478 rooms and more than 60,000 sq. ft. of event space.
Jamaica
What to Know
Jamaica was originally inhabited by Arawak Indians, who came from South America 2,500 years ago and named the island Xaymaca ("land of wood and water"). The Spanish arrived in the 15th century after hearing about Jamaica from the Cubans, who described it as "the land of blessed gold."
The Spanish ruled the island until the English took possession, bringing attention to the buccaneers. An unruly and ruthless bunch, they stored their loot of gold, silver and jewels at Port Royal until the port fell into the sea during an earthquake.
Where to Stay
Set on the legendary 18th-century Rose Hall tropical estate in Montego Bay, Hilton Rose Hall Resort & Spa combines the best of Old World and new in an all-inclusive resort. While maintaining the grandeur of its historic beginnings, the hotel has 495 guest rooms, 44,000 sq. ft. of meeting space and an oceanfront location with access to the longest white-sand beach in Jamaica.
Grand Cayman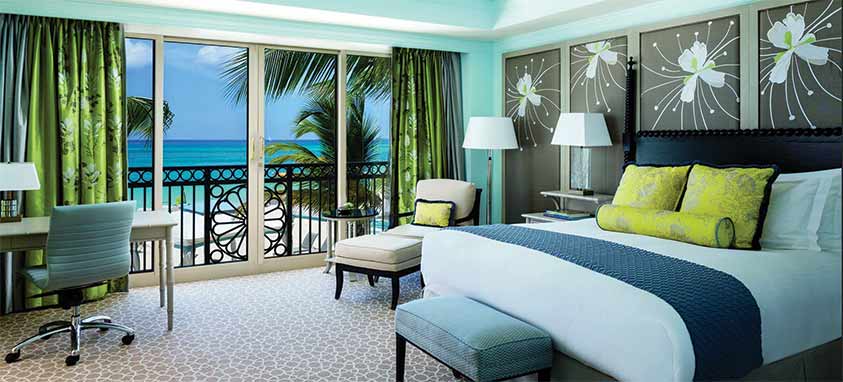 Guest room at The Ritz-Carlton, Grand Cayman, Cayman Island
What to Know
Christopher Columbus sighted the Cayman Islands in 1503 and named them Las Tortugas after the sea turtles swimming in the waters. Sir Francis Drake, the first English visitor, arrived with his crew in 1586, lured by the turtles when searching for fresh meat. Today, Grand Cayman, the largest of the Cayman Islands, attracts visitors with its diving (for sunken galleons), recreation and balmy evenings with palm trees swaying on the beach.
Where to Stay
Fronting the famed Seven Mile Beach is The Westin Grand Cayman Seven Mile Beach Resort & Spa, which recently completed a multimillion-dollar renovation to the main lobby, meeting rooms and 343 guest rooms. Wellness is the hotel mantra. The renewed spaces, including 9,000 sq. ft. of indoor space and 73,000 sq. ft. of outdoor space, are designed to energize guests.
Foodies will find lots to entice at The Ritz-Carlton, Grand Cayman, including acclaimed chef Eric Ripert's Caribbean eatery and an interactive culinary studio. The resort hosts the annual Cayman Cookout (see sidebar) featuring Ripert and celebrity chefs such as Anthony Bourdain and Jose Andres. Situated on 144 waterfront acres, the resort has 13,000 sq. ft. for functions.
New to Grand Cayman is the Kimpton Seafire Resort & Spa, with 266 guest rooms and 20,000 sq. ft. of indoor and outdoor facilities.
Golden Isles of Georgia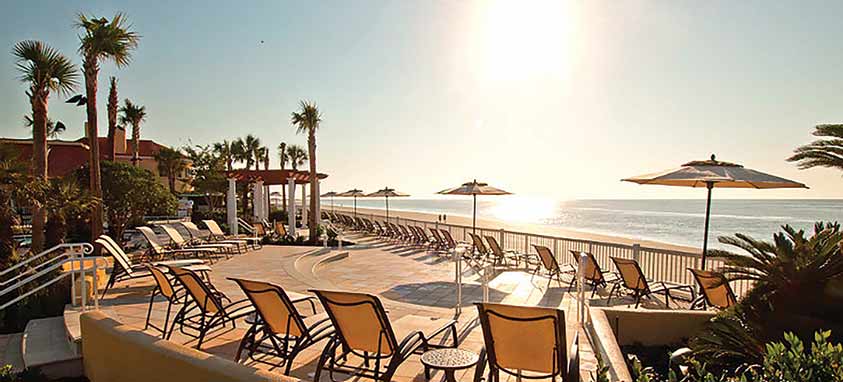 The King and Prince Beach & Golf Resort, St. Simons Island, Georgia
What to Know
The four barrier islands along the coast of Georgia—Sea Island, St. Simon, Little St. Simon and Jekyll Island—offer natural beauty and a long and legendary history. Dubbed the Golden Islands in 1717, the name was later changed to the Golden Isles.
In 1924, Sea Island Company purchased one island, naming it Sea Island. A causeway was built, allowing Sea Island to be developed as a resort. When Sea Island Resort opened in 1928, thousands motored over from the mainland to see the hotel. Sea Island's reputation as a sophisticated hideaway attracted celebrities from all over the world, including Eugene O'Neill, Somerset Maugham, Lillian Gish, John D. Rockefeller Jr., William Boyd (Hopalong Cassidy) and Jimmy Stewart. Today, the same guests who came as children bring their grandchildren.
Where to Stay
For unhampered luxury, nothing beats Sea Island Resort, home to The Cloister at Sea Island, a luxury hotel within the resort and The Lodge at Sea Island, a boutique hotel with English-style manor guest rooms. Groups have access to 390 guest rooms and more than 87,000 sq. ft. of flexible event space—the same space where world leaders met for the G8 Summit in 2004. The Georgian Room is the only Forbes Five Star restaurant in the state.
The King and Prince Beach & Golf Resort on St. Simons Island is an Old World gem built in the Mission Revival style, with 195 guest rooms, an 18-hole golf course and 10,000 sq. ft. of oceanfront space. The hotel opened as a seaside dance club in 1935 and is now listed on the National Register of Historic Places.
Dominican Republic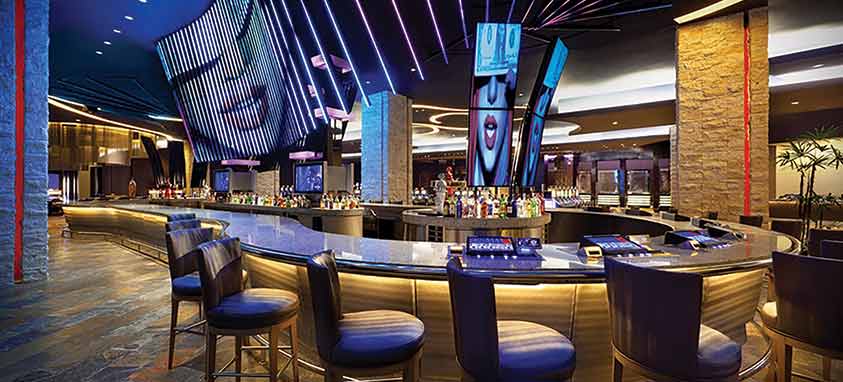 Hard Rock Hotel & Casino Punta Cana, Dominican Republic
What to Know
Christopher Columbus spotted what is now the Dominican Republic toward the end of his first voyage to the Indies in 1492. He named it La Espanola. His son, Diego, was its first viceroy. The capital, Santo Domingo, founded in 1496, is the oldest European settlement in the Western Hemisphere. Early inhabitants were the Tainos ("friendly people"), who introduced the world to sweet potatoes, peanuts, guava and pineapple, still popular in island cuisine.
Where to Stay
The 1,799-room Hard Rock Hotel & Casino Punta Cana is a time-honored destination for its unlimited dining, casino, 13 pools and 65,500 sq. ft. of meeting space. Outdoor lovers can take refuge in the tropical gardens.
The 1,600-room Barcelo Bavaro Palace is enveloped by tropical surroundings. The resort has four swimming pools and 11 restaurants. A convention center with 123,785 sq. ft. of event space has 13 meeting rooms; the largest accommodates 5,000 guests.
---
Kristine White is a California writer who spent many years attending offsite meetings and now enjoys writing about them.
---
Conventional Convening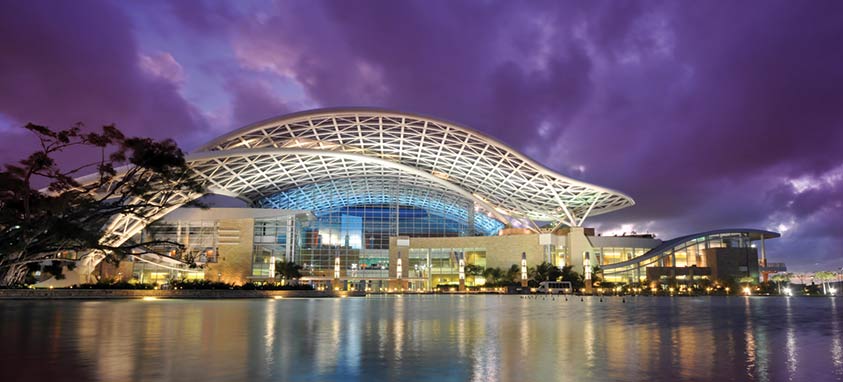 Just steps from Waikiki, Hawaii Convention Center is a state-of-the-art facility on Oahu with waterfalls, lanais, fishponds and more than 1.1 million sq. ft. of meeting space, easily accessible from 30,000 guest rooms.
The center's open-air design encompasses a 200,000-square-foot exhibit hall, 35,000-square-foot ballroom and 47 meeting rooms. Nearby is the sprawling 2,860-room Hilton Hawaiian Village, which has more than 150,000 sq. ft. of indoor and outdoor event space on 22 beachfront acres.
The only oceanfront convention center south of New Jersey, Jekyll Island Convention Center in Georgia has 128,000 sq. ft. of meeting space, including a ballroom and 11 breakout rooms. Nearby, The Westin Jekyll Island has 200 rooms and an additional 5,350 sq. ft. of meeting facilities.
Puerto Rico Convention Center in San Juan (pictured) is one of the largest convention centers in the Caribbean, with 600,000 sq. ft. of space that includes a 152,700-square-foot exhibit hall and 39,500-square-foot ballroom. Located in the heart of San Juan, its outdoor venue offers spectacular views of the city, from the old fortress wall surrounding Puerto Rico's capital to the trendy Condado district.
---
Sampling Traditional Cuisine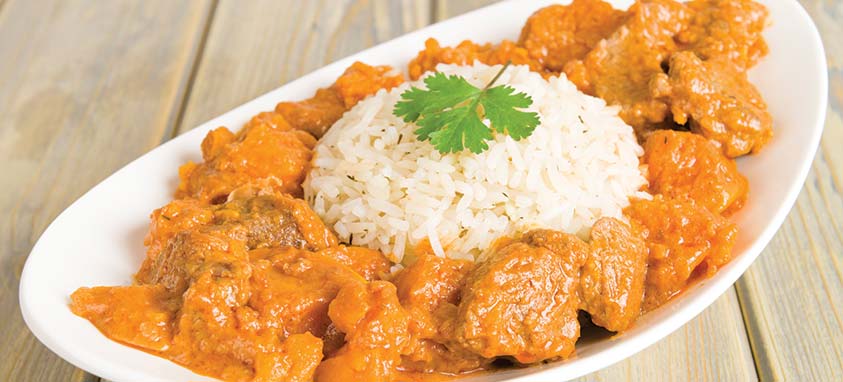 Foods introduced by islanders are still popular. Anything you make with coconut, plantain, cassava, yams, turtle meat, rice and peas, tuna, snapper, mangos and Mahi-mahi has been prepared in the Cayman Islands. Set your taste buds on conch (pronounced "conk") stew, Cayman-style beef and an old-fashioned fish fry. For an all-star food fest, don't miss the annual Cayman Cookout at The Ritz-Carlton Grand Cayman, with celebrity chefs such as Eric Ripert, Anthony Bourdain and Jose Andres. Guests can taste, talk and tipple while watching as food is prepared.
When visiting the U.S. Virgin Islands, don't miss the pumpkin fritters, kallaloo (related to gumbo and believed to bring good luck in the new year), potato stuffing and red grout (a tapioca dessert introduced by the Danes). Guests can try their hand at Old World coal pot cooking at the ruins of Annaberg Plantation in St. John's National Park.
Jamaica-bound foodies should try goat curry (pictured), fried dumplings, jerk and salt fish. A good place to partake it all is The Pelican Grill, a family-run establishment serving locals in Montego Bay for nearly 50 years. Groups of 65 can enjoy water views while savoring brown stew, Jamaican rice, Bammy (cassava flatbread) and stuffed lobster.