How AI came to life at meetings
Artificial Intelligence (AI) in the hospitality and meeting realm is very 2017, but the early seeds were planted decades ago. The imparting of human reasoning to inanimate objects can be traced back to Disney's 1940s classic, Pinocchio, in which a wooden marionette puppet came to life and became a real boy.
Science fiction films and TV shows such as Steven Spielberg's 2001 Oscar-nominated movie, A.I. Artificial Intelligence, and Extant (featuring Halle Berry) both touched on robotic children developing true emotions and attachment towards human parents. Life is imitating art and AI is now infiltrating travel, hotels and events.
According to the Global Trend Study conducted by Tata Consultancy Services (TCS), 84 percent of companies deem AI as "essential" and 32 percent predict that by 2020, AI's biggest impact will be in the areas of sales, marketing or customer service. "As companies begin to gain a better understanding of AI's application for business, they will realize the significant impact of this transformative force," says K Ananth Krishnan, chief technology officer for TCS.
AI at Meetings
Eventbrite blogger Mark Kelliher points out that meeting professionals can utilize AI as a matchmaking tool. The technology can collect data from social media profiles of attendees ahead of time to recommend who should network with whom and which panels and breakouts are best-suited for each guest. He said that chatbots—a computer program designed to simulate conversation with human users, especially over the internet—learn from previous interactions and predicts that in the future, event apps might be replaced by Facebook Messenger chatbots.
"We've found that 55 percent of people surveyed say they made a connection using our AI matchmaking engine that they wouldn't have made otherwise," Kelliher says. The algorithmic Deep Learning of AI can also help event professionals make sure the venue has enough food and beverages, according to Kelliher, because the AI would be able to anticipate the needs based on the number of people attending.
AI Checks in at Hotels
AI is slyly blooming at The Cosmopolitan of Las Vegas. The luxury hotel became home to Rose, a sassy and snarky chatbot, in January. Upon check-in, hotel guests are provided with a phone number to text Rose 24/7 for art tours, linen, restaurant recommendations and more. Radisson Blu Edwardian Hotels launched a similar text-based chatbot named Edward in May 2016.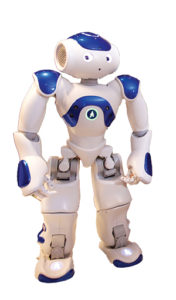 "As our resident mischief-maker, Rose is an expression of our luxury-with-a-wink take on hospitality," says Mamie Peers, senior director of digital, social and eCommerce at The Cosmopolitan of Las Vegas. "Rose uses her wit, charm and bold personality to help guests have a better time. She is uniquely designed to move guests around the resort and surprise them along the way. What better way to experience our eclectic collection of art than through an all-knowing personal guide?"
Connie, named after Hilton's founder Conrad Hilton, took up residence at Hilton McLean Tysons Corner hotel in Virginia in March 2016. In collaboration with IBM, the Watson-enabled robot interacts with hotel guests in the lobby to provide them with tourist information using WayBlazer's travel database, restaurant referrals and hotel amenities. Connie's wealth of knowledge will grow as increasingly more guests ask her questions.
"We're focused on reimagining the entire travel experience to make it smarter, easier and more enjoyable for guests," says Jonathan Wilson, vice president of product innovation and brand services at Hilton Worldwide. "By tapping into innovative partners like IBM Watson, we're wowing our guests in the most unpredictable ways."
AI in Guest Rooms
In December, Wynn Las Vegas paved the way for AI in guest rooms, becoming the first hotel to announce plans to install Amazon's Echo in all 4,784 rooms by the summer. The system's Alexa responds to voice commands to control hotel room functions and will offer personal assistant capabilities in the future.
"If I have ever seen anything in my 49 years of developing resorts that has made our job of delivering a perfect experience to our guests easier and help us get to another level, it is Alexa," says Steve Wynn, chairman and CEO of Wynn Resorts. "The ability to talk to your room is effortlessly convenient."
According to Skift, Best Western followed in Wynn's footsteps by testing out Amazon Dot in about a dozen locations beginning in April.
"If you think about the capabilities of a Dot, not only can you leave a wake-up call, have it playing music, or tell you the time, but you can use that to communicate with hotels, right?" said David Kong, CEO of Best Western Hotels & Resorts in a Skift interview. "You can order room service from that. You can report something that's not working, and the staff can use that, too."