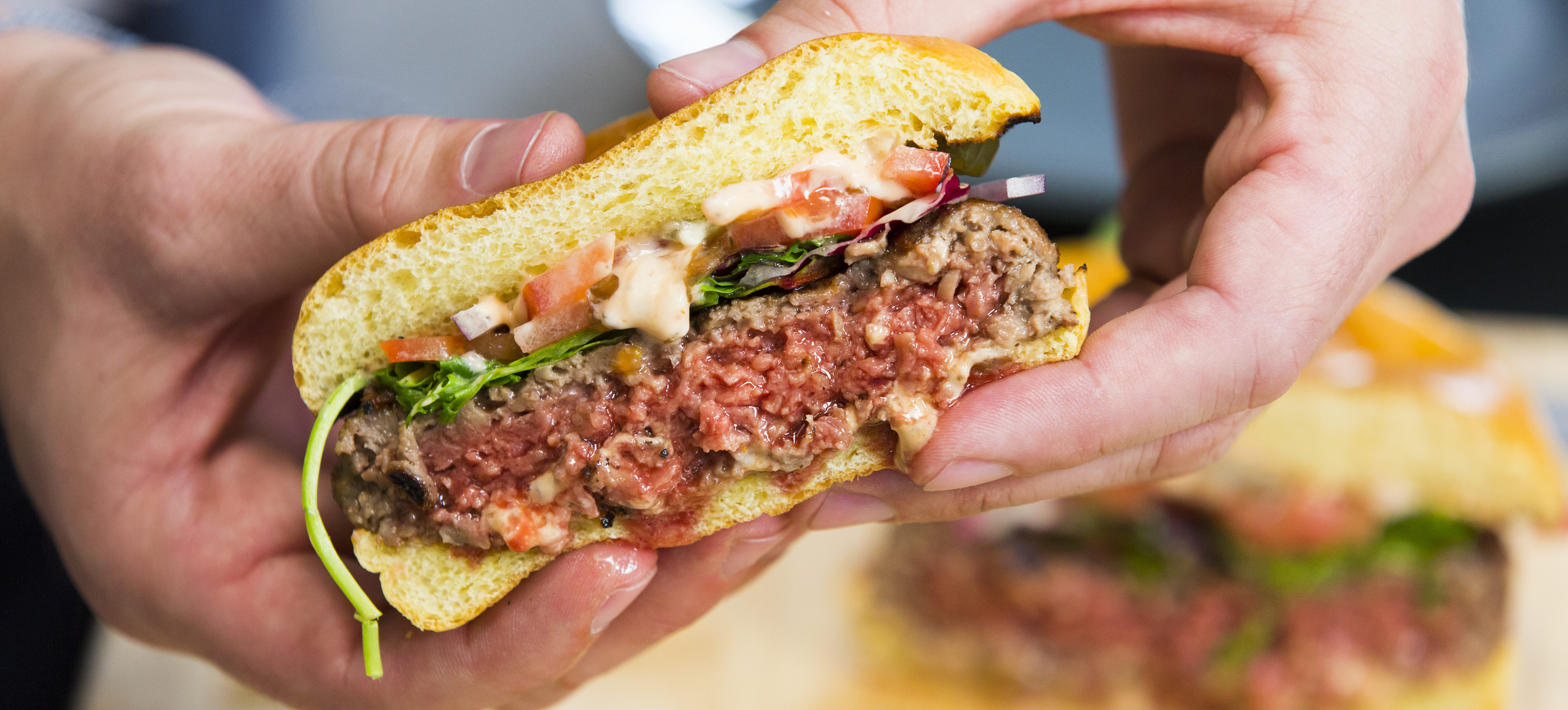 The Paris Climate Accord summit in 2015 got Patrick Brown thinking. At the summit's meals, he observed, even the world's most famous climate activists could not wean themselves from their steaks. (Livestock adds about as many greenhouse gases to the air as global transportation.) There must be a healthy meat substitute, he decided, that satisfies our caveman cravings—which led Brown, now CEO of Redwood City, California's Impossible Foods, to unveil the Impossible Burger in 2017. Its secret sauce: heme, a molecular building block that gives meat its sizzly, juicy meatiness. Soybean roots contain the same compound. Even earlier, another California company, Beyond Meat, launched the Beyond Burger, which "bleeds" from beet juice. Both faux-meats are appearing on hotel menus globally.
The signature Beyond Meat burger is dressed with grilled red onion, organic heirloom tomato, house-made ketchup, green apple and cabbage slaw, and pickled fresno chile. The AAA Four Diamond and LEED Gold-certified property is listed on the National Register of Historic Places and has more than 7,000 sq. ft. of meeting and outdoor patio spaces. It was originally constructed in 1939 by Conrad Hilton as the tallest building in New Mexico.
Ironically, noted head-to-tail meataholic Chris Cosentino was among the first chefs to embrace Impossible Burger, at his San Francisco Cockscomb. He did the same at Acacia House at this 59-room luxury wine country hotel. If you want to be schizophrenic, you have the option of adding foie gras to the standard toppings of lettuce, gruyere cheese, tomato, caramelized onion, pickles, Dijon mustard and "special sauce." The property boasts 5,480 sq. ft. of meeting space.
When ordering Impossible Burger at this 74-room hotel's Allday ("sundries market meets high-end coffee bar/restaurant"), you're asked how you want it cooked. Medium-rare is the best answer. It comes with vegan cheese and mayo, plus avocado, spinach and tomato. "It's not geared toward actual vegan customers," Hans Luther, Unscripted's general manager, told a local reporter, but is meant to get carnivores to "think about the impact of the meat we eat."
Towering 102 stories above bustling Victoria Harbor, this was the first property in the luxury brand to put Beyond Burger on the menu, in partnership with Green Monday, an Asian campaign to encourage giving up meat at least one day a week. The five-star kitchen pairs this "ultimate vegan luxury" with kimchi, beet hummus and avocado puree. Killer Hong Kong views complement the 17,000 sq. ft. of meeting space.