Arch at Birmingham Botanical Gardens
Home to the Gardens of Collections, Gardens of Nature and Gardens of Culture, Birmingham Botanical Gardens is Alabama's largest organic museum, with miles of tranquil paths and more than 30 creative outdoor sculptures. The gardens were voted the third-best free attraction in America by USA Today in 2016.
Birmingham Botanical Gardens boasts an array of plants in various gardens and greenhouses. Guests are enamored of the formal rose garden—featuring a vast array of colors and fragrances—before stepping into the tropical greenhouses, which are reminiscent of lush landscapes.
"Over 67.5 acres, the gardens features 12,000 different plants in more than 25 unique gardens," says Blake Ells, public relations coordinator. "The gardens features the only public horticulture library in the U.S., conservatories, a wildflower garden, two rose gardens, the Southern Living garden and Japanese Gardens, with a traditionally crafted tea house. Education programs run year-round, and more than 10,000 schoolchildren on average enjoy free science-curriculum-based field trips annually."
Located at the foot of Red Mountain, bordering Lane Park, the gardens offer free admission from sunrise to sunset, and attract more than 350,000 annual visitors. With splendid indoor and outdoor event venues, they provide an ideal setting for lectures, meetings and conferences.
One prime site for large groups is the 60,000-square-foot Garden Center, the region's horticultural hub, with numerous meeting rooms. Overlooking Rushton Garden's waterfall and bistro setting is the Hodges Room, for smaller events—and combined with Strange Auditorium, there's plenty of space for a larger gathering. Also, Linn-Henley Lecture Hall can comfortably seat 300 guests.
Birmingham Botanical Gardens is one of the many prime attractions in the city.
"Downtown Birmingham continues to enjoy a remarkable renaissance," says J. John Oros Jr., president and CEO of Greater Birmingham Convention & Visitors Bureau. "The resurgence is of interest to convention planners because so much of the activity is in the vicinity of the Birmingham-Jefferson Convention Complex."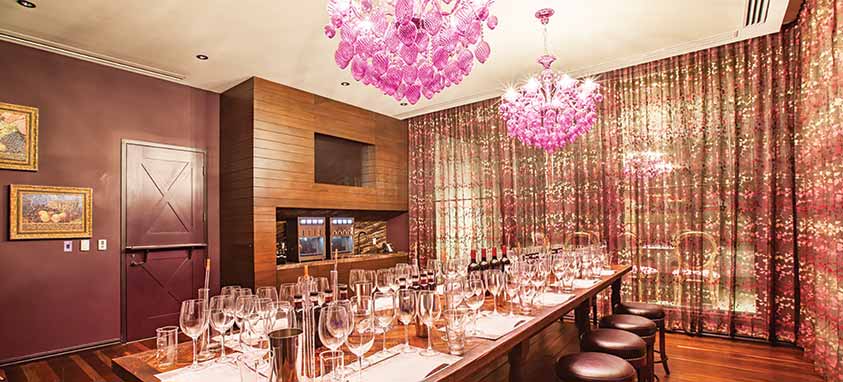 Wine tasting room at Grand Bohemian Hotel Mountain Brook, Birmingham
Craig Collins, an education administrator for Alabama State Department of Education, lauds the convention complex. "I always look forward to having events there," he says. "The staff—beginning with sales and extending all the way to event management—listens, responds and works to always exceed my expectations."
Around a dozen miles away in nearby Hoover is a 30-acre haven that once belonged to noted horticulturist Eddie Aldridge. The attraction, Aldridge Gardens, presents a selection of hydrangeas, including Aldridge's own patented Snowflake Hydrangea. The city of Hoover has since claimed it as its official flower.
Functional rental space includes a neo-classical 2,000-square-foot pavilion with an adjoining patio, amphitheater seating and a shade garden set beneath massive trees, which is considered a separate venue. The original Aldridge House now serves as a meeting site for smaller groups with a conference room for 16 to 20 attendees, an 877-square-foot living/dining area used as a gallery, as well as a kitchen and sun porch.
Art in the Gardens, presented by Aldridge Gardens, includes a rotating indoor art gallery. Visitors can enjoy horticulture classes and seminars, plant sales and live music, as well as tours of the property. Other features include a 6-acre fishing lake, a walking trail, an outdoor pavilion and the Aldridges' former home, which has been converted into an event venue and art gallery.
---
The Heaviest Corner on Earth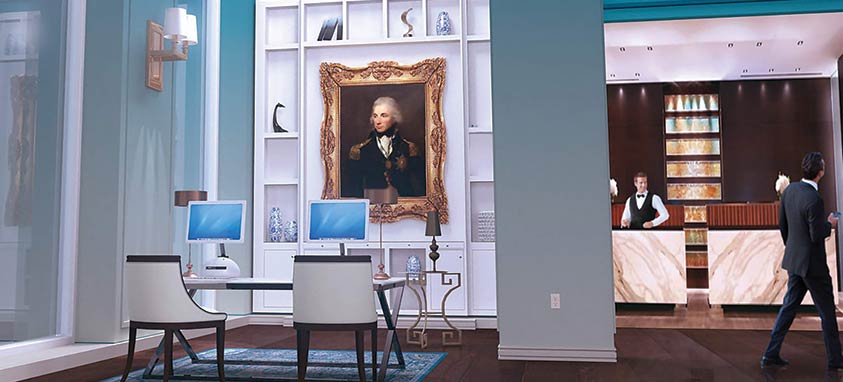 Lobby at Empire Hotel

Boasting four of the tallest buildings in the South in the early 20th century, the corner of 20th Street and First Avenue North in Birmingham became known as the "Heaviest Corner on Earth." The corner included the 10-story Woodward Building (built in 1902), 16-story Brown Marx Building (1906), 16-story Empire Building (1909) and 21-story American Trust and Savings Bank Building (1912).
In 1985, a marker was placed by the Birmingham Historical Society outside the Empire Building, designating this group of four properties that has also been listed on the National Register of Historic Places.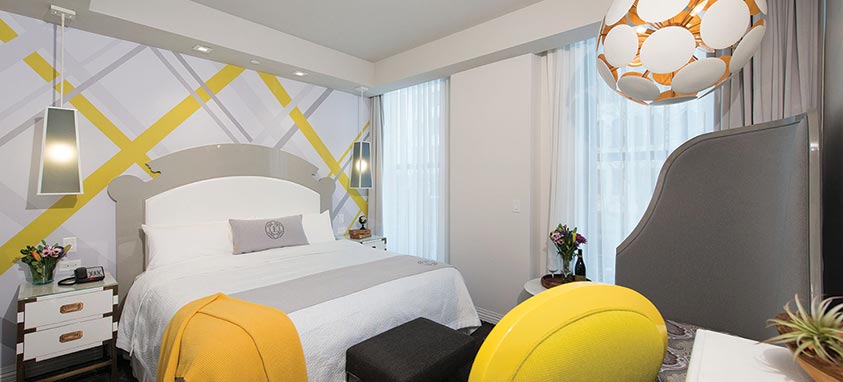 Guest room at Empire Hotel

The Empire Building is undergoing extensive renovations to soon become Empire Hotel, scheduled to open in late 2017. A new luxury Marriott hotel, it will provide 117 guest rooms, an upscale restaurant, meeting space and a rooftop bar.
Further Reading: