The result of this ongoing transition is an unprecedented renaissance in U.S. downtowns, underwritten by a combination of public and private funding and spurred by the growth of the technology industry—not to mention vision and community process. Fortunately, the foundations for these renewals were often in place: a multitude of architectural assets, underutilized land available for private-sector development and, for many cities, appealing waterfront locations.
As it turns out, what's good for millennials is good for meetings. This well-educated, tech-savvy generation "has already been changing the face of the meetings and conventions industry," spurring the use of social media and new technologies to help streamline and simplify the meeting planning process," says Tom Noonan, president and CEO of Visit Baltimore.
But now, with their urban lifestyle preferences, millennials are also changing the face of meeting destinations. Here, we take a look at five downtowns that have been revitalized and shaped, in part, by this youthful infusion.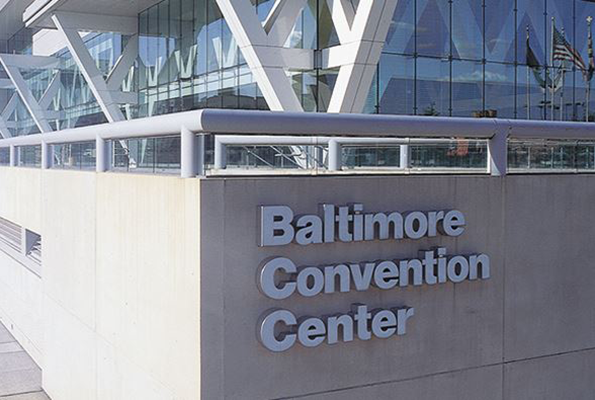 Baltimore Convention Center
Baltimore
While there are no official numbers for millennials residing in Baltimore at this time, there's plenty of anecdotal evidence that their presence is growing, according to Michael Evitts, vice president of communications for Downtown Partnership of Baltimore. Census data reveals that the oldest downtown neighborhoods were the fastest growing in the city, and the research shows that much of this growth is happening in former office towers that are being converted to apartments, where "the majority of these residents are either graduate/professional school students or young professionals, and most of them have moved here from outside the region," Evitts says.
DPB is also hearing that major employers, such as Legg Mason, T. Rowe Price, Under Armour and several law and accounting firms, have moved into downtown Baltimore or expanded their presence there because "this is where their best and brightest workers want to be—and it gives them an edge in recruiting millennials versus a suburban location," Evitt says.
And why wouldn't millennials want to be downtown, with sports venues such as M&T Bank Stadium and Oriole Park at Camden Yards, the new Baltimore Shakespeare Factory, and the new urban, two-story Horseshoe Baltimore casino (with two celebrity chef restaurants)—not to mention the famed Inner Harbor and all its attractions.
Dining and entertainment opportunities are within walking distance of one another, also to Baltimore Convention Center (300,000 sq. ft.), which is linked by overhead walkways to the Inner Harbor. The free Charm City Circulator bus can take you to and from the convention center and many of Baltimore's neighborhoods.
The convention center is supported by numerous hotel properties, including Baltimore Marriott Waterfront and Hyatt Regency Baltimore, which have recently undergone upgrades, the totally redone Lord Baltimore and brand new Hyatt Place Baltimore/Inner Harbor East.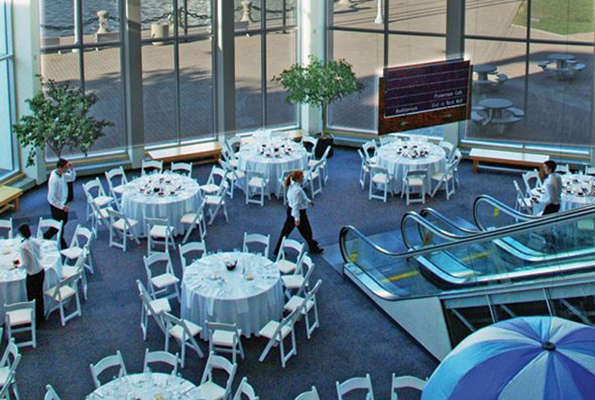 Great Lakes Science Center, Cleveland
Cleveland
Local sports fans say the return of NBA superstar LeBron James to Cleveland (from Miami) is the icing on the cake, final proof that this Great Lakes city has come into its own. In fact, from 2010 to 2014 more than $16.7 billion of public and private investments have been pumped into downtown, not only into amenities but also hospitality infrastructure.
"There is a new vibe and sense of confidence happening throughout Cleveland, which is something our community has not felt in decades," says Jackie Spencer, communications coordinator for meetings/conventions and group tours for Destination Cleveland.
A look at the number of downtown residents tells part of the story. According to the Downtown Cleveland Alliance, the number of downtown residents has grown to more than 13,000 (doubling since 2000), with a 99 percent increase of residents aged 25-34 since 2000. Two new properties, Metropolitan at the 9 (a combination Marriott Autograph Collection hotel/residences) and the Residences at 1717, have also contributed to the burgeoning urban residential options.
Among the renewal projects are the $275 million Flats East Bank Redevelopment, encompassing waterfront restaurants, entertainment venues, a 243-unit apartment building, retail, a riverfront boardwalk and a public park, scheduled to be completed this summer. A pedestrian bridge that will connect the Cleveland Mall to the Rock and Roll Hall of Fame and Museum, the Great Lakes Science Center and Cleveland's lakefront is expected to wrap up in 2015. A major green makeover to the historic Public Square is scheduled for 2016.
Cleveland is a fast-growing destination for medical conferences and the trade-show industry, reflected by the opening of the 225,000-square-foot Cleveland Convention Center in 2013 and the opening in spring 2016 of the Hilton Cleveland Downtown, a 600-room headquarter hotel that will link to both the convention center and the Global Center for Health Innovation. Opening this spring is Kimpton Cleveland Downtown, which will also have 24 luxury apartments within the building.
As for transportation, Cleveland has a light-rail mass public transit system and a bus transit system. It's possible to get from the airport to downtown Cleveland on a 12-minute train ride. Once you've unpacked, you can join locals on the free downtown trolleys that take passengers all over the city's downtown.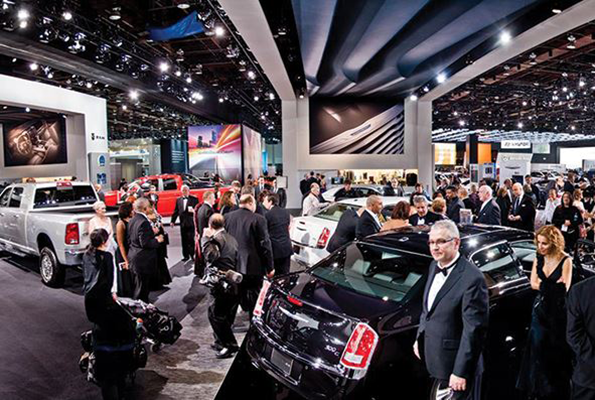 Cabo Center, Detroit
Detroit
"If you haven't been to Detroit in the past five years, you don't know Detroit," says Bill Bohde, senior vice president of sales and marketing for the Detroit Metro Convention & Visitors Bureau.
The city, which recently pulled itself out of bankruptcy in record time, is undergoing a complete transformation downtown, evolving into an active neighborhood where people live, work, shop and play. A major driving force behind the reinvigoration is Dan Gilbert, founder of Quicken Loans, who has invested millions into redeveloping the area's commercial real estate. He has moved Quicken Loans and various other businesses to downtown offices, inspiring companies such as Blue Cross/Blue Shield of Michigan, Compuware, DTE Energy and Strategic Staffing Solutions to do the same.
Through the program Live Downtown, Gilbert's Quicken Loans and other companies have provided financial incentives to encourage their employees to buy, rent or remodel existing properties in the area. The initiative has worked, as the downtown population has grown by 15,000 to 16,000 over the past two years, Bohde says. Not surprisingly, new restaurants, retailers, gyms, yoga studios and Whole Foods have followed.
Housing isn't the only sign of recovery, nor is Gilbert alone in his vision for a viable, vibrant downtown. For example, Mike Ilitch, the owner of Little Caesars Pizza, the NHL Red Wings and the MLB Detroit Tigers, is behind the new $650 million Sports and Entertainment District, which will take over dozens of city blocks between downtown and midtown and replace them with five walkable, livable mix-used district neighborhoods, integrated with existing venues such as Fox Theatre, Comerica Park, MotorCity Casino Hotel, Ford Field and Fillmore Detroit. Under construction concurrently is the new state-of-the-art hockey arena, expected to be completed by summer 2017.
Of note to planners is the newly reimagined Cobo Center, a $279 million, 722,500-square-foot facility that will host the American Society of Association Executives (ASAE) annual meeting in August, among other upcoming major events. The city's largest convention hotel, Detroit Marriott at the Renaissance Center, is nearing completion of a $30 million renovation. Last summer the 371-room Crowne Plaza Detroit Downtown Riverfront hotel opened directly across from Cobo Center. In December, Aloft Detroit at the David Whitney opened in Grand Circus Park, while two yet-to-be-named, probably independent hotels are on the horizon for 2016.
Gilbert has also been instrumental in the M-1 Rail Streetcar, a transit option that will service 20 stations at 12 locations, linking downtown and midtown—Detroit's job center and most visited destinations. Construction will be complete in 2016.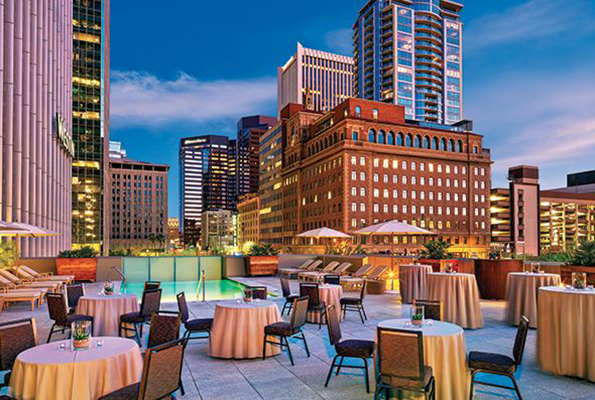 The Westin Phoenix Downtown
Phoenix
From a convention and visitors bureau standpoint, it never hurts to have Super Bowl cameras panning over your destination, particularly if it's one with palm trees and blue skies in the middle of winter. These are perennial fixtures in Phoenix, as well as lures. But the 2015 Super Bowl host city has changed dramatically since 2008, when it last hosted the event, including more than $4 billion invested in new downtown development.
Among the projects are: the construction of CityScape, a shopping, dining and entertainment hub; Freeport-McMoRan Center, a high-rise office and hotel building; the opening of more than 30 new restaurants; and the addition of hundreds of new residential units. Lofts, rowhouses, live-work units and apartments are attracting millennials who are drawn by the city's emerging tech industry, particularly the biotech sector, and opportunities for entrepreneurship. In fact, Inc. Magazine named Phoenix one of the top 20 cities in the country for start-up companies.
The crown jewel of the investment was the $600 million expansion of Phoenix Convention Center, pushing the total space to 900,000 sq. ft., and the opening of the adjacent, 1,000-room Sheraton Phoenix Downtown hotel. These were later joined by The Westin Phoenix Downtown in the Freeport-McMoRan Tower and Hotel Palomar by Kimpton at CityScape, plus Renaissance Phoenix Downtown Hotel, with 60,000 sq. ft. of meeting space.
Adding to the downtown vibe is Arizona State University's Downtown Phoenix campus, which opened in 2006 and now encompasses more than 11,500 students—nearly 1,300 of whom live in downtown student housing. Chase Field, home of the MLB Arizona Diamondbacks, and Talking Stick Resort Arena (formerly U.S. Airways Center), which hosts the NBA Phoenix Suns and other teams, draw sports fans year-round.
Linking downtown Phoenix to Tempe and Mesa, two other tech hotbeds, is the Metro Light Rail, which began in 2008 and offers a $4 unlimited day pass. The Metro also now connects to the Sky Train at Sky Harbor International Airport (PHX).
"Our downtown urban core is changing, with live entertainment venues, local restaurants coming in, the light rail and a new vibrancy in the arts with First Fridays art walk," says Douglas MacKenzie, spokesperson for Visit Phoenix. "The university has brought in younger people with programs in biotech, nursing, journalism and now law, with the college of law moving downtown. It's a vibrant, active downtown that appeals also to people who are meeting at the convention center and downtown hotels."
Following an $8 million renovation, Radisson Hotel Phoenix North opened last month, with 284 guest rooms and 14,000 sq. ft. of meeting space.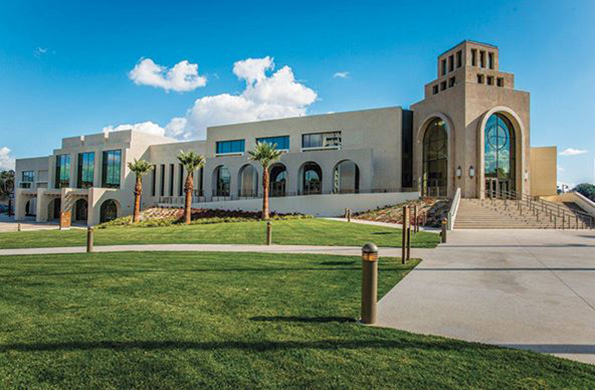 Riverside Convention Center
Riverside, California
Just how cool is Riverside? Well, not only did Forbes Magazine recently name the city as the No. 2 Millennial Boomtown, it also ranked Riverside as the No. 8 Coolest City in America. Forbes' accolades noted an 8.3 percent growth in the Riverside-San Bernardino Metro area from 2010 to 2013 among residents 20 to 29, the arts and culture scene, recreation and diversity.
The inland Southern California city is a magnet for technology companies, which are drawn to the area by University of California, Riverside, a major research university that produces a large number of scientists and engineers (and, not coincidentally, provides a readily available workforce to staff them).
All are benefitting from the "Riverside Renaissance," a $1.6 billion redevelopment of downtown that took place from 2006 through 2011 and encompassed everything from new or rehabbed public facilities and transportation to infrastructure.
Riverside Convention Center (66,000 sq. ft.), which reopened in 2014 after a $44 million renovation, was a part of the plan along with the restoration of Fox Theater, the rehab of Riverside Auditorium and Events Center and the revitalization of Main Street Riverside, stretching from 10th Street to Fifth Street (from city hall to the convention center), is the focal point of downtown, with restaurants, boutique retail, museums and offices. Three hotels—Marriott Riverside at the Convention Center, Hyatt Place Riverside/Downtown and The Mission Inn Hotel & Spa—are located adjacent to or very near Main Street.
According to the City of Riverside Office of Economic Development, private investment during the past 10 years totaled nearly $300 million, including the adaptive reuse of the historic Westbrook-Imperial Hardware Building that will convert it to a mixed-use residential building with additional retail space.
As this re-urbanization trend continues throughout the country, it is creating myriad opportunities for planners to select "new" and enhanced destinations for their regional meetings, annual convention rotations and international conferences. This potential provides a win-win situation for all.
---
Staying Power
Loews Philadelphia Hotel is a shining example of a downtown property that has been repurposed into a key meeting venue, while enlivening everything around it. Formerly a bank building that ranks as the nation's first skyscraper, Loews is a 33-story landmark that dates to the 1930s. The hotel lobby features original bank vault doors and Cartier clocks. Located in the heart of Center City and only six blocks from the Liberty Bell, Loews offers 581 guest rooms and suites and 47,000 sq. ft. of event space.
Another key meeting property in the City of Brotherly Love is Hyatt Regency Philadelphia at Penn's Landing, which features 348 guest rooms and 24,000 sq. ft. of meeting space. The waterfront property, which will host the third annual Global Pharmaceutical and Medical Meetings Summit Feb. 10–12, is near historical sites and the Pennsylvania Convention Center.
Miami Beach Convention Center and its surrounding area is about to undergo a major renovation and expansion, including the addition of a 1,000-room headquarter hotel. Miami Beach City Commission approved the $592 million project in December to expand the convention center to 1.4 million sq. ft. It will debut in 2017 and will seek LEED certification.
Miami Marriott Biscayne Bay, about 15 minutes from the convention center, completed a multimillion-dollar renovation in December. The marina-front hotel offers 600 guest rooms and 20,000 sq. ft. of space.
Trump International Hotel & Tower Chicago is regarded as one of the top business travel hotels in the world. The hotel occupies the 14th through the 27th floors of a residential tower developed by the Trump Organization. Plush amenities include a two-star Michelin-rated restaurant and an award-winning spa. There are 339 guest rooms and suites, with event space for up to 295.
Orlando has the meeting space and cool hotels to support downtown meetings. The AAA Four Diamond Grand Bohemian Hotel Orlando is located in the heart of downtown, with 340 guest rooms and a ballroom that can hold up to 200 for receptions. Aloft Orlando Downtown, only three minutes from Amway Center, has 118 guest rooms and 11 event spaces.
Among the leading business tourism hotels in downtown San Francisco is Parc 55 Wyndham. With a prime location between Union Square and Westfield San Francisco Centre, Parc 55 is walking distance to Moscone Center and serves as a key property for citywides. It features more than 30,000 sq. ft. of meeting and event space and 1,024 guest rooms and suites. The Ritz-Carlton, San Francisco expects to complete a $30 million renovation next month. The 1909 Neoclassical landmark offers more than 23,000 sq. ft. of event space and 336 guest rooms and suites. The Ritz's 9,360-square-foot ballroom can hold up to 500 for receptions.
Grand Hyatt Denver is coming off a $28 million renovation. The AAA Four Diamond hotel features The Pinnacle Club, a luxury venue on the 38th floor with expansive views of the Rocky Mountains. There are 516 guest rooms. When the Grand Hyatt is combined with the nearby Hyatt Regency Denver, the meeting space expands to 110,000 sq. ft.
---
Resources
• Destination Cleveland – ThisisCleveland.com
• Detroit Metro Convention & Visitors Bureau – meetdetroit.com
• Greater Miami Convention & Visitors Bureau – miamiandbeaches.com
• Philadelphia Convention & Visitors Bureau – discoverphl.com
• Riverside Convention & Visitors Bureau – riversidecvb.com
• Visit Baltimore – baltimore.org
• Visit Orlando – visitorlando.com
• Visit Phoenix – visitphoenix.com
---
Carolyn Koenig is the former editorial director of Smart Meetings and is a frequent contributor.