San Francisco skyline
8 cities revamped their downtown districts to better accommodate attendees
When you want to get to know a city, it's best to start at its heart: the downtown district. Downtowns in America are booming, with billions of dollars being put forward for renovations and new construction to make them more meeting-friendly.
Whether it's new transit centers, new entertainment districts just outside a football stadium, or a growing hotel inventory just blocks from the convention center, these eight cities are working hard to create a destination attendees will continue to buzz about months after the conference is over.
Nothing is left to chance. These cities have taken inventory on what their downtown centers were lacking, and filled in the gaps tenfold with skyscraping rooftop bars, lounge-style sports bars and hotels with dining options for every possible occasion. Some cities are taking the opportunity to show off their other assets while their convention centers are under construction, and others are rolling out the red carpet, opening brand-new hotels en masse.
With state-of-the-art architecture and the newest technology incorporated into every aspect of design, visiting these cities feels like watching the future unfold right before your eyes.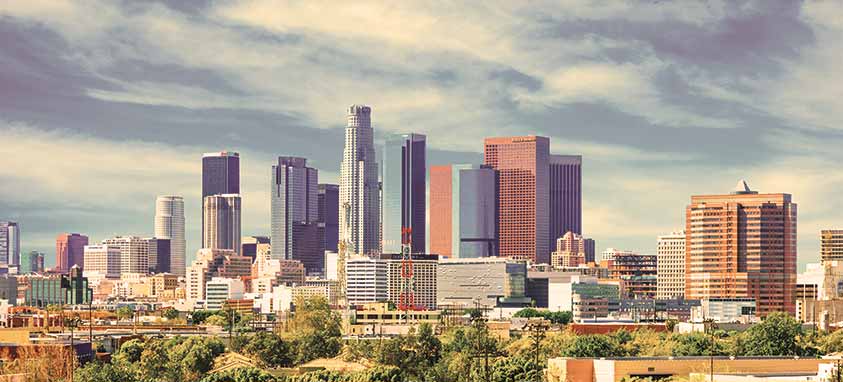 Downtown Los Angeles
Los Angeles
The best part of Los Angeles? It has great weather year-round. No matter if you come in January or July, chances are you'll have sunny days.
"Downtown L.A.'s hotel inventory is growing quickly; many are in close proximity to the Los Angeles Convention Center," says Darren Green, senior vice president of sales for Los Angeles Tourism & Convention Board. "With more than 11,000 guest rooms in the downtown area, properties range from luxury and historic to boutique and value."
Sheraton Grand Los Angeles just received a $75 million redesign and is just steps away from The Bloc, a new open-air shopping plaza. Inter Continental Los Angeles Downtown, with its 73 stories and 900 guest rooms, is slated to open its doors in June. Hotel Indigo, a hip 350-room boutique property, is opening in March across from Staples Center and the 770,000-square-foot Los Angeles Convention Center.
"When it comes to entertainment and unique attractions, downtown L.A.'s offerings are endless," Green says. "The Museum of Contemporary Art and the Grammy Museum are havens for music lovers. Oue Skyspace LA is downtown's newest attraction, boasting the best views of the area, 69 floors above the city. From an architectural and acoustic masterpiece such as the Walt Disney Concert Hall to new additions such as The Broad museum, cultural attractions downtown are among the most renowned in the world."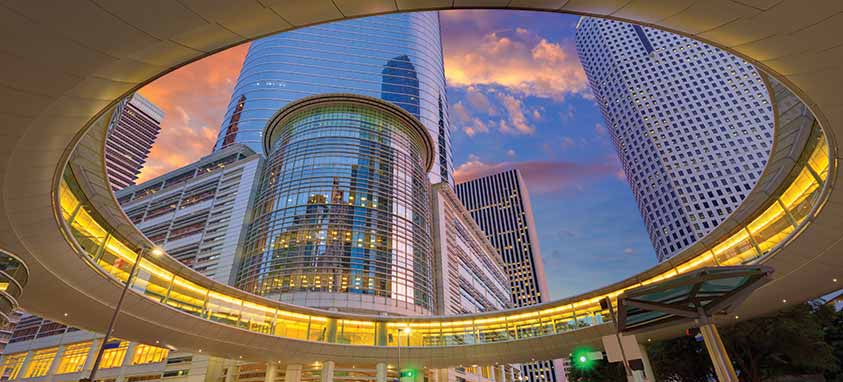 The Heart of Houston's Downtown
Houston
When the Super Bowl cameras pan over downtown Houston this month, they'll likely zoom in on the new, state-of-the-art Avenida Houston complex. This $175 million project includes the renovation of George R. Brown Convention Center (GRB), the new Partnership Tower office building, a new 1,900-space parking garage and a 99,000-square-foot pedestrian plaza.
"We now also have two major hotels directly connected to the George R. Brown Convention Center, with the 1,200-room Hilton Americas Houston and the brand-new 1,000-room Marriott Marquis," says Mike Waterman, president of Visit Houston. "What's more, we have dramatically reimagined the convention center itself, turning it from a closed-off big box on the edge of downtown into an inviting space with glass walls that allow attendees to see our amazing skyline.
"We have infused the space with multiple art installations by local artists, and we're bringing five restaurants to the new pedestrian promenade. Combine all this with the existing Discovery Green, a 12-acre park across from the GRB, and we have this incredible campus that planners and attendees are gravitating toward."
Marriott Marquis Houston opened just in time for the Super Bowl. Its standout attraction is the Texas-shaped Sky River pool, which outlines the shape of—you guessed it—the Lone Star State.
---
Dining at Marriott Marquis Houston
One restaurant won't do for the new 1,000-room Marriott Marquis Houston: It settled on five. Below is a quick-hit description of each to satiate all your culinary cravings.
Biggio's Sports Bar (pictured below): Everyone benefits when there's a good sports bar nearby. Just a stone's throw from Minute Maid Park, this multilevel bar is a sports fan's paradise. Flat-screen TVs cover the walls so there's not a bad seat in the house. Local craft beers on tap and upscale bar food give the bar a trendy finish.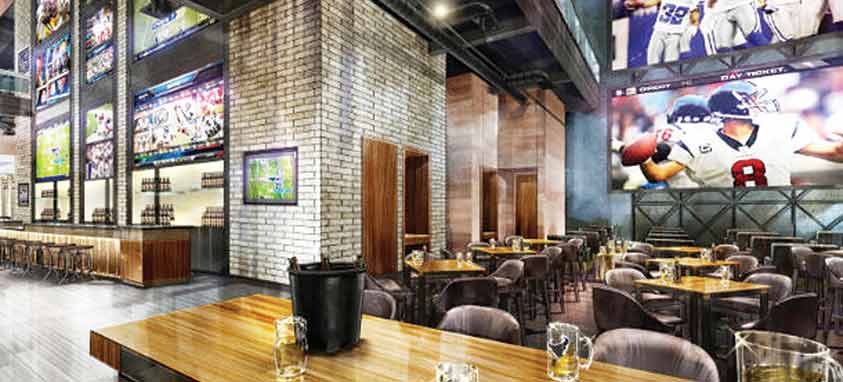 Cueva & Texas T: Located across from one another in the Marquis' Great Room, Cueva offers a wine list 200 bottles strong, with another 20 wines on tap and a bistro-style Mediterranean menu, while Texas T appeases morning cravings with coffee, tea, pastries and fresh on-the-go items.
Xochi: Local chefs Hugo Ortega and Tracy Vaught have made a name for themselves all over Houston, first with Hugo's and later with Caracol and Backstreet Cafe. Now they're bringing regional Mexican cuisine to the ground level of the Marquis at Xochi.
High Dive Bar & Grill: Come for the poolside New American fare. Stay for the panoramic views of downtown. This guest-only restaurant also offers a full-service cocktail bar with seasonally focused concoctions.
Walker Street Kitchen: The hotel's signature restaurant serves up Texas countryside-inspired cooking for every meal. Farm-fresh ingredients take center stage but lack any pretention in this homey space.
---
Arlington, Virginia
Hyatt Place Arlington/Courthouse Plaza
This city just outside the nation's capital doesn't have a downtown, per se. Instead, it has several major neighborhoods, which locals call "urban villages."
"We're hosting meeting and group planners who are looking for excellent value in areas where their attendees can easily enjoy local flavor just outside their hotels," says Emily Cassell, director of Arlington Convention and Visitors Service.
Boasting 44 hotels throughout the city, Arlington's lodging selection runs the gamut. The newest addition is Hyatt Place Arlington/Courthouse Plaza, which opened in August. The hotel, which has 168 guest rooms, is connected to the newly renovated Association of the United States Army (AUSA) Conference and Event Center. The center's makeover is state of the art: Video display walls, built-in ceiling speakers, microphones and high-definition cameras, full duplex video teleconferencing and live, on-demand event streaming were all updates to the audiovisual system. The facility can host up to 200 people.
"For being just 26 sq. mi. in size, Arlington has an incredible number of restaurants—500," Cassell says. Recently opened Ambar offers Balkan cuisine: Think sausage flatbreads and brussels sprouts with lemon garlic yogurt. There's also Cheesetique, a cheese and wine bar in Ballston. Coming in 2018 is Punchbowl Social, where bowling lanes, karaoke rooms and more will await your attendees during post-conference hours.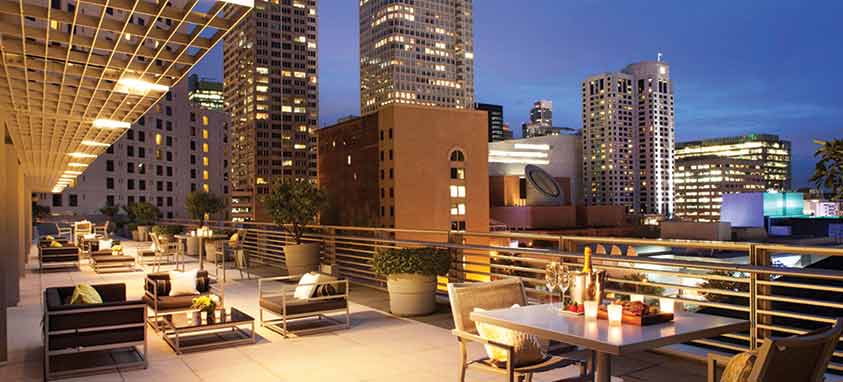 Terrace at Four Seasons San Francisco
San Francisco
With the new Transbay Transit Center slated to open within the year, San Francisco has added a bit more mobility to its vibrant culture.
Deemed the Grand Central Station of the West, the transit center will be a hub for 11 transit systems from around the bay and Southern California, including the new high-speed rail. (Phase one opens in December.) With LEED Gold certification, a 5.4-acre rooftop park and a 36,000-ton carbon dioxide reduction forecasted, it's an incredibly green project, too.
Since two-thirds of San Francisco's conference center crown jewel, Moscone Center, will be closed for renovations from April until October, some of the city's 33,000 hotels are stepping up to the plate.
"Hotels in five neighborhoods within San Francisco's downtown area have pooled their resources to create mini-destinations for meetings called the Neighborhood Network Connections," says John Reyes, executive vice president and chief sales officer of convention sales and services for San Francisco Travel.
One of the hotels is Four Seasons San Francisco. It has partnered with a few other hotels in the South of Market neighborhood, but it alone offers 15,000 sq. ft. of meeting space.
Forbes Travel Guide has given this luxury hotel a five-star rating for the past 15 years running, and its amenities live up to its rating, including an Equinox Sports Club, an indoor lap pool and a full-service spa. The hotel is also happy to arrange group activities, from cooking lessons with the hotel chef to mural walks around the city led by a local street artist.
---
SF Meetings Neighborhood Network Connections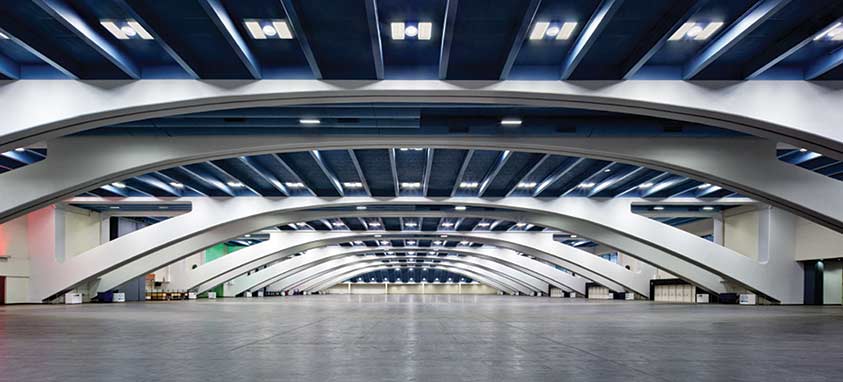 This year, while Moscone Center (pictured) undergoes renovations, groups of hotels around the city have pooled their resources to create mini-convention centers of their own. Here's a look at the five districts and what they offer.
Downtown Connection: Clift San Francisco, Handlery Union Square Hotel, Hilton San Francisco Union Square, Hotel Nikko San Francisco and Parc 55 San Francisco are bringing suave back. With 203,500 sq. ft. of function space and 127 meeting rooms, this block offers plenty of business-friendly spaces and swanky hotel bars for post-conference cocktails.
Moscone Connection: InterContinental San Francisco and San Francisco Marriott Marquis are within 1 1/2 blocks of one another and offer a combined 160,000 sq. ft. of function space. With 85 meeting rooms and 1,400 guest rooms, there's plenty of space to get down to business.
Nob Hill Connection: Perched above downtown, this six-venue block offers a classic San Francisco experience. Fairmont San Francisco, InterContinental Mark Hopkins San Francisco, The Ritz-Carlton San Francisco, the concert venue SF Masonic, The Scarlet Huntington San Francisco and Stanford Court San Francisco combine to offer more than 170,000 sq. ft. of function space.
SoMa Connection: Connected by Yerba Buena Park, Four Seasons San Francisco, Park Central San Francisco and San Francisco Marriott Marquis have combined their 155,000 sq. ft. of function space to create the ultimate indoor/outdoor convention experience.
Union Square Alliance: Just two hotels make up the smallest of the connections. Hyatt San Francisco and The Westin St. Francis San Francisco on Union Square offer a combined 86,000 sq. ft. of function space and 55 meetings rooms.
---
Phoenix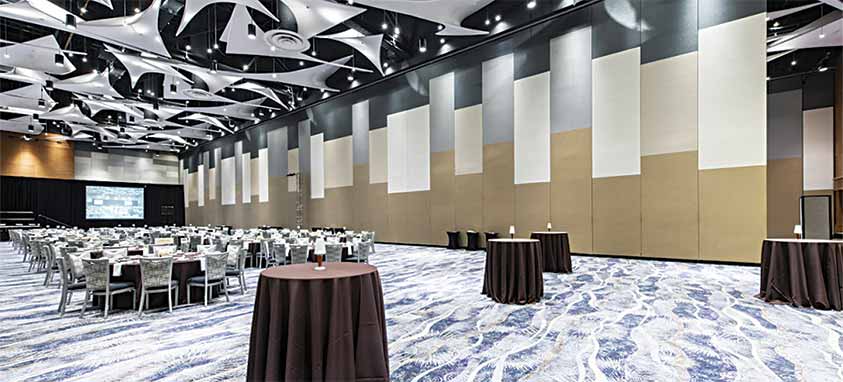 Phoenix Convention Center Ballroom
With 325 days of sunshine, there is never a bad time of year to visit Phoenix.
"Phoenix has managed to grow into the sixth-largest city in America without losing its character in the process," says Doug MacKenzie, director of media relations for Visit Phoenix.
Phoenix Convention Center may not have any renovations or upgrades on the horizon, but that's simply because the 900,000-square-foot space doesn't need them. Its 99 meeting halls, 61 loading docks and exhibition halls with prescored floors make it a massive, yet flexible space for nearly any kind of event you could dream up.
Phoenix also has plenty of hotels to house meeting attendees, including the 1,000-room Sheraton Grand Phoenix, The Westin Phoenix Downtown, Hyatt Regency Phoenix and Hotel Palomar—all within walking distance of the convention center. If new and boutique are requirements, check out The Found:re, which is part hotel, part art gallery with works from local artists rotating through its rooms regularly.
Food is plentiful, too—and farm fresh. Inside Found:re is Match Cuisine & Cocktail, which focuses on wood-fired pizza. Actually, most of its menu is wood-fired, including entree plates.
For a downtown daytime excursion, try the newly launched Phoenix Rising tours, which offer a downtown city cultural tour, bike tour and even a coffee walk.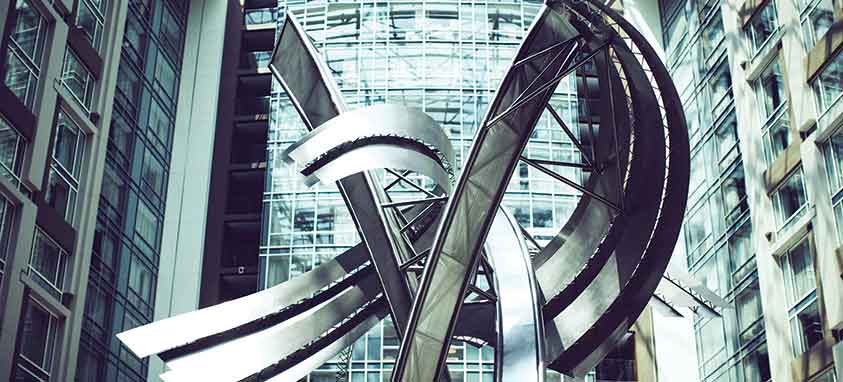 Marriott Marquis Washington, DC
Washington, DC
Plenty has been happening in the nation's capital recently, and meeting groups are among the beneficiaries.
"DC is an unforgettable place for meetings," says Melissa Riley, vice president of convention sales and services for Destination DC. "Our convention center is state-of-the-art and we have a wonderful hotel community, with over 31,000 hotel rooms in the city. We're lucky to have a recognizable skyline and special-events spaces with city views. There is $11.8 billion in development underway, so DC is constantly changing."
Much of the development centers on the downtown area, home to Walter E. Washington Convention Center, which provides 198,000 sq. ft. of flexible meeting space, 77 breakout rooms and a digital signage system featuring more than 149 HDTVs. The city boasts 5,740 hotel rooms within 1 mile of the convention center, and attractions such as Verizon Center and museums are within easy walking distance.
The recently opened Smithsonian Museum of African American History and Culture on the National Mall, just over a mile from the convention center, is devoted exclusively to African-American history and culture.
One of downtown's most exciting properties, Marriott Marquis Washington, DC is connected to the convention center via underground concourse. It features a hip vibe, 1,175 guest rooms, five dining options and more than 100,000 sq. ft. of meeting space.
The city's culinary scene has recently garnered a host of honors. New dining options surrounding the convention center include Smoked & Stacked, Marjorie Meek-Bradley's sandwich shop. Many others will soon open, including Union Kitchen Grocery, a locally inspired corner market; Unconventional Diner, a high-end diner concept; and Morris, a cocktail bar from Spike Mendelsohn.
---
Hyatt Convention Alliance
Nothing is worse than constantly starting from scratch. You might find a reliable hotel for one convention, but not be able to use it for the next. Luckily, Hyatt has found a way to streamline the process with Hyatt Convention Alliance.
Born from a grassroots effort by hotel managers, the alliance allows meeting planners to book multiple conventions at 10 participating Hyatt locations, including Atlanta, Denver and San Diego.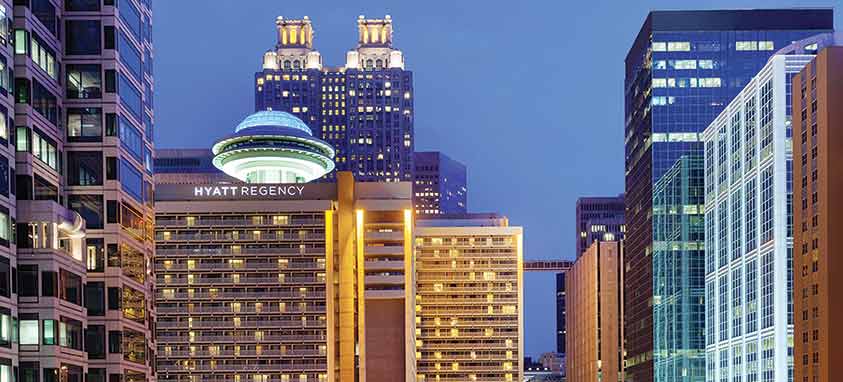 Hyatt Regency Atlanta (pictured) recently underwent a $65 million renovation to its 1,260 guest rooms. Right in the heart of downtown, this Hyatt provides 180,000 sq. ft. of event space, with the largest space being the 54,000-square-foot ballroom.
Along with a recent technology refresh to its 1,100 guest rooms, Hyatt Regency Denver also hired a new director of events, Rosana Winarto. She now oversees the 60,600 sq. ft. of event space at the hotel and as many as 1,200 events per year, as well as conventions and meetings.
Manchester Grand Hyatt in San Diego has benefited from a major overhaul over the past few years, which included the guest rooms, meeting rooms and its upper level lounge, Top of the Hyatt.
---
Winston-Salem, North Carolina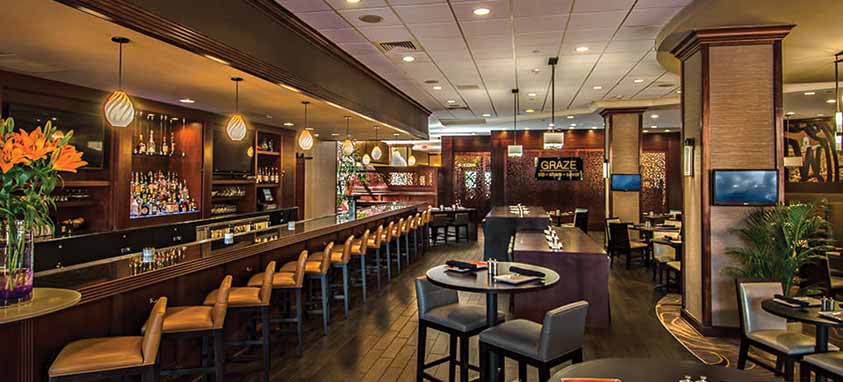 Graze Bar at Winston-Salem Marriott
One of the country's oldest manufacturing towns, Winston-Salem is having a bit of a meetings renaissance. For starters, renovation of the 100,000-square-foot Benton Convention Center is undergoing a multimillion-dollar renovation slated for completion in May.
Smack-dab in the middle of the action, Benton Convention Center has received a 21st-century upgrade. An existing exhibit hall has become a multifunctional carpeted ballroom, a front facade has been added to provide more practical prefunction space, and new windows and skylights bring in the sun's natural rays.
"Having reached the halfway mark, the updates to the lower level include a nod to the authentic artistic and architectural influences of Winston-Salem's history, with reclaimed wood accents, metallic signage and pops of orange providing a contemporary flair to Piedmont Hall," says Christian Schroeder, director of convention sales and services for Visit Winston-Salem.
The neighboring Twin City Quarter and Winston-Salem Marriott have undergone renovations of their own—and now have two skywalks connecting them to Benton center, creating 170,000 sq. ft. of meeting space. Add to the mix two more hotel openings within a year of each other—The Kimpton Cardinal Hotel and Hotel Indigo Winston-Salem—and it turns out Winston-Salem is a top place to host your event.
"With more than 100 locally owned restaurants, dozens of galleries and museums, a craft beer scene and retail shops all within walking distance of our Benton Convention Center, it is no surprise forbes.com named Winston-Salem one of America's best downtowns," Schroeder says.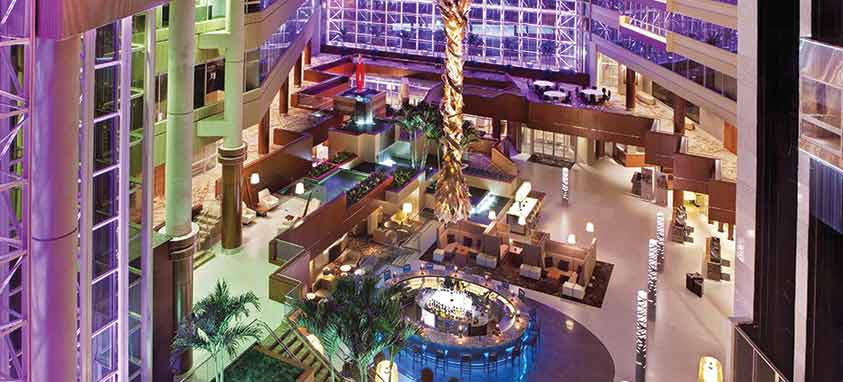 Hyatt Regency Greenville
Greenville, South Carolina
There's a reason The New York Times just deemed Greenville one of its top 52 must-visit places in 2017. The town, tucked into the foothills of the Blue Ridge Mountains, offers easy access to world-class restaurants, tiny boutiques and nature trails.
"Our safe, walkable, award-winning downtown and the unique combination of Southern charm and contemporary cool have made us one of America's hottest emerging destinations," says David Montgomery, vice president of sales for Visit Greenville.
Downtown, Bon Secours Wellness Arena, a 15,000-seat sports and entertainment arena, just wrapped up a $13.1 million renovation. For exhibition space, there is Heritage Green and the newly renovated Hyatt Regency Greenville, which offers 35,000 sq. ft. of event space and 327 guest rooms.
But what's drawing the crowds to Greenville is the food. There are four highly anticipated restaurant openings coming this year. Chef Michael Kramer, formerly of McCrady's, which Esquire deemed one of the country's best new restaurants during his tenure, will serve up modern Italian fare at Jianna. James Beard Award-winning chef Sean Brock will be opening another outpost of Husk, his ingredient-driven Southern restaurant. Halls Chophouse will bring a premier steakhouse to downtown, and Up on the Roof, at the new Embassy Suites downtown, will offer small plates and craft cocktails.
"We're not just any Greenville," Montgomery says. "We're that Greenville."