Daytona International Speedway
Daytona's 23-mile-long oceanfront has been called "The World's Most Famous Beach." There's also a renowned auto speedway here, as well as a boardwalk bursting with attractions, a historic downtown and great meeting facilities.
In 2015, Daytona and Volusia County welcomed 9.5 million visitors, up from 9.1 million the previous year. The economic impact was $5.4 billion, compared with $4.7 billion in 2014. An increasing number of those visitors have been meeting attendees. To keep up, Daytona Beach properties have invested more than $2 billion in upgrades in recent years.
"Daytona Beach is truly an emerging meetings destination, with exciting new venues coming online every month," says Lori Campbell Baker, executive director of Daytona Beach Area Convention & Visitors Bureau. "Our current meetings hotels are thriving, and those affected by Hurricane Matthew are already undergoing renovations. The new Westin will open in 2017, and Daytona International Speedway's $400 million re-imagining project now hosts meetings in a venue like no other. And we expect 2017 to be a record-breaking year."
Ocean Center is the fifth-largest convention center in Florida, with 205,000 sq. ft. of event space and a 9,300-seat arena. Hilton Daytona Beach Resort/Ocean Walk Village is next door, offering 744 guest rooms and 60,000 sq. ft. of event space. Both are adjacent to Ocean Walk Village, a $1 billion shopping and entertainment complex.
Historic Streamline Hotel, an Art Deco-style property that hosted the meeting that launched NASCAR, will be reborn as an upscale beachside property in 2017. It's expected to be joined by as many as five new hotel properties by 2019.
The recently opened Cici and Hyatt Brown Museum of Art endows Daytona with a world-class cultural facility. Among the fascinating places in which to hold events are the Main Hall, accommodating 160; the Courtyard, holding 312; and, for a truly unique experience, the brand-new Planetarium, seating 94.
Radiology Associates Field opened in 1914 as Daytona City Island Ballpark. History was made here on March 17, 1946, when Jackie Robinson stepped onto the field for the first time, becoming the first African American to integrate 20th-century pro baseball. Nicknamed "The Jack," the stadium was officially named Jackie Robinson Ballpark in 1989. You can still see minor-league baseball, played by the Daytona Tortugas.
Must See
Daytona International Speedway completed a $400 million, multiyear renovation in February 2016. The project was dubbed Daytona Rising, resulting in the grandstand being converted into the world's first motor sports stadium, with 101,500 new, wider seats. Below the stands are a wider concourse, new restrooms and concession areas, and video boards to keep track of all the action. The speedway has 120,000 sq. ft. for events and exciting team-building opportunities. The project's 7,000 solar panels create power for Florida Power & Light.
Meeting Hot Spots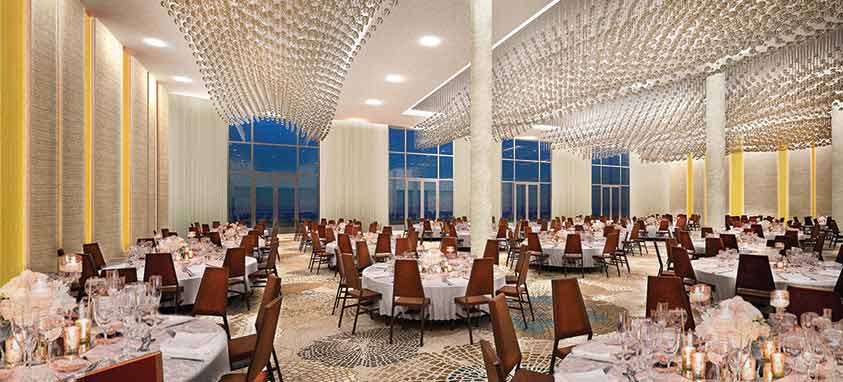 The Westin Daytona Beach Resort & Spa will reopen on the beach in July following a top-to-bottom, $20 million renovation. It has 200 guest rooms, 25,000 sq. ft. of event space, a world-class spa and health-conscious dining choices. From this hotel, attendees can walk to the boardwalk and the Main Street amusement area.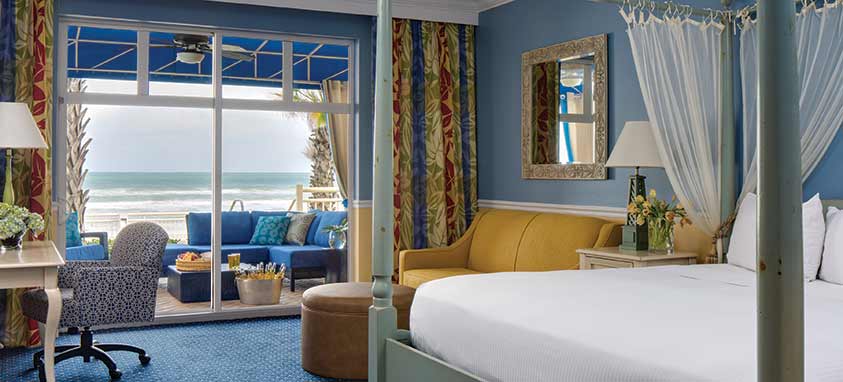 Shores Resort & Spa is a longtime Daytona Beach landmark, with tropical elegance that's been attracting meetings for many years. For one thing, it's an AAA Four Diamond property. For another, it is on the shore. There are 212 guest rooms and 20,000 sq. ft. of meeting space, along with Azure Restaurant and Indulge Spa.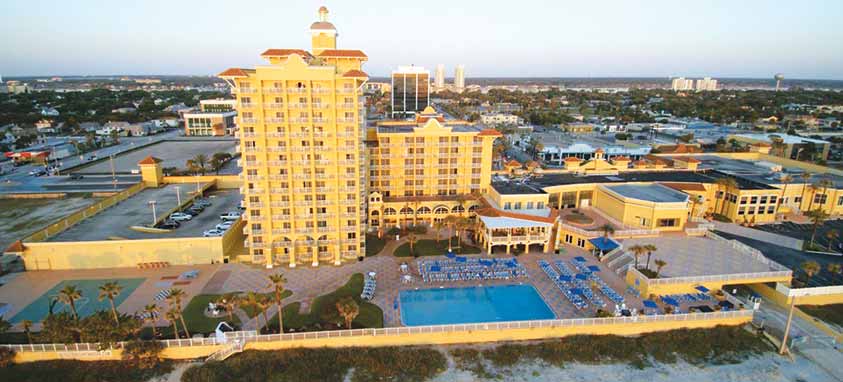 The Plaza Resort & Spa has been a place to gather for more than 125 years. It offers 323 elegantly appointed guest rooms, 40,000 sq. ft. of event space, three restaurants, a business center and a full-service spa and salon. The hotel is distinguished by one of the enduring symbols of Daytona Beach—its clock tower.