Three tech companies on the cutting edge of engagement
The success of an event is no longer measured by the number of invited guests who were present. It's determined by the level of engagement of those attendees, and there are dozens of ways to measure and use it to make informed decisions about your audience, content and next event.
Three trailblazing tech companies are revolutionizing the way we understand audience behavior, and can help you better plan meetings.
SocialPoint
The cloud-based software platform SocialPoint (owned by Interactive Meeting Technology, LLC) doesn't see your event as one size fits all, and attendees shouldn't be seen that way, either. SocialPoint divides attendees into five types: creators, collectors, sharers, joiners and spectators, and hosts are responsible for appealing to each of them.
"If attendees are learning and solving their business problems through audience engagement, you're going to have more business," says Sam Smith, managing director and owner of Interactive Meeting Technology, LLC.
SocialPoint creates mesmerizing digital displays that employ social media, branding, photography, voting and poll templates, trivia leaderboards and "digital fishbowls" that create personalized, memorable experiences for every type of attendee.
Imagine a burst display containing your branding and real-time social content that makes people stop and stare. What if during a keynote speech you could send a survey to attendees at the event and the ones watching at home, and see the results appear instantly for all to see and share? Try this icebreaker that doesn't feel like one: Split attendees up into groups to play a game of trivia with a life-size leaderboard display so they can compete and watch themselves rise up the ranks.
Gone are the days when photographers snap photos and tell you where you can find them later. Instantly see photos appear on giant screens, build your own digital photo album or print photos on the spot (stamped with sponsor and host branding, of course). Not every attendee will participate in every activity, Smith advises, but that's the point: Providing options that appeal to each attendee type will guarantee more overall engagement.
DoubleDutch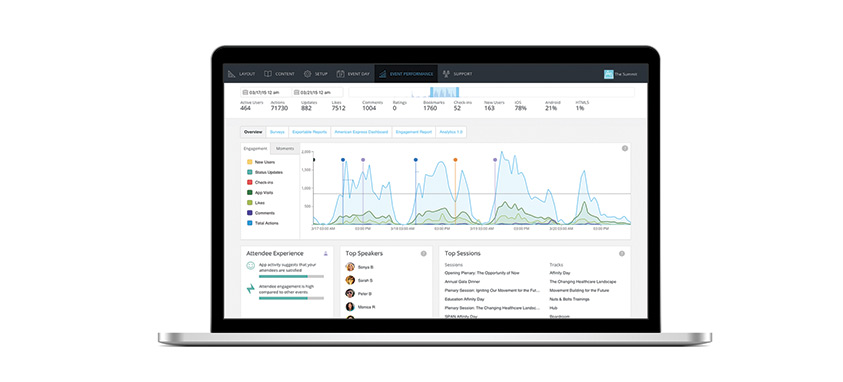 The best way to measure an attendee's engagement, according to DoubleDutch CEO Lawrence Coburn, is through a mobile application because it's always with attendees and creates a digital record of their behavior. The company's analytics are based on a scale of engagement connected to different levels of action: the tap of an agenda item or speaker profile, a comment, a share and a post all have their own value.
Messaging patterns have become the next measurable indicator of engagement. By adding messaging capability directly into the app, DoubleDutch is able to track an event's most influential attendees by keeping score of the number of meetings they book.
Topic-specific group messaging creates a "virtual room" filled with industry experts that can outlive the event itself. Creating and maintaining valuable networking connections is one of the most memorable ways to keep attendees engaged. A group room created for a medical summit, for example, captures the contact information of those medical professionals and the information shared at that event, and perpetuates an ongoing conversation forever tied to that summit.
"We exclusively focus on engagement," Coburn says. "We didn't set out to take the paper guide and put in on the phone. We've built a product that's addictive."
Connect&Go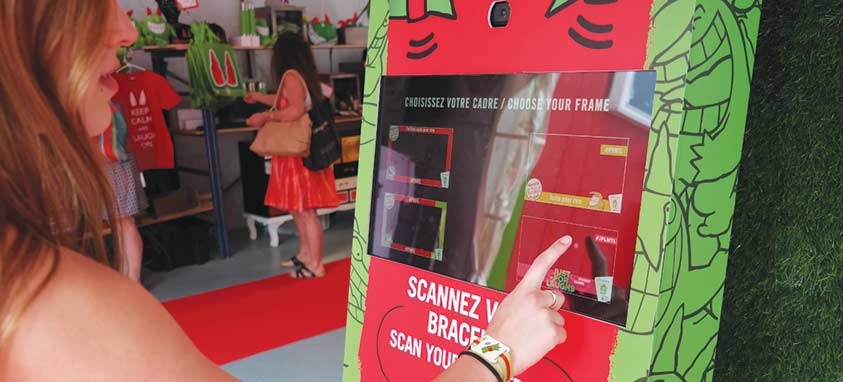 Cashless payments aren't the future; they're here. Conference badges and wearables are doing more than just letting attendees gain entry. They're purchasing drinks and meals, collecting data, and according to Connect&Go co-founder Anthony Palermo, they're increasing spending by 40 percent.
"It's not that it's money they wouldn't have otherwise spent. But when it means waiting in line for the ATM, people will choose to go without," Palermo explains.
The same RFID technology that's powering these badges can be used to create digital currencies that are unique to a particular event. Give your attendees a hypothetical million dollars that they can invest in the start-up companies they learn about at different booths at your show.
Now take it one step further: Ultra-high frequency radio frequency identification (UHF RFID) uses small antennas so that user behavior can be tracked to provide event planners with valuable data, such as the average time spent at a conference or a particular session, the average number of sessions attended per attendee, and even what the behaviors were per demographic.
"It's at the point where we're able to provide a report to a client that says, 'This is what your entrepreneurs did, this is what your start-ups did,' et cetera," Palermo says.
Companies with this technology can go far beyond creating a personalized experience for their attendees. Imagine what you'd be able to do by collecting more data from the same loyal attendee who has come to your event two or three years in a row.