Anthony Melchiorri is known for rescuing properties on the brink of disaster. He is now focusing on hotels and resorts that do it right.
Trim, clean-shaven and swathed in tailored Italian suits and dark shades, Anthony Melchiorri could be mistaken for an undercover FBI agent. In many ways, Melchiorri is an undercover agent—stealthily prowling hotel properties and exposing their secrets on reality television.
Melchiorri is creator, co-producer and host of Travel Channel's Hotel Impossible, which debuted in 2012 and recently concluded its sixth season. In each episode he visits a struggling property, assesses its problems, and in less than a week helps steer it back on course. Nearly all properties are small independents, owned and operated by people who lack hospitality experience. The straight-talking Melchiorri pulls no punches when sharing unsavory discoveries—his findings range from a dirty thong fished out from under a mattress to a taped conversation with a valet who openly admits that he doesn't assist guests with their luggage.
Melchiorri has more than two decades of experience in the hospitality industry, working in some of the finest hotels in New York City. His direct approach both challenges and empowers hotel owners to address and correct their most pressing issues. He reminds them that in order to be successful in the highly competitive hospitality industry, their properties must be clean and inviting, and staff must look and act professional. To help with the former, Melchiorri and his team conduct mini-makeovers, including power washing entryways, redesigning lobbies and overhauling dated guest rooms. As for the latter, Melchiorri drills home the basic tenets of customer service and provides uniforms and name tags when needed.
Although it creates compelling footage, he refrains from highlighting the negatives or purposely embarrassing hoteliers. "My show is all about saving people's businesses and livelihoods," he asserts. "When I first created the show, it was the recession and lots of businesses were struggling. I had turned around a lot of hotels in my career, and I wanted to help save them. That is still my main motivation."
Hotel Impossible Spinoffs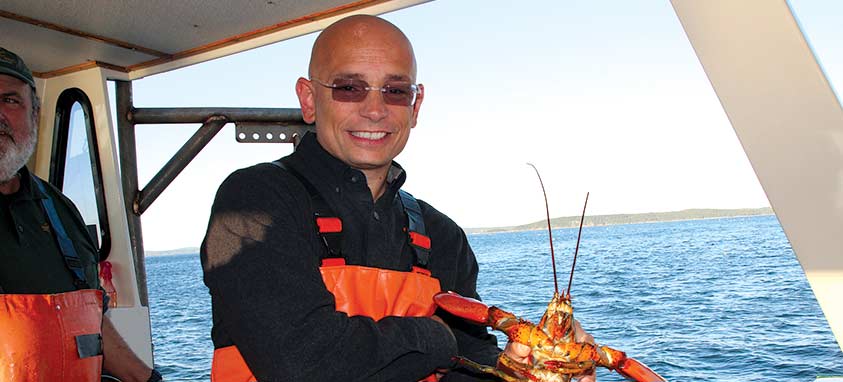 The success of Hotel Impossible has inspired Hotel Impossible: Five-Star Secrets and Hotel Impossible: Showdown. Five Star Secrets focuses on what luxury properties do behind the scenes to go the extra mile. The first series just wrapped and is scheduled to air in April.
"We visit some of the world's most famous hotels and highlight what makes them truly exceptional," Melchiorri says. At the Fontainebleau Hotel in Miami, for example, he illuminates the huge indoor saltwater tank that gives chefs access to the freshest seafood possible. Melchiorri also banters with a bartender who crafts a special cocktail just for him.
Melchiorri shows how hard people in the industry work. In an episode shot at Aria in Las Vegas, Melchiorri interviews a dedicated staffer who spends 10 hours per day sorting recyclables. In the same show, he challenges Aria's top-notch security team to find him. "I crouched behind a planter in what I thought was a great hiding place. They found me in five seconds," he says.
In Hotel Impossible: Showdown, hosted by Melchiorri, four independent boutique properties compete to prove that they have the best hospitality, amenities, accommodations and guest experience. The winner gets a $25,000 prize.
All Melchiorri's shows are unscripted. Being caught off guard is not a problem for Melchiorri, who claims, "I have three things going for me: I was born in Brooklyn, I was in the military and I have been running hotels for years."
Melchiorri has embraced many challenges in his more than 20-year career. "At a hotel I was running in Times Square, housekeeping accidentally threw out a young girl's Playbill signed by the actors. Her very upset mother called, but this gave me the opportunity to make it right," he says.
He dispensed a concierge to the stage door of the Broadway theater. Within 24 hours the mission was accomplished and a new signed Playbill was sent to the guest. "What she will remember is how we solved the problem," he says, adding, "a recovery is almost as good as getting it right the first time."
An Impressive Background
Melchiorri, 50, is a seasoned hospitality veteran who got his start as a night auditor at an Embassy Suites in Overland, Kansas, while serving in the U.S. Air Force. He returned to New York City and worked at the former Embassy Suites in Times Square. His dream was to be at The Plaza Hotel on Fifth Avenue; in less than a year he landed a job there as a night manager. In four years he worked his way up to director of front office operations.
Melchiorri then accepted a position as general manager of The Lucerne Hotel on the Upper West Side, working there for seven years and winning accolades for the property. He moved on to become general manager of New York City's historic The Algonquin Hotel, convincing the owners to close for a month while he oversaw a $15 million renovation and rebranded the property.
When the owner sold the Algonquin, Melchiorri became senior vice president of the Nickelodeon Hotel and Resort in Orlando. Returning to the Big Apple several years later, Melchiorri served as first vice president of Tishman Hotels and then as senior vice president of New York Hotel Management Company.
Today Melchiorri has his own business, Argeo Hospitality, where he consults on hotel projects and assists companies with revenue management and brand development. In addition to his television work, he is a public speaker.
Travel Tales
Melchiorri spends 120 days per year on the road. When he checks into a hotel, what he values most is a smile from the front desk clerk. "It tells me you're not afraid to look me in the eye. It signals that you want to engage me and take care of me," he says.
He took his wife and three daughters to Italy last year. "We went first-class all the way," he says. "It cost a lot of money, but I don't regret a single penny." He worked with Luca Orlandi of RomePrivateExcursions.com, whom he regards as the most impressive person he has ever met in the hospitality industry—quite a complement coming from someone who has spent decades in it.
Melchiorri knows the pressure is on hospitality workers to deliver stellar experiences. "People spend all year saving to go on vacation. Our job is to make them feel happy that they spent their money," he says.
The hotel guru embraces the Internet and the role it plays in the travel industry. He believes sites such as TripAdvisor offer valuable transparency.
"I love the fact that a guest can walk out of a hotel, log on and tell the world that I am fantastic or I suck," he says. "Just give me the chance to fix a problem before you go on Twitter and blow me up."
Future Plans
Melchiorri is expanding his already impressive enterprise. He has developed an eponymous line of products (shampoos, robes, chocolates, etc.), and is in the process of building his own hotel chain with some investors. He is also working on a book, tentatively titled, How to Run Your Business Like a Five Star Hotel. He hints that it will expose some secrets.
"I worked for Donald Trump for two years when he owned The Plaza. I have a lot of stories, but I won't tell them all. You have to keep some things confidential," says the Hotel Impossible hero, who lives as if anything is possible.