All-inclusive resorts raise the bar to attract more group meetings and events
It's easy to understand how meeting professionals might have built-in biases against holding meetings at all-inclusive resorts. All-inclusives, known as AIs, once meant a tacked-on meal plan consisting of a standard buffet along with your meeting space. "Travelers even had to wash the dishes," says Melia Hotels Vice President of Meetings and Events John Iannini regarding Club Med, the first AI properties to open in the 1950s. "When it comes to all-inclusives, many planners have had some blurred vision."
Times have changed and so have all-inclusives, especially when it comes to hosting groups. New meeting-focused AIs are popping up everywhere. According to Mike May, president of Spear One, a marketing agency that specializes in meetings, events and incentive programs, many new AI resorts are opening.
"Some AIs are more focused on leisure travelers," May says. "Others get groups with strong sales departments, customer service management staff and venues for events."
Beyond the appeal of sunny locations (typically in Mexico and the Caribbean) and guests never having to pull out their wallets—especially valuable for incentive trips—AIs now attract groups with stellar dining experiences, new meeting facilities and a wide variety of onsite and offsite activities—upgrades to the group experience that have meeting planners looking at all-inclusives in a whole new way.
"Planners and groups are excited to have that experience of having everything on-property," says John Washko, vice president of group marketing and sales at Atlantis Paradise Island in the Bahamas.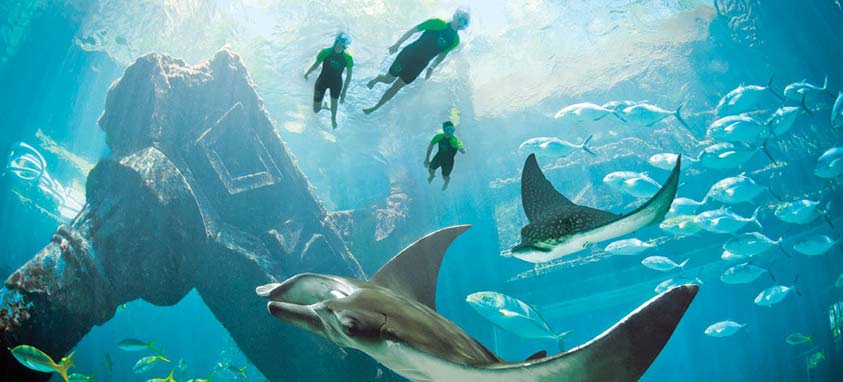 Atlantis Paradise Island, Bahamas
The 3,337-room Atlantis resort takes onsite activities to an extreme. The property's sunny, sandy location lends itself to the water-themed adventures that groups can engage in just steps from their rooms, including shallow- and deep-water interactions with resident bottlenose dolphins, an underwater shark walk along the bottom of the predator lagoon, snorkel tours of the "ruins of Atlantis" in another lagoon teeming with local marine life and more. "Groups are looking for efficiency, so having these activities on-property is valuable," Washko says.
Melia Caribe Tropical All Inclusive Beach & Golf Resort in Punta Cana, the Dominican Republic, specializes in workshops that guests can participate in, a nod to Club Med's all-inclusive model from the '50s. The programs offer instruction on making candles, sandals, jewelry and mama juana—a traditional Dominican Republic cocktail made by soaking herbs and tree bark in rum, red wine and honey.
"We call them life-enriching activities—things that people can use as a takeaway and share with other members of their family when they get home," Iannini says. Groups seeking more active pursuits can engage in a friendly (though likely competitive) game of volleyball, and take to the water for kayaking, windsurfing, snorkeling and more.
Yhi Spa is another highlight of the property, and Melia has used direct demographic research to dispel the myth of spa treatments being catered to women. "We find that more men than women utilize our spas, so that's actually changed from many years ago," Iannini says.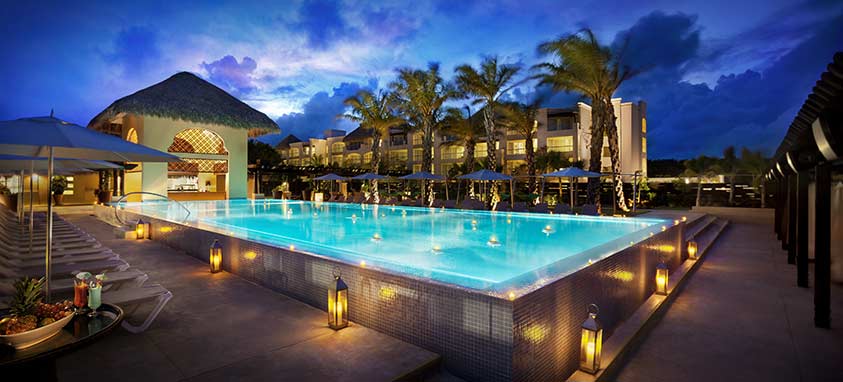 Hard Rock Hotel & Casino Punta Cana, Dominican Republic
Hard Rock Hotels is one of the newer players in the all-inclusive market, opening five AIs in the Caribbean and Mexico since 2011—and another debuting in Los Cabos, Mexico, in 2016. Hard Rock Hotel & Casino Punta Cana in the Dominican Republic offers a huge variety of onsite activities that go a long way toward enabling everyone to latch onto something they like.
A 45,000-square-foot casino beckons those who want to try their luck with craps, roulette, blackjack, baccarat, poker or slot machines. Oro, an onsite nightclub, adds a Vegas-like feel with thumping music and a two-story LED wall made up of more than 300 screens.
Attendees more into relaxation can find it at Rock Spa, which offers more than 40 soothing treatments—including signature Rhythm and Motion massages, in which the massage therapist syncs the treatment to the rhythms of a pre-selected playlist. Golf enthusiasts praise the Jack Nicklaus-designed championship golf course for being challenging yet approachable.
Off the Grid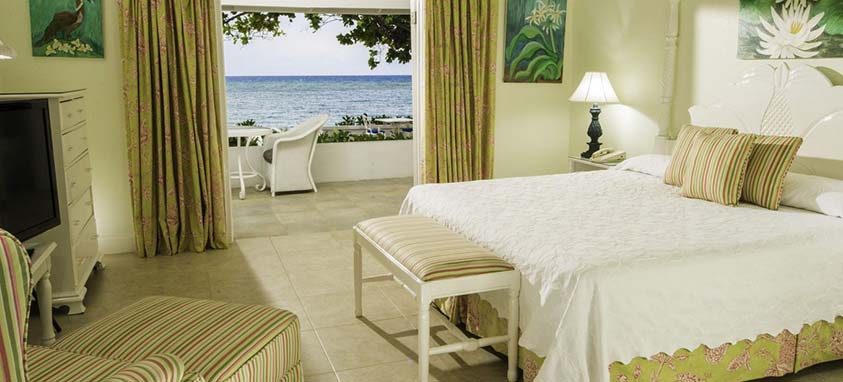 Half Moon, a Rock Resort, Jamaica
Having an event at an all-inclusive property doesn't necessarily mean your group must stay within the confines of the resort, and many AIs arrange offsite adventures as easily as they do onsite activities.
According to Iannini, the resorts that succeed most in this arena go beyond their own staffs and seek outside experts. "[They] have relationships with…event planning companies that are in the destination and they contact them on your behalf to help you enhance the party," he says.
Half Moon, a Rock Resort, Jamaica offers excursions to local heritage sites, including tours of Zionites Organic Farm and the homes and studios of famous Jamaican artists. One excursion takes groups on a flight to Kingston for a day of hiking and taking in stunning views from the lush Blue Mountains.
Whether you want to venture out by land or by sea, Hyatt Ziva Los Cabos in San Jose del Cabo, Mexico, has your group covered. Adrenaline junkies get a kick out of the Boca de Sierra Biosphere Reserve adventure, where they feel the wind in their hair while rappelling rocky hills and ziplining over a sweeping valley. Another high-speed activity takes guests along oceanfront cliffs, sprawling deserts and canyon trails on four-wheel all-terrain vehicles. Guides stop periodically to enlighten riders about local flora and fauna encountered along the way. Aquatic adventures include sunset sails set to jazz, whale-watching tours and scuba diving in nearby Cabo San Lucas.
At Barcelo Punta Cana Hotel, offsite trips are limited only by planners' and attendees' imaginations (and planners' budgets). Trek through the jungle on foot and horseback on the way to Fun Fun Cave. The name may sound like a Disney ride, but that perception vanishes as groups climb in and explore colorful subterranean tunnels and rivers. Take to the skies on a helicopter tour of the Dominican Republic's east coast, offering panoramic views of the region's white-sand beaches—and all the mega resorts that line them. Combine land, sea and air in an excursion the hotel calls the Samana adventure, which takes groups hiking in the mountains, relaxing on Bacardi Island and trekking to the emerald pool that catches the 120-foot-high Limon Waterfall.
Fantastic F&B
F&B at all-inclusive hotels was once the exclusive domain of inexpensive buffets, but the latest evolution of these properties includes upgraded dining experiences. "Each restaurant now is designed as its own independent restaurant," Iannini says. "Many resorts have started to add either a celebrity chef and/or Michelin-rated dining experiences to their resorts. After all, the kitchen is the heart of the house, so the dining is one of the most important elements of an all-inclusive."
With that in mind, Melia emphasizes quality and quantity to attract groups. The number and variety of offerings is also part of the evolution. "We never have any guests who walk away feeling that they haven't had the finest dining experience," Iannini says.
Melia Nassau Beach in Jamaica sports eight restaurants and bars. Options include prime steaks and seafood at Black Angus, authentic Mexican cuisine at Cilantro, sushi and other Japanese dishes at Nikkei and chic tapas at Estavida.
Another trend on the rise in AIs is to make dining (and drinking) available 24/7. "Resorts have modified the way they do business to include at least one bar and one restaurant that is always open, for someone who might be on an odd time schedule or might not be able to sleep," Iannini says. And room service should be able to deliver fresh-made meals around the clock.
Being a recent entry in the all-inclusive market has its advantages. Brands such as Hyatt's Zilara resorts were able to model some strategies after those that have been successful in recent years—and Zilara added some of its own flair. Hyatt Zilara Cancun in Mexico operates six restaurants, serving gourmet Asian, Mexican, Caribbean, high-end buffets and haute cuisine.
In addition to the scrumptious food offerings, the property contains seven bars—and sets up tastings of wine and various spirits for groups, creating a unique atmosphere for meeting attendees.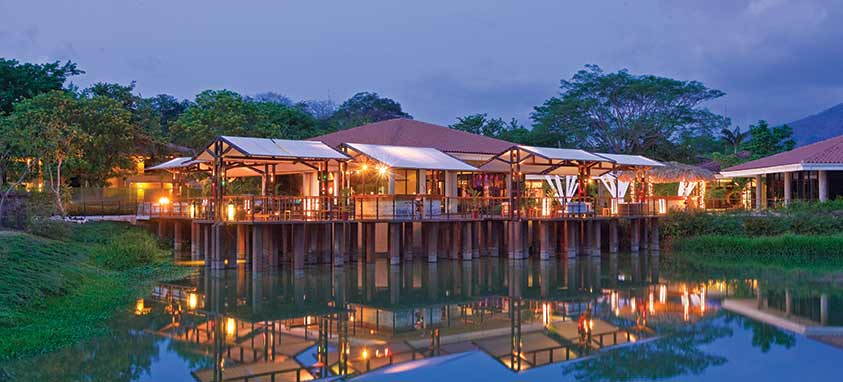 The Westin Golf Resort & Spa, Playa Conchal, Costa Rica
Westin properties have long included high-end dining options, so it was a natural move to do so in their all-inclusive properties, including at The Westin Golf Resort & Spa, Playa Conchal in Costa Rica. With 12 restaurants and bars, the resort's dining experience reads like a tasting menu of the world, but it's the quality that stands out. "It reminded me of Ritz-Carlton quality and offered an impressive selection," says Julie Robertson-Blank, director of strategic accounts at Spear One.
Westin also jumped fully into the healthy-eating craze with SuperFoodsRx. These foods, designed with input from doctors and nutritionists, are loaded with nutrients and intended to energize guests—perfect for a pick-me-up in the middle of a long day full of meetings.
Business Class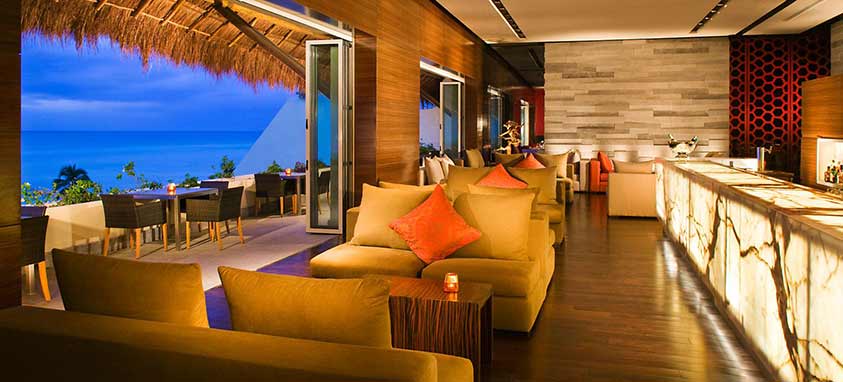 Grand Velas Riviera Maya, Mexico
"The best resorts for groups display a commitment to group business," May says. That might sound obvious, but traditionally, all-inclusive resorts have relied more on the convenience of the all-in-one package to attract meetings and events than on superior meeting spaces. Some AIs are starting to buck that trend with larger and more high-tech facilities—incorporated into the all-inclusive package, of course.
"Many hotels have gone to adding screens and adding LCD projectors into the meeting space," Iannini says. "They allow the planners to plug and play and use these for their presentations, saving quite a bit of money."
Moon Palace Golf & Spa Resort in Cancun debuted the multimillion-dollar Moon Palace Arena in 2014. It offers more than 88,000 sq. ft. of meeting and exhibition space, including outdoor terraces with views of the Caribbean Sea. And that's on top of 52,000 sq. ft. of reception and flexible space (for a total of more than 140,000 sq. ft. that can accommodate up to 10,000 attendees).
Existing ballrooms were upgraded with state-of-the-art technology and functionally optimized space, including the 26,800-square-foot Galactic Ballroom, which features a permanent stage and adjacent meeting room.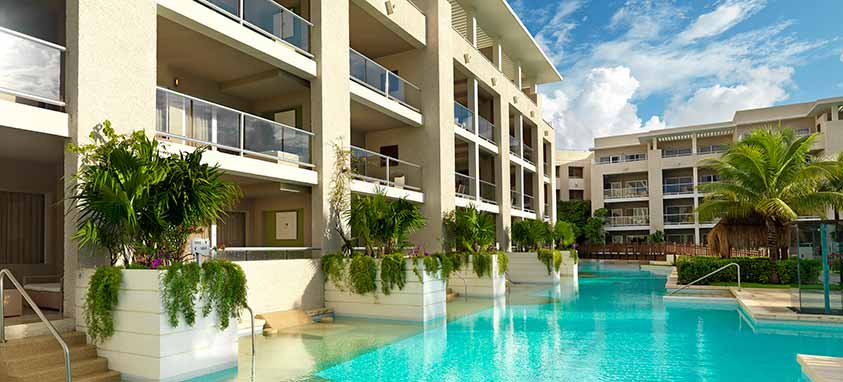 Paradisus Playa Del Carmen La Perla, Mexico
Without a convention center in Mexico's Rivera Maya region, Velas Resorts built its own to go with Grand Velas Riviera Maya. The 31,000-square-foot facility breaks down into two large ballrooms and 32 meeting rooms with Wi-Fi throughout, LCD projectors and videoconferencing capabilities. All told, the property offers more than 91,000 sq. ft. of flexible meeting and event space—32,614 of which is outdoors, allowing groups to take advantage of the picturesque surroundings of manicured gardens and the sandy shore and emerald water of the Caribbean.
AMResorts went in a slightly different direction and expanded its Secrets brand of all-
inclusives to cater to relatively small groups. Their properties in Mexico, such as Secrets Playa Mujeres Golf & Spa Resort in Cancun (12,000 sq. ft. of meeting space); Secrets The Vine in Cancun (17,000 sq. ft.); and Secrets Maroma Beach Riviera (7,400 sq. ft.) in Playa del Carmen, keep their group events around 600 people or fewer.
Proving that size doesn't matter, facilities are kept on the cutting edge with the latest technologies, and their onsite meetings and events teams have a reputation of being among the most accommodating and professional in the business.
Good Sense
Having exceptional activities, food, drink and facilities all comes down to one thing: providing an exceptional guest experience. "It's a staff that's 100 percent dedicated to the guest enhancement," Iannini says. "And the guest enhancement is really about the five senses." Everything groups do, combined with the special touches—including never having to open a wallet—create a memorable experience.
Side Perks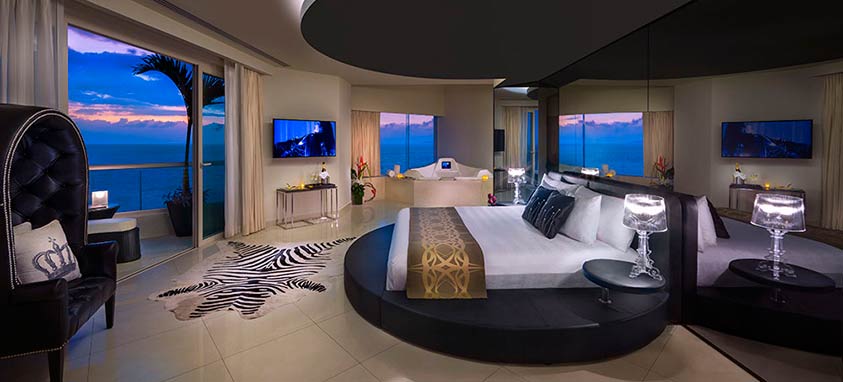 Hard Rock Hotel Vallarta, Mexico
As more all-inclusive resorts elevate the quality of their biggest services, some go an extra mile or two and come up with indulgent, fun and quirky extras designed to enhance the overall guest experience.
Hard Rock Hotels
Need a quick shot of creative energy or just
something fun to do with your hands? Have a Fender guitar delivered to your room, along with an amp and headphones, at all Hard Rock hotels, including the all-inclusive properties in Mexico and the Dominican Republic. Video lessons are available on in-room televisions.
Paradisus Palma Real
This resort owns the Dominican Republic market share on opulence. Fountains, pools and classical architecture greet guests everywhere, and the lush grounds exude tropical luxury.
Grand Velas Riviera Maya
It's hard to beat 24-hour personal butler service. Need emergency laundry service? Want a late-night dessert to help you sleep? Dial up your butler and whatever you need is on its way at this Mexico property.
Hard Rock Hotel Cancun
If you need a nightcap, look no further than the in-room liquor dispenser, which has top-shelf rum, vodka, tequila and whiskey on tap. Grab a mixer from the mini bar and you're good to go at this popular Mexico resort.
Paradisus Playa del Carmen La Perla
Mexico property with swim-up rooms. Because walking all the way back to your room after a dip in the pool can be far too tedious.
Live Aqua
Serenity is the name of the game at this Cancun AI. Incense and scented candles burning in all common areas and in rooms (you can choose the specific scent in your room) lend a spa-like feel to the entire property.
---
Resources
-Bahamas Ministry of Tourism – bahamas.com
-Cancun Convention & Visitors Bureau – cancun.travel
-Costa Rican Tourism Board – visitcostarica.com
-Dominican Republic Ministry of Tourism – godominicanrepublic.com
-Jamaica Tourist Board – visitjamaica.com
-Mexico Tourism Board – visitmexico.com
-Visit Los Cabos – vcabo.com