Even the most serious business meeting can be improved with a touch of West Hollywood (WeHo) style. Smart Meetings visited the capital of Anything Goes with event consultant Jennifer "Jenn" Laskey of RedLight Special Events for a lesson in pushing boundaries. If you can try only one new thing at your next gathering, this celebrity venue matchmaker has some star-quality suggestions.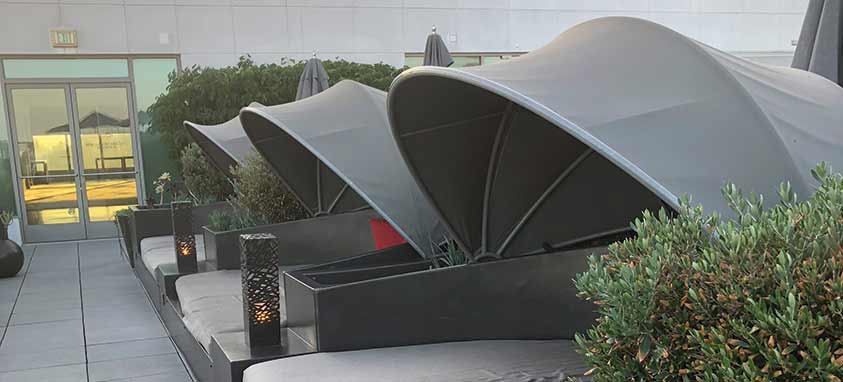 F&B Inspo
Your group has to eat, but it doesn't have to be boring. Food station activations, donut and bagel walls, have become Instagram BFFs. So why not a "salatini"? Offer greens, toppings and dressing fixings for guests to assemble in martini glasses. For libations, consider signature drinks with creative themed names, incorporating unusual ingredients or using unusual containers. Laskey once hired bartenders dressed as nurses to squeeze red-tinted drinks into guests' mouths from faux needles.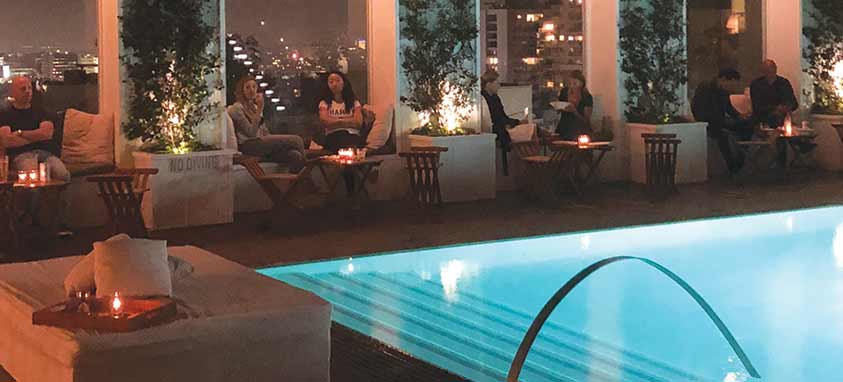 Brand New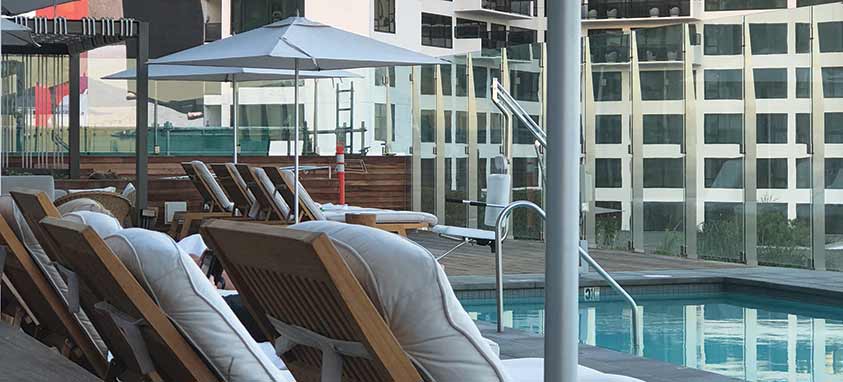 Logos aren't just for T-shirts anymore. From gobos to napkins, the company colors and fonts establish a sense of purpose. Plastering custom decals on walls, floors—even elevator buttons—is one way to assure people they belong. Name-checking is a classic SoCal trick to draw attention.
Show and Tell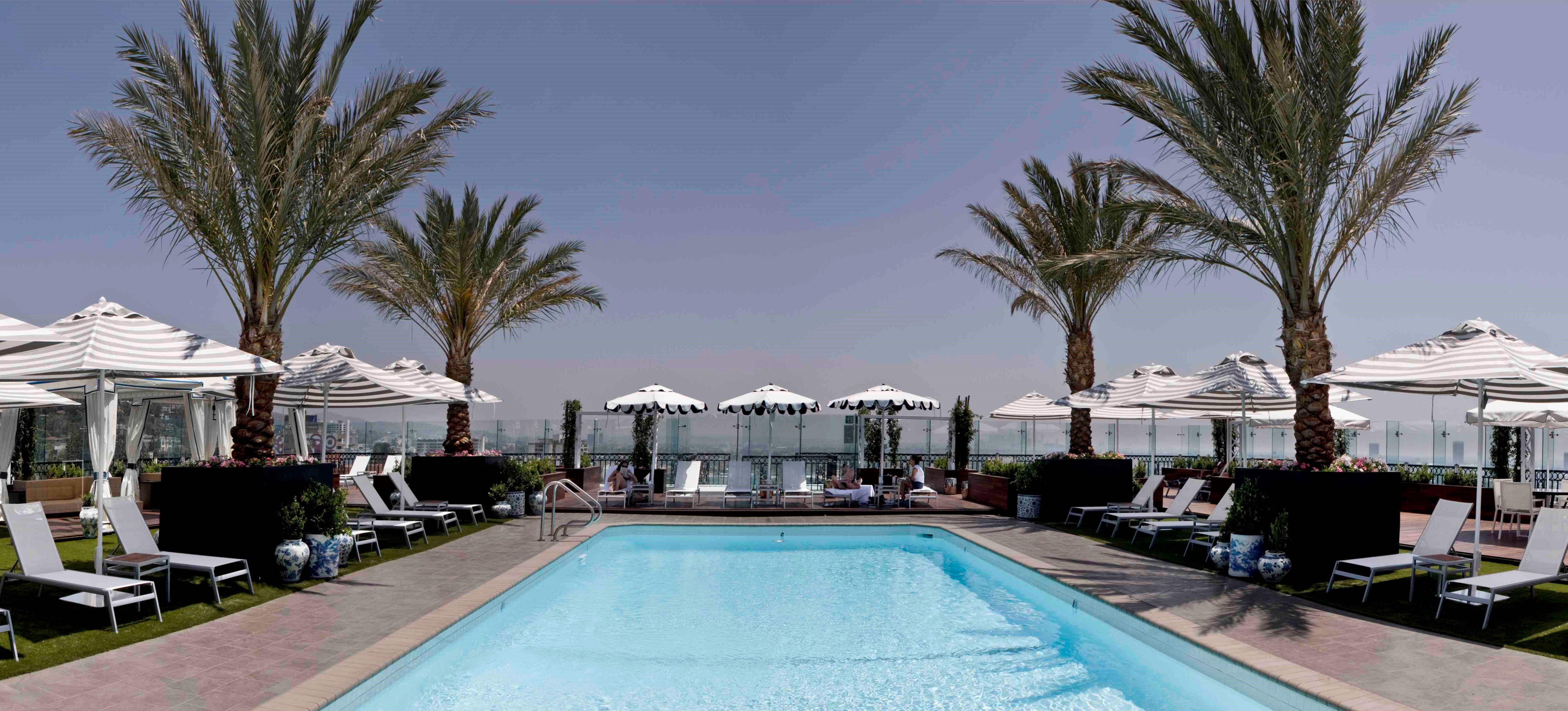 One of Laskey's favorite cheats for adding life to an event is to cue the performers. She has incorporated mermaids, fire dancers, live painters, magicians, tarot-card readers and musicians to memorable effect. A guitar player or trumpeter accompanying a DJ on recorded tracks can give a room a mood and focal point.
Take it to the Proof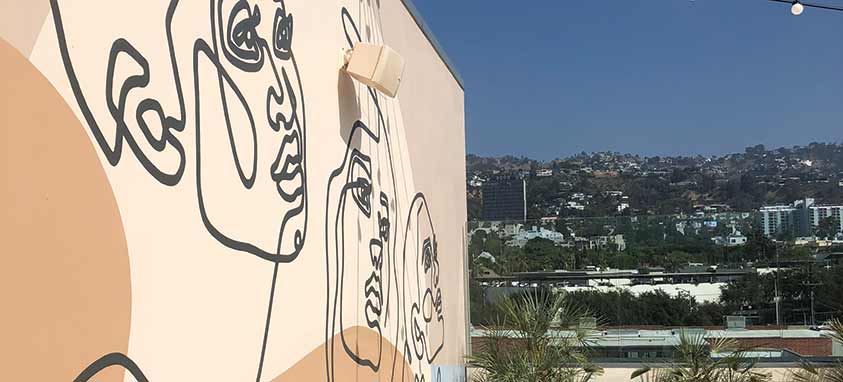 Los Angeles is the land of rooftop soirees. Picking a venue that has ready-made creative touches can make topping last year's event a little easier. In keeping with its lawless rocker roots, WeHo has an abundance of distinctive venue "personalities" all along The Sunset Strip.
Andaz West Hollywood iced the cake of its status as highest rooftop pool venue in L.A. by lining it with hooded daybeds, a cabana that raises money for Product Red (RED) HIV/AIDS research and a 2,730-square-foot Panorama Ballroom with floor-toceiling city views. A built-in marble bar sets the stage for a stylish affair.
Down Sunset Boulevard, Mondrian Hotel Los Angeles sports a whimsical vibe designed by artist Philippe Starck and capped by Skybar Lounge and Ivory on Sunset restaurant. In this popular spot for glimpsing the rich and famous, that extra something comes in the form of peekaboo wall cut-outs that let in the twinkling lights of the Hollywood Hills.
Petit Ermitage, a legendary West Hollywood property by famed hoteliers Severyn and Arnold Asheknazy, serves up gypsy chic at the eclectic, private rooftop venue that skirts a heated saltwater pool—often scented with the essence of damask roses. It just also happens to be a certified hummingbird and butterfly sanctuary.
A minimalist kid on The Sunset Strip, The Jeremy West Hollywood, will soon sport a new flag as the first 1 Hotel on the West Coast, a luxury ecoconscious brand from Starwood Capital that will preserve its open, cool-kid feel, while adding to the functional offerings. With 10,000 sq. ft. of meeting space, including a rooftop bar and lounge (natch), it can hold the biggest gathering in the 1.9 square miles of WeHo.
For a more sophisticated Europe-meets-L.A. feel, consider The London West Hollywood at Beverly Hills' Boxwood on the Roof. Build your theme on the foundation of evergreen carpet and classic white wicker furniture and umbrellas. What could be more entertaining than inviting the house English bulldog, Winston, to join the festivities (WeHo has repeatedly been voted one of the most dog-friendly cities in the United States)?
In its short life since opening in January, Kimpton La Peer Hotel has already shut down traffic in the Design District to hoist a fully loaded Infinity onto the roof for a car launch event. Even without extra horsepower, the artsy rooftop patio and greenroom space welcome high-octane thinking.