Or, why it matters who does it all
From the first moment, you know you're in the hands of pros. Maybe it's the upbeat rock that pulsates just loudly enough through the high-ceiled lobby. Or the made-to-order craft cocktail quickly set before you. Or that ineffable feeling of having arrived. Just a few months old, Unico 20°87° Hotel Riviera Maya is the first in what AIC Hotel Group envisions as a series of all-adult, all-inclusive luxury hotels on some of the world's best beaches. These are the Hard Rock people, so the mindset is distinctly party on, but this is sophisticated revelry for grown-ups who also want to be pampered.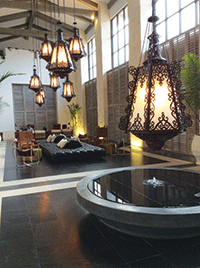 At 448 rooms—almost all with ocean views—the scale is small for this part of Mexico. Five restaurants. Five bars. Three pools. In the attractive, Mexican-contemporary convention center, the ballroom, which is divisible by three, totals 11,603 sq. ft., and 10 breakouts add another 4,220 sq. ft. Two expansive terraces are muy perfecto for outdoor events.
Unico means unique. At this property, that translates to an elevated experience for attendees without as much meticulous prework for you. The hotel has already done the heavy lifting to deliver an extensive menu of activities and services to keep guests engaged and amused. Most are included without additional charge; others can be added for a 20 percent service fee. (A haircut at the upscale barber shop with complimentary beer and bourbon cart for $6—now that's unique.)
Unico 20°87° (the degrees refer to the property's geographic coordinates) wants to attract small-to-medium meetings and be the go-to incentive destination on the Riviera Maya, between Cancun and Tulum. That was the reason for this fam visit. And here are the primary lessons drawn from four days and three nights of living without limits.
Lesson 1
Soft landings are best: We all know what it's like to levitate in shock as the alarm sounds at 3 a.m., rush half-sensate to the airport for an early-morning departure, be herded into a torturous coach seat, and discover your seat mates are a pair of hyperactive lads who enjoy squirming and pushing the flight attendant button to request more sugary drinks. Thus, after landing and shuffling through customs, seeing my purple-shirted private driver made me want to weep. Better still was the very good Wi-Fi in the van and the very cold cerveza (beer) in my hand.
Lesson 2
Eat like a food critic: Attendees will be tempted to overindulge. F&B standards at Unico 20°87° are high, so it's worth pushing the boundaries of your capacity for food and drink. Don't resist the urge, and follow the example of professional food writers: Sample much, finish little. Of the restaurants sampled, most adventuresome is Cueva Siete, named for the seven origin caves of Mayan mythos. A new chef is rotated in every so often, but you will be thankful to sample the refined Mexican flavors of former Top Chef Mexico Christian Bravo.
Lesson 3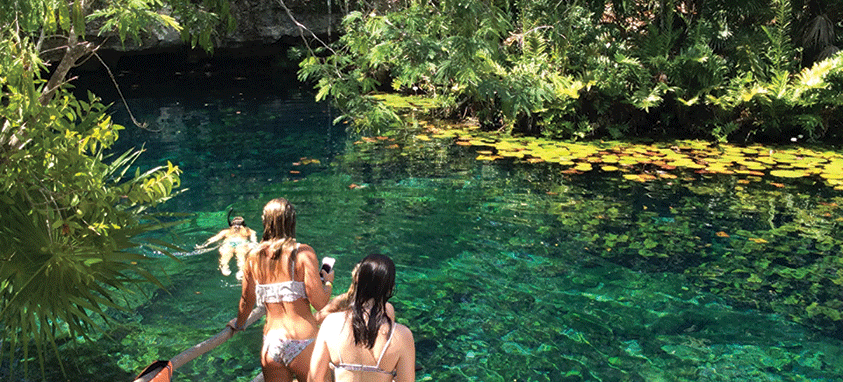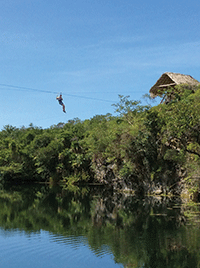 Get off site, for authenticity and change of pace: The cosseting comfort of Unico 20°87° is all-inclusive, too. But without venturing forth, Mexican authenticity will be an experiential gap. Highly recommended: a private, guided cenote tour at Mayan Village & Tankah Cenotes, led by the on-property Vacation Makers Center. As a signature tour, it does cost extra, but a half-day of ziplining, canoeing, diving and swimming in four distinctly different cenotes—among the 6,000 limpid, limestone pools that provide the fresh water of the Yucatan—will leave your attendees refreshed and ready for a traditional meal prepared by the descendants of ancient Mayans who maintain this just-rustic-enough eco-park.
For a complete change of pace, venture a few miles north to Woodward Riviera Maya, at Hard Rock Hotel Riviera Maya. Opening this month, this 20,000-square-foot "shrine to lifestyle sports" offers a chance to snowboard and ski in Mexico (with "dryland" gear), and try the skate and BMX park, trampolines and foam pits, parkour, cheer and hip-hop dance programs, as well as the digital media and music studio. Instructors welcome all skill levels, and there are observation platforms to just watch.
Lesson 4
Let the pros do their thing (so you don't have to): AIC Hotel Group has been in the all-inclusive space in Mexico for three decades, and it shows. It has the secret sauce for just the right amount of comic relief, learnings and amusements.
Luis Felipe Vallejo Martin, the executive mixologist, can teach your group how to make his signature margaritas, Frida and Diego, and an unexpectedly good variation on the classic gin-and-tonic that involves cardamom. Or how about pop-up oil painting on miniature canvases, or floating yoga on one of the infinity-edge pools? In the sheer amusement category, a droll fellow dressed in black can provide shock and awe with mystifying card tricks and amazing spoon bending. Download the Unico 20°87° app to your smartphone, and you'll know just where to find all this and more.
Lesson 5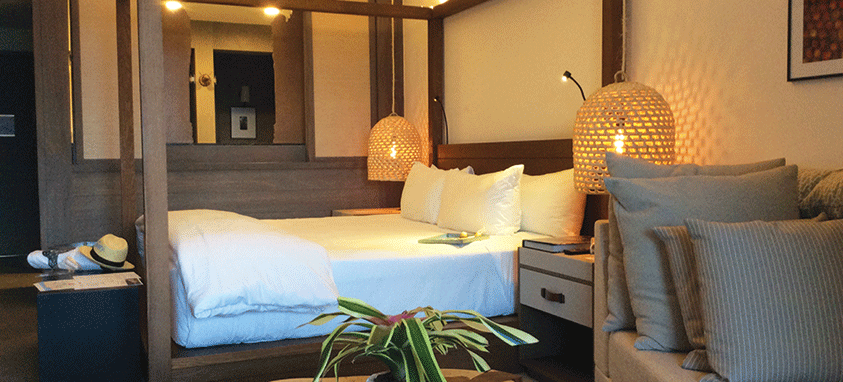 This is as close to being rock stars as your group will ever get, so urge them to go for it: No one should hesitate to put their guest room's anfitrion (local host) to the test. Personal butlers, of course, are increasingly common at ultra-swank hotels and resorts, but how many properties also have a porcelain spa tub on the balcony, with uninterrupted views to the pools and aquamarine Caribbean beyond? Claro que si! (Yes, of course!) "Joaquin, please prepare a bubble bath at midnight!" This elevated concept of service also can be used for tips on must-see, secret spots in the area, planning special events and occasions—or simply a shoe shine, ironing or packing.