The low down from a new report on where costs are going, why and what you can do about it
Could 2023 be the year the meetings industry picks up momentum where it left off at the end of 2019 and charges ahead using the technical knowledge and purposeful mandate hard-earned over the last three years to plan bigger, more effective and meaningful events? A new study by American Express Global Business Travel (GBT) Meetings & Events seems to point in that direction.
Gerardo Tejado, senior vice president of global value development and general manager of Meetings & Events with American Express GBT, forwarded the 2023 Global Meetings and Events Forecast with a note that respondents were "very optimistic" about the future. Two-thirds expected that the number of in-person events will return to pre-pandemic levels within one to two years. Anecdotally, he is seeing the same with his company's and his clients' meetings, which have already exceeded 2019 levels by as much as 25% in some cases.
Tejado pointed to several reasons for optimism in his note, but a big one that impacts North America particularly is the trend to remote workforces or hybrid office environments. "The need to bring employees together has never been greater nor more widely recognized, he said, quoting Stanford economics professor Nicolas Bloom, who has said the shift to work from home is the largest shock to labor markets in decades and has seen a six-fold jump compared to pre-pandemic levels. "In-person meetings and events have proven to be the most effective way to drive employee wellness and retention, instill company culture and corporate values, improve team bonding, and increase professional development," he said.
Tejado saw the increased demand as an opportunity for the meetings and events industry to expand its impact and reach. "Prior to the pandemic, internal meetings were often an afterthought for many organizations," he said. Now that everyone realizes the importance of human connection, meeting professionals are positioned to drive change and innovation from a place of authority.
"We are pleased to see a renewed respect for the value of meetings and events, as understanding of the sector's critical role in building culture and driving business continues to grow. This respect, combined with the industry's depth of knowledge and experience, signals a bright future indeed," said Tejado.
All this bullish news doesn't mean the return to robust in-person meetings will be easy. Costs are also growing across the board and in some areas space availability is so compacted ballrooms aren't available on some days at any price. We will examine the reasons and strategic approaches being taken to manage those challenging conditions.
But first, let's look at the numbers.
Healthy Optimism
When American Express GBT surveyed 580 global event professionals about their outlook for the industry, they found meeting managers both "positive and overwhelmed." The return to in-person meetings happened more rapidly and at a greater volume than expected and is projected to continue the boomerang for at least the next 12 months as groups make up for lost time.
Survey respondents were almost universally confident about the health of the meetings and events industry next year: When asked how optimistic they are about the health of the meetings industry in 2023 on a scale of 1–10, 77% chose 8 or above (an increase from 71% last year). "Organizations clearly appreciate the need to bring people together face-to-face and are willing to spend the money to do it," the report concluded.
Two-thirds of survey respondents believe that the overall number of in-person events will return to pre-pandemic levels within one to two years. In some regions, certain types of meetings (internal and small and simple) are already over 2019 levels.
Meetings of all types are expected to increase in 2023. Internal meetings are expected to see the biggest percentage increase in the number of attendees, with a 4.5% expected increase globally. Conferences and tradeshows were predicted to expand from 2022 levels by 3.3% and incentives, which now often include groups outside of traditional sales qualifiers, could increase by x%.
"We are pleased to see a renewed respect for the value of meetings and events, as understanding of the sector's critical role in building culture and driving business continues to grow. This respect, combined with the industry's depth of knowledge and experience, signals a bright future indeed."
– Gerardo Tejado, American Express Meetings & Events
The only meetings not expected to grow substantially next year are virtual and hybrid meetings. "Virtual fatigue is real—attendees want to see each other in person. Organizations want their customers and employees to meet in person, too," the report concluded. Hybrid was often considered a fallback or insurance policy rather than the first option. Only 29% of meetings in North America were expected to be hybrid.
A majority of respondents were also hopeful that the compression now constraining the scheduling of some events will ease up at least by 2024 with 45% seeing increases in hotel rooms in the coming year and 59% seeing more places for attendees to stay by 2024. That optimism was even higher for meetings space as 49% said they anticipated more ballroom and breakout rooms by 2023 and 58% by 2024. CBRE forecasts that hotel room supply will increase at a moderate 1.2% growth rate over the next five years.
Still all those bigger meetings are also going to be more expensive as inflation is taking a toll. Meeting spend is predicted to increase by 3.1% on average, the same as last year's survey. In North America and Europe, some projected that their budget would have to increase significantly, by 11% or more.
Even if the number of people attending were increasing, the cost per-attendee is going up across the board. For small meetings, that could be an average of 1.5%, but for big productions, price increased, of 3% per-attendees could be the norm. Group hotel rates in North America are pegged to rise 7.4% and airline ticket prices by 7.8%.
New Twists for the Pandemic Era
The health of events is measured by more than the number of back ends in seats at board tables and convention halls or even dollars spent on hotel rooms and buffets. How meetings are planned and executed is more nuanced than it may have been in 2019 when a lot of "rinse and repeat" programs were iterating on a proven model. Now, new goals and twists have been introduced to challenge the accepted ways of sourcing and contracting. Luckily, crafty meeting mixologists are finding ways to turn logistical lemons into functional lemontinis.
Challenge: Compressed Booking Windows
It is difficult to find an industry cocktail party or webinar where people aren't complaining about how major conferences that used to take a year or more to plan are being proposed six or nine months in advance of the go-date and smaller events compressed even more because decisionmakers are hesitant to make commitments in an uncertain environment. The American Express study found a continued trend for short booking windows with lead times 25% shorter than in 2019.
Innovation: What if this pain point leads to improvements in how meetings are planned in the form of more robust adoption of the online sourcing that has been discussed for years and an increase in multi-year contracts, turning meeting professionals and vendors into true partners? "We expect to see continued innovation and automation for small and simple meeting bookings, the RFP process, and other repetitive tasks," said Tajado in the report.
Challenge: Sustainable Meetings
Against a backdrop of warnings that climate change will be the next global disaster to disrupt business, how can the events industry prove that meeting in-person improves the world?
Innovation: Improved reporting on the true footprint of staying home versus traveling and the ability to accurately research airline and hotel partners sustainability initiatives will allow us to better source destinations and venues and show that we are leaving places better than we arrived. North American program owners can learn a lot from our European counterparts.
Challenge: Inclusive Meetings
One of the silver linings of the rush to online events was the access afforded to audiences who might not have been able to travel to in-person events before. How do we recapture the magic of in-person while ensuring that everyone still has access to information and more diverse audiences feel welcome?
Innovation: According to the American Express Meetings and Events survey, 87% of organizations strive to incorporate DE&I into their meetings and events. Using minority-owned suppliers is the number one way organizations incorporate diversity into their meeting programs.
Above 2019 Averages
The optimistic outlook of American Express GBT sentiments is already being confirmed in end of 2022 year numbers. The data-as-a-service company Knowland reported that November 2022 achieved 103.1% of November 2019 volume, exceeding monthly pre-pandemic levels for the first time. Corporate meetings continued as the dominant segment representing 53.5% of the meetings and events business, with Healthcare taking the lead as the largest industry segment.
By almost every measure, meeting health was trending higher. Average number of attendees per-event for November 2022 was 118, compared to 105 in November 2021 and 104 in November 2019. Average space per-person was in line with prior years at  3,028 sq. ft. compared to 3,009 sq. ft. in 2019.
The top five market growth markets were Las Vegas; San Juan, Puerto Rico; Fort Myers, Florida; Miami,; and the Kauai Islands, Hawaii.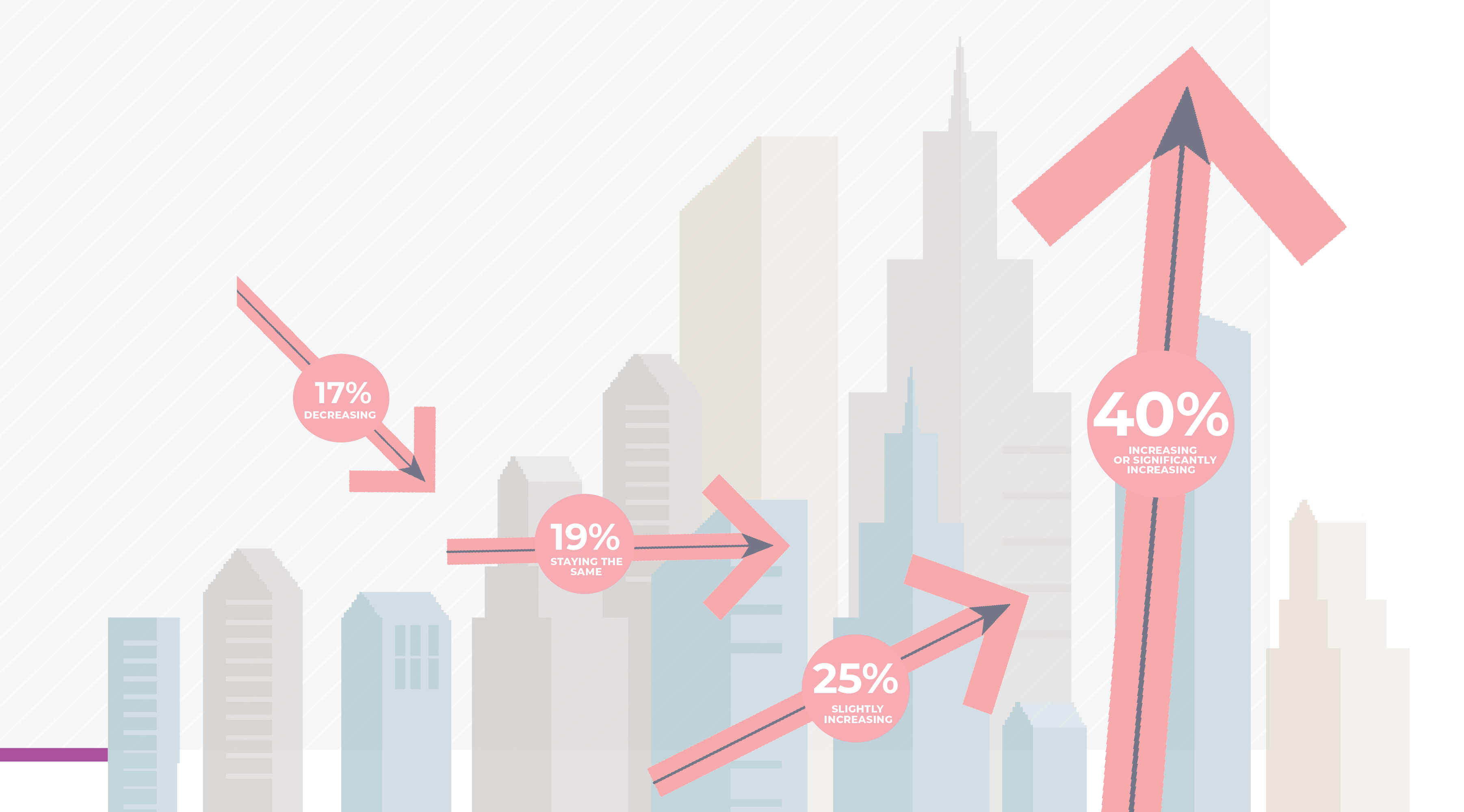 Source: North American Survey from American Express Meetings & Events
This article appears in the January 2023 issue. You can subscribe to the magazine here.