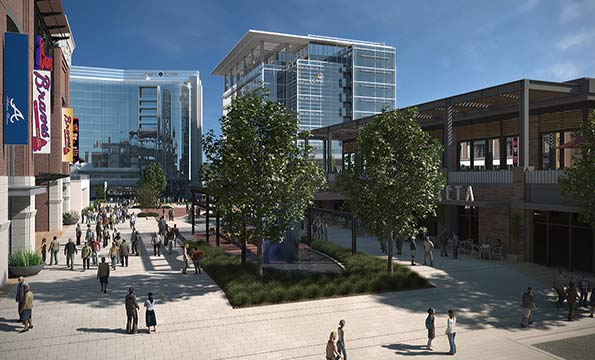 It's pretty common to have hotels that complement convention centers. But what about hotel built adjacent to professional sports complexes specifically designed to accommodate players, fans and groups?
The Atlanta Braves and  Omni Hotels & Resorts are working together to develop a new hotel property next to SunTrust Park in the Cumberland area of Cobb County northwest of Atlanta. The luxury, full-service hotel will also be a key component for the mixed-use community, which will include residences, office space, dining options retail shops and an entertainment venue.
Omni Atlanta Hotel at SunTrust Park will include 260 guest rooms and suites, rooftop hospitality suites and approximately 12,500 sq. ft. of meeting space. Perfect for small- and medium-sized groups, the hotel will feature an elevated pool deck and bar overlooking the plaza and ballpark.
There's going to be high-tech component to the area, which will be powered by an all-fiber network that has the highest-capacity network serving any ballpark and mixed-use community in the nation; it will be capable of delivering multi-gigabit speeds throughout the entire development.
"Our unique brand of hospitality is a big part of the experience of attending an Atlanta Braves game, and we're thrilled to have a partner that embodies that same feeling with their guests," said Terry McGuirk, Atlanta Braves chairman and CEO. "Omni Hotels & Resorts only builds and operates iconic properties in premier destinations. Their presence in this community further enhances our belief that this will be a destination unlike anything in professional sports."
The Braves plan to move into SunTrust Park in 2017 after their lease runs out at Turner Field in 2016. Ground was broken on SunTrust Park in September 2014. The Omni is expected to break ground later this year.