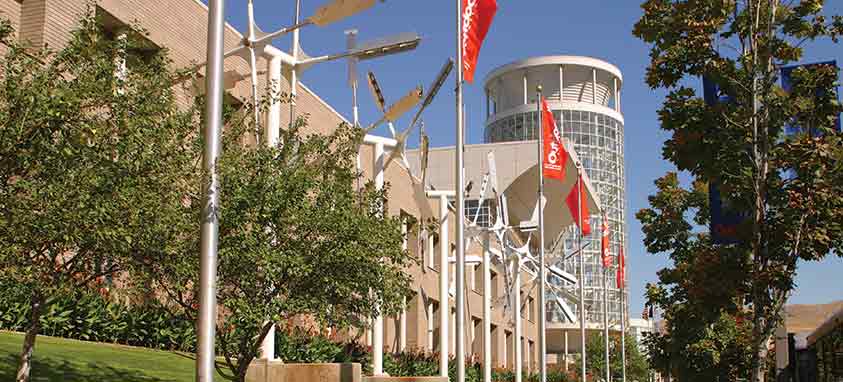 An estimated 5,500 nonprofit and association professionals are attending the ASAE convention at Salt Palace Convention Center in Salt Lake City.
ASAE is known for its parties, and Salt Lake City will keep the party going. The opening night event on Aug. 13 took place outdoors amid crisp mountain air in Liberty Square, a downtown plaza. The event is expected to feature the world's largest social media wall, which will be projected on the side of The Leonardo, the city's art, science and technology museum.
The closing bash on Aug. 15, at Grand America Hotel, will have a movie theme to highlight Utah's Sundance Film Festival. The Bacon Brothers will perform, which is apropos since Kevin Bacon filmed his classic movie hit Footloose south of Salt Lake City.
Smart Meetings Chief Copy Editor Dan Johnson and Publisher Eric Haase are attending ASAE 2016. You can follow their live updates on Twitter at @SmartMtgsDan and @SmartMtgsEric.
Last Updated August 15, 2016 – 8:07 PM
The Bacon Brothers, with film favorite Kevin, is leading the party at the ASAE Classic. #SmartMtgs #ASAE16 pic.twitter.com/8EonXsJ6Dc

— Dan Johnson (@SmartMtgsDan) August 16, 2016
Guess which actor's band is going to take the stage tonight? Think ______ and eggs. #SmartMtgs @SmartMtgsEric pic.twitter.com/viWTWbs6Zu

— Dan Johnson (@SmartMtgsDan) August 16, 2016
ASAE's Classic event tonight at Grand America Hotel has a Sundance Film Festival/movie theme. #SmartMtgs #ASAE16 pic.twitter.com/ZX7HdwGg2N

— Dan Johnson (@SmartMtgsDan) August 16, 2016
Mark White of Visit Salt Lake is looking forward to a very bright future for the city, host to 2016 ASAE. #SmartMtgs pic.twitter.com/84rjzXDLsg

— Dan Johnson (@SmartMtgsDan) August 16, 2016
Miguel Andres Hernandez Arteaga of the Puerto Vallarta CVB is enthused about big changes in the city. #SmartMtgs pic.twitter.com/NAeGMYVMcX

— Dan Johnson (@SmartMtgsDan) August 16, 2016
Visit Savannah's Jeff Hewitt tells Smart Meetings' Dan Johnson about the city's lure. #SmartMtgs @VisitSavannah pic.twitter.com/mp9xIwuyTF

— Dan Johnson (@SmartMtgsDan) August 15, 2016
John Cychol, VP of meeting sales for Fort Worth CVB, invites groups to visit his happening city. #SmartMtgs #ASAE16 pic.twitter.com/cIaQLvXquX

— Dan Johnson (@SmartMtgsDan) August 15, 2016
Atlanta's Mark Vaughan (left, CVB) and Mark Zimmerman (GWCC) discuss plans for a convention center hotel. #SmartMtgs pic.twitter.com/G55uDt4vMJ

— Dan Johnson (@SmartMtgsDan) August 15, 2016
Dallas CVB's Jay Marsh is excited about his city's future plans. #SmartMtgs; @SmartMtgsEric; #ASAE16 pic.twitter.com/x3f8mKDnz8

— Dan Johnson (@SmartMtgsDan) August 15, 2016
Two amazing properties @SeaIslandResort & @TheBroadmoor #ASAE16 Thanks @PepperDombroski. @SmartMeetings pic.twitter.com/DydZywU9Nv

— Eric Haase (@SmartMtgsEric) August 15, 2016
There's so much new going on in @VisitSavannah #ASAE16 @SmartMeetings pic.twitter.com/E2uP50VqX6

— Eric Haase (@SmartMtgsEric) August 15, 2016
Lots going on in @MeetMinneapolis. Thanks @brentfoerster for the update. #ASAE16 @SmartMeetings @SmartMtgsChris pic.twitter.com/t9DHPRu9hB

— Eric Haase (@SmartMtgsEric) August 15, 2016
There always something fun going on at the @Zermatt_Resort booth at #ASAE16. @SmartMeetings @SmartMtgsChris pic.twitter.com/bO1tqtCerm

— Eric Haase (@SmartMtgsEric) August 15, 2016
#ASAE16 rocks!! It was great catching up with @meetPHL at their booth. @SmartMtgsJeff @SmartMeetings pic.twitter.com/sXQieen3K6

— Eric Haase (@SmartMtgsEric) August 15, 2016
Thanks @BillTalbert for the update on Zika in @MiamiandBeaches #ASAE16 @SmartMeetings @SmartMtgsArthur pic.twitter.com/4krW87HMNi

— Eric Haase (@SmartMtgsEric) August 15, 2016
Thanks @BillTalbert & @MiamiandBeaches for being a great host last month @SmartMeetings @SmartMtgsArthur #ASAE16 pic.twitter.com/QoJZbIejd3

— Eric Haase (@SmartMtgsEric) August 15, 2016
Paul Barnes, assistant director of Austin Convention Center, is enjoying ASAE. #SmartMtgs; @SmartMtgsEric pic.twitter.com/Dlv9F3Oasy

— Dan Johnson (@SmartMtgsDan) August 15, 2016
Great seeing @erikamiller with @SFMeetings & @SSFCONFCntr at #ASAE16 pic.twitter.com/EmutEZUl9i

— Eric Haase (@SmartMtgsEric) August 15, 2016
Thanks Nancy Garvey from @InsideSonoma at #ASAE16 @SmartMeetings pic.twitter.com/i9XgpLuo0k

— Eric Haase (@SmartMtgsEric) August 15, 2016
Great catching up with @koreatourism at #ASAE16 @SmartMeetings @SmartMtgsJeff pic.twitter.com/hRNQLvPzWc

— Eric Haase (@SmartMtgsEric) August 15, 2016
Buenos tardes from Mexico Tourism Board at #ASAE16 @MeetingsMx @cesarmendozan @SmartMeetings pic.twitter.com/pdnkZjpFr2

— Eric Haase (@SmartMtgsEric) August 15, 2016
Sawasdee from @ThailandCVB at #ASAE16 @SmartMeetings @SmartMtgsJeff pic.twitter.com/S65d5u7XxV

— Eric Haase (@SmartMtgsEric) August 15, 2016
Visit Houston is well-represented at ASAE.#SmartMtgs @SmartMtgsEric #ASAE16 pic.twitter.com/fTyb8jsucU

— Dan Johnson (@SmartMtgsDan) August 15, 2016
Members of Flying Ace All Stars amaze ASAE attendees at Deer Valley. #SmartMtgs @SmartMtgsEric #VisitParkCity pic.twitter.com/QcPJtJE7b0

— Dan Johnson (@SmartMtgsDan) August 15, 2016
Smart Meetings' Eric Haase and Dan Johnson ride a chairlift in Park City. #SmartMtgs @SmartMtgsEric @VisitParkCity pic.twitter.com/beBsi67Wmi

— Dan Johnson (@SmartMtgsDan) August 15, 2016
Megumi Robinson of Visit Columbus talks with Smart Meetings' Dan Johnson at ASAE. #SmartMtgs @SmartMtgsEric pic.twitter.com/TGYP0D8T5V

— Dan Johnson (@SmartMtgsDan) August 14, 2016
Visit Raleigh from North Carolina added a festive touch to the ASAE trade show in Salt Lake City. #SmartMtgs pic.twitter.com/ovw6qqGYel

— Dan Johnson (@SmartMtgsDan) August 14, 2016
Astronaut Mark Kelly addresses ASAE. He and twin brother Scott delivered an enthralling presentation. #SmartMtgs pic.twitter.com/oiMtOuolHn

— Dan Johnson (@SmartMtgsDan) August 14, 2016
President and CEO John Graham addresses attendees at the ASAE.convention in Salt Lake City. #SmartMtgs pic.twitter.com/BLR74El5Bv

— Dan Johnson (@SmartMtgsDan) August 14, 2016
The home of the city and county government in Salt Lake City looks like a historic castle. #SmartMtgs pic.twitter.com/bPoMyZ2WwL

— Dan Johnson (@SmartMtgsDan) August 14, 2016
Bandaloop dancers on a wall outside Salt Lake City Library at ASAE opening night. #SmartMtgs #SmartMtgsEric pic.twitter.com/D0Vq8LqkH7

— Dan Johnson (@SmartMtgsDan) August 14, 2016
ASAE Salt Lake City attendees gather in the lobby lounge of the elegant Grand America Hotel on Saturday. #SmartMtgs pic.twitter.com/x03LHAkdz7

— Dan Johnson (@SmartMtgsDan) August 14, 2016