We got our mojo on in a major way at the Smart Meeting New Orleans. The three-day event drew a stellar cast of planners and suppliers who networked in 25 one-on-one appointments and during multiple delectable meals and breaks. Attendees were welcomed to the Big Easy by a brass band, courtesy New Orleans Convention & Visitors Bureau.
Our host was the newly renovated Le Meridien New Orleans; its modern, 20,000 sq. ft. of meeting space amply accommodated our group. We feasted on local fare from Le Meridien's kitchens, including jambalaya, gumbo and Bananas Foster. The hotel, steps from the French Quarter, boasts 410 guest rooms and a striking rooftop swimming pool area where our opening reception took place.
Educational sessions were outstanding. Some attendees came early for the pre-conference workshop on event experience mapping by Jeannie Power. The opening keynote on Sunday by Jeff Havens—a Smart Meetings contributor—on tyranny and generational differences in the workplace was hysterically funny and simultaneously motivating.
The next day Wendy Ida, gorgeous, ripped and about to turn 63, told us how to be fit and fabulous and overcome seemingly insurmountable personal obstacles. Gary Hernbroth explained to the lunchtime audience thoroughly modern methods of retaining customers and increasing sales. And Debi Silber, "the mojo coach," urged mental, physical and spiritual transformation through positive health and lifestyle choices.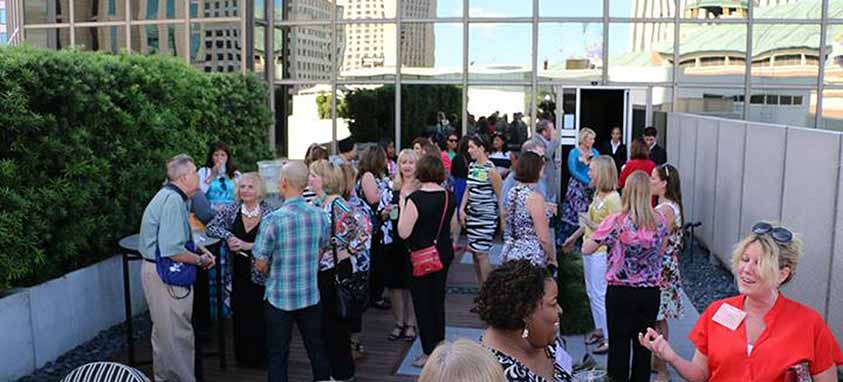 On Monday afternoon, it was hard to choose which tour to take: Mardi Gras World, to see how the magic comes together; the National World War II Museum; or an historical exploration of the French Quarter (and voodoo!).
The piece de resistance: A second line band led the group from Le Meridien to the stylish W French Quarter by way of Canal Street on Monday night. Our parade of meeting pros sashayed to the sassy music, twirling parasols and waving handkerchiefs.
Our final day included more networking appointments, plus a fun scavenger hunt that sent participants searching city corners. Then it was time to say goodbye to new and old friends.
Don't miss out on the best—the original!—events for business connections and professional growth. The next Smart Meeting takes place where you want to be. Register now at smartmeetings.com/events.
Thank you to our sponsors
Accent on Arrangements
BBC Destination Management
Custom Conventions
eSpeakers
Etouches
Fran's Chocolates
Giovanni Cosmetics
House of Blues
Image Screens
Le Meridien New Orleans
New Orleans Convention & Visitors Bureau
PC/Nametag
Power Event Group
PSAV Presentation Services
See Agency
Sunny Delight
Training for Winners
W New Orleans
Watson Adventures
Wendy Ida
White Towel Services
WineSkin
---
"This was my very first experience with Smart Meetings and I am not only impressed but walked away from the conference feeling extremely empowered and inspired! After being in the event planning business for over 15 years, I have never participated in an experience that has touched me as this one did."
—Donielle Smith Flynn, Event Planner, Broker Sales Operations, Aflac Broker Channel
"Thank you for the opportunity to visit so many vendors in such a short amount of time.  I'm excited to be working with a few of your vendors. I must say it's very different being on the attendee side of a meeting, vs. the planner side of things.  You certainly made this a fun event, as well as educational— and memorable. Job well done!"
—Amy Amend, Event Planner, Tops Software
"I made a lot of valuable connections, learned from the speakers, and had a great time.  What a great event.  Kudos to your team!"
—Joanna Oliver, Manager of Business Travel and Conference Planning, EmCare
"I really enjoyed meeting hotels in destinations that I'm not familiar with, but look forward to booking in the near future."
—Richi Wang, Chief Chi Officer, Avery Murphy LLC