When veteran planners gathered at Hyatt Regency Monterey this week for the 9th annual SPINCon, every activity—from the opening challenge and dinner at Monterey Bay Aquarium, to the 40 over 40 celebration luncheon at Folktale Winery & Vineyards and the bingo-pajama-dance party—was designed to support the whole person. Smart Meetings sat in on the fun and games and came back with some potent lessons for making gatherings more meaningful.
Create a Safe Space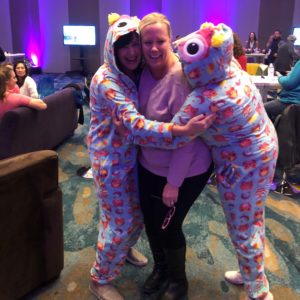 Meeting professionals are uniquely positioned to design environments that affect how people feel. Why not focus on making that a safe space for expressing real emotions? The conference kicked off with a single rule—no using the "f"-word, and by that Senior Planners Industry Network Executive Director Tracey Smith was referring to the word "fine." When people asked how you are doing, you were to answer truthfully instead of with a politically correct answer.
A number of sessions addressed overcoming anxiety and stress, including the stress of travel with tips on overcoming jet lag from Travel Balance Chief Balancing Officer John Ayo.
Meredith Martini, CEO of PlayWorks Group, put the economic price tag each year due to depression in the billions. Although that fact is seldom talked about, she suggested that planners be the first to ask their colleagues and attendees if they need to talk, and to encourage them reach out for help if needed.
Get Strategic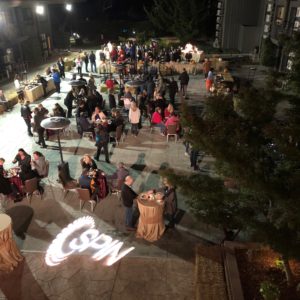 Christy Lamagna, president of Strategic Meetings & Events, shared secrets for getting out from under the deluge of details to make time for big-picture thinking. It starts with surrounding yourself with people who are smarter than you. Meetings require teams, and that means trusting the people around you.
Once you have the right people in place, she suggested replacing your never-ending to-do list with a ta-da list of the things that will have the most impact. She also encouraged planners to learn to say "No, thank you" when asked to do things that are not the highest priority and best use of time.
📍 Smart tip: All these ideas can be used for both professional and personal enhancement. As Lamagna pointed out, "Life is the ultimate event."
Turn Insights into Action
After three days of making new friends and learning new tricks, it is easy to get overwhelmed and let the good intentions fall through the cracks under the mountain of emails waiting your return. That is why Dean Savoca, keynote speaker with Savoca Performance Group, closed the conference with an exercise designed to help everyone follow through on their aha moments.
"The brain defaults to consistency and safety over progress," he said. He walked the group through an exercise that identified the most relevant opportunities and resulted in a written action plan, complete with contact information to help make it happen.
Then, everyone hugged and penciled in plans for AdventureCon in Alaska June 1–4 and next year's SPINCon at Kimpton Epic Hotel in Miami December 13–15.