Indiana Pacers Bikeshare
The largest cities in Indiana are Indianapolis, Fort Wayne, Evansville and South Bend. They're all great places for companies and associations to meet. South Bend, Fort Wayne and Evansville have major universities where academia professionals share notes and corporate recruiters find talent.
Indianapolis
Indianapolis was named the No. 1 convention city in the United States by readers of USA Today in 2014. Thanks to Indianapolis 500 Speedway, the Indiana Pacers and Indianapolis Colts, it's also the most well-known city outside of Indiana.
Indiana Convention Center and Lucas Oil Stadium, Indianapolis
As a destination for meeting planners, Indianapolis offers the Indiana Convention Center and Lucas Oil Stadium, which has 566,000 sq. ft. of event space and played host to the 2012 Super Bowl. More than a dozen hotels, with a total of 4,719 guest rooms, connect to the convention center. An additional 7,100 hotel rooms are in the heart of downtown, according to Visit Indy, the city's CVB.
"Visionary civic leaders and decades of investment developed Indy into the most connected convention and event destination in the state," says Daren Kingi, senior vice president of sales for Visit Indy.
Kingi attributes the city's rise as a meetings destination to "vibrant neighborhoods, picturesque gathering places and a burgeoning local food scene that puts more than 250 dining options within walking distance."
The Children's Museum of Indianapolis is dubbed the largest kid's museum in the world. For the Sports Legends Experience, the museum partnered with local sports legends—IndyCar and the Indiana Pacers—to develop 14 interactive exhibits that promote health and active play.
Evansville
Evansville is growing. Recent completion of the Ford Center Arena is attracting sporting events and music stars. Later this year, Tropicana Evansville will complete a $50 million land-based casino that's expected to offer 45,000 sq. ft. of gaming space, new restaurants and entertainment venues.
Old National Events Plaza, the city's convention center, has 280,000 sq. ft. of meeting and event space with ballrooms and a 2,500-seat theater.
The city's downtown vibe, charming shops and friendly people reinforce Evansville's reputation as a traditional Midwestern town. "Our major asset is our people," says Laura Libs, director of marketing and communications for Evansville Convention & Visitors Bureau. "Friendly, warm, good-natured folks share our own special brand of southern Hoosier hospitality."
Libs points to Haynie's Corner Art District, where historic homes on tree-lined streets are being renovated. Artisan shops and restaurants are emerging, as well. She suggests Madeline's for fusion cuisine; Sauced for Italian/American fare; and Penny Lane Coffeehouse, a local favorite.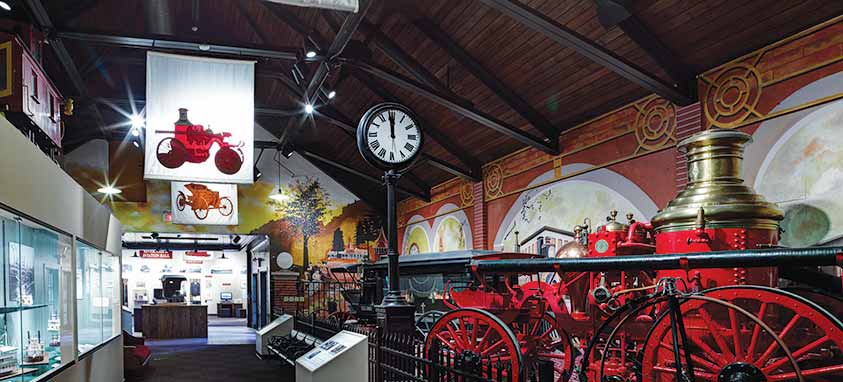 Evansville Transportation Museum
Museums are popular in Evansville. USS LST 325, a WWII warship, is docked along the Ohio River. Other attractions include Evansville Transportation Museum, African American Museum, Angel Mounds State Historic Site, Reitz Home Museum, and Children's Museum. There's also Mesker Park Zoo and Botanic Garden.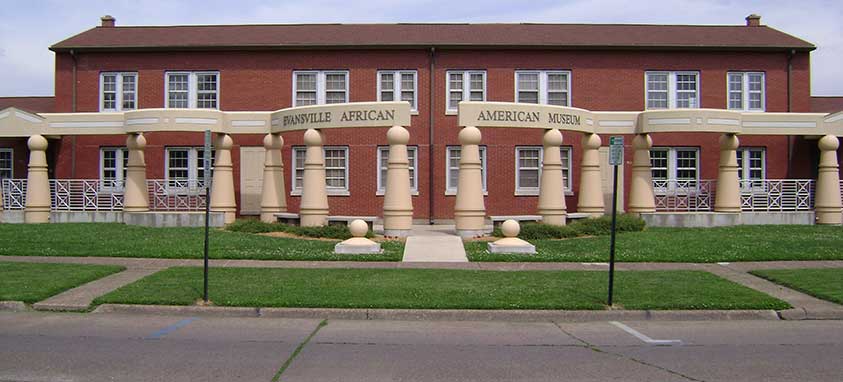 Evansville African American Museum, Indiana
The city is accessible from Evansville Regional Airport (EVV), with connecting flights from Atlanta, Chicago, Dallas, Orlando and Charlotte, North Carolina.
Fort Wayne
With a $100 million riverfront development underway in Fort Wayne, the state's second-largest city has plenty of business activity in its future, including five hotels under development.
With a population estimated at about 250,000, the city is an attractive venue for business travelers. To accommodate them, Grand Wayne Convention Center offers 225,000 sq. ft. of meeting space. It's located downtown and has two full-service hotels attached—Courtyard by Marriott and Hilton Fort Wayne.
Allen County War Memorial Coliseum has 100,000 sq. ft. of exposition space, including a new conference center (30,000 sq. ft.) and 10,000-seat arena. Fort Wayne has new restaurants within walking distance of the coliseum. The Golden, Tolon, Club Soda, Wine Down and GnomeTown Brewing Co. are a few. Later this year, a Ruth's Chris Steak House will open downtown.
"Fort Wayne is known for big-hearted hospitality," says Kristen Guthrie, director of marketing at Visit Fort Wayne, the city's CVB. "This is clear in our meeting facilities and amenities. The friendliness, cleanliness and accessibility are unmatched."
The city is currently focused on its riverfront redevelopment project and coming hotels, but it's the Fort Wayne Children's Zoo that's garnering national attention. Consistently named one of the top zoos in the United States, it's a must-see attraction for kids—and adults.
Further Reading: