Martin Luther King Jr. Historical Site
"Historic sites in Atlanta are very popular with educational groups and hobby groups, as their attendees typically appreciate history and love guided tours," Vaughn says. The unique history of Atlanta and its deep cultural influence provide ample options for memorable special events.
On the edge of Centennial Olympic Park is the Center for Civil and Human Rights, a 42,000-square-foot facility that opened in 2014 to educate visitors about the American civil rights movement and its connection to the contemporary struggle for human rights around the world. As guests move from a multistory foyer boasting floor-to-ceiling glass, they come upon the central exhibition, Rolls Down Like Water: The American Civil Rights Movement, which presents itself more as an experience than as a series of objects.
Another centerpiece of the venue is a collection of original manuscripts and artifacts from the Rev. Dr. Martin Luther King Jr.; they rotate from among the 13,000 items within the Morehouse College Martin Luther King Jr. Collection. The center accommodates lectures for up to 215 and receptions for up to 500 people.
Just five minutes east of downtown, Martin Luther King Jr. National Historic Site is operated by the National Park Service and encompasses King's birth home, Ebenezer Baptist Church and his final resting place. Other features include the Center for Nonviolent Social Change, Dream Gallery, Behold Monument and World Peace Rose Garden.
Jimmy Carter Presidential Library and Museum, run by the National Archives and Records Administration lies 15 minutes northeast of downtown. The 70,000-square-foot facility houses private and official papers, photos, films and artifacts from Carter's presidency, plus his Nobel Peace Prize, a full-sized replica of his Oval Office and Carter Center, a nonprofit human rights agency. Outdoor spaces include gardens and fountains.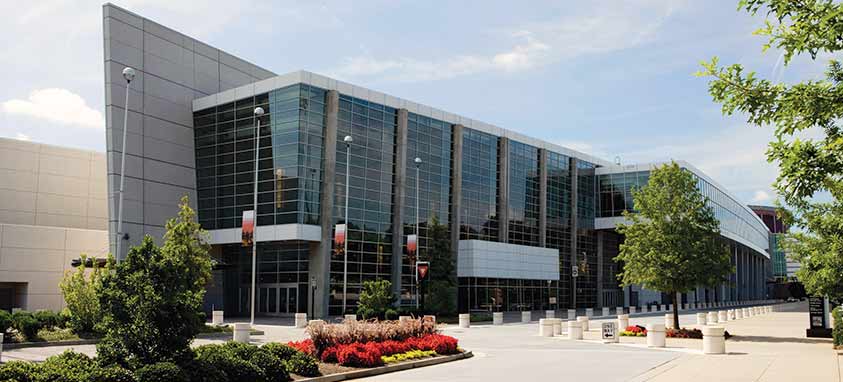 Atlanta History Center
At Atlanta History Center, set in the Buckhead area, 25 minutes north of downtown, is a 33-acre campus that features several historic buildings, large gardens and one of the largest collections of Civil War artifacts in the country. Another exhibit space is dedicated to athletic achievements at the 1996 Summer Olympic Games held in Atlanta, while a third space concentrates on folk art from the American South. Three large, historic homes on the grounds are available to host private dinners and receptions.
Atlanta's musical history is impressive, as well. Opened in 1910 as a Baptist church, Tabernacle Atlanta lies just outside Centennial Olympic Park and can host up to 2,562 guests for an event. The ornate Fox Theatre opened in 1929, and in 2011 was named the country's Outstanding Historic Theatre of the Year by the League of Historic America Theatres. Its 3,622-pipe Moller organ is the largest in the world set inside a theater. The 4,665-seat theater hosts nearly 200 performances a year, and is available for private events; it was named a top-50 special-event venue nationwide in 2015.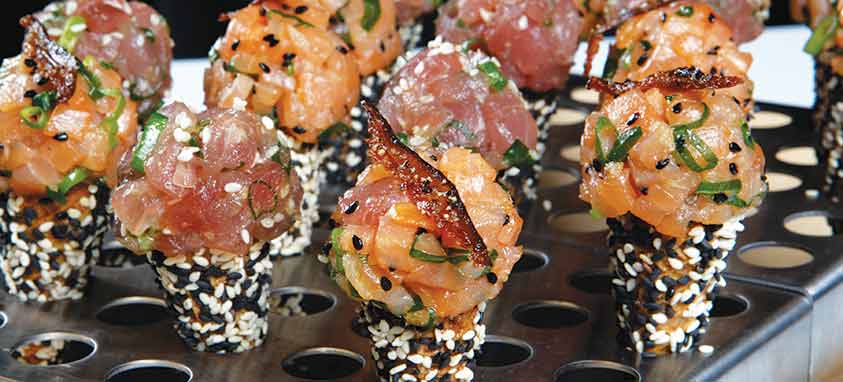 Sashimi Cones, Atlanta Event Center at Opera 
Atlanta Event Center at Opera in the midtown district comprises a 1907 mansion with a connected theater that was renovated 10 years ago to become a premier gala-dinner and entertainment venue.
The new SunTrust Park, 10 miles north of downtown in Cobb County, is the latest sports offering available to groups. The 41,000-seat stadium is home to Atlanta Braves baseball and is part of Battery Atlanta, an emerging multiuse district that will have an Omni Hotel next door by mid-2018.
Further Reading: