Monument Au Fantome in Discovery Green

Amid all the hype about the Super Bowl, you probably heard that Houston has had a makeover. New hotels, renovations and restaurants have transformed this bustling metropolitan city into a must-visit destination. So much has changed in the last few years to transform Houston into a nearly brand new city. If you haven't visited for a few years or even a few months, get ready to be wowed. Aside from the new developments, here are a few facts about the city that meeting planners may not be aware of.
1. Arts, culture and meetings combine at Avenida Houston.
Avenida Houston is not your typical convention district, and George R. Brown Convention Center is not your average venue. Centered around the convention center, Avenida Houston is a new district that combines dining, entertainment and art in an effort to create memorable experiences.
The convention center houses several art installations, including Joe O'Connell and Creative Machines' interactive outdoor piece "Wings Over Water" and Ed Wilson's beautiful "Soaring in the Clouds," which hangs over the lobby space. Eleven other art installations are placed throughout the convention center.
The focus on providing a unique experience seems to be working, as annual room nights booked for future conventions has risen 34 percent over the last two years.
2. It may be the most diverse city in the United States.
You may be surprised to learn that this Southern metropolitan is considered to be one of the most diverse cities in the country. Houston has no ethnic majority—a U.S. Census Bureau survey from 2015 shows that the city's population is 37 percent Hispanic, 37 percent white, 17 percent black and 9 percent Asian. Travelers can see the way the city's diversity directly impacts the vibrant culinary scene and cultural experiences.
3. Houston is great for foodies.
Houston is unarguably one of the top dining destinations in the South. This year, two Houston-based chefs have been named finalists in the Best Chef Southwest category of the prestigious James Beard Foundation Awards. With his sixth nomination, Hugo Ortega is one of the most celebrated chefs in the country. He has four Houston restaurants; his newest, Xochi, is an upscale spot for modern Oaxacan fare that's set inside the brand-new Marriott Marquis Houston.
New restaurants are popping up around the city every month, serving a range of cuisines at a variety of price points. By the time your event comes around, there will likely be even more dining options to choose from. To help residents and visitors discover top dining spots, Visit Houston organizes regular chef-led culinary tours, in which famed chefs take guests to their personal favorite restaurants.
3. …And sports fans, too.
Visitors to downtown Houston can take in major event venues such as Minute Maid Park, home of the Houston Astros, and Toyota Center, where the Houston Rockets play. Business travelers might think that the hot climate of Houston would not make for great golfing conditions, but Four Seasons Hotel Houston's first-of-its-kind Topgolf Swing Suite allows guests to hit the driving range without having to leave the hotel. It's an ideal space for mixing business with pleasure.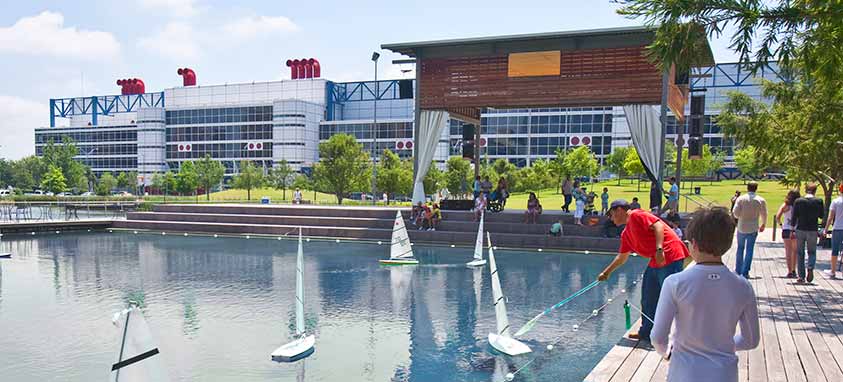 Discovery Green
4. It is a city that encourages exploration.
The area around the convention center is incredibly accessible and offers a lot for meeting groups to do in their leisure time. Whether they choose to walk or use the affordable BCycle bike share program, visitors can take in Minute Maid Park and Toyota Center, as well as a number of fine dining establishments.
Discovery Green is another must-see part of the Avenida Houston district. Located just outside the convention center, the urban public park is a welcome green space that brings the community together with outdoor concerts, cultural performances, yoga classes and other activities.
Buffalo Bayou, a 52-mile waterway that marks the site of Houston's founding in 1836, is an iconic downtown landmark that offers outdoor activities such as canoeing and kayaking, hiking and biking.
Art and history lovers can also take in Buffalo Bayou Park Cistern, an underground water reservoir that was built in 1926 and once stored the city's drinking water supply. The 85,000 sq. ft. space is mesmerizing when empty, but it is even more amazing when seen with an art installation. Until the end of June, the cistern will display Magdalena Fernandez' Rain, an immersive light and sound experience.