Beer and barbecue define summer. Kansas City, Missouri, has a proud brewing history and is a formidable barbecue mecca. I recently had the opportunity to sample the fare in the Midwestern hub, and what a feast it was!
Barbecue
In Kansas City barbecue is elevated to an art form. In the supermarket, shelves are lined with dozens of brands of sauce. While styles vary slightly, the general preparation for Kansas City barbecue calls for liberal doses of savory spices and rubs, a thick layer of molasses and sugar-based sauce (which gives KC barbecue its signature sweet taste) and hours of hickory smoking to ensure that the tender meat easily slides off the bone.
Although I enjoy cooking, my intention was to stay out of the kitchen and limit my exploration to restaurants. Kansas City boasts nearly 100 different barbecue joints, and if I had the time, I would have hit them all. Instead, I tried to focus on  the most popular spots.
All the beef ribs, pulled pork, sausages and burnt ends (which I had never heard of) were epic. Arthur Bryant's Barbeque has been serving KC residents since the 1920s. Foodie Anthony Bourdain has put Joe's Kansas City Bar-B-Que on his list of restaurants to eat at before you die. Those who like blues with their barbecue flock to B.B.'s Lawnside Blues & BBQ. The Local Pig features humanely raised meats and unusual sausages such as Thai peanut and goat chorizo.
But one of the most popular barbecue places for locals and tourists alike is Jack Stack Barbecue. This venerable institution, run by the Fiorella family, has expanded into five busy locations. In addition to the smoked meat, it's famous for its sides—especially the cheesy corn bake, creamy coleslaw and baked beans.
Something's Brewing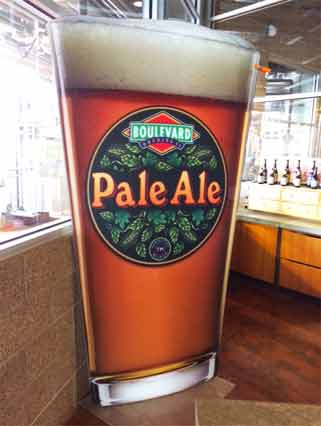 Nothing pairs better with barbecue than beer, so I had to check that out, as well. Kansas City's Boulevard Brewing Company is the largest specialty brewer in the Midwest, producing a line of fresh, flavorful ales and lagers, as well as artisanal creations featuring chocolate, ginger and scotch. Boulevard brews, some of which boast funny names like Heavy Lifting IPA, Funky Pumpkin and Tell-Tale Tart, and can be found at nearly every dining facility in the city. Planners can rent out event space and arrange tours at the brewery itself. The tours include generous tastings, which becomes interesting if the tour is scheduled for 10:30 am, like mine was.
In addition to being available on tap, Boulevard beer is prominently featured on the menu at Spectators Gastro-Pub in the Sheraton Hotel Kansas City at Crown Center. In the name of journalistic diligence, I just had to sample the pretzel bites served with fondue (the fondue is made with beer, cheddar and gruyere cheeses), the French onion soup (which includes porter as part of its base) and even the warm St. Louis-style buttercake, which features a scoop of ice cream containing Boulevard's flagship Pale Ale. They were all memorable.
Now, however, it's time to hit the gym!