There are many great things about Cincinnati USA as a destination and host city to entice meeting planners and attendees, but consistently we hear the top deciding factors are our compact convention footprint, easy accessibility, VIP service and exciting entertainment options.
Cincinnati USA has always been a city with a rich heritage of cultural arts, sports and hospitality, but those who haven't checked us out in while may not know yet that Cincinnati USA has undergone a stunning renaissance of entertainment, hotel growth and dining. And, because we wanted to harness that explosive energy to create a better environment for meetings and conventions, we made certain the epicenter for the rebirth was right downtown, within steps of the Duke Energy Convention Center. Here are some examples:
– Five new downtown hotels and multi-million-dollar renovations — more than 3,000 rooms
– Five downtown entertainment districts
– A brand new casino
– Cincinnati Red and Bengals
– More than 200 boutiques and department stores
– New restaurants catering to every cuisine and price point
– Art, opera, theatre and music
The beautiful downtown area, nestled in the bend of the mighty Ohio River is a stunning sight to behold. But that's just the beginning. From the moment the cityscape reveals itself on the easy approach from the airport, you know you're in for something special. Cincinnati USA packs countless sights, sounds, tastes and adventures into a space roughly comparable to the footprint of a big box hotel.
"On a stroll about town, Cincinnati shows more tricks up its sleeve. Downtown proves dense, walkable and handsome – filled with skyscrapers of many eras. We rock on metal swings as big as park benches, facing the river…I'm sitting on Ohio's front porch." – National Geographic Traveler Magazine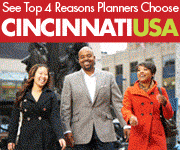 Visitors can walk through historic neighborhoods that border cosmopolitan chic dining districts. They can sample scores of cuisines, from gourmet mac and cheese to upscale dining in authentic art deco settings, including some of the top restaurants in the country. The museum scene ranges from contemporary art to historic museums with old world masters. Shopping includes eclectic boutiques in centuries-old buildings, as well as upscale department stores offering the latest styles. Best of all, this enormous range of sights, sounds, tastes and experiences is available in a single stroll around downtown.
"Cosmopolitan cool meets historic chic in Cincinnati…a riverfront hub of breweries, museums, art venues, and entertainment." – Prevue Magazine
"Best Walking City In Ohio, 20th In The Nation" – Prevention magazine and the American Podiatric Medical Association
"Home to a flourishing arts neighborhood… not to mention venerable cultural institutions, like the second oldest opera company in the country" – Sherman's Travel
Our history as host city to meetings and conventions of every type and size has taught us a lot about how to help you make your next meeting a raving success. When it comes to treating meeting attendees to unforgettable energy, excitement and one-of-a-kind experiences…all in a compact, walkable downtown…nothing beats Cincinnati USA.
Esquire Magazine – Top 10 "Cities that Rock"
Money Magazine – "Top 20 Fun Places"
Lonely Planet – "#3 Top 10 U.S. Travel Destinations"
Mashable.com – "Most Social City"
For more information or to start the conversation about a meeting in Cincinnati USA, please call 800.543.2613, email JBrich@CincyUSA.com, visit CincyUSA.com or submit your RFP at http://meetingplanner.cincyusa.com