In an industry that is ever changing, the need for new and innovated ideas is essential to progress. Meeting, incentive group and conference requisites evolve constantly, but some needs remain consistent year over year: a unique venue, stellar service and coordination (pre, during and post) and finally, skillfully developed programming designed to peek attendee's imagination resulting in lasting memories.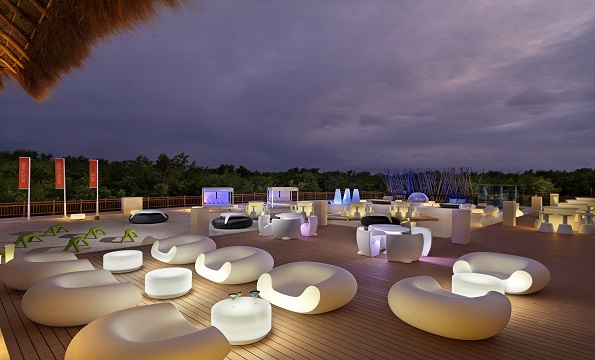 Elegantly designed with attention to every detail, Paradisus Resorts is a leader in the luxury all-inclusive resort category owned and operated by the Spanish brand Meliá Hotels International– one of the most successful hotel companies in the world. Offering meeting and convention professionals access to some of the world's most coveted beachfront locations, the luxury resorts all feature spectacular architecture, world-class cuisine and premium services allowing for an experience of ultimate relaxation in a stress-free and upscale environment.
The brand has five current properties: Paradisus Cancun, Paradisus Playa del Carmen La Perla (Adults Only), Paradisus Playa del Carmen La Esmeralda, in Mexico and two in Punta Cana, Dominican Republic, Paradisus Palma Real and Paradisus Punta Cana. A sixth property is scheduled to debut in Papagayo Bay, Costa Rica in 2016. Paradisus Resorts offers all the staples required i.e. flexible meeting space, beautifully appointed indoor and outdoor venues, professional staff, etc. What make Paradisus Resorts different is their commitment to innovation and to offering a one-of-a-kind experience.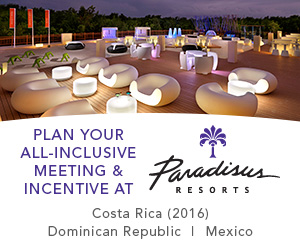 For example each resort hosts daily Life Enriching Experiences that will teach guests new skills. These activities can be customized to fit the needs of a group or serve as a fun team building exercise. A few of the popular Life Enriching Experiences include Wine and Spirit Tastings, Cooking Lessons, Pole Dance Classes, Aqua Spinning and Diamond Tutorials. Guests will feel accomplished through learning and interacting with each other and the resorts expert staff.
Another trend Paradisus Resorts has tapped into successfully for the meeting and conventions market is fitness through YHI Spa. Schedule sunrise yoga or Pilates fitness session or work with the resorts personal trainers to develop customized programs. Follow that up with a fresh fruit juice and healthy snack (no) coffee break. Well, ok you can have coffee. Then finish up the day with the YHI Spa water ritual and a spa treatment. Can you say – Ahh!
Cultural immersion and environmental responsibility are pillars of the brands core values. Meetings professionals can weave these values into their programming by adding a guided tours of the mangroves and gardens, scheduling a visit to a local charities, and creating opportunities for volunteer tourism with local organizations. Embracing their surrounding and community, rich with flavor and passion, the brand can work with planners to create unique culturally inspired themed events such as Historic Mayan Legends, Dominican Folklore Song and Dance and Culinary Influences of the destination.
For more information or to book your next meeting at Paradisus Resort, please call 1-888-336-3542, email meetings@sol-group.com, or visit www.paradisus.com