The capital of Hawaii, Honolulu is a planner's dream, with an unlimited array of attractive options for groups, both during and after meetings.
Recently, groups have become more interested in exploring the city's fascinating history. King Kamehameha III declared the Honolulu the capital of his kingdom, the Kingdom of Hawaii in 1850. Honolulu is also home to the state's principle port, serving various manufacturing plants including pineapple canneries, clothing factories and sugar refineries, as well as dairy farmers and steel, oil, cement and aluminum enterprises.
Here are some of the city's top choices for planners.
Arrival and Reception
Honolulu is not a drivable destination, so flying is your best bet. Daniel K. Inouye International Airport (HLN) is accessible from throughout the globe. As one of the world's largest, busiest and beautiful airports, HLN sees more than 20 million visitors every year and is only 10 miles from Honolulu's Waikiki district.  The airport offers multiple ways to get to and from it—buses, Roberts Hawaii Express Shuttles, taxis and more.
Once you and your group enter the bustling city of Honolulu, there are numerous hotels and resorts from which to choose.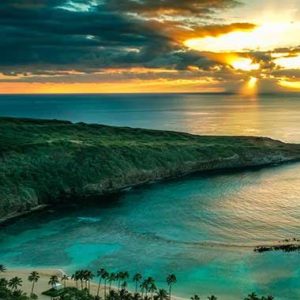 From small meetings to large conferences and events, Hilton Hawaiian Village Waikiki Beach Resort is a go-to property. Located right on Waikiki Beach, the resort has meeting space to accommodate up to 4,000 guests, as well as 2,860 guest rooms.  The resort features five pools, an outdoor luau, water sports, a full-service spa and live shows, so there's a little something for everyone in your group.
More: Key West and Hawaii Ban Sunscreen
For a more iconic and indigenous group experience, The Royal Hawaiian, a Luxury Collection Resort, Waikiki is the spot for you. Since its opening in 1927, it has been called the "Pink Palace of the Pacific," offering world-class dining and Waikiki's only oceanfront luau. This 528-room resort also houses 60,732 sq. ft. of total event space—its largest space accommodates up to 2,000 guests.
With 749 guest rooms and 42 suites, Moana Surfrider, A Westin Resort & Spa, Waikiki Beach also offers seven event rooms, totaling 13,137 sq. ft. of space. Perfect for groups of 300 or less, the resort's Victorian architecture and Hawaiian hospitality is sure to make your meeting one to remember. Looking for outdoor meeting space? It also features The Roof Garden and Roof Garden Terrace for small to mid-size meetings.
Outrigger Reef Waikiki Beach Resort has more than 9,600 sq. ft of event space and is a coveted site for meetings and corporate retreats. Boasting beachfront venues, boardrooms and conference spaces, the resort also offers event planning support, catering and audiovisual equipment. Other amenities include a swimming pool, whirlpool hot tub and 24-hour business center.
Providing an intimate space for small groups of up to 12 people, Courtyard Waikiki Beach offers one 515-square-foot meeting space. The hotel also provides high-speed Wi-Fi, audiovisual equipment rentals, a 24-hour business center and refreshing event menus. Inspired by Hawaii's natural beauty, the hotel boasts a resort-style pool with a lava rock waterfall and a calming whirlpool.
From poolside gatherings to dining experiences and large group meetings, Queen Kapiolani Hotel Waikiki Beach has meeting spaces for just about everyone. The hotel offers five upscale meeting spaces that can accommodate from 20 to 275 guests. Located in Honolulu, the hotel has spectacular, unobstructed views of Diamond Head and is encompassed by the spirit of Hawaii from famous Queen Kapiolani herself.
Relax poolside or enjoy the Te Moana Nui Luau Show post-meeting at Sheraton Princess Kaiulani. With five versatile event rooms totaling 14,451 sq. ft., the hotel is ideal for small to medium-sized groups. Its location also provides easy access to both Honolulu Zoo and Hawaii Convention Center.
General Sessions & Dining Out
Just a short walk from Waikiki is the 1.1 million-square-foot Hawaii Convention Center. While keeping with the distinctive Hawaiian style, the convention center is also modern, flexible and spacious. From open-air designs to waterfalls and fishponds, the convention center is an all-around event destination.
More: Hawaii: Food Traditions, Food Trends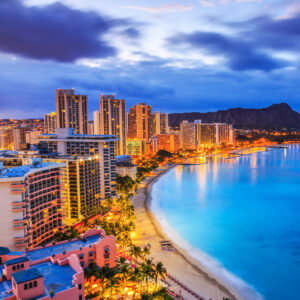 It offers 47 meeting rooms, the 200,000-square-foot Kamehameha Exhibit Hall, 35,000-square-foot Kalakaua Ballroom and a 2.5-acre rooftop events garden, just to name a few. Just a short, 15-minute walk from the convention center is Ala Moana Center, where a variety of dining options is available for your group.
Sky Waikiki, a rooftop bar, restaurant and nightclub, sets a high bar for private events and meetings. It has 7,000 sq. ft. of meeting space and offers unmatched panoramic views of the coastline and Diamond Head in the distance. Groups ranging from 30 to 400 can be accommodated, and custom foods and cocktails will set this meeting venue apart from the rest.
If you're looking for a fun-filled venue, check out Lucky Strike. With four bowling lanes, a full-service bar, gastropub food, audiovisual capabilities, a high-tech game, Wi-Fi and private rooms, this venue has everything you'll need for your next meeting.
For an iconic dining spot, Duke's Waikiki, right on the beach, is the place. Duke's Waikiki has views of the ocean, Diamond Head and outrigger canoes. Named after surfing legend Duke Kahanamoku, it has food options for everyone; from island favorites including Huli Huli Chicken to classics such as Roasted Lobster Tails.
Off-Site Activities & Closing Event
From hiking trails to dinner cruises, historical monuments, outrigger canoeing, shopping and island tours, there are plenty of activity options for your group.
Take a hike to the edge of a 300,000-year-old crater at Diamond Head State Monument. The hike takes about two hours (roundtrip) and the views are breathtaking. Fun fact: The view is so good that the U.S. military used the crater as a post to prevent attacks against Honolulu.
If you're looking for something less strenuous but still memorable experience, try Star of Honolulu, Hawaii's largest sunset dinner cruise ship, which sails from Honolulu Harbor to Diamond Head. If your group enjoys exquisite cuisine, upscale cocktails and live Hawaiian entertainment, this cruise is for you.
For groups that enjoy learning about history, at Pearl Harbor National Memorial, groups can visit the USS Arizona Memorial, two exhibit galleries, wayside exhibits, a bookstore, Remembrance Circle and Pearl Harbor Memorial Theater. Tickets for the USS Arizona Memorial program are free. Other historic sites to see include the USS Missouri Battleship, USS Bowfin Submarine Museum and Park, and Pearl Harbor Aviation Museum.
Restored to its former grandeur, Iolani Palace is a noted landmark. Immerse your group in Hawaii's royal heritage by visiting the official residence of Hawaii's monarchy. There are two tour options from which to choose: a guided tour with a docent or a self-led audio tour. Both options include tours of the first and second floors, as well as a self-guided tour of the basement gallery exhibits.
Dubbed "the original Hawaiian rollercoaster ride," surfing is Hawaii's state sport. Paddle out to the surf break and catch some waves with your group. Waikiki Beach is the only place where visitors can participate in surfing the waves in an outrigger canoe. Groups of all ages and abilities can participate in this sport.
If your group loves to shop, there are plenty of options for them. Ala Moana Center is the seventh-largest mall in the United States and the largest open-air shopping center in the world. It is conveniently located near Waikiki Beach and only a 15-minute walk from Hawaii Convention Center. If you take a walk down Waikiki, Luxury Row is right there, outside all the hotels.