Step across the marigold bridge to the Land of the Living for a Coco-inspired experience in Mexico and beyond. In the United States, last year's Disney·Pixar animated film breathed new life into Day of the Dead, or Dia de los Muertos.
The yearly observance is more than just candles, costumes and festivities. It is an important spiritual and religious observance in the Mexican culture that blends the Catholic All Saints' Day with pre-Hispanic folklore. From late October to early November, people decorate an ornate ofrenda (altar) with photographs, memorabilia and pan de muerto (sweet bread) to honor deceased loved ones. According to the tradition, the souls of those being memorialized visit the living world annually for a family reunion of sorts.
"It's a tradition that has mixed with popular culture and has become a celebration that belongs to everyone. Nowhere else can visitors experience such a colorful, magical and surreal celebration," says Hector Flores Santana, CEO of Mexico Tourism Board (MTB). "Our cultural offering is one of the reasons why Mexico has become the 6th-most visited country in the world. The celebration honors the past and our ancestors and is a standing invitation for everyone to visit and discover why Mexico is a world of its own."
More: Illuminating New Mexico's Most Vibrant Cities
More than 7.5 million international visitors descend upon Mexico each year to immerse themselves in Dia de los Muertos celebrations. Mexico City's Day of the Dead parade, which took place Oct. 27, attracts more than 1 million people annually. According to Mexico's Secretary of Tourism (SECTUR), the holiday is expected to contribute $208 million to the economy on Nov. 1 and 2 alone.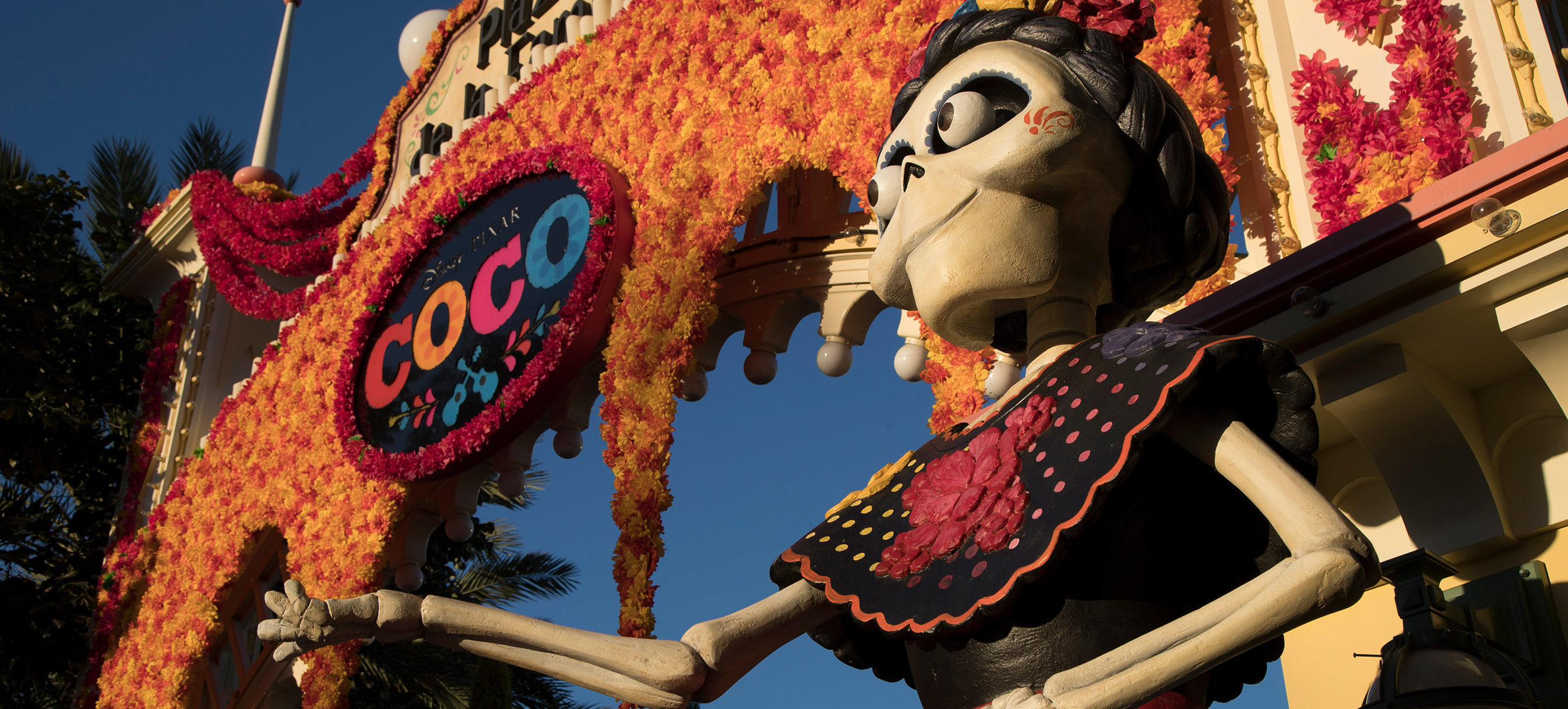 As "Scene" on the Screen
MTB has curated an itinerary full of real-life locales in four parts of Mexico that inspired the storyline and colorful illustrations depicted in the movie.
Aguascalientes
In late October through early November, Isla San Marcos hosts one of the most traditional events, Festival de las Calaveras (Skeleton Festival), where you can enjoy art, culture and religion. Watch for returning spirits on a guided cemetery tour in Cruz and Angeles, where visitors can partake in a nighttime walk called iluminale los pies al muerto (light up the feet of the dead one).
Michoacan 
Before getting buried by a volcanic eruption in 1943, the church that inspired the church tower in Coco stood in San Juan Paranqaricutiro. Visitors can still see the bell tower peeking out from beneath the rock.
The film's lead character, Miguel Rivera, rebelled against his family by pursuing music. The guitar-loving boy idolized a famous musician, Ernesto de la Cruz. Paracho, a.k.a. guitar town, inspired the black skull and pearl design of the instrument in the movie. Enjoy food, jewelry and art in Plaza Vasco de Quiroga in the small town of Patzcuaro.
Guanajuato 
The cobblestone streets of Guanajuato's Centro Historico inspired the look and feel of the film's Land of the Dead. In the movie, there's a larger-than-life statue of de la Cruz. Similarly, visitors will find a bronze statue of musician Jorge Negrete in Plaza del Ropa. Guanajuato is also the host city of Catrinas Parade on Nov. 1, when locals dress in themed costumes.
Oaxaca
Zapateria "La Moda," located in Oaxaca, captures the essence of the fictional Rivera family's tradition of shoemaking. Shop for handmade footwear there.
In the Mexican culture, an alebrije is a colorfully patterned and painted figurine carved out of wood that morphs horned, antlered, winged and finned animals into one mythical creature. In Coco, the Rivera family's alebrije, named Pepita, protected their deceased loved ones. Tourists are invited to visit the workshop of Jacobo and Maria Angeles in San Martin Tilcajete to purchase one of their own. Coco fans will also recognize the temple and tomb ruins at the important archeological site of Monte Alban.
Day of the Dead Goes Global
If you're unable to travel South of the Border, there are celebrations happening stateside, as well as worldwide. MTB and SECTUR joined forced to create the Heart of Mexico campaign. The holiday spread to New York City's Central Park, Toronto's CN Tower, Berlin's Victory Column and Paris' Eiffel Tower during pop-up events. Also in New York, the American Museum of Natural History will host a special event on Nov. 2 and 3. An ofrenda will be adorned with a memorial for extinct animal species. There will also be a market, dancers, music and artisanal demonstrations.
The Day of the Dead party has been going strong at Disneyland in Anaheim, California, since Sept. 7. Located in Frontierland, Zocala Park features an ofrenda, papel picado (stencil-cut decorative paper), marigolds, skulls, face painting and more. Make sure to munch on Disney's delicious churros and other Mexican cuisine!
Another Coco-themed tribute is located in Paradise Gardens Park within Disney California Adventure Park, also in Anaheim. Grammy Award-winning group Mariachi Divas perform in Plaza de la Familia. At the entrance to the area, guests are greeted by The World of Coco exhibit, which features images from the film's Lands of the Living and Dead. A 3-D replica of the secret ofrenda Rivera built to honor de la Cruz is also on display. An interactive Tree of Life, or Arbol de la Vida, allows visitors to write messages about loved ones and hang them on a memory wall.
Plan Your Own Day of the Dead Themed Event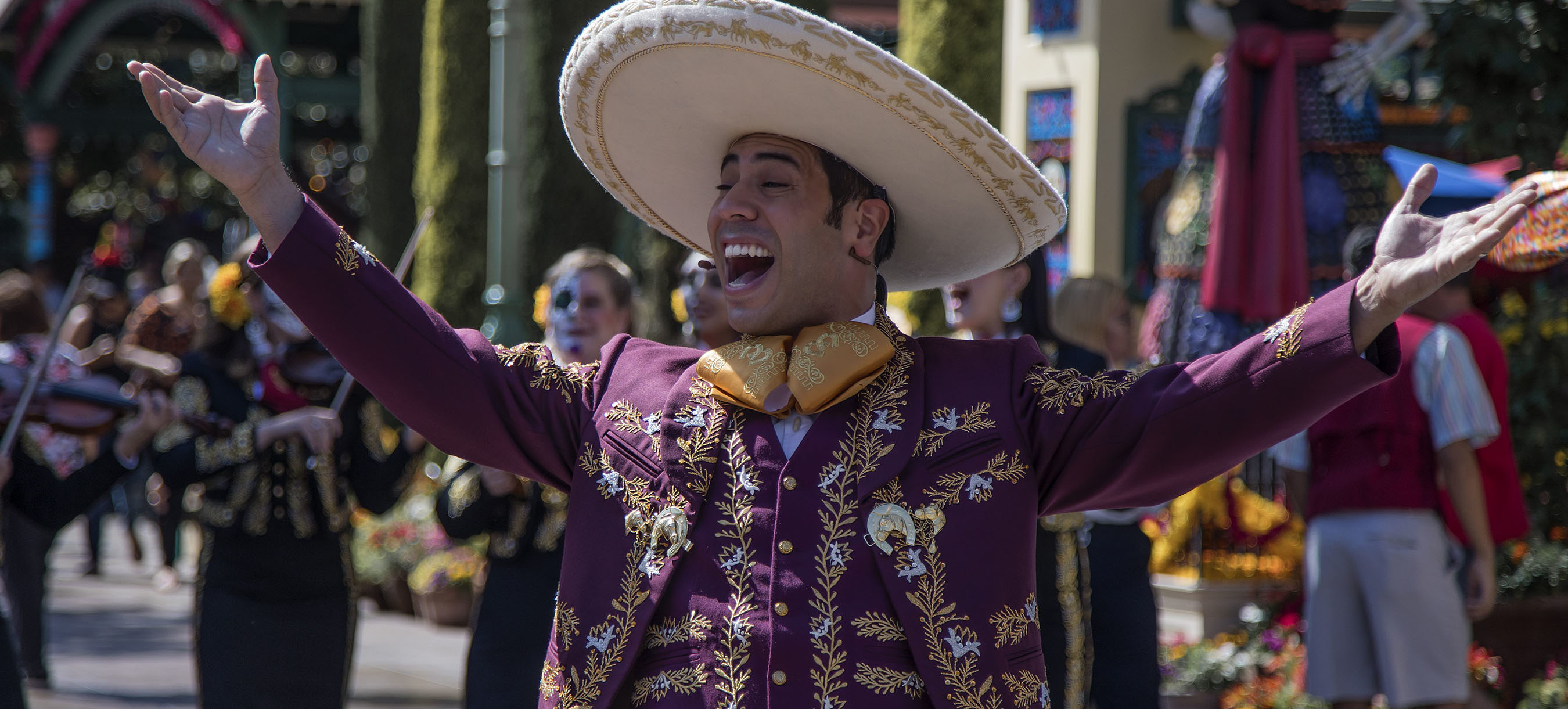 Bring Dia de los Muertos to a ballroom anywhere in a few simple steps:
Make your own ofrenda by encouraging attendees to bring a photograph of a loved person or pet who has passed.
Create floral arrangements using marigolds.
Serve Pan de Muertos and other Mexican fare.
Entertain guests with a mariachi band.
Set up a DIY mask-making and papel picado station.