Balloon flying over Albuquerque
Annual events shine a light on Santa Fe, Albuquerque cultures
New Mexico wasn't officially nicknamed the Land of Enchantment until 1999, but residents have been well aware of its many alluring qualities ever since its first residents, the prehistoric Clovis culture of Paleo-Indians, wandered upon it.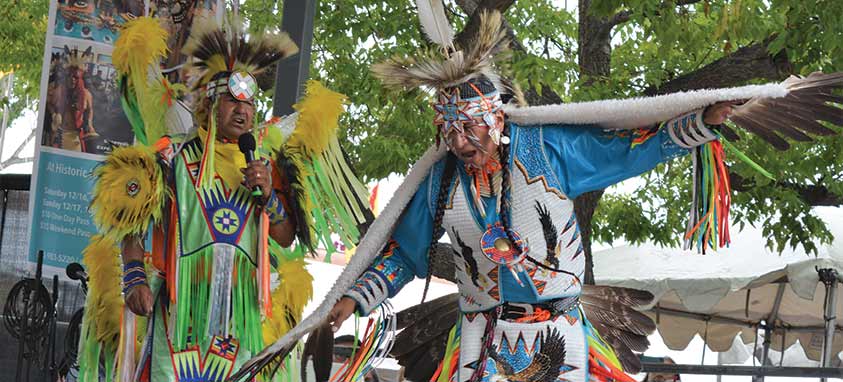 Many of its famous natural features—including the magnificent Sangre de Cristo Mountains, dramatic volcanoes, spectacular canyons, vast desert plains and big blue skies—have intrigued and inspired residents as well as visitors from the very beginning. And over the centuries, the state's inhabitants have dotted the landscape with ancient pueblos containing adobe homes and mud-brick churches, and mountain villages, ranches, towns and cities, including Santa Fe and Albuquerque.
The two cities, separated by only 64 miles, both offer unique, varied experiences to groups, and have a vibrant cultural scene that reflects and mixes Native American, Hispanic, Latino, Anglo and other customs and ways.
"Albuquerque is a welcoming Southern destination with stunning landscapes, more than 310 days of sunshine, one-of-a-kind experiences, and centuries of history and culture, blended with cuttingedge innovation and technology," says Kristin McGrath, vice president of convention sales, services and sports for Visit Albuquerque. "The inspirational light and landscape of open spaces give attendees a unique context for thinking differently about important, mission-driven work for corporate, nonprofit and institutional retreats or meetings."
David A. Carr, director of sales for Tourism Santa Fe, lauds his city's intimate feel and many attractions.
"Santa Fe offers a small-town feel, while being a top international destination that provides guests with all the great experiences that a big city is known for," he says. "As a safe, walkable city with some of the cleanest air in the world, visitors settle in and feel right at home. With the bounty of restaurants, museums, art galleries and outdoor adventures, Santa Fe is a top destination for groups."
One of the best ways for groups to experience and better understand these unique cities is by attending their signature annual events. Here's a rundown of some of the best.
Santa Fe
Known as The City Different, New Mexico's capital city of Santa Fe is a breezy place that takes pride in its uniqueness, as seen in its many annual events.
"We highlight each of the cultures that make Santa Fe one of the world's top cities," Carr says. "Our annual fairs and festivals are very interactive, and give visitors the chance to learn the crafts of the artisans, meet the families that have been living in Santa Fe for generations—and in many cases, visit the artists' homes, whether they be off of Canyon Road [a top art gallery destination in the city] or on one of the pueblos of Northern New Mexico."
Summer Events
Santa Fe Artists Market features the juried work of more than 100 New Mexico artists working in a variety of mediums, including painting, drawing, photography, sculpture, ceramics, textiles, New Mexico traditional furniture, jewelry, leather goods, metal, glass and wood. It's held at Cathedral Park, one block east of Santa Fe Plaza, and will take place June 16–17, Sept. 15–16, and Oct. 6–7 this year.
Rodeo de Santa Fe will kick off with its annual parade on June 15, but the actual event will take place June 20–23. It will feature some 500 competitors, including world champions in several categories—individual and team roping, steer wrestling, barrel racing, saddle and bareback bronc riding and bull riding. The rodeo also features clowns, a carnival, and food, beer and wine vendors.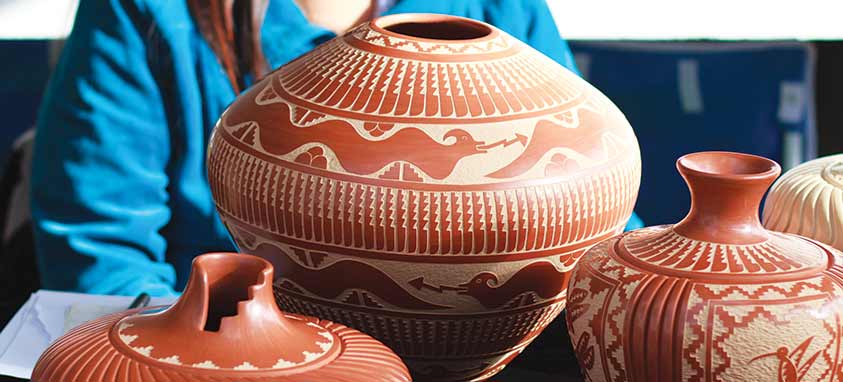 Set on Museum Hill—with fabulous views of Sangre de Cristo foothills and the Jemez and Sania mountain ranges—International Folk Art Market (IFAA) is the largest event of its kind in the world, attracting up to 900 master folk artists from as many as 90 countries, across six continents. The artists consign their work to IFAA, which handles all sales. An average of nearly $20,000 per booth is sent back to artists in their native countries, and in many cases, the income helps to sustain entire communities. The event will be held July 13–15 this year.
The Traditional Spanish Market, set for July 28–29, will take place on Santa Fe Plaza and feature some 250 Spanish Colonial artists from New Mexico and Southern Colorado who specialize in woodcarving, tin work, colcha, hide painting, retablos, straw applique, furniture and furnishings, weaving, jewelry, filigree, pottery and ironwork. Music and performances will be provided throughout the weekend, and a food court will feature local fare. Artist demonstrations, interactive art projects and books on Hispanic culture will also be offered.
Billed as the last and most prestigious native arts show in the world, Santa Fe Summer Indian Market gives groups an opportunity to meet tribal artists and learn about contemporary Indian arts and cultures. Some 1,000 artists from more than 200 federally recognized tribes in the United States and Canada participate in the event, slated for Aug. 18–19.
Perhaps the best representation of Santa Fe's identity as The City Different, the Burning of the Zozobra ("Old Man Gloom") event, which began in 1924, consists of the creation and burning of a 50-foot-tall, 2,000-pound marionette effigy.
"Certainly, it is the most quirky and unusual event that takes place in Santa Fe," Carr says. "Groups can enjoy it by immersing themselves in the local culture in the days leading up to the big event, where there are food trucks and local artists selling their unique pieces; people writing down their woes and troubles to be part of the burn, and opportunities to enjoy the evening and fireworks and walk away feeling joyful and refreshed."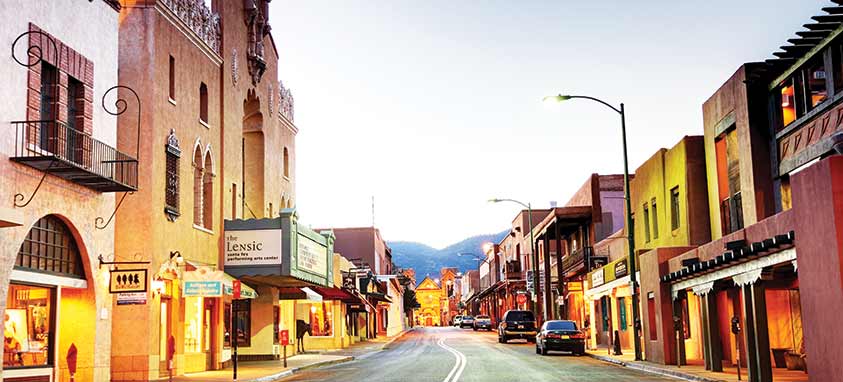 The event takes place on Aug. 31 at historic Fort Marcy Ball Park in downtown Santa Fe.
Fiesta de Santa Fe, set for Sept. 7–9 in the Santa Fe Plaza area, commemorates the peaceful reconquest of the capital city by Gen. Don Diego de Vargas in 1692. The historic event is re-enacted, and arts and crafts booths, entertainment and food booths are included.
Fall and Spring Events
Santa Fe Wine and Chile Fiesta features world-class culinary artistry in up to 75 of Santa Fe's top restaurants, along with wines from some 90 national wineries. This year's fiesta will take place Sept. 26–30, and will feature guest celebrity chef Dean Fearing, chef and owner of Fearing's Restaurant in Dallas, and author of The Texas Food Bible.
A great event for groups, Harvest Festival is held at El Rancho de las Goldondrinas. It offers them a chance to participate in activities such as crushing grapes for wine by foot in deerskin vats, pressing apples to make cider, making tortillas, stringing red chile ristras and grinding sorghum to boil into molasses. Scheduled for Oct. 6–7, it also includes traditional music and dance, mule-drawn wagon rides and an artists market featuring new Mexican crafts.
Several Native-American tribes will participate in the Indigenous Peoples Day Celebration on Oct. 8 at Santa Fe Plaza. The event provides an opportunity for groups to experience Native-American culture and expand their knowledge and appreciation of indigenous communities in New Mexico. It includes dances, music and prayers; artwork and other commemorative items can be purchased.
The Santa Fe Independent Film Festival kicked off in 2009 as a fringe festival that took place in a community center, but by 2011 it had become the biggest event of its kind in New Mexico, screening more than 100 films. It features leading independent, innovative and cutting-edge films, and will be held in five theaters Oct. 17–21.
Native Treasures Art Market, produced by Museum of Indian Arts and Culture, features 200 top Native-American artists—ranging from traditional to contemporary and from emerging to established—selling jewelry, pottery, painting, basketry, bead work, carvings, sculpture and textiles. It takes place each year at Santa Fe Convention Center during Memorial Day weekend.
Hot Meeting Spaces
Groups attending annual events have many excellent choices for lodging and meetings. Most popular for large events is Santa Fe Community Convention Center, a downtown facility that offers 40,000 sq. ft. of meeting space.
"Like everything else in Santa Fe, our convention center has a story that dates back centuries," Carr says. "The current building opened in 2009, and during construction, we discovered ancient artifacts from Native-American pueblos. The Tesuque pueblo Indians occupied the site, dating back to the 13th century. We honor these pueblos with a stunning tapestry of the artifacts found beneath the center that is proudly displayed in our lobby."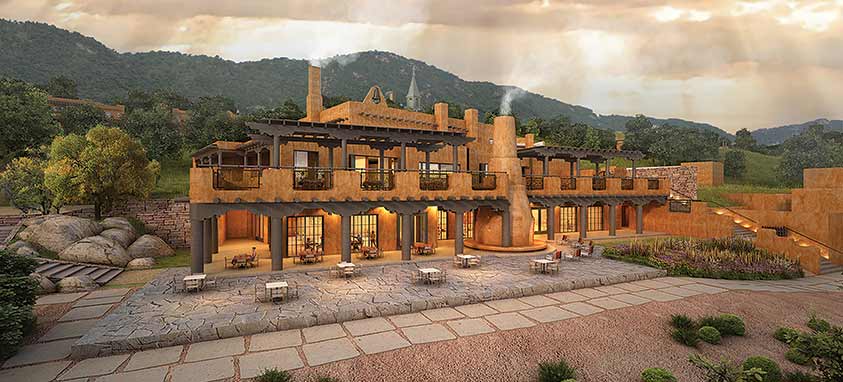 Bishop's Lodge, located in the foothills above Santa Fe, is celebrating its 100th anniversary with a complete, $75 million transformation that will include new indoor-outdoor spaces, such as a 3,500-square-foot tented event pavilion with an adjoining lawn. Set on more than 317 acres, the Auberge Resorts Collection property is scheduled to reopen in spring 2019.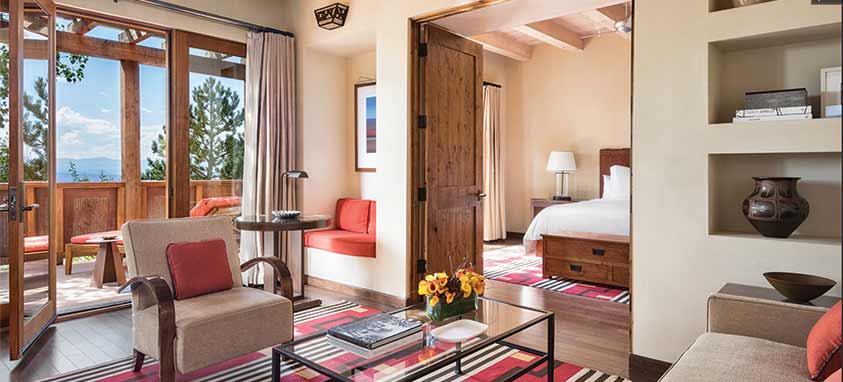 Other iconic properties in Santa Fe are La Fonda on the Plaza (180 guest rooms, 20,112 sq. ft. of meeting space), La Posada de Santa Fe (157 guest rooms, 4,500 sq. ft.), Eldorado Hotel & Spa (219 guest rooms, 22,000 sq. ft.), Hotel Santa Fe (163 guest rooms, 7,000 sq. ft.) and Four Seasons Resort Rancho Encantado (65 guest rooms, 13,658 sq. ft.).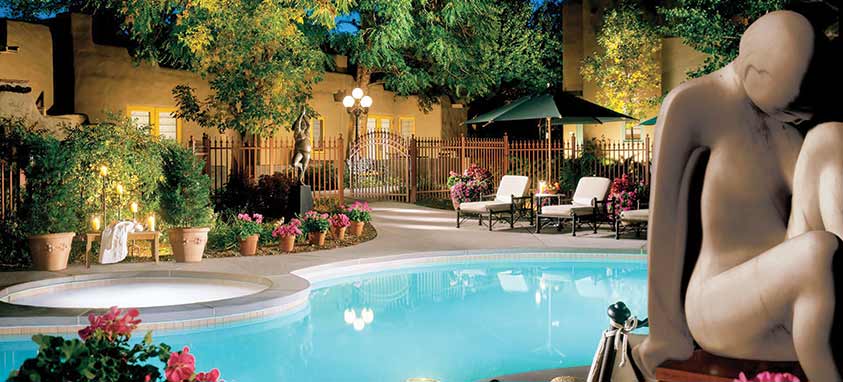 Alburquerque
New Mexico's largest city, with a population exceeding 560,000, Albuquerque is situated in the high desert. The modern downtown core contrasts with Old Town Albuquerque, which dates to the city's 1706 founding as a Spanish colony. Both areas feature exciting annual events.
"No matter what time of year it is, chances are, something interesting is on the calendar," McGrath says. "Each of our events provides a window into Albuquerque's unique and authentic culture and heritage, which gives convention attendees an experience unlike any other."
Summer Events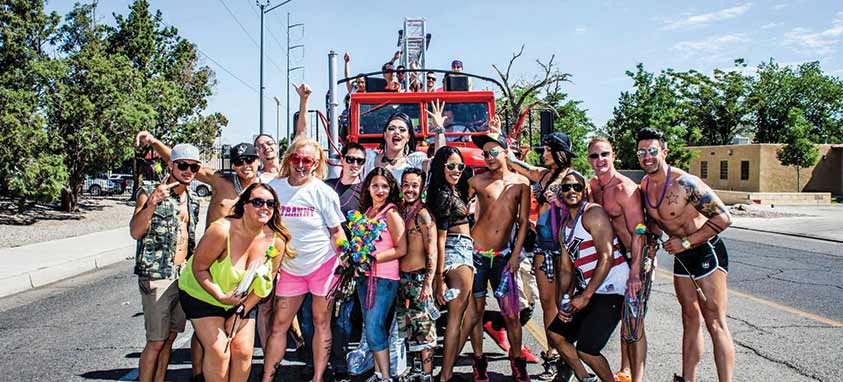 Albuquerque Pridefest, slated for June 9, celebrates the LGBTQ community. It kicks off in the morning with Albuquerque Pride Parade, featuring floats, classic cars, motorcycles, horse dancers and much more. Later in the day, a free event is held at Expo New Mexico that includes more than 100 vendors and a car show, family area, dance tent, art show, poetry slam and live performers.
Each June, National Institute of Flamenco and University of New Mexico host Festival Flamenco Internacional de Albuquerque, featuring more than 50 of the world's top flamenco dancers. Besides performances, the festival hosts more than 30 workshops and classes on many aspects of flamenco, including the history and development of the art form in southern Spain, dance and rhythmic sound patterns. The festival, which will take place June 9–16, offers a great opportunity for groups to learn about and experience one of Albuquerque's signature traditions.
Another outstanding event for groups, Mariachi Spectacular, presents world-renowned professional groups showcasing a variety of styles within the mariachi tradition. Live concerts, conference workshops and jam sessions are among the highlights. It takes places in several locations, and will be offered July 11–14.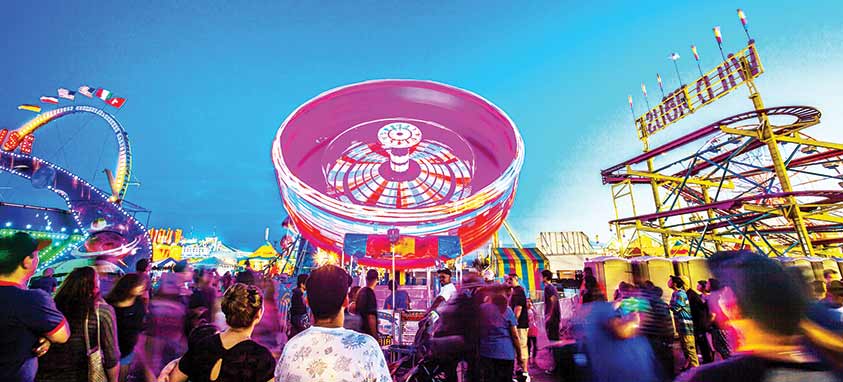 The New Mexico State Fair, ranked by SmartAsset.com as one of the top 10 state fairs in the United States, includes performances by nationally known country recording stars, a PRCA rodeo, and Indian and Spanish villages. Groups can also enjoy the art, agriculture, animals, entertainment, food, carnival rides, exhibits and shopping. It will be offered at Expo New Mexico Sept. 6–16.
Globalquerque World Music Festival will highlight musical performances by leading artists from throughout the world at National Hispanic Cultural Center, in spaces that include the intimate Fountain Courtyard and state-of-the-art, 692-seat Albuquerque Journal Theatre. Groups can also enjoy music and dancing on Virginia & Edward Lujan Plaza Mayor. The roster of performers for the 2018 event, to take place Sept. 21–22, includes groups from Italy, Democratic Republic of Congo, Brazil, Colombia, Venezuela, the United States, Cuba, Canada, Ecuador, Spain and Egypt, with more to be announced.
Fall and Spring Events
Featuring hot-air and gas balloons, Albuquerque International Balloon Fiesta is a nine-day extravaganza that fills up the sky in early October. The world's largest balloon event—and purportedly the world's most photographed event—it features hundreds of colorful orbs floating about the city each morning when dawn breaks over the Sandia Mountains. It also includes parades, music and food. This year's event is scheduled for Oct. 6–14. Groups can arrange for a hospitality package that includes admission tickets, access to the hospitality tent and premium parking for buses.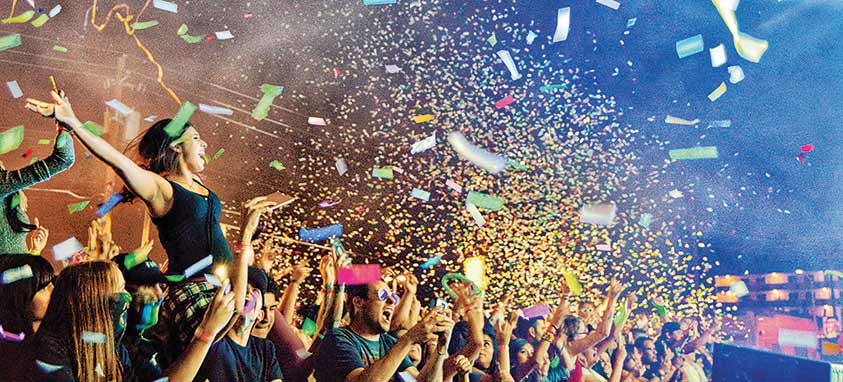 One of Albuquerque's newest annual events, Somos Albuquerque, will be offered for the second time on Aug. 25.
"It is aimed at highlighting all of Albuquerque's unique assets—particularly music, performing arts, art and food," McGrath says. "The event takes place just one block from Albuquerque Convention Center and only costs $10 to attend. This easily accessible event is an exciting experience for anyone."
In December, the Winter Spanish Market at National Hispanic Cultural Center will enable groups to learn about 400-year-old traditions and view—and purchase—original Spanish-style artwork, made by New Mexico artists. The festival includes art, local music, food, demonstrations and more. Groups also have a chance to interact with the extraordinary artists.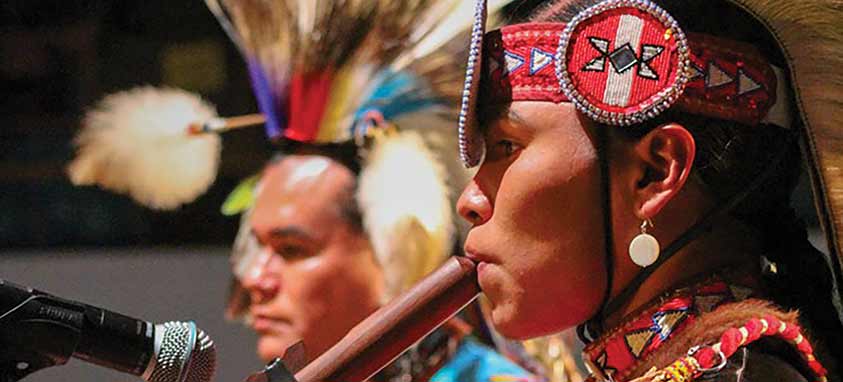 Nearly 3,000 dancers and singers from more than 700 tribes in the United States and Canada will participate in the annual Gathering of Nations Pow Wow April 26–28, 2019, at Tingley Coliseum. It will feature competitive Indian singing and dancing and Indian Trader's Market, offering an exhibition of indigenous artifacts from throughout the hemisphere from more than 800 artists, crafts workers and traders, plus the crowning of Miss Indian World.
Billed as The Hottest Show on Earth, the National Fiery Foods & Barbecue Show offers spicy gourmet foods, sauces, spices, sweet-heat treats and rubs to the fire-loving masses throughout the weekend. Exhibitors come from all over the world to sell their products to trade buyers and retail customers. Now 30 years old, it will next be offered May 1–3, 2019, at Sandia Resort and Casino.
Albuquerque Wine Festival features wines from throughout the state for sampling and purchase, including red, white and sparkling wines that range from light and sweet to bold and dry. The event also offers live music, as well as food, and arts and crafts vendors. It's hosted by New Mexico Wine Growers Association and takes place in the relaxed setting of Balloon Fiesta Park each Memorial Day weekend.
Hot Meeting Spaces
Albuquerque Convention Center, the city's premier meeting space, recently underwent a twophase renovation that transformed the east and west buildings into modern gathering spaces while still maintaining the traditional and strong New Mexican aesthetic through the interior. Located in the heart of Albuquerque's vibrant downtown, the convention center includes more than 270,000 sq. ft. of meeting space, 27 meeting rooms and a 2,338-seat auditorium. More than 900 hotel rooms are within walking distance.
Civic Plaza, located across from the convention center's West Complex, is also a popular spot for groups to gather. It recently underwent renovations to include an interactive fountain, an enormous video screen for the stage, an updated sound system, benches, tables and a new shade canopy over the amphitheater, next to the fountain.
Located in Historic Old Town, Hotel Chaco is Albuquerque's latest luxury hotel, and the anchor of the new Sawmill District and Sawmill Market. The 118 guest rooms are designed by world-famous architecture firm Gensler, and feature locally inspired interior design along with the works of Native- American artists from New Mexico. Honored as a Top 10 Best New Hotel of 2017 by USA Today, it has 62,000 sq. ft. of meeting space.
The 201-room Isleta Resort Casino features more than 1,800 slots, 25 table games, live entertainment, four restaurants, a spa, 27 holes of golf and more than 60,000 sq. ft. of attractive meeting space.
Hotel at Santa Ana Star Casino Hotel is scheduled to open July 4 with 204 guest rooms, four restaurants, bowling, live music, weekly comedy and a nightclub. It also will include more than 12,000 sq. ft. of meeting space with dramatic ceilings and natural lighting.
Other leading properties for meeting groups are Hyatt Regency Albuquerque, with 382 guest rooms and 30,000 sq. ft. of meeting space; Hyatt Regency Tamaya Resort and Spa, with 350 guest rooms and 29,000 sq. ft.; Albuquerque Marriott Pyramid North, with 310 guest rooms and 30,505 sq. ft.; and Hotel Albuquerque at Old Town, with 188 guest rooms and 62,000 sq. ft.
Fiestas De Taos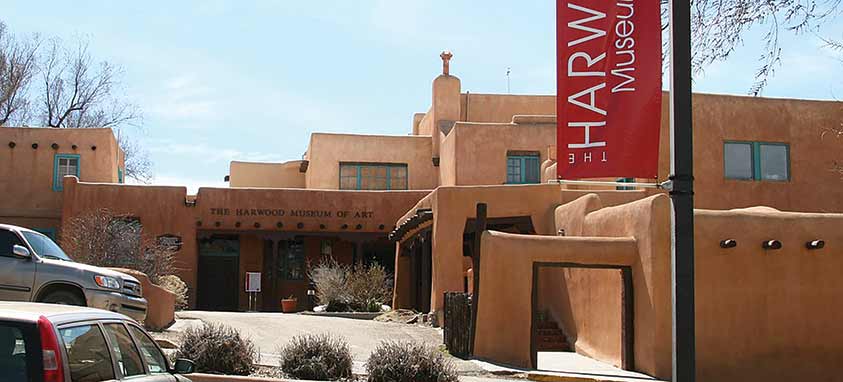 Groups visiting Santa Fe and Albuquerque often venture northeast to Taos, known worldwide for its historic adobe buildings, such as Taos Pueblo, a multistory adobe complex inhabited by Native Americans for centuries. Taos also is a longtime artist colony, and offers many galleries and museums showcasing regional artwork, including Harwood Museum of Art and Taos Art Museum
Among of the town's main happenings is Fiestas de Taos, a community celebration honoring its two patron saints, Santa Ana and Santiago. The annual event is so important to the people of Taos that it has four different names—Las Fiestas de Taos, Las Fiestas de don Fernando de Taos, Las Fiestas de Santiago y Santana and Las Fiestas de la Gente.
The event is a celebratory tradition passed from generation to generation, and helps to preserve the way of life that developed in Taos over the last four centuries. Pueblo and plains Indians, Spanish explorers, conquistadores, French fur trappers and American mountain men all have contributed to this way of life.
During the event, which will take place July 20– 22, a Fiestas Queen is selected, and musical and dance performances take place on Taos Plaza every hour. The events will kick off with a commemorative Mass and procession from Our Lady of Guadalupe Church. There are parades on Saturday and Sunday, and plenty of food, drink and curios are available.