Downtown Edinburgh
All the Reasons London, Edinburgh and Dublin Deserve to Host Your Group
Life sciences…technology… finance. In recent years, these catalysts of explosive growth and economic strength have propelled three hot spots in Western Europe— London, Edinburgh and Dublin. Though distinctly different, these popular destinations are setting a new bar for meetings in these sectors, as well as others.
They are fueling growth with a rapidly expanding complement of new and renovated hotels and resorts, conference centers and attractions that can host a wide variety of events and attendees. Venues range from modern new-builds and expansions to restorations and repurposing of existing, sometimes historic, properties. And as we head into 2019 and 2020, more fill the pipeline.
London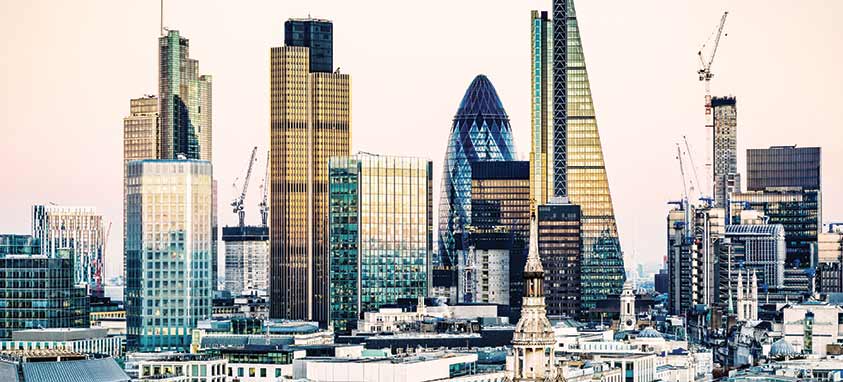 In 2017, this vibrant capital city once again took first place in Cvent's list of top international destinations for meetings in the region often referred to as EMEA (Europe, Middle East and Africa). "London has proved time and time again there is no better place to hold business events," says Laura Citron, CEO at London & Partners, the official promotional agency for the city. "With nearly 150,000 hotel rooms, ranging from budget to five star, and countless venues of different sizes capable of hosting up to 45,000 delegates, the city can accommodate all kinds of events."
Citron says that after business hours, "delegates can sample the capital's international food scene and discover its trendy neighborhoods and world-famous museums and attractions."
The Buzz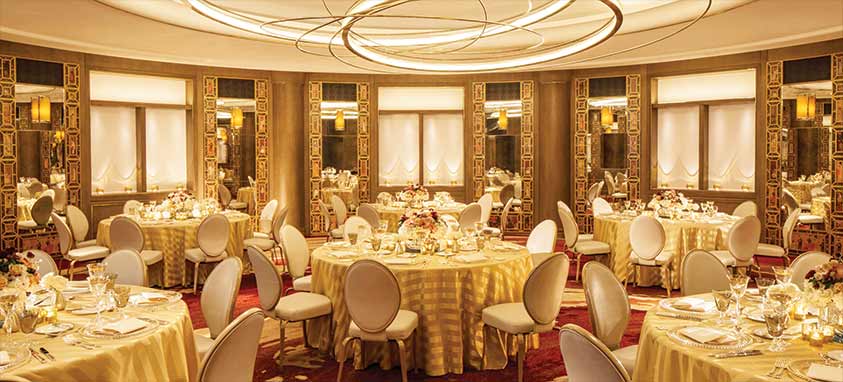 There was plenty of excitement about the Prince Harry-Meghan Markle wedding earlier this year, and the buzz in London still is "everything royal." The other big buzz is the opening in December of the first phase of the brand-new, high-capacity railway for London and the island's South East—currently the largest infrastructure project in Europe. To be known as the Elizabeth line, the railway will stretch more than 60 miles and is scheduled to become fully operational by December 2019.
New and Renovated Hotels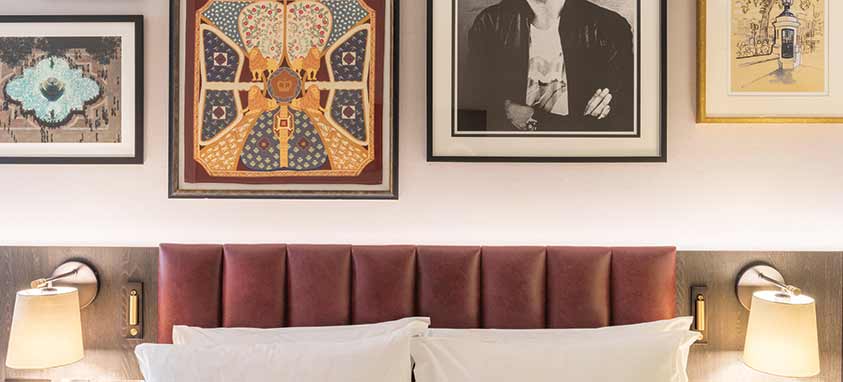 What's old has become new again in a tide of landmark properties reinventing themselves as luxury hotels. Case in point: Four Seasons Hotel London at Ten Trinity Square, once the Port of London Authority headquarters (circa 1922). Located near Tower of London, it encompasses 100 guest rooms and 7,857 sq. ft. of event space (including a beautifully restored ballroom), as well as an 18,083-square-foot, Roman-inspired spa. There's also Great Scotland Yard Hotel (early home of the London Metropolitan police station—think Jack the Ripper), which is coming by year's end as part of Hyatt Hotel Corporation's Unbound Collection, an upmarket, luxury lifestyle brand; it will offer 153 guest rooms.
On the more contemporary side is brand-new Dorsett City, London, located in the heart of the city's financial district, next to Aldgate Station. This upscale, stylish hotel offers 267 rooms and four flexible meeting rooms, plus a rooftop bar.
This summer saw the unveiling of Hard Rock Hotel London (the former Cumberland Hotel), which is capitalizing on the property's history as frequent host to guitar legend Jimi Hendrix. The hotel, situated in Hyde Park, offers 900 guest rooms.
Looking further ahead, Robert De Niro has received the green light for a new, luxury boutique property in Covent Garden, to be known as The Wellington Hotel; it will feature 83 guest rooms, a spa and swimming pool, and a members' club. Anticipated opening is in 2019.
On the renovated front, The Trafalgar St. James London, Curio Collection by Hilton, situated on Trafalgar Square, was recently updated to join the upscale brand. The hotel has 131 guest rooms and several meeting venues, including private dining rooms, a rooftop lounge and Biblio, a "house living room" that is a comfy, clubby-style lounge.
Conference Center News
In 2019, a dedicated Elizabeth line station will open at ExCel London, an exhibitions and convention center on Royal Victoria Dock with more than 1 million sq. ft. of flexible space, eight hotels and more than 20 restaurants, giving attendees direct access from Heathrow Airport (LHR) in just 43 minutes. The trains, which carry up to 1,500 passengers, feature on-board Wi-Fi and 4G.
Edinburgh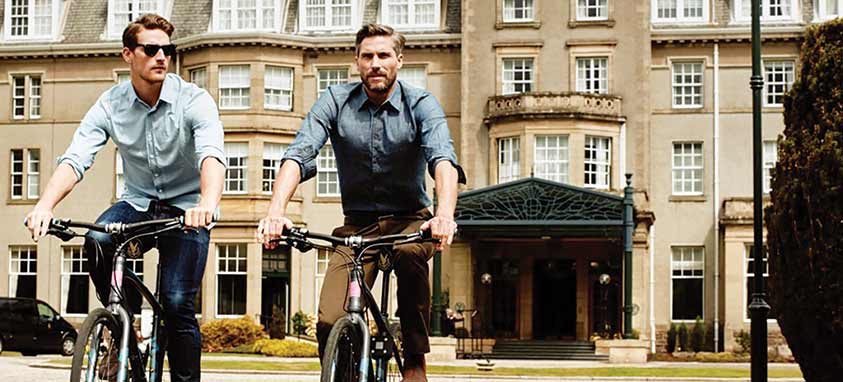 Set against a beautiful historic backdrop, with plenty of green space and visitor attractions to explore, Scotland's capital city has cemented its position as a globally appealing destination that provides a dynamic and unique experience for meetings and events, says Amanda Ferguson, head of business tourism at Convention Edinburgh. "With a magnitude of first-class venues to choose from, the city can confidently accommodate everything from small, intimate meetings to large-scale conferences," she adds.
The Buzz
The big buzz there is redevelopment of Edinburgh St. James, one of the U.K.'s largest and most important regeneration projects to date. A huge development in Edinburgh's city center, it encompasses 850,000 sq. ft. of shopping space on three levels, office space and private residences, plus a 214-room, five-star W Hotel that will feature a restaurant, panoramic city views from its rooftop terrace and 2,450 sq. ft. of ultra-modern event space.
New and Renovated
Edinburgh has seen a significant increase in hotel beds this year, with an additional 1,960 beds to be added by 2020, according to Ferguson. The properties range from brand-new and expansions to repurposed transformations and restorations that boast historic character.
On the brand-new side of the equation is Marriott's Courtyard Edinburgh West near the airport, with 240 guest rooms and 2,238 sq. ft. of flexible event space.
MV Fingal, a former Northern Lighthouse Board ship, is Scotland's first "boatique" hotel. The 237-foot-long ship was converted into a luxury, 23-room hotel and is moored next to Royal Yacht Britannia—Queen Elizabeth's official yacht until 1997—at Edinburgh's historic Port of Leith. It also offers a ballroom with a retractable skylight for up to 80 guests.
Beautifully restored and refurbished, The Principal Edinburgh on George Street (formerly The George Hotel) has 160 guest rooms and eight flexible meeting rooms, including King's Hall, a former grand Victorian banking hall for up to 300 guests, and The Editor's Bar for up to 70.
The expansion of Ten Hill Place at Surgeons Quarter has increased the hotel's guest-room complement to 129 rooms. Surgeons Quarter is the commercial arm of the Royal College of Surgeons of Edinburgh. The hotel's restaurant and wine bar, completely refurbished, will also see an increase in capacity. Meeting space for up to 750 is available at Surgeons' Hall.
Coming this fall is Market Street Hotel, part of the Carlton Hotel Collection. This new property, built on the border of Edinburgh's Old Town, mixes contemporary designs with traditional elements; it has 98 boutique-style rooms and a top-floor "Champagne City residence" with views across the Waverly Valley.
Golf in Scotland? Of course. Gleneagles, an hour from Edinburgh Airport (EDI), is one of the premier golf locations in the world, with three championship courses and a 232-room hotel. Ochil House, the resort's new wing, houses a range of meeting, event and dining spaces for groups of up to 100, including a private bar and pantry kitchen.
Conference Center News
Last fall, Edinburgh International Conference Centre became one of only 11 organizations on the planet to receive an inaugural Sustainability, Environmental Achievement & Leadership (SEAL) Business Sustainability Award. This collection of flexible spaces offers a revolving theater suite and a great hall with a moving floor for or up to 2,000.
New and Unique Meeting Venues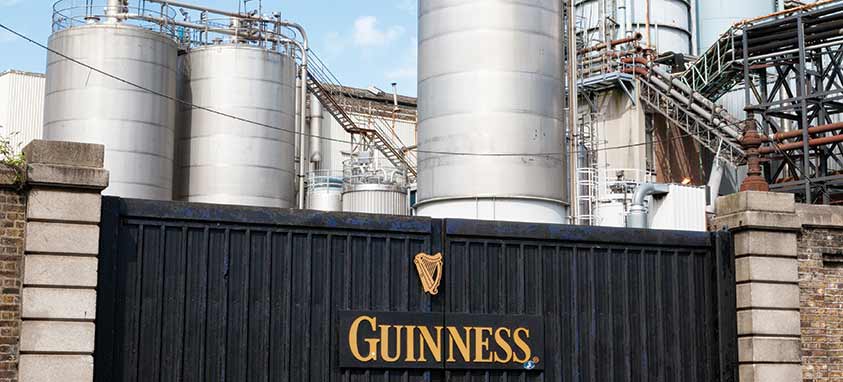 When you're looking for an off-site event space that offers a splashy, new perspective or a fun break in the routine, consider these conference center alternatives.
London
Sea Containers Events: Located at the top of the South Bank building, this striking new venue offers more than 25,000 sq. ft. of newly designed meeting and event space, including six interior spaces capable of hosting up to 150 guests for dinner and 250 guests for cocktail receptions (buyouts are possible). Printworks London: This massive industrial complex is where legacy newspapers used to be printed. Now it's a blank industrial-chic canvas with 119,200 sq. ft. of space over multiple levels, with a total capacity of 6,000 guests in six different spaces. It often hosts concerts, but you can book it for exhibitions, parties, experiential events and product launches. There's also 40,000 sq. ft. of outdoor space on the privately owned, 6-acre site.
Edinburgh
Summerhall: This hip, new multiarts venue features an ongoing program of performances, exhibitions, music, theater, dance, film and more (during August it hosts the very popular Fringe Festival). In its former life it was the Royal (Dick) School of Veterinary Studies, and a few intriguing oddities from that time (such as taxidermy, animal bones and operating tables in the bar) add another level of character. There's a resident craft brewery and gin distillery, a bar/bistro and a cafe. Events for up to 500 can be arranged.
Dublin
Guinness Storehouse: This famous tourist attraction enjoys another life as a meeting offsite. Small groups can join the monthly Guinness Supper Club, held in the private Connoisseur Bar. You'll enjoy a predinner pint and meet the evening's chef, who creates the five-course, tapas-style menu with beers selected to match (your own beer specialist will guide you through the tasting). Or plan your own event inside its historic brick framework, which accommodates up to 2,000 guests.
Dublin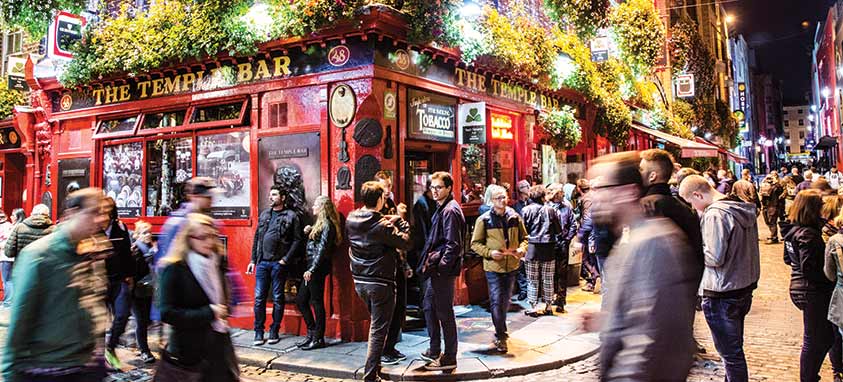 Along with its Old World charm (castles, Georgian heritage, traditional pubs), Ireland's capital city offers the full range of modern, sophisticated venues, from top-tier hotels and meeting spaces to world-class restaurants and live entertainment.
The Buzz
Last year, the city was very successful in winning international conferences and events—with strong growth continuing this year, according to Sam Johnston, manager of Dublin Convention Bureau. Speaking at a recent meeting of the city's industry leaders, he said that against the backdrop of uncertainty surrounding Brexit, Dublin is, and will continue to be, a competitive and attractive place to hold international events.
New and Renovated Hotels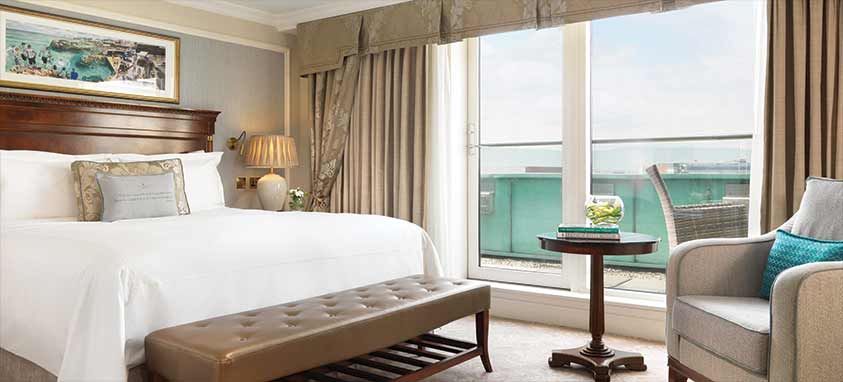 After a few years of scant activity on the new and expanded hotel front, there's currently a mini-boom in the marketplace. According to a report by Fitzpatrick Associates for Failte Ireland, 5,382 hotel guest rooms are due to be added between now and 2020—3,444 new rooms in new hotels and 1,938 in additions to existing hotels.
On the scene now is The Address at Dublin 1, a new luxury hotel with a contemporary design aesthetic. Its 72 luxurious guest rooms have access to a private, rooftop club lounge that offers complimentary wine and predinner bites in the evening.
Iveagh Garden Hotel opened this year with 145 guest rooms and event space for up to 250. The property is focused on sustainability, taking renewable energy and low-carbon design to a whole new level, aided in part by the discovery of an underground river below.
Located in city center is the newly built Maldron Hotel Kevin Street, with some 140 guest rooms. Convenient to many attractions, it features a grain-and-grill bar and restaurant.
Also new is Clayton Hotel Charlemont, overlooking the Grand Canal, with 180 guest rooms, two meeting rooms and an executive boardroom, for a total capacity of 100 delegates.
Aloft Dublin City, the first Aloft hotel in Ireland, is set to debut in November with 202 guest rooms and 3,229 sq. ft. of meeting space. A boardroom space can easily be reconfigured for other needs. It also includes a rooftop bar and lounge.
Dublin's five-star luxury core has seen a flurry of refurbishments, further upping the ante on the top end of the market. Conrad Dublin's recent renovation featured a redesign of its 192 guest rooms, lounge and exterior facade. It offers 10,000 sq. ft. of meeting space, including a ballroom that can accommodate 350 attendees and be divided into three smaller rooms.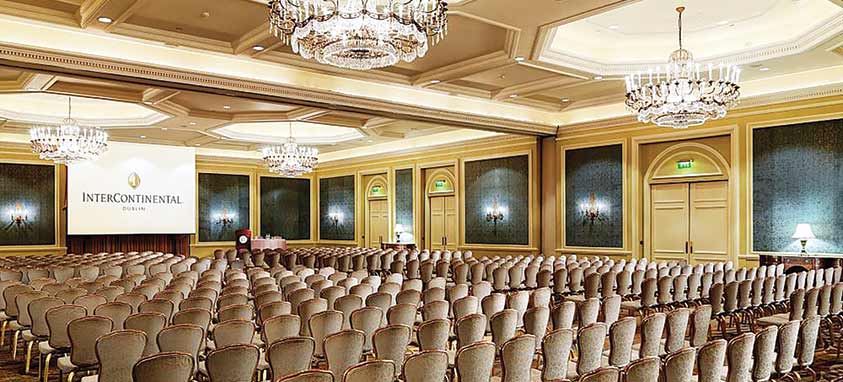 InterContinental Dublin (formerly Four Seasons), an urban resort tucked away on 2 acres of landscaped gardens, has 197 guest rooms and 15,112 sq. ft. of recently refurbished meeting rooms, including two ballrooms.
Set in a historic building in city center, The Shelbourne Dublin, A Renaissance Hotel has 265 guest rooms and 11,237 sq. ft. of total event space. The hotel—the largest five-star property in Dublin—recently completed a multimillion-dollar facade and guest-room refurbishment.
The airport campus is also in the new-and-renovated mix. The recently renovated Radisson Blu Hotel Dublin Airport currently features 229 rooms plus a self-contained conference area with 12,000 sq. ft. of meeting space. Plans for a six-story expansion of the stylish hotel and two nearby hotels are in the works.
Convention Center News
Carbon-neutral Convention Centre Dublin, which opened in 2010, was the first Irish venue to receive the top award as World's Leading Meetings & Conference Centre 2017 at the World Travel Awards. These awards are voted by travel and tourism professionals, as well as business and leisure-travel consumers worldwide.
Carolyn Koenig is the former editorial director of Smart Meetings and is a frequent contributor.