While you may remember the phrase "Virginia is for Lovers," what you may not know is that the slogan was created in 1969, a time (like now) when major currents of cultural change were sweeping through the nation.
The phrase is still the state's official tourism motto but after some very public struggles for equity and inclusion, Virginia is now attracting meeting planners, and travelers in general, with a fresh take on its history and culture and on the dynamic that happens when everyone can find a place at the table.
"We are having so many impactful conversations," says Lauran Peoples, director of sales marketing and business development for Richmond Region Tourism, "our transformation aligns with the many ways our culture is changing in the nation."
In discussing the recent reimaging-in-progress of Richmond's Monument Avenue, a process that will be helmed by the city with the participation of the Virginia Museum of Fine Arts, Peoples points to the "monumental conversation" the community is currently having about diversity and inclusion.
"There is a willingness now to have these conversations," she says. "We're now able to engage in a dialogue. People from many diverse backgrounds are talking with each other and sharing their perspectives. There's so much beauty about that."
The dialogue is not confined to Virginia's capital. At one of the state's most renowned historic attractions, Colonial Williamsburg, the dialogue is broadening to a "more complete, inclusive story," says Ellen Peltz, public relations manager, The Colonial Williamsburg Foundation.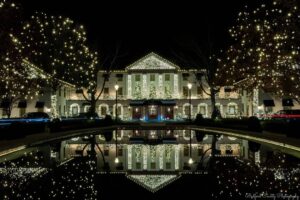 "We're now able to engage in a dialogue. People from many diverse backgrounds are talking with each other and sharing their perspectives. There's so much beauty about that."
–Lauran Peoples, Director of Sales Marketing and Business Development, Richmond Region Tourism
"While history doesn't change, our understanding of it is always evolving. We ask new questions of the past. As we learn more about the lives of Williamsburg's founding generation—more than 50 percent of whom were African American—we apply that research to our onsite interpretation to our museum exhibitions and online programming," she adds.
Richmond Rising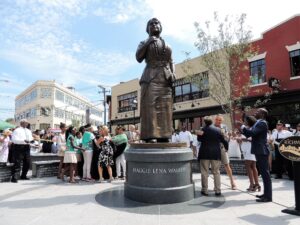 Richmond, Virginia, is not just the state capital and an easy-to-access hub in the mid-Atlantic. One in four African Americans can trace their ancestry through the city. The city's VisitBlkRVA.com initiative is a collaboration between Richmond tourism and more than 20 community leaders. Meeting planners can access the site and its leaders to find ideas and itineraries designed to make inclusive history come to life.
One major area not to miss is the city's Jackson Ward, an area that Peoples says is "one of the oldest areas of Black entrepreneurship in the country." Peoples also points out that planners can find tours on the site like Gary L. Flowers' "Walking the Ward."
Read More: Historic Black Female Leaders of NCBMP Share Pandemic Lessons
The tour gives life to the area called "Black Wall Street," and "The Harlem of the South" and includes background on one of the city's most illustrious business leaders, Maggie L. Walker. Walker was the first African American woman in the U.S to charter and helm a bank as president. She was also a leader for those with disabilities and achieved many of her goals while using a wheelchair.
Her home in Jackson Ward, The Maggie L. Walker National Historic Site, is a restored and furnished museum operated by the National Parks Service. It can be toured privately by small groups of seven or less and offers an up-close look at what Black entrepreneurship was like over a hundred years ago.
Hotels and Venues
Meeting planners will note that Greater Richmond Convention Center is the largest meeting and exhibition facility in the Commonwealth of Virginia with 178,159 sq. ft. of contiguous exhibit space, a 30,550-square-foot Grand Ballroom and 50,000 sq. ft. of additional meeting room space. The Convention Center was named a GBAC Star Facility in 2021. The facility has modernized with the addition of new LED lighting, monitors, digital signage and a digital sound system.
Adjacent to the Conference Center, Richmond Marriott has been recently renovated and offers a massive ballroom that accommodates 2,000 people along with numerous rooms for corporate meetings and flexible break out space.
Read More: Best Virginia Beer Trails
Living at the epicenter of Richmond's dialogue with diversity is the Virginia Museum of Fine Arts (VMFA) which will be helping the city's communities decide how to use the recently cleared areas of the city's Monument Avenue. The Museum, along with housing permanent collections of world-famous masterworks, offers options from an entire museum rental to the VMFA's Cochrane Atrium space (seated 300, standing 1,000) with exhibition halls, terraces and other spaces also on offer.
The American Civil War Museum at Historic Tredegar also puts history and its changing focus upfront. The entire museum can be booked by large groups who can explore the facility on non-public hours with a curator or docent. The Saunders Lobby, which can accommodate up to 50, can also be rented.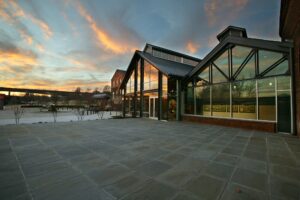 The Museum boasts a speaker's bureau, which can supply a local academic to speak about inclusive narratives of history to groups in Richmond locations. The museum was a history resource that Steven Spielberg used when filming his movie Lincoln (2012) here on location.
Hotels with large amounts of meeting space include the historic 1895 Gilded Age-era Jefferson Hotel which wrapped up a four year, three-phase renovation in 2017 with expanded rooms, a restored rotunda ceiling, new furnishings and other touch ups. The hotel (Virginia Green certified) includes 26,000 sq. ft. of event space, including the Grand and Empire Ballrooms, Flemish Room and the Rotunda. The private James River Conference Center is a good fit for smaller groups.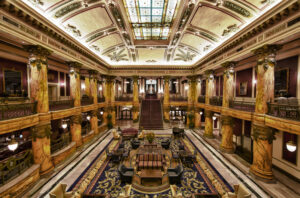 Hampton: A Road to Inclusivity
An hour's drive to the Virginia coast from Richmond, Hampton, is bearing witness to a 400-year history and the birth of a major American HBCU (Historically Black Colleges and Universities), Hampton University.
"We invite groups and conferences to come and experience our inclusivity, diverse attractions and historic Black heritage sites that offer visitors a unique look into more than 400 years of history," says Yuri R. Milligan, director of media and community relations, Hampton Convention & Visitor Bureau.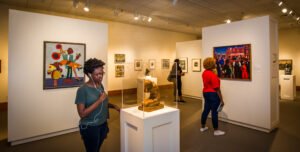 Last year, Hampton created its "400 Years Forward" African American heritage program to recognize the 1619 arrival of the first Africans to America who arrived after the Middle Passage as enslaved peoples, but whose ancestors would find themselves hearing the Emancipation Proclamation being read under the "Emancipation Oak" tree in Hampton, whose massive arms have provided shade for generations of African Americans.
Meeting planners have a wealth of options to choose from in Hampton. The 344,000-square-foot Hampton Convention Center is also connected to the nearby Embassy Suites Hotel. Sharing its campus is massive Hampton Coliseum which offers 84,000 sq. ft. of meeting and convention space along with its Star Theater seating 6,200 and dining facilities for sit down banquets of up to 2,000.
Meeting venues are also available at Hampton University. The McGrew Towers Conference Center location on the Hampton River is available for meeting planners by a wide range of organizations.
The University's Convocation Center can host up to 8,200 in convention capacity. Its two meeting rooms hold 87 and 69 people.
Virginia Air & Space Science Center is home to NASA Langley's Visitor Center, the site of America's Mercury space program. This is where pioneers Katherine Johnson, Dorothy Vaughan and Mary Jackson, spotlighted in the film Hidden Figures, assured America's victory in the space race.
The Center's Main Gallery can host events of up to 1,500 standing and 500 for a seated banquet. The Center's IMEX theatre can seat up to 283 people. The Observation Deck and Aerospace Library offer marina views and more intimate spaces for standing groups of up to 200 and 100 respectively.
Colonial Williamsburg: Re-Envisioning Our Collective Past
Less than an hour away from Hampton, Colonial Williamsburg is continuing to bring Black history to the fore while continuing to create time-travel magic with its legendary historical reenactors and authentic venue backdrops.
Colonial Williamsburg was at the front guard of incorporating African-American stories into history-telling venues. As far back as 1979, Colonial Williamsburg broke ground by including experiences and voices of both freed and enslaved African Americans into their visitor experience.
Meeting planners have a wealth of venues to choose from at Colonial Williamsburg. including full conference space at Williamsburg Woodlands (13,000 sq. ft.), the Governor's Palace with space for 400 guests and 45,000 sq. ft. of meeting space at Williamsburg Lodge.
Outdoor venues include Oval Garden (4,700 sq. ft.) and Fountain Garden (3,700 sq. ft.). To help meeting professionals kick-start their return to F2F, Colonial Williamsburg is offering special promotional packages for meetings conducted before July, 2022.
"Over the years, Colonial Williamsburg's representation of the stories of Black people has evolved from having Black coachmen introduce visitors to the Historic Area in the 1930s to introducing the African American interpretation program in 1979, eventually working towards integrating the perspective of Williamsburg's Black residents into our site tours and our programming across the Foundation today," said Stephen Seals in a company statement.
Seals portrays Revolutionary Spy James Lafayette along with his position as a program development manager for the Foundation. "It is an honor to tell these stories—the stories of my ancestors—day in and day out, 365 days a year."
Resources
Colonial Williamsburg Foundation
Hampton Convention & Visitors Bureau
Richmond Region Tourism
Visit Williamsburg
This article appears in the February/March 2022 issue.