Careful planning and fresh air await in this vibrant destination
From the cultural touchstones of Graceland in Memphis and Nashville's Country Music Hall of Fame & Museum to Dollywood and Gatlinburg's gateway to the Great Smoky Mountains, Tennessee makes it easy for groups to safely come together in iconic venues with plenty of access to wide open spaces.
More: SGN 10/9: Wine Country, Black Meetings and Nashville
The state that bills itself as where "the soundtrack of America" is made is tuned into the needs of groups looking for outdoor team building and spacious indoor venues that allow for safe networking. Whether taking in the sights from the arc of the longest pedestrian suspension bridge in North America or meeting on the grass at Owen Farm on the bluffs of Cumberland River, west of Nashville, groups are finding that they can safely come together without missing a beat.
We reached out to the Nashville experts for suggestions on how to come together when everyone is ready.
Gatlinburg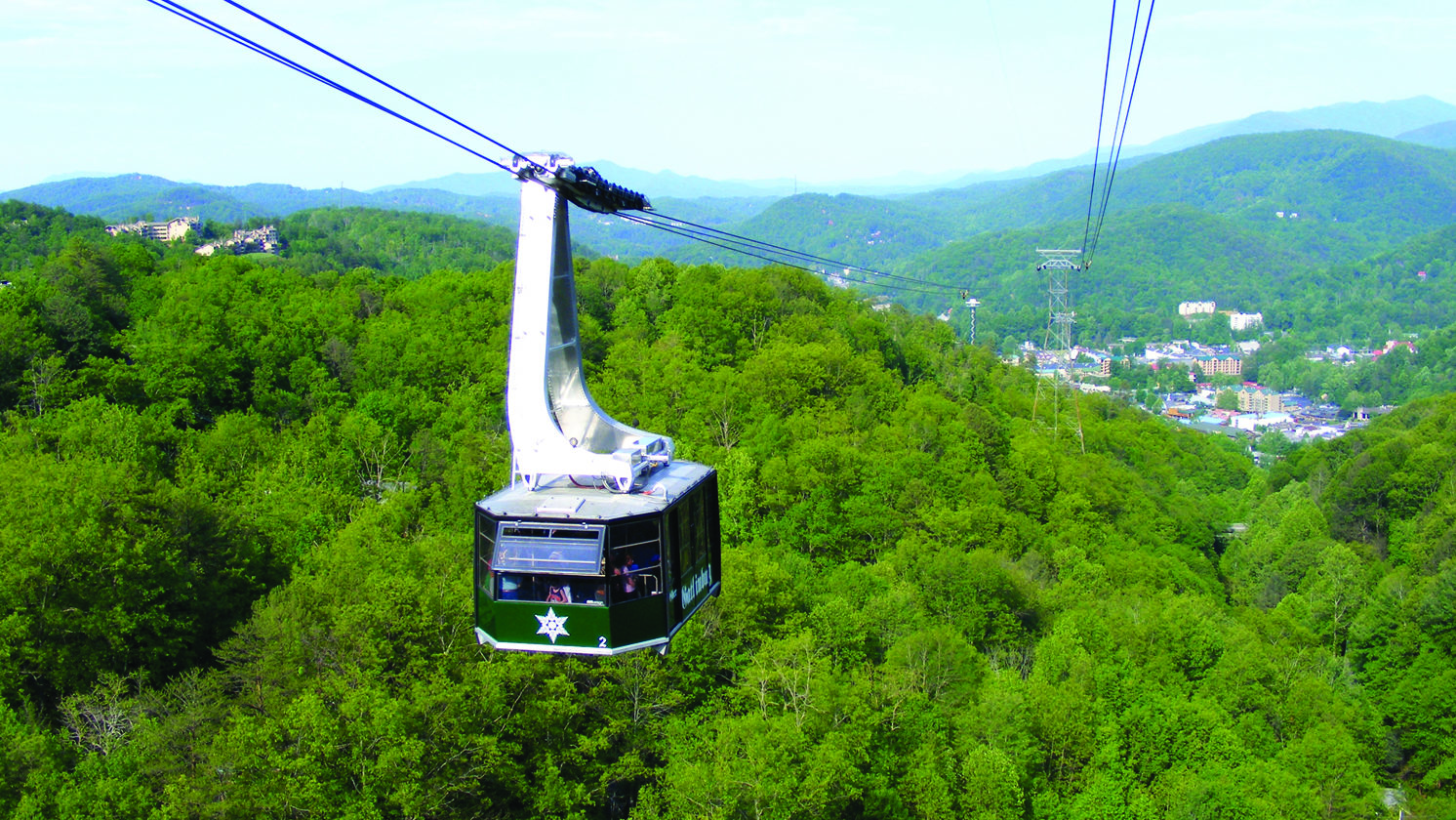 If your group is looking to escape to blue sky, Gatlinburg is three hours east of Nashville. It offers a range of accessible and convenient amenities for groups looking for all the excitement and authentic culture of the headliner cities with fewer crowds. It is renowned as the gateway to the Great Smoky Mountains, but there are now even more reasons to stick around.
Stay a Spell
At 148,000 sq. ft., the newly renovated Gatlinburg Convention Center has been proactive about sanitation and safety protocols, including the addition of an electrostatic sanitization system. Staff "fogs" all meeting spaces, along with restrooms and common areas, daily before show opening. The Center is also currently in the process of becoming Global Biorisk Advisory Council (GBAC) Gold Star certified.
A renovation will begin in November with a planned first quarter of 2021 competition that includes the addition of 5,000 sq. ft. of meeting space, new carpet and replacement of all HVAC systems.
Dave Esslinger, director of sales and marketing at Gatlinburg Convention and Visitors Bureau, was thrilled to have the first event back in the building this past June. Encore DCS Regional Dance Competition has been coming to Gatlinburg for more than 10 years and the group's director, Rhonda Marchant, pledged that they would continue coming back after the thoughtful treatment deployed in the midst of a pandemic. "Thank you so much for taking all of the extra steps and precautions to make our first event back in business such a success," she wrote. "With plenty of space to spread out (social distancing practiced) and healthy snacks at concessions, always checking on me and impeccable cleanliness of the entire building, I am beyond grateful!"
Encore has lots of choices for where to stay when they are in town. Courtyard Gatlinburg Downtown next door to Gatlinburg Convention Center offers 130 guest rooms and 2,401 sq. ft. of meeting space. The property abides by Marriott Cleanliness Council standards and offers flexible cancellation policies.
The two-year-new Margaritaville Resort Gatlinburg is where flip-flop culture meets Smoky Mountain highs. With 163 guest rooms and 8,677 sq. ft. of meeting space, it offers room for business and pleasure.
Break Out
Gatlinburg has no shortage of unique venues. "It is an unwritten rule that all meals taste better in a unique venue and even better with fantastic views of the Great Smoky Mountains," Esslinger says. Luckily, Gatlinburg has plenty of both.
Seasons of Ober, located in the Ober Gatlinburg Ski Resort and Amusement Park, can accommodate and organize off-site groups for meals and receptions for up to 250 people. A 10-minute aerial cable car from the Parkway in downtown Gatlinburg transports you 2.1 miles up to Ober Gatlinburg for incredible views. Private dining space can be reserved for smaller groups or total buyouts.
Gatlinburg SkyBridge, the longest pedestrian suspension bridge in North America, measuring nearly 700 feet in length with a height of 140 feet at its midpoint, is an incredible but easily attainable experience that provides memories for a lifetime—especially as you cross the glass floor panels in the middle of the span. Gatlinburg SkyBridge offers an observation area and a private area room with a balcony that can accommodate groups of up to 150 people.
Anakeesta, a more than 70-acre, treehouse-style adventure park, offers access to attendees from downtown Gatlinburg via chairlifts, closed chair/gondolas or Ridge Rambler rides up to Anakeesta Mountain. Cliff Top Bar & Grill offers 270-degree unobstructed scenic views of the Great Smoky Mountains and the city of Gatlinburg. Full buyouts with the patio accommodate up 300 people.
Ole Red Gatlinburg, singer Blake Shelton and Ryman Hospitality's $9 million, multilevel, 16,000-square-foot entertainment venue, offers unique breakout space with an exterior terrace, performance space, dance floor and retail area. The venue is equipped with state-of-the-art performance equipment and planned programming that includes curated line-ups and performances from up-and-coming talent. Ole Red offers full restaurant and mezzanine buy-out opportunities as well as tours and group experiences.
Memphis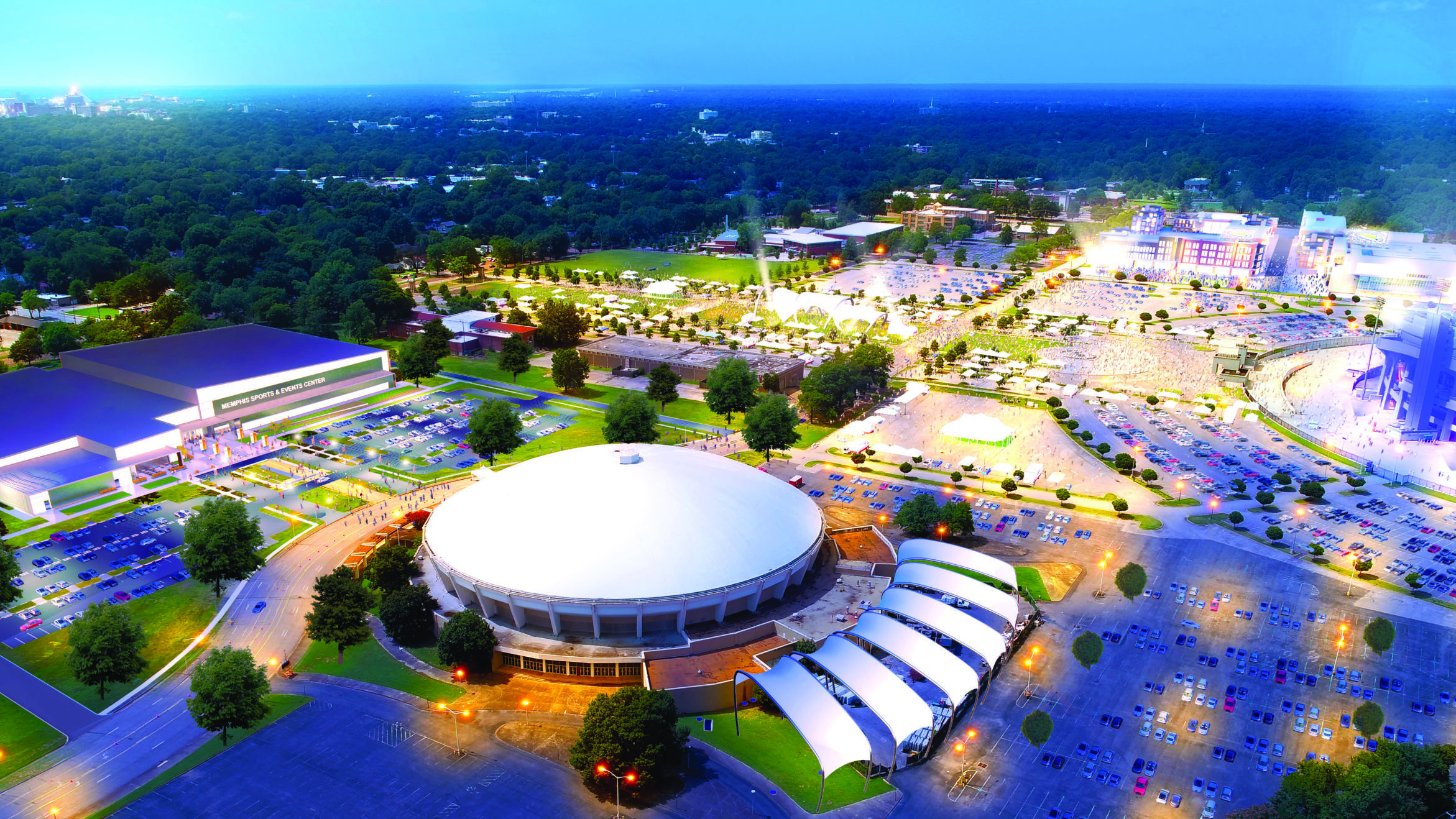 The experience-making company Leo Events started its journey in Memphis in 2002 when Cook Convention Center (now Renasant Convention Center) began its first renovation. "This city offers so many benefits for planners —it's affordable, easily accessible and on the rise," says principal Cindy Brewer.
When you next bring your group to The City of Soul, you will find plenty of room to spread out. And more is in the pipeline.
Stay a Spell
The big news in Grind City is the modernization and expansion of Renasant Convention Center, now a 300,000-square-foot destination with a 118,000-square-foot, column-free exhibit hall. With 46 breakout rooms and a 2,100-seat theater, physical distancing is easy. The high note is the design, which features floor-to-ceiling windows with sweeping views of downtown Memphis and Mississippi River. It is connected to Sheraton Memphis Downtown, which boasts 600 guest rooms with 300 more on the way.
The facility was awarded GBAC STAR rating based on its protocols before it even opened the doors. "With this facility coming back online following a top-to-bottom renovation and the addition of new meeting spaces, we wanted to be sure we were exceeding expectations," said Dean Dennis, senior vice president and general manager of Memphis Management Group and Renasant Convention Center.
Liberty Park, an evolution of the historic fairgrounds, is a collection of cultural, education, entertainment and recreation institutions representing iconic destinations, including the Liberty Bowl and Tiger Lane, the Children's Museum of Memphis, and the Kroc Center. The plan is to grow it to include a mixed-use, public-private development and sports and events center, a projected $200 million transformation with openings beginning in 2022.
Once one of Memphis' busiest train stations, The Central Station Memphis, Curio Collection by Hilton now welcomes groups to 123 guest rooms and 8,180 sq. ft. of meeting space. The property cut the red ribbon last year with an Art Deco lobby and trendy Bishop restaurant.
Arrive Memphis transformed a 1916 warehouse and former Memphis College of Art space in downtown's vibrant South Main Historic Arts district into a 62-guest-room hang out with an all-day bakery affectionately named Hustle and Dough, a shuffleboard bar and poker room.
More fun is on tap at Moxy Memphis Downtown, where when guests check into one of 118 guest rooms, they receive a poker chip good for a snack or drinks at one of the two restaurants on site.
Canopy by Hilton Memphis Downtown is opening this fall with 174 guest rooms that feature headboards inspired by the backseats of vintage Thunderbird cars, microphone heads as bedside lamps and Nespresso machines. The hotel is in the heart of downtown Memphis in walking distance of AutoZone Park, FedEx Arena, Orpheum Theater, restaurants, popular tourist destinations and arguably the best barbeque in the country. In this case, the one making that argument is Jose Nieto, chief enthusiast and general manager for the intentionally funky property.
The hotel will feature Curfew Memphis with an upscale sports bar and tavern vibe by celebrity chef Fabio Viviani. Nieto is making bikes available for exploring the city, and is welcoming groups to the on-site boardroom, which accommodates up to 10 people. It is all protected by the Hilton CleanStay cleanliness program.
As part of the 5.5-acre riverfront One Beale project, a boutique Hyatt Centric hotel is planned for a 2021 opening with 227 guest rooms and 15,000 sq. ft. of conference and meeting space. Talk about character, the historic Ellis Machine Shop will be renovated to serve as the cornerstone of the conference center. A new riverfront restaurant, outdoor pool plaza and rooftop lounge will be the cherry on top. The entire project will act as a gateway to the sports and entertainment district.
In Midtown, The Memphian Hotel, part of Marriott's Tribute Portfolio, is scheduled to open in spring 2021, with 106 guest rooms, an upscale restaurant, Complicated Pilgrim, and, you guessed it, a rooftop bar space called The Tiger and Peacock.
Break Out
If your dream is of a space with a meaningful voice, National Civil Rights Museum at the Lorraine Motel commemorates the location where Dr. Martin Luther King Jr. was assassinated. The tribute on Beale Street is one of only five U.S. accredited international sites of conscience, and the powerfully presented exhibits begin in 1619 to help participants put their experience into perspective. The museum's goal, according to Faith Morris, chief marketing and external affairs officer, is to "provoke thoughtful debate and serve as a catalyst for positive social change."
Nashville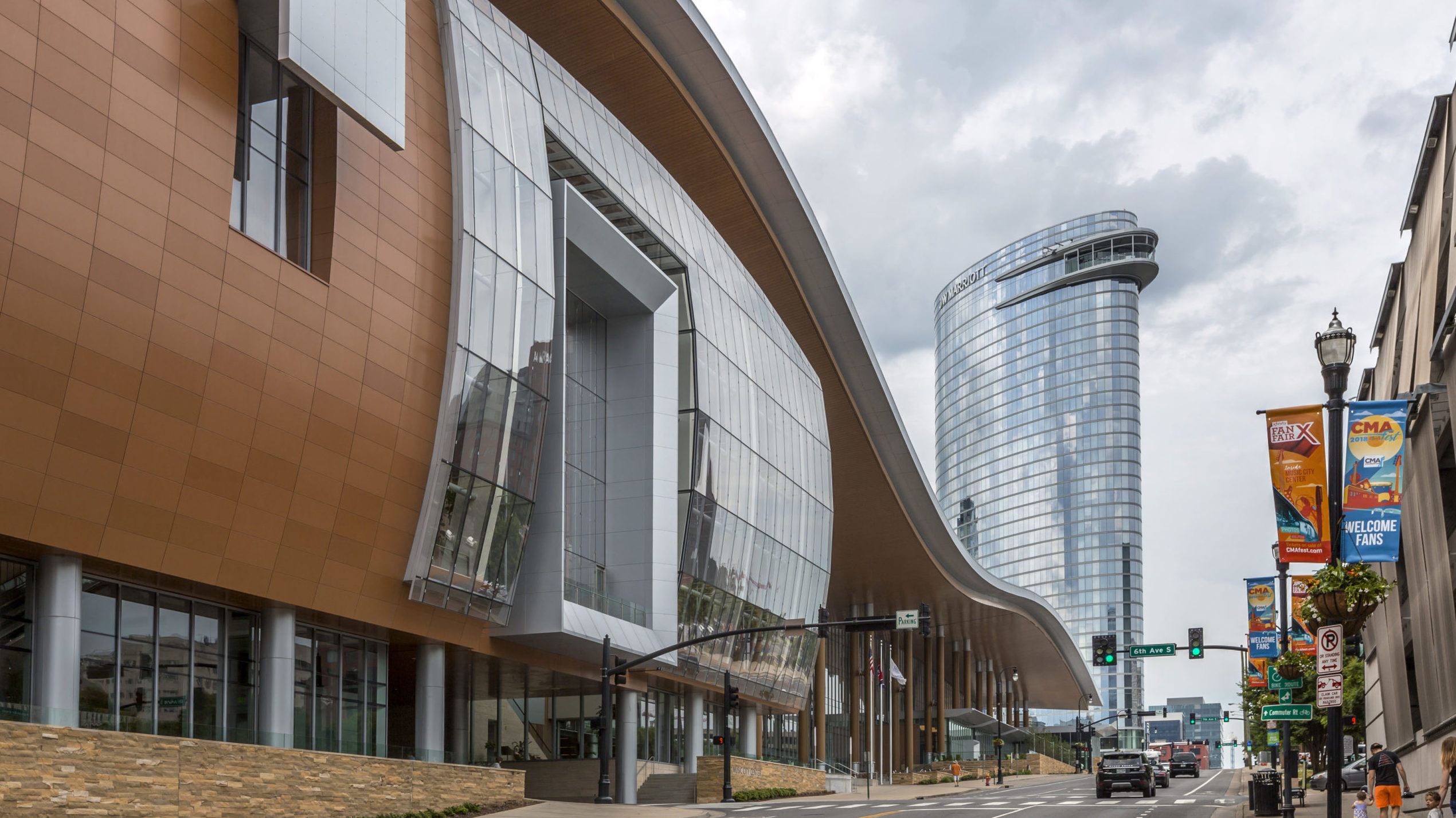 Music City is open and welcoming visitors who are willing to abide by safety precautions. Nashville CVB explains that the city's hospitality industry has been decimated by COVID-19. "Our frontline employees and musicians are out of work. The only way out of this is by following health officials' recommendations."
To that end, the city has created a Good to Go hospitality safety program by working with Vanderbilt Health, Ryman Hospitality Properties and SERVPRO to create guidelines that will allow everyone to "keep strumming" safely.
Step one: Music City Center, the 2.1 million-square-foot exhibit, meeting, ballroom and theater space downtown, has committed to GBAC STAR standards.
Stay a Spell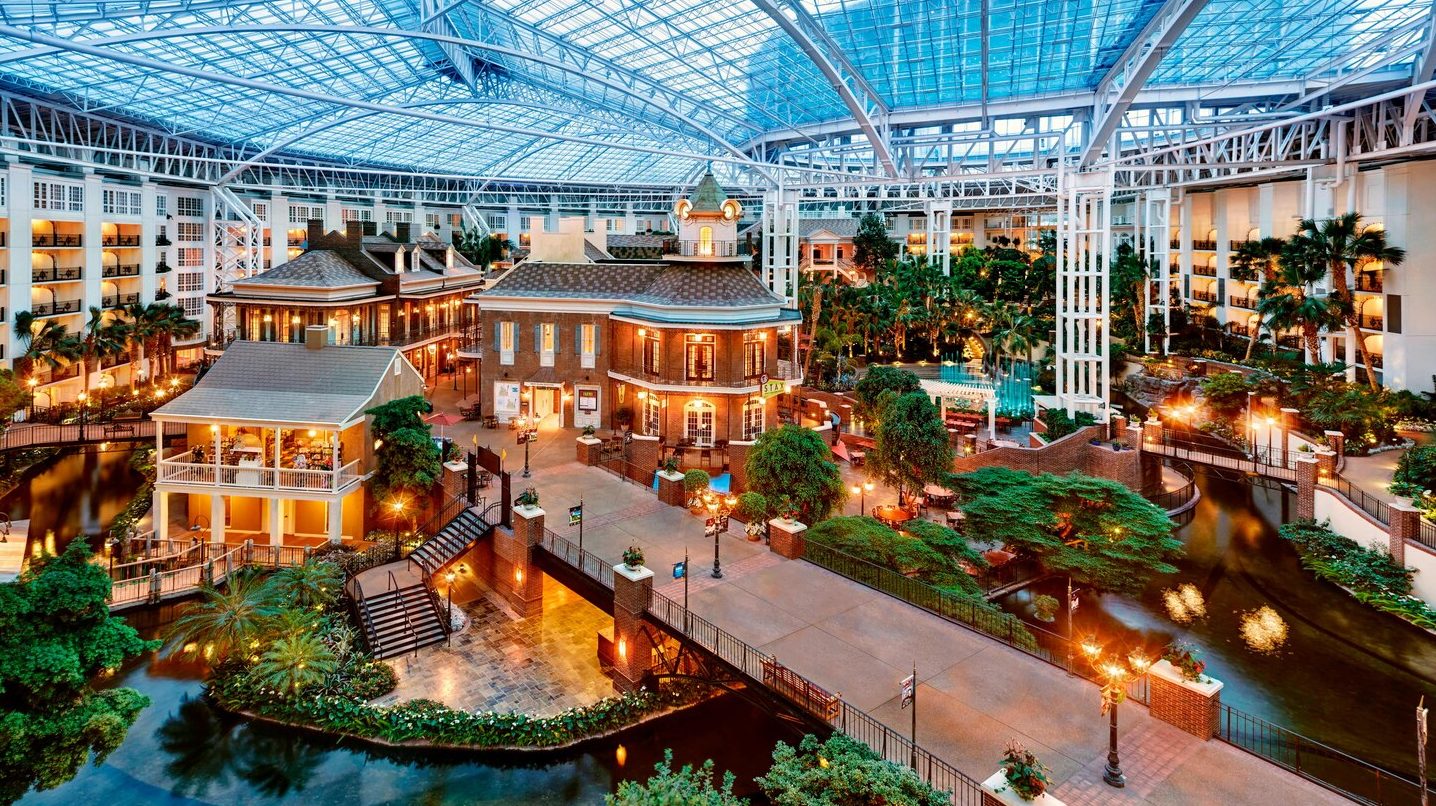 Hospitality teams are back on the job as the city has started opening up. The sparkly new destination downtown that threw open the doors on Oct. 1 is Grand Hyatt Nashville, which just debuted with 591 guest rooms, 77,000 sq. ft. of event space, seven on-site food and beverage experiences and a rooftop lounge deck overlooking the city. (And there to welcome it to the neighborhood in November will be a Smart Meetings Experiences event.) Richard Ross, the property's director of sales and marketing, cherishes the city as "a vibrant, creative, and forward-thinking destination that attracts high-quality and exciting events and meetings all year round." He praised the city's robust strategy to safely support business, tourism and events and reassured that Hyatt's Global Care & Cleanliness initiative makes safety and health a top priority for guests.
"We're confident Music City—and Grand Hyatt Nashville in particular—is primed to safely welcome tourists and travelers from around the world," he said. And for those looking for even more fresh air, he offers outdoor activations at an adjacent 1.3 acre park.
Meanwhile, The Westin Nashville is now offering a pre-set Zoom Room meeting space for up to 15 people. WFH (Work From Hotel) day rates are available for professionals seeking a change of scenery, high-speed Wi-Fi and access to WestinWORKOUT fitness center. Full-floor exclusive buyouts with access to the hospitality suite allow groups to create a bubble around guests for the duration of their stay.
Last year, Gaylord Opryland Resort & Convention Center invested $12 million in a renovation to the extensive property that includes 2,888 guest rooms and 700,000 sq. ft. of meeting space. A new 5,000-square-foot retail and entertainment space now greets visitors.
Music City Walk of Fame is an inspirational setting for a team-building treasure hunt or morning fitness challenge. Or spread out in Centennial Park with its stately Parthenon and Centennial Art Center as the backdrop.