Sponsored by Visit Greater Palm Springs
Find Your Meeting Oasis in Greater Palm Springs
In Greater Palm Springs, sunny skies of endless blue, inspiring vistas in all directions, amenities you could never imagine and venue spaces that exceed expectations make business anything but usual.
LEARN MORE
More Flights, More Often at PSP
Named one of the nation's Top 10 "Most Stress-Free Airports," Palm Springs International offers 23 nonstop and more than 500 connecting flights from cities worldwide. Plus, four other major airports lie within a two-hour drive.
LEARN MORE
Meet & Save in Greater Palm Springs
Thanks to an abundance of offers for group discounts and value added, you can guarantee a great experience for your attendees while increasing the ROI for your company or organization.
LEARN MORE
Plan Your "Wellest" Meeting
Planning healthier meetings is easy in Greater Palm Springs. From natural hot mineral springs to farm-to-table F&B options, focusing on wellness comes naturally in our oasis.
LEARN MORE
Give Your Meeting a Shot of Adrenaline
Find exciting team-building and group activities only available in Greater Palm Springs. These off-the-chart experiences are sure to breathe new life into attendees.
LEARN MORE
The Perfect Setting, Any Time of Year
With over 300 days of sunshine annually, it's no wonder attendees love meeting in Greater Palm Springs. Majestic mountains, palm trees blowing in the breeze, and colorful year-round flowers provide magnificent backdrops for outdoor events that can be customized for every type of client.
LEARN MORE
Groups meeting in Greater Palm Springs enjoy its laid-back atmosphere, as well as its impressive collection of luxury hotels and boutique hideaways, trendy bars and restaurants, and host of recreational options, including outstanding golf courses. But those who want to dig deeper discover much more, including amazing surrounding landscapes, an intriguing Native-American heritage, a world-renowned architectural history and a rich Hollywood celebrity legacy.
More: Palm Springs Offers Unique, Adventurous Tours
"Many attendees and groups that come here expect to see a desert landscape, but we are an oasis in the desert, surrounded by mountains," says Mark Crabb, FCDME, chief sales officer for Greater Palm Springs Convention & Visitors Bureau. "That is the first thing most people convey—that they had no idea that the mountains were so close and how green it is here. We want them to experience the outdoors as much as possible by doing early-morning yoga or by enjoying golf, hikes or a Jeep excursion to the San Andreas Fault.
"Attendees can get the full 'oasis experience' while chilling in the desert."
Arguably the best way to sample the city's many unique features is through the many tours, which include everything from thrilling rides into the San Andreas Fault to drives by the homes of Frank Sinatra, Elizabeth Taylor and other famous stars. Planners not only have plenty of tours from which to choose: They also include lots of transportation options—including bus, van, bicycle, Jeep, Hummer, ATV and hot-air balloon—along with walking tours. So, it's easy to arrange for a tour that fits the interests and needs of each group.
Walking and Hiking Tours
Palm Springs Historical Society offers historical walking tours focusing on the city's historic neighborhoods, distinguished by the celebrities and local pioneers who called them home, and the architects and builders who shaped their development. Tours last from 1 to 2 1/2 hours and cover three-quarters of a mile to 2 miles, depending on the tour. During the hot summer months (June to September), walking tours are offered by foot or vehicle as private outings arranged by the museum. The regular walking tour season resumes in October.
P.S. Walk with Me tours draw on the insights and experiences of Jade Thomas Nelson, who was born and raised in Palm Springs, and has a lifelong passion for its historical and social legacy. His two-hour walking tours include an introduction to some of the city's most iconic homes and sites, as well as stories about surprising celebrity connections, eclectic architectural styles and fascinating historical details.
Established in 2002, Tallgrass Hiking and Tours, based in Palm Desert, features custom hiking and sightseeing tours throughout Greater Palm Springs, accommodating from two to more than 50 participants. Hikes range from easy to strenuous. Planners can choose from tours of Big Morongo Canyon Preserve, Homestead Trail Loop, Carrizo Canyon, 1000 Palms Oasis, Willis Palms Mesa & Oasis, Joshua Tree National Park, Ryan Mount, Indian Canyons Coffman Murray Loop and many more.
Desert Tasty Tours offers a three-hour, guided culinary and cultural stroll along Palm Springs' Palm Canyon Drive and Palm Desert's El Paseo. It combines food tastings at five to seven locations with historical, cultural and architectural insights from guides. Private tours for small and large groups can be arranged.
The self-guided City of Coachella Walking Tour highlights the city's unique cultural fabric. Groups visit scenes of Chicano political activism, tour historic religious sites, visit locations where movies were filmed and view beautiful murals. Along the way, they pass by many local shops and authentic Mexican restaurants.
Bicycling Tours
Social Cycle offers groups the opportunity to rent bicycles for six to 15 people and pedal their way—along with a "captain" from the company—around Palm Springs, stopping at three bars. Private tours can also be arranged on an hourly basis, with a two-hour minimum. During the popular downtown tour, groups pedal along Palm Canyon Drive and visit tiki bars to enjoy creative cocktails.
Offered by Big Wheel Tours, Earthquake Canyon Express Bicycle Tour is a 20-mile trek that descends 1,200 feet through the heart of the San Andreas Fault zone on a paved road to the heart of grape country, near Mecca. It's a relaxing sightseeing adventure, with no cross roads or turns, and very little traffic.
Bus and Van Tours
For more than 100 years, artists, designers, architects and Hollywood stars have been drawn to Palm Springs, making it a hot bed of creativity. Some of the tours, including Palm Springs Mod Squad, tap into this creative heritage. Owned and operated by Kurt Cyr, a local celebrity, designer and mid-century modern architecture expert—Palm Springs Mod Squad offers 90-minute van tours in which Cyr regales groups with tales of Hollywood and architecture.
Led by Trevor O'Donnell, one of the area's most knowledgeable, experienced and entertaining guides, PS Architecture Tours also explores the city's fascinating architecture. He discusses Palm Springs' remarkable architects, builders and Hollywood celebrity clients, and tells back stories that add life, humor, intrigue and awe to the area's extraordinary concentration of modernist buildings.
The Midmod Design Tour offers groups the chance to view the city's architecture through the eyes of designer Lyle Boatman, the only tour guide working in Palm Springs who has a professional degree in architecture. He communicates intricate concepts of modern architecture in easy-to-understand language. Boatman accentuates his tours by providing participants with individual digital tablets preloaded with aerial photos, vintage and contemporary interiors and exteriors, and plans and sections (when available).
Celebrity Tours offers the Celebrity Grand Tour, a 2 1/2-hour bus ride that passes by the former estates of Frank Sinatra, the Marx Brothers, Elizabeth Taylor, Sonny and Cher, Bob Hope, Marilyn Monroe, Elvis Presley, Liberace, Nat King Cole, Dinah Shore and more. Private group tours can be arranged that travel into areas that restrict commercial buses and show areas not seen in other tours.
The U.S. Department of Energy expects that by 2030, windmills may supply as much as 20 percent of the country's electricity. Groups can view a high concentration of windmills during Palm Springs Windmill Tours outings. Group bus tours can accommodate six to 28 people and private tours can be arranged.
Five Star Adventure Tours offers several bus tours, including Mid-Century Movie Star Home Combo Tour, Legends & Icons Tour, Modernism Tour of Palm Springs, It's All about Palm Springs Tour, Mobs & Stars and Palm Springs Golden Era 360.
Jeep, Hummer and ATV Tours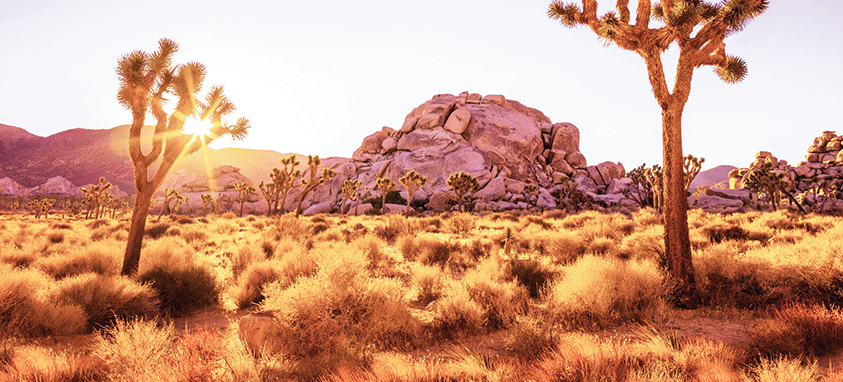 During Big Wheel Tours' Joshua Tree National Park Jeep Adventure, Wrangler Jeeps navigate a rugged backcountry trail through the Little San Bernardino Mountains to take groups from the Colorado Desert to above 4,000 feet elevation in the Mojave Desert. Along the way are magnificent unspoiled desert vistas, spectacular rock formations, unique plant and animal life, and striking geology.
The San Andreas Fault Tour from Big Wheel Tours shows participants where earthquakes are born. Riding in Jeeps, they see first-hand what is sometimes referred to as "the most tortured landscape on earth" as they visit backcountry trails of a Bureau of Land Management Wilderness zone, the most colorful part of the San Andreas Fault in California. Sheer canyon walls, abundant native desert plant and animal life are among the highlights.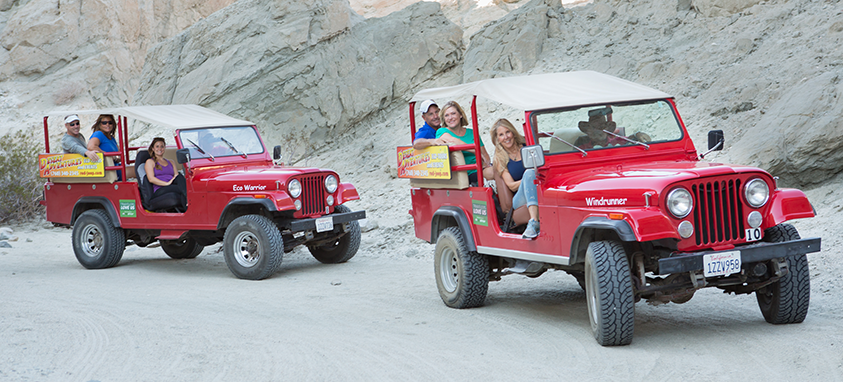 Desert Adventures, based in Palm Desert, offers a variety of Jeep tours, including Indian Canyons Jeep & Hiking Eco-Tour, Joshua Tree National Park Tour, Mecca Hills-Painted Canyon Jeep Eco-Tour and San Andreas Fault Jeep Eco-Tour. Each Jeep holds seven people; team-building activities can be added and private tours can be arranged.
The Indian Canyon Tour takes groups on a 2 1/2-hour adventure through the various canyons of the Coachella Valley. Visitors ride in open-air jeeps and go on a 30-minute nature walk, during which an experienced guide discusses the plants, geology, animals, native lore and local earthquakes. The tour also teaches visitors about the history of the native Cahuilla Indians and how they survived in the desert's harsh heat.
Adventure Hummer Tours takes groups into the canyons of the San Andreas Fault and Joshua Tree National Park. It now provides free, air-conditioned shuttles to its open-air Hummers on all the Joshua Tree National Park tours. The company's special permits and equipment enable groups to avoid the one-hour drive to get to the main entrance of Joshua, and thereby see more of the park. The tour climbs 1 mile to Eureka Peak, located in the heart of the some of the oldest and largest Joshua trees in the park. Private tours in five- or nine-passenger vehicles can be arranged.
ATV Experience, Inc. offers tours in its three- and six-seat ATVs that traverse through the wilderness and desert landscapes surrounding Chiriaco Summit, just south of Joshua Tree National Park, 40 minutes east of Palm Springs along Interstate 10.
A guide accompanies the groups on one of its several trails, and can drive the vehicle, although participants 21 and older also are invited to drive. Groups of up to 24 can be accommodated.
Hotels and Resorts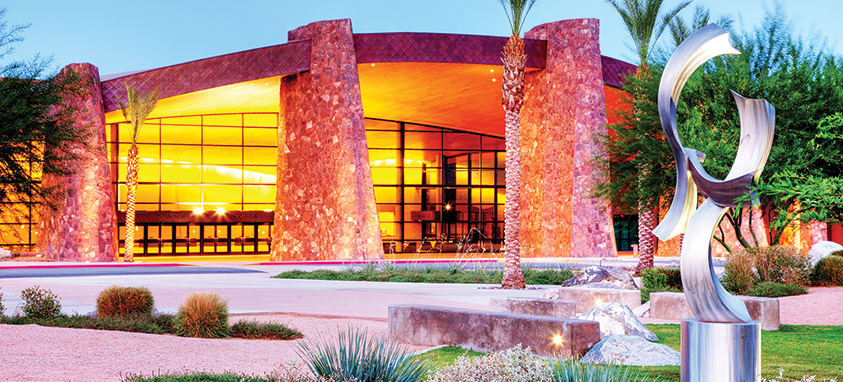 Palm Springs Convention Center offers 92,000 sq. ft. of carpeted exhibit space in its Oasis Hall, 20,016-square-foot Primrose Ballroom, an 18,000-square-foot lobby with stunning mountain views, a 20,000-square-foot event lawn and 21 meeting rooms.
The city's 1950s roots and post-modern eclecticism are on full display at Parker Palm Springs, an upscale hotel with 144 guest rooms, two red clay tennis courts, acclaimed Palm Springs Yacht Club spa and more than 10,000 sq. ft. of meeting space, including a 3,700-square-foot grand ballroom.
The Riviera Palm Springs features 398 guest rooms, five restaurants with locally inspired cuisines, a spa and 45,000 sq. ft. of indoor and outdoor event space, including 23 meeting rooms and a 19,670-square-foot grand ballroom with nine crystal chandeliers.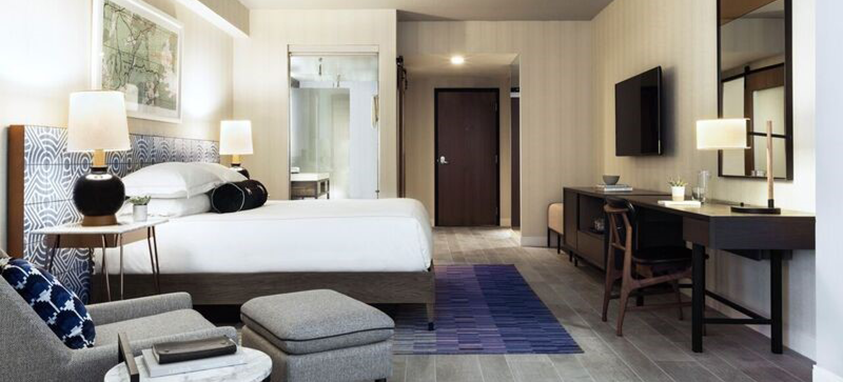 Featuring two chef-driven restaurants, the seven-story Kimpton The Rowan Palm Springs Hotel also has 153 guest rooms, a rooftop pool and bar, and 16,000 sq. ft. of indoor and outdoor meeting space, including the 2,300-square-foot Sky Ballroom. Jacinto, a rooftop event room and outdoor terrace, offers amazing view of the desert and mountains.
Centrally located on the historic Palm Springs downtown strip, Hyatt Palm Springs is the only all-suite property in the city, boasting 197 rooms with sweeping views of downtown and the San Jacinto Mountains, It also provides 12,000 sq. ft. of meeting space.
Rejuvenated Renaissance Palm Springs Hotel is set against a backdrop of swaying palm trees and the majestic San Jacinto Mountains. It features 410 newly renovated guest rooms, large outdoor pools with private cabanas, a spa and 26,788 sq. ft. of meeting space.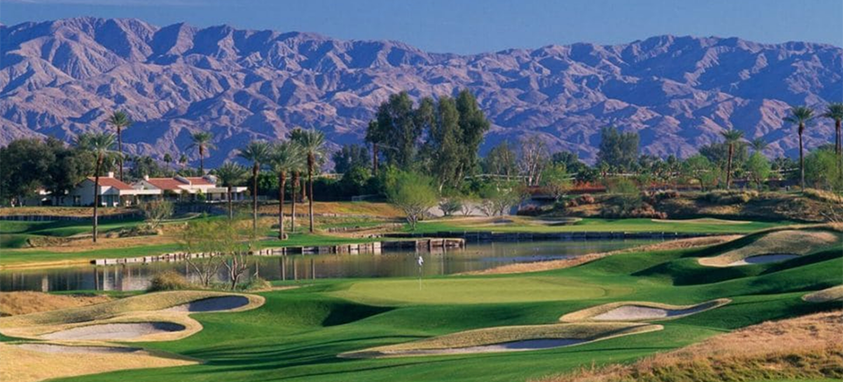 Set amid a spectacular setting of citrus groves and flowers at the base of the majestic Santa Rosa Mountains, La Quinta Resort & Club, A Waldorf Astoria Resort is a 45-acre property in La Quinta— 18 miles southeast of Palm Springs—with 718 guest rooms, seven restaurants, a spa, a salon, 41 pools(!), five golf courses, tennis courts and 190,000 sq. ft. of indoor/outdoor event space.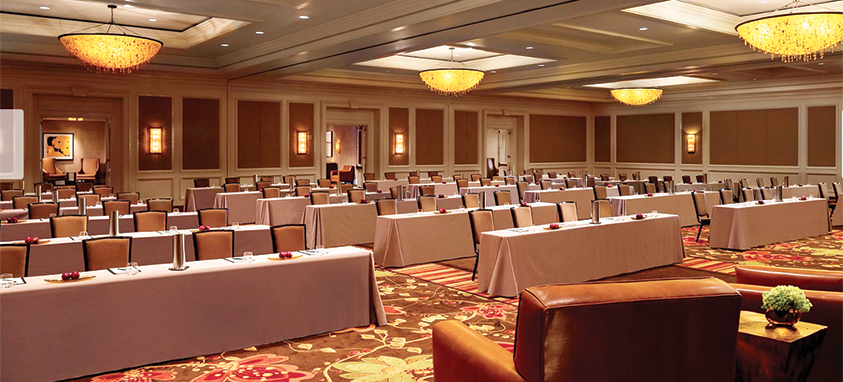 Omni Rancho Las Palmas Resort & Spa in Rancho Mirage, 12 miles southeast of Palm Springs, features 444 guest rooms, five restaurants a 20,000-square-foot spa and 84,000 sq. ft. of meeting space. It's known for its excellent recreation options, including a 450-foot-long lazy river, waterslides, a cliff-side jacuzzi, a 27-hole golf course, 25 tennis courts and a fitness center.
Set on 360 acres, The Westin Mission Hills Golf Resort & Spa in Rancho Mirage showcases awesome mountain views, a secluded natural desert landscape and Mediterranean architecture. Listed as one of Golf Digest's Top 75 Golf Resorts in North America, it also includes 512 guest rooms, three pools and a 60-foot slide, a spa, a fitness studio, 65,000 sq. ft. of indoor event space and 26,000 sq. ft. of outdoor event space.
The Ritz-Carlton, Rancho Mirage, which sits atop a 650-foot bluff, provides 260 guest rooms, spectacular views (especially from the cliffside The Edge Steakhouse), 16,000 sq. ft. of indoor meeting space and 15,000 sq. ft. outdoors.
The 450-acre JW Marriott Desert Springs Resort & Spa in Palm Desert, 14 miles southeast of Palm Springs, features 884 guest rooms, eight restaurants, two championship golf courses, tennis courts, a spa and more than 234,000 sq. ft. of indoor and outdoor event space.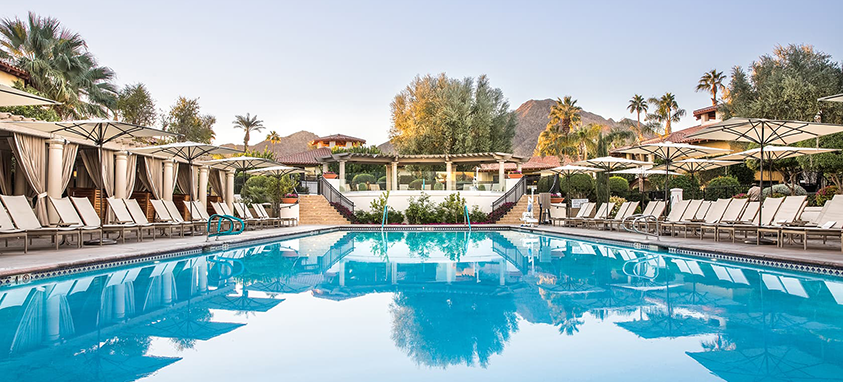 Miramonte Indian Wells Resort & Spa, Curio Collection by Hilton—located in Indian Wells, 20 miles southeast of Palm Springs—boasts stunning views of the Santa Rosa Mountains, world-class golf and tennis, and more than 35,000 sq. ft. of meeting space.
Set within the beautiful Coachella Valley, 560- room Renaissance Esmeralda Resort & Spa, Indian Wells is in the midst of a transformation that included a redefined lobby experience that debuted in August. Attendees now can share stories and create memories over hand-crafted cocktails from an enhanced bar experience, and the new cocktail menus feature locally sourced ingredients, with a nod to the timeless traditions of the destination.
In October, modernized guest rooms will begin featuring walk-in showers and refreshed interiors. The resort also features five restaurant and bar options, two pools, 36 holes of golf, a fitness center and 213,439 sq. ft. of meeting space, divided among 55 rooms.
Andaz Palm Springs is slated to open downtown in early 2020 with 7,300 sq. ft. of indoor and outdoor meeting space, including nine event venues and a 2,300-square-foot outdoor terrace.
In La Quinta, Montage International is scheduled to open two hotels—the 140-room Montage La Quinta and 200-room Pendry La Quinta. They are slated to open in 2021, with a conference center attached to both properties.
A Jewel Off the Beaten Track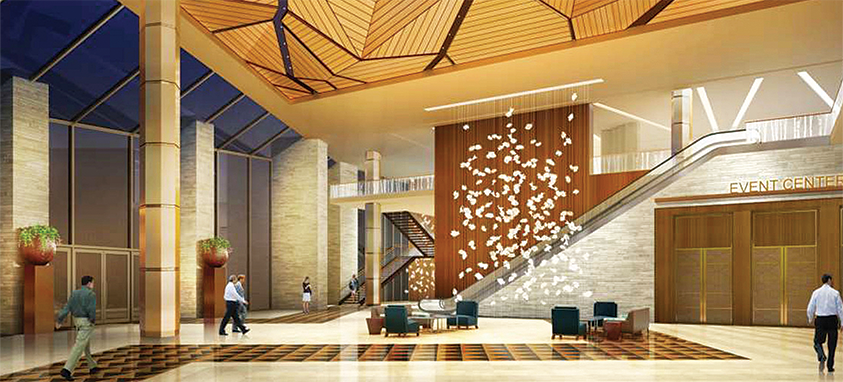 Located 69 miles southwest of Palm Springs, Temecula features a historic Old Town with buildings from the 1800s, and plenty of antique shops and restaurants. But it's perhaps best known for the surrounding Temecula Valley Wine County, which includes more than 40 wineries and many golf courses.
Local tours enable groups to comfortably experience the wine country, gorgeous landscapes and other features.
Destination Temecula Wine Tours & Experiences offers the area's only professionally guided tour, following a scenic bus drive to local wineries. Guides share interesting details about Temecula's history, wine culture, wine tasting and quirky nuances of the unique valley.
California Dreamin', Magical Adventures and A Grape Escape offer hot-air balloon rides over the area's citrus groves and vineyards, with stunning views of the mountains. All of the companies offer packages for groups, including breakfasts after morning flights.
Temecula Valley also features plenty of lodging and meeting options, including bed and breakfasts, hotels and resorts. Newly renovated Pechanga Resort Casino, a AAA Four Diamond property, is an outstanding option for groups. The luxury resort features 1,080 guest rooms, 14 restaurants, a comedy club, a pool complex, a golf course, a two-story spa the largest casino floor in California (188,000 sq. ft.) and 275,000 sq. ft. of meeting space, including the 39,150-squarefoot Summit Ballroom.