Jeju Booyoung Hotel & Resort (left) and International Convention Center (top right) rendering
South Korea solidifies its position as a premier meetings destination
It's no secret that South Korea is rapidly growing as a meetings and events destination, but it reached entirely new levels last year, as shown by recent Union of International Associations (UIA) rankings.
South Korea ranked second in the world, trailing only the United States, in number of meetings held, according to UIA's 2016 International Meetings Statistics Report. The United States had 930 meetings while South Korea had 891, a whopping 40 percent rise from its 2015 total of 636.
The capital city of Seoul jumped two spots to No. 3 among international cities by holding 494 meetings, an increase of 98.4 percent from the 249 meetings it hosted in 2014. Busan, the country's second-largest city, was the 11th top city, with 150 meetings, while Jeju, the largest city on Jeju Island, ranked 19th, with 112 meetings.
"From Korean film and television dramas to K-Pop, food, electronics and technology, the Korean 'wave'—also known as hallyu—has been sweeping the world and bringing global interest, attention and visitors to Korea," says Jin Hyeok Park, director of Seoul Convention Bureau, a division of Seoul Tourism Organization.
Seoul, Busan and Jeju have been key players in this new wave, and each boasts an ever-expanding hotel scene.
Seoul
AccorHotels is planning to open a new hotel complex in the Yongsan neighborhood in 2017. Located in the heart of Seoul, it will be near major business areas, including the Yeouido and Central Business districts. Novotel, Suite Novotel, Ibis Styles and Grand Mercure properties—which collectively will offer some 2,000 guest rooms—will be housed at the hotel complex, making it the largest in South Korea. Large meeting spaces, restaurants and bars also will be included.
Combining Old World tradition and new-wave cool, Four Seasons Hotel Seoul, which opened in September 2015, brought the Four Seasons experience to South Korea for the first time. Located steps from the city's most venerable historic sites and neighborhoods yet entrenched in the modern central business district, it combines form and function with modernized Korean motifs to create a contemporary architectural design. The Four Seasons provides 317 guest rooms and suites, seven restaurants and bars, and 23,638 sq. ft. of meeting space, including an 8,482-square-foot ballroom.
Located in the heart of the prestigious Dongdaemun retail and entertainment district, JW Marriott Dongdaemun Square Seoul boasts 170 guest rooms, internationally renowned BLT Steak restaurant, The Griffin Bar rooftop lounge, an indoor lap pool and a 24-hour gym, fitness center and luxury spa. The property, which opened in February 2014, has five meeting areas, providing 10,236 sq. ft. of space.
Busan
Busan is eagerly awaiting the development of East Busan Tourism Complex, a 39-million-square-foot area in the city's Haeundae District that will feature hotels, a theme park, an outlet shopping mall, and sports and leisure facilities. The complex is being built in stages, with completion scheduled for 2017.
To ensure a design that blends with the surrounding natural environment, some of the world's top experts in the fields of architecture, design, landscaping, lighting and environment facilities were involved in planning the complex. The main accommodations will be provided by Hilton Busan Hotel and Ananti Penthouse. Both will be 10-story properties, and are scheduled to open in late 2016 or early 2017.
Hilton Busan Hotel will provide 306 guest rooms, an outdoor pool, a spa, a health club, a business center and an undetermined amount of meeting space, including a ballroom. Ananti Penthouse will be a 204-room luxury beachfront property, and its guests will have access to Hilton Busan Hotel's facilities.
Another major urban development in the area, Haeundae LCT The Sharp, is under construction in Haeundae's popular beach area. It will consist of a 101-floor landmark tower and two 85-floor residential skyscrapers as well as an entertainment complex housing a shopping mall, hot spring spa and water park. The landmark tower will include a luxury hotel run by Lotte Hotels, a residential hotel for long-term stay, a convention center and an observatory. The groundbreaking was held in October 2013 and completion is scheduled for 2019.
Jeju Island
Jeju Island is buzzing about a $1.8 billion development project, Resorts World Jeju, which is scheduled to open in stages starting in 2017. Covering 26.9 million sq. ft., it will be one of South Korea's largest integrated resorts, and include Jeju's largest theme park, its biggest water park, and one of South Korea's largest retail and dining complexes.
It will feature approximately 1,500 luxury apartments, as well as condominiums and premium hotels—including Jeju Island's first six-star hotel—that provide more than 2,000 guest rooms. The hotels will contain an undetermined amount of space suitable for hosting regional and international meetings, incentives, conventions and events. The entire project is expected to be completed by 2019.
Last year, a notable meetings property, Jeju Booyoung Hotel & Resort, opened in Seogwipo (the second-largest city on Jeju Island), close to Jeju International Peace Center, International Convention Center and Jusangjeolli Cliff. The hotel has 449 guest rooms and 18,159 sq. ft. of meeting space.
---
Explore
Namsan Park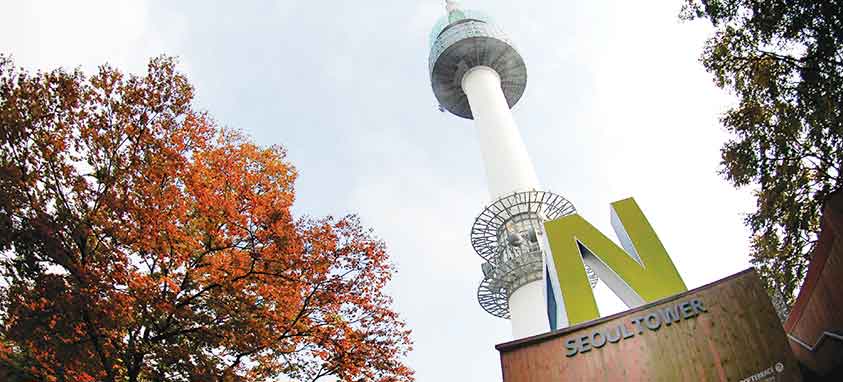 The largest park in Seoul, Namsan Park provides a nice retreat from the city's mostly urban landscape. Home to many species of trees, plants and animals, the park is well known for its beautiful walking trails. Namsan also features several popular tourist attractions, including Baekbeom Square, the Namsan Cable Car and N Seoul Tower (pictured), which offers panoramic views of Seoul and surrounding areas.
Haeundae Beach
Arguably the most famous beach in South Korea, Haeundae Beach in Busan hosts many cultural events and festivals held throughout the year. The beach also features Folk Square, where groups can enjoy traditional games such as neolttwigi (seesaw jumping), Korean wrestling, tuho (arrow throwing), tug-of-war and yut nori (a table game). Other attractions include Beach Cultural Center and Beach Library.
Seongsan Ilchulbong
A UNESCO World Heritage site, Seongsan Ilchulbong Peak, located at the eastern end of Jeju Island, rose from under the sea in a volcanic eruption more than 100,000 years ago. There is a huge crater—1,968 feet in diameter and 295 tall—at the top of the peak. The southeast and north sides are cliffs, and the northwest side is a grassy hill that is connected to Seongsan Village. The ridge provides an ideal spot for walks and horseback riding.
---
Must See
Bukchon Hanok Village

Situated between Gyeongbokgung Palace and Changdeokgung Palace, Bukchon Hanok Village reflects 600 years of Seoul's history and culture. The village streets are lined with traditional hanok (traditional Korean homes). Unlike other hanok villages, Bukchon was not created for tourists: It is a residential village inhabited by Seoulites. The best place within Bukchon to experience the old hanok atmosphere may be Gaehoe-dong, which features hundreds of hanok. Recently, traditional hanok culture has been receiving more attention, leading to the opening of new galleries, craft workshops and restaurants in the village.