Whatever the time of year, Eastern Canada features unique adventures for groups
When arranging meetings and events, planners take a multitude of factors into consideration, including the time of year. Some destinations—such as Eastern Canada—offer attendees uniquely exciting experiences during each of the four seasons.
More: Ottawa Lures Meeting Groups Year-Round
"The weather is such in Eastern Canada that visitors get a completely different experience in each destination, depending on the time of year," says Leslie Mackay, vice president of meetings and major events for Ottawa Tourism. "Seasons are a mix of hot summers, falls bursting with color, icy winter wonderlands and lush springs."
This variety enables planners to hone in on the best time for their attendees to visit the area, depending on their preferences, and to offer them a totally different experience by visiting during other seasons on subsequent trips.
Here are some of the top experiences available to groups in three of Eastern Canada's major cities—Montreal, Quebec City and Toronto—during each season.
Montreal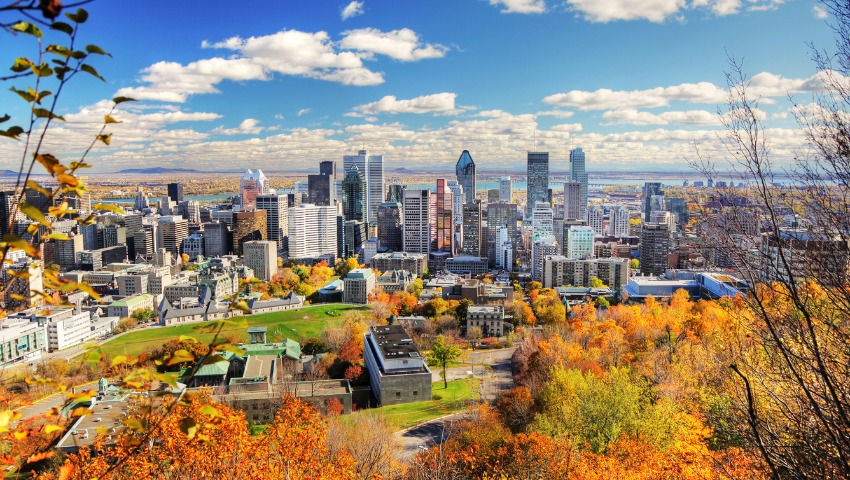 Home to more than 4.1 million residents, Montreal is the most populous municipality in Quebec Province and the second-most populous municipality in Canada. It was already one of the world's leading meetings destinations when stakeholders across the city—hotels, Montreal Convention Centre, service providers and Business Events Montreal—combined to form Team Montreal to further boost its offerings.
Through the Seasons
Spring
In March, the sap in maple trees begins to flow, which means maple syrup is not far behind. Groups can learn about the harvest while enjoying a massive meal at a cabane a sucre (sugar shack) set in a maple tree grove outside the city or at a traditional-meets-gourmet sugar shack downtown.
Cabane a Sucre Au Pied de Cochon elevated traditional sugar-shack cuisine to a gourmet level with imaginative flair. Featured dishes have included pea soup with foie gras, mackerel omelet, and pancakes fried in duck fat and smothered in maple syrup. Dessert options include maple cotton candy, maple whipette cookies and a yogurt gelatin with Jell-O-like maple cubes inside.
Summer
Montreal explodes into action in summer, bringing a joyride of live music, comedy, art, food and cultural activities. The city is one of the world's best destinations for festivals. Groups can now participate in a wide range of festivals featuring street art, circus art, Caribbean culture, French music and dozens of others.
The world-renowned Montreal Jazz Festival, ranked as the world's largest jazz festival by Guinness World Records, is offered during a 10-day stretch in June and/or July. It draws 2 million visitors annually, offers 500 concerts and features 3,000 elite musicians from jazz and jazz-related genres.
Fall
Summer extends well into fall in Montreal, facilitating more patio time, walks in the park and outdoor entertainment. New film, theater, music and art contribute to a diversity of cultural experiences in this transformative season, in which trees across the city regally don their autumnal colors.
By day, groups can immerse themselves in the foliage at Mount Royal and abundant farmers markets; by night, they can visit Montreal Botanical Garden, comprising 185 acres of thematic gardens and greenhouses.
Winter
In winter, Montreal stays true to its energetic self with outdoor parties, high-tech light shows and holiday markets. "The city becomes illuminated with holiday lights, and fresh blankets of snow help to create picturesque landscapes," says Mylene Gagnon, vice president of sales for Tourisme Montreal.
Even outdoor festivals continue in winter. Montreal en Lumiere (Festival of Lights) features food, culture, activities and free events in the heart of the Quartier des Spectacles, the city's main entertainment district. In the spirit of joie de vivre, thousands of locals and visitors attend the February festival—no matter what the temperature.
Fabulous Meeting Places
Palais des Congres de Montreal, the city's convention center, is in the heart of downtown, with 16,000 hotel rooms within walking distance. It features modular design space, local art, a rooftop patio with breathtaking views of the city and 551,520 sq. ft. of meeting space.
Fairmont The Queen Elizabeth, with 950 guest rooms and 85,000 sq. ft. of meeting space, underwent a multimillion-dollar renovation and now offers some of the most innovative meeting spaces in the city.
Quebec City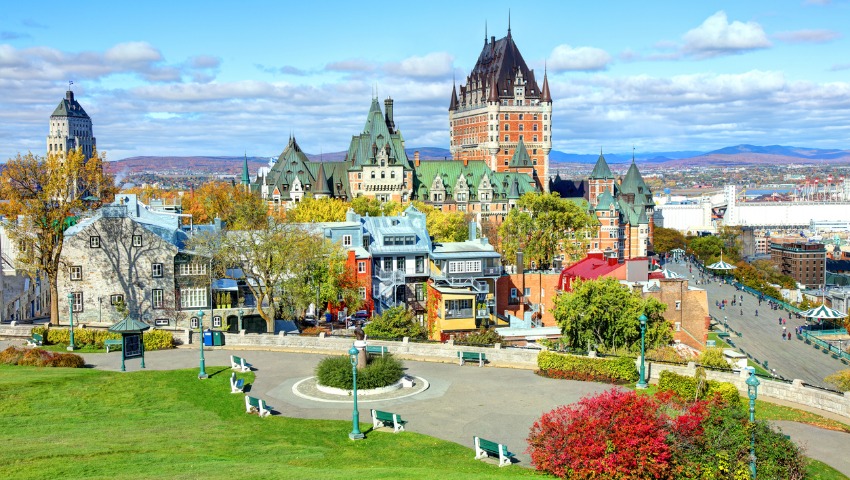 The capital of Quebec Province, Quebec City boasts 400 years of history, and is the only fortified city north of Mexico. Many groups particularly enjoy strolling through Old Quebec, a UNESCO World Heritage treasure.
"Quebec City is a wonderful place to meet," says Ann Cantin, director of communications for Quebec City Business Destination. "It is the perfect size for a meeting or conference, and has many other 'pros,' such as its gastronomy, nature and history."
Through the Seasons
Spring
Quebec residents, like those in Montreal, enjoy going to a cabane a sucre in the spring to enjoy hearty dishes topped with maple syrup, as well as lively French-Canadian folk music. Groups can share in this experience, and if they want a memorable outdoor adventure, a trip to Montmorency Falls and Canyon Sainte-Anne fits the bill.
Canyon Sainte-Anne is a spectacular, steep-sided gorge carved by the Sainte-Anne-du-Nord River, 4 miles east of Beaupre. The river drops 276 feet over Montmorency Falls into the canyon. Due to the winter run-off, the falls are at their most glorious during spring.
Summer
In this much-anticipated season, the city is abuzz with activity, with people wandering down the cobbled streets of Old Quebec and sipping locally crafted beer on patios.
One outstanding option for groups is a cruise on the St. Lawrence River offered by Croisieres AML. Groups can choose from several excursions aboard the AML Louis Jolliet, including a dinner cruise that features a large, diverse buffet; a DJ and dancing on the outdoor terraces; and fireworks.
Fall
When September rolls around, vibrant hues of green, orange, yellow and red abound not only in the foliage, but also in fields and orchards. It's apple-picking season, and delightful activities await groups.
September and October are perfect for picking different varieties of fresh apples and enjoying processed products such as apple juice, apple pastries, apple butter and jelly, cider and ice cider.
Many apple-picking sites are open to the public. In Ile d'Orleans, groups can ride through scenic and picturesque villages to pick apples at Cidrerie Verger Bilodeau, Vignoble Domaine de la Source a Marguerite, Ferme Guillaume Letourneau or Polyculture Plante Inc. (Cidrerie du Bout de l'Ile).
Winter
Quebec City can start to feel a bit wintery by mid-November, but snow often doesn't arrive until December, and then sticks around until late March. The Quebec Winter Carnival, Christmas Market and a variety of sports—skiing, ice fishing, snowmobiling, snowshoeing and snow tubing—highlight the cold months.
A unique winter option is a visit to—or stay at—Hotel de Glace, the only ice hotel in North America. Made entirely of snow and ice, this architectural marvel is a wonder to behold. Groups can explore the Great Hall, chapel, ice slide and Ice Bar, and even spend the night in one of the themed suites (and use the outdoor spa and sauna). Tours are available at Hotel de Glace, which is open from the beginning of January until late March.
Fabulous Meeting Places
Centre des Congres de Quebec (Quebec Convention Center), located in the heart of the city, contains 300,000 sq. ft. of meeting and exhibition space. Located inside the walls of Old Quebec, the iconic Voltigeurs de Quebec Armoury, which was destroyed by a fire in 2008, reopened last year. The only military building in Canada to be recognized as a national historic site, and with a modern design and 18,480 sq. ft. of meeting space, it has become a hot new spot to hold large-scale events.
Toronto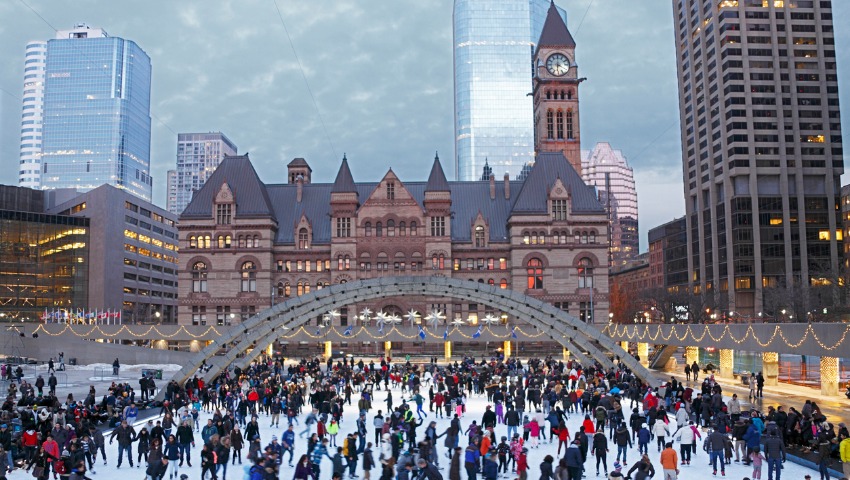 During the past decade, Toronto has undergone a dramatic transformation, boasting not only new and exciting restaurants, attractions and entertainment, but also a fresh vibe.
"This is a city that has found a new sense of swagger that has come to define it, and this resonates with meeting attendees and planners from around the world," says Dan Young, marketing manager of business events for Tourism Toronto.
Through the Seasons
Spring
During the spring, Toronto comes alive with fresh menus, new fashions and the elusive and short-lived cherry blossoms.
High Park attracts many visitors in early spring—typically in late April or early May—to admire the lovely cherry blossoms. They remain for about a week to 10 days if the weather is nice, but if it rains, the flower petals fall quickly, and the blooming may disappear after only a few days. Most of the park's sakura cherry trees are located around Hillside Gardens, and a few are by the Duck Pond.
Spring is also a time of anticipation and renewal, and both are fully evident in Toronto's lively sports scene. The NBA Raptors and NHL Toronto Maple Leafs frequently are making a playoff run at Scotiabank Arena, and the MLB Blue Jays are emerging from spring training to start the regular season at Rogers Centre. Both venues are great for group outings.
Summer
Summer is Toronto's peak season for leisure and business travel. During nonmeeting hours, groups like to get outside to enjoy celebrations and festivals, including Toronto Pride, one of the largest pride celebrations in the world, and The Caribbean Carnival, North America's biggest Caribbean-style carnival, which includes a spectacular parade of more than 20 masquerade bands.
Another group favorite is a 13-minute ferry ride across Toronto's inner harbor to Toronto Islands (also called Toronto Island State Park), a group of 15 islands interconnected by pathways and bridges. They offer a welcome change of pace, with tree-filled picnic spots, car-free streets and quaint old cottages. The islands also feature beachfront attractions, a boating arena, and bike, canoe and kayak rentals.
Fall
The arts scene kicks into high gear in the fall as new seasons launch for theater and the performing arts. Popular Broadway shows, elegant symphonies, dramatic operas and gorgeous ballets are among the many offerings. Another highlight is Toronto International Film Festival, which offers discounts for groups of 20 or more.
"It is a spectacular time to be in the city, especially if you know your way through the films, events and nightlife scene," Young says. "It's the world's largest public film festival, screening more than 300 films from around the world in venues across the city."
Winter
Toronto's winter season offers the Christmas Market, snowshoeing and walks along Humber River or within High Park, as well as Toronto Light Festival, which illuminates Distillery Historic District with distinctive works from international light artists.
Winter also features one of the city's signature annual traditions: Winterlicious Toronto, a series of culinary events at more than 200 restaurants. Groups can enjoy creative, gourmet dishes from around the world at affordable prices at Winterlicious, which runs for two weeks.
Fabulous Meeting Places
One of North America's leading convention centers, Metro Toronto Convention Centre offers 700,000 sq. ft. of exhibit and meeting space, and 77 flexible meeting rooms. In 2018, as a part of a $23 million modification project, the center added eight contemporary meeting rooms with more than 11,000 sq. ft. of space.
The Fairmont Royal York, which is celebrating its 90th anniversary this year, recently unveiled a transformed lobby featuring Clockwork Champagne & Cocktails lobby bar and Reign, a Canadian-inspired brasserie with a take on traditional French cuisine. The Ritz-Carlton Toronto, with 263 guest rooms and 30,495 sq. ft. of meeting space, has unveiled new Club-level guest rooms and Club Lounge.
Radisson Admiral Hotel Toronto-Harbourfront is converting to Radisson Blu with 157 contemporary guest rooms, refreshed meeting spaces, as well as an updated food and beverage offering.
In early 2020, Toronto will welcome its first W hotel. It will be in a nine-story, 255-room property in Yorkville that currently serves as a standard Marriott. The building is undergoing a $40 million design transformation.
Nobu Toronto, featuring the world's very first Nobu-branded high-rise residences as well as Canada's first Nobu hotel and Nobu restaurant, is expected to open in 2022 in the heart of the entertainment district.
Give Peace a Chance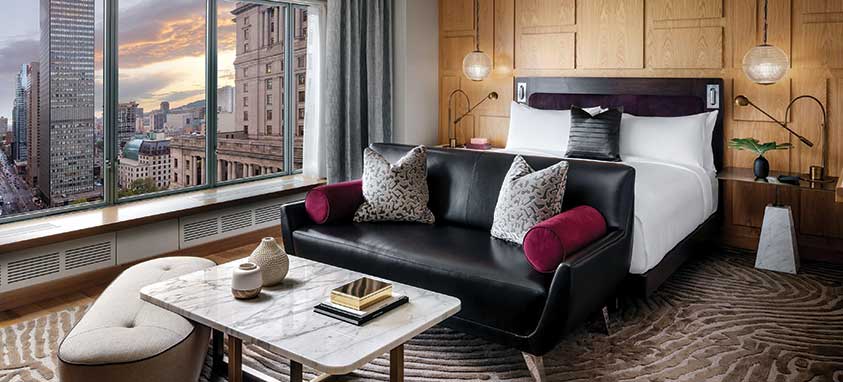 This year, Fairmont the Queen Elizabeth Toronto celebrated the 50th anniversary of the Bed-in for Peace, staged by John Lennon and Yoko Ono.
From May 26 to June 2, 1969, they occupied Suite 1742, and composed and recorded the popular song, "Give Peace a Chance" from their bed. The newlyweds wanted to demonstrate against the Vietnam War and to raise collective awareness about universal peace.
This year, on May 25, the hotel's lobby was transformed into an homage, featuring large-format photos and guest testimonials from Give Peace a Chance: John and Yoko's Bed-in for Peace, a compilation by Joan Athey featuring photographs by Gerry Deiter, the only photojournalist who covered the whole event, for a report that appeared in Life magazine. The free exhibition ended on Oct. 9, Lennon's birthday.