Memorable meetings rise from the ashes in Arizona
The phoenix is a mythical bird said to rise from the ashes, symbolizing immortality and resurrection. The name was chosen for Arizona's capital city because it was built on top of the ruins of an ancient civilization that vanished into history.
The area also has deep roots in Native-American culture. Thus, it's easy to breathe new life into meetings by tapping into this vibrant heritage. One example: a team-building Hoop Dance led by 2009 World Champion Brian Hammill, a Phoenix resident available for bookings. The hoop represents five principles: self, family, work, friendship, and hobbies or beliefs. With Brian's guidance, all participants make individual hoops about their own life stories and then combine hoops with those of their peers to weave together life's intricate details.
Many other exciting possibilities await, not only in Phoenix but also in nearby communities. A multitude of venues in Scottsdale, Chandler and Glendale can touch any gathering with a deep, grounded vibe that will be remembered long after guests return to their offices.
Chandler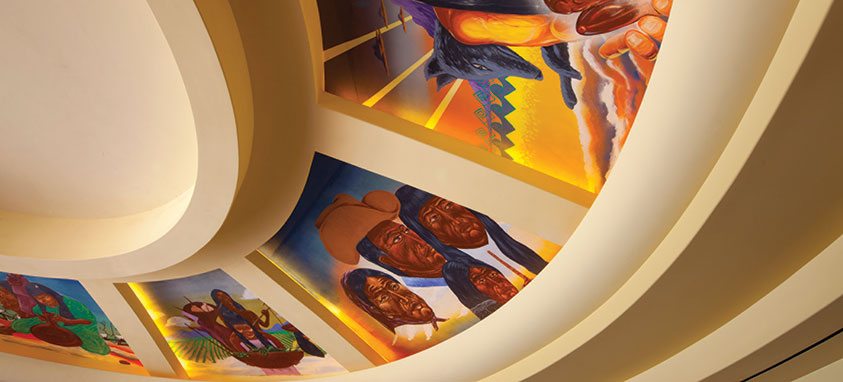 Every October, the City of Chandler proudly puts its Native-American ancestry on full display at the annual Chandler Indian Art Market. The festival features art, jewelry, ceramics, sculptures, carving, photography, food, arts and crafts, and entertainment. Year-round, guests can pay a visit to The Zelma Basha Salmeri Gallery of Western American and American Indian Art to soak in history and view artifacts. The gallery, which is the largest private collection of its kind in the United States, is available to rent for catered events.
Another way to immerse yourself in Native-American culture is to visit nearby Sheraton Grand at Wild Horse Pass (pictured above), which is owned by the Gila River Indian Community.
Architecture, design, art and more from the Akimel O'otham and Pee Posh tribes can be found around every bend of this 2,400-acre property located on the 372,000-acre reservation. Guests can dine at Kai, the only AAA Five Diamond and Forbes Five Star restaurant in Arizona, unwind at award-winning Aji Spa, tee off on the 36-hole golf course or go for a horseback ride at the equestrian center. The resort features 100,000 sq. ft. of indoor/outdoor event space named after Sonoran Desert animals and mountain ranges.
MAJOR MEETING VENUES IN CHANDLER

Crowne Plaza Phoenix Chandler Golf Resort
Home to Arizona's first-ever grass golf course in 1912; within steps to 30 restaurants; Prohibition-era cocktail lounge located in basement tunnel; 35,000 sq. ft. of event space; 249 guest rooms.

Hilton Phoenix/Chandler
Recipient of prestigious Connie Award for guest quality assurance; located in tech corridor; renovated 17,000 sq. ft. of meeting space; 197 guest rooms.

Noah's Event Venue
Sky is the limit with creative ceiling decoration capabilities; all-inclusive; open vendor policy; flexible time blocks; 9,000 sq. ft. of meeting space.

SanTan Brewing Company
Largest micro-brewery in Chandler; Brewers Reserve room available for private events among brewing tanks; four-course plated dinner with craft beer pairing; off-site catering also available.

SoHo63
Outdoor terrace modeled after New York City rooftop; located in downtown Chandler; Gramercy Ballroom seats 225 guests; 12,000 sq. ft. of total event space.
Glendale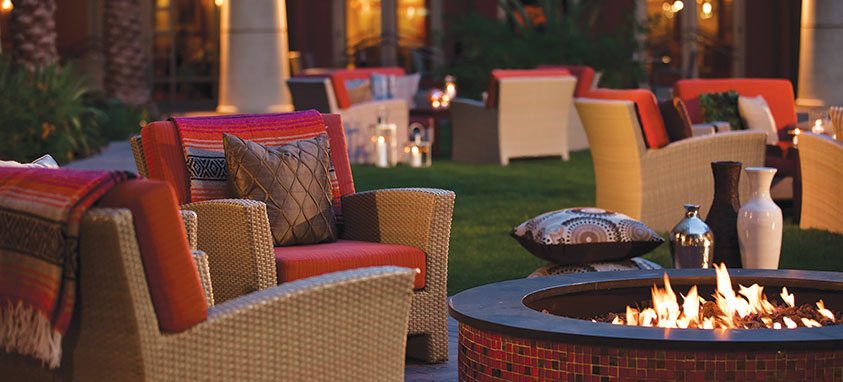 Showcasing the largest collection of Native American petroglyphs (rock carvings) in the Phoenix area, Deer Valley Petroglyph Preserve is set to reopen this fall after undergoing renovations. Spanning 47-acres across the Sonoran Desert, this archaeology museum is a key piece of Glendale history.
The 115,085 sq. ft. of meeting space at The Renaissance Phoenix Glendale Hotel & Spa (pictured above) makes it the premier conference resort destination in Glendale. Conveniently located in the heart of the city, guests can easily explore the town by foot. It's within walking distance to NHL Arizona Coyotes' Gila River Arena, NFL Arizona Cardinals' University of Phoenix Stadium as well as Westgate Entertainment District, with plenty of dining, shopping and entertainment options.
MAJOR MEETING VENUES IN GLENDALE

Camelback Ranch-Glendale
Spring training home of Los Angeles Dodgers and Chicago White Sox; more than 118,000 sq. ft. of space; flexible event space for up to 12,000 attendees; group tickets available during baseball season.

Desert Rose Complex
Glendale's original welding shop; 150-seat gastropub with games such as shuffleboard and Jenga; 180-seat steak house; Cuban-themed cigar lounge.

Glendale Civic Center
Rated No. 1 meeting and convention facility for six consecutive years by Ranking Arizona: The Best of Arizona Business; elegant ballroom; lush gardens; nearly 40,000 sq. ft. of flexible space.

University of Phoenix Stadium
Home to NFL's Arizona Cardinals; retractable roof; grass field can be replaced with 160,000-square-foot convention center floor; event space also available in locker room, Gila River Casinos Club, Fifth Quarter Deck and more.
Phoenix and Scottsdale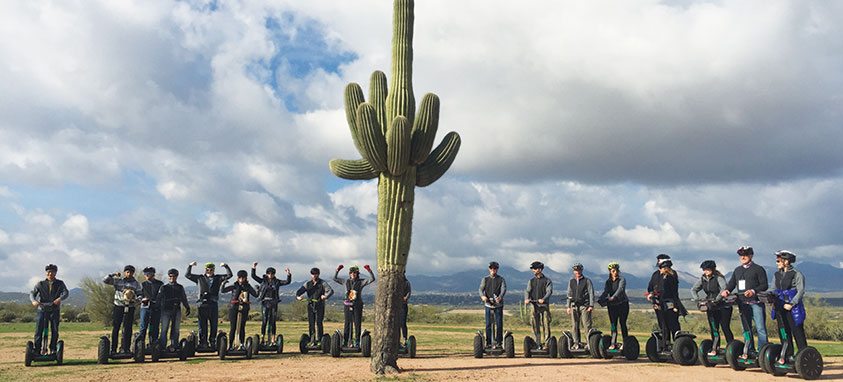 Twenty-two Native American tribes call Arizona home. The Hohokams were the first people to live in Scottsdale year-round. Today, the Yavapai Nation and Pima-Maricopa Indian Community are central to the Native-American culture of Phoenix and Scottsdale. Each spring, Scottsdale plays host to Native Trails at Civic Center Plaza. The annual festival showcases customs, arts and entertainment.
Visitors can learn about the culture through team-building activities, including a teepee building contest that taps into your group's competitive spirit. Event Team Inc.'s "head chief" leads participants as they come up with a tribal name and chant.
Fort McDowell Adventures (pictured above) offers a variety of venues and excursions to give visitors a taste of the Yavapai. Gail Manginelli of public relations firm GM & Associates suggests channeling your inner cowboy or cowgirl by heading to the wild, wild west to herd cattle across the Verde River or by saddling up for a trail ride through the desert.
La Puesta Del Sol is the perfect setting to witness stunning sunsets. The space features retractable walls, a saloon, a photo parlor, fire pits, a stage, barbecues and more. Over at the Rosa's Ranch event space, board the Tequila Bus and da Rum Bus for a spirited time. Fire up the barbecue, sip a prickly-pear margarita and do some boot-tappin' to mariachis.
Guests can stay nearby in the 246 guest rooms at We-Ko-Pa Resort & Conference Center, where you'll see Yavapai touches at every turn. The expansive property offers 25,000 sq. ft. of meeting space across its 19 venues. But the real landmark is outside—breathtaking views of Four Peaks mountain crest, known as We-Ko-Pa. Visitors can also enjoy a round of golf, spa treatments and gambling.
In the Cultural Center of Talking Stick Resort & Casino, guests will find an actual talking stick, which is passed from hand to hand to symbolize a right to speak. Learn, too, about the calendar stick used by tribal leaders to mark major events in nature, such as floods and eclipses. Situated in the Salt River Pima-Maricopa Indian Community, the resort combines a history lesson with the modern-day luxuries offered by 496 well-appointed guest rooms and 113,000 sq. ft. of meeting space.
For a dramatic mixture of stunning Sonoran desert views, Native-American artistic inspiration and luxurious meeting spaces, The Phoenician Scottsdale is home to a 45,000-square-foot Camelback Ballroom Complex in addition to 64,000 sq. ft. of indoor meeting space and outdoor patios. Sculptures by Chiricahua Apache artist Allan Houser celebrate everything from the desert harvest to the future.
Phoenix itself is a hotel mecca, with more than 3,000 guest rooms near the 900,000-square-foot Phoenix Convention Center & Venues. The main exhibit hall offers 312,500 sq. ft. of space, in addition to 99 meeting rooms and a 46,000-square-foot ballroom.
MAJOR MEETING VENUES IN PHOENIX & SCOTTSDALE

Renaissance Phoenix Downtown Hotel
Located near Phoenix Convention Center; rooftop pool; 49,185 sq. ft. of flexible indoor/outdoor meeting space; 445 guest rooms.

Royal Palms Resort and Spa
Newly renovated; historic 1929 estate; Conde Nast Traveler Favorite Hotel in Arizona Gold List 2017; garden-to-glass cocktails at The Mix Up Bar; more than 20,000 sq. ft. of meeting space; 119 guest rooms.

Sheraton Grand Phoenix
Recently renovated outdoor event space with views of downtown Phoenix; two large ballrooms; fewer than two blocks from convention center; 110,000 sq. ft. of meeting space; 1,000 guest rooms.

The Wigwam: Phoenix Arizona Resort
Recent outdoor renovations include private gardens, pool and grand lawn; built in 1918; guest access to five golf courses; tennis facility; more than 100,000 sq. ft. of meeting space; 331 guest rooms.

Andaz Scottsdale Resort & Spa
New property; great views of Camelback Mountain; 10,000 sq. ft. of indoor meeting space; 36,000 sq. ft. of outdoor space; 201 art-inspired guest rooms.

Fairmont Scottsdale Princess
Fairmont Gold Meeting Center; renovated summer 2017; largest meeting facility in Fairmont Hotels & Resorts portfolio worldwide; AAA Five Diamond resort; more than 150,000 sq. ft. of meeting space; 750 guest rooms.

Frank Lloyd Wright's Taliesin West
Scottsdale National Historic Landmark; winter home of Frank Lloyd Wright; afternoon architecture tours; evening receptions; can accommodate 120 guests.

Hotel Valley Ho
Only rooftop terrace with 360-degree views of Scottsdale; no resort fee; 33,000 sq. ft. of indoor/outdoor meeting space; 239 guest rooms.

Mountain Shadows
Reopened April 2017; original 1959 hotel attracted Hollywood's elite; newly redesigned par-3 The Short Course; 12,500 sq. ft. indoor meeting space; 25,000 sq. ft. of outdoor meeting space; 183 guest rooms.

Sanctuary on Camelback Mountain Resort and Spa
53 acres overlooking Paradise Valley; dine under the stars; team-building activities include chef challenge, mixology class and photography lessons; largest meeting room is 3,204 sq. ft.; 109 guest rooms.

The Phoenician
New athletic club expected completion by March 2018; golf course redesign begins in January; $40 million Camelback Ballroom Complex; newly renovated rooms; public-area renovations to be complete by December; 645 guest rooms; approximately 160,000 sq. ft. of meeting space.

The Scottsdale Plaza Resort
Independently owned and operated; pool; spa; group fitness classes; former Remington's Restaurant to be converted into event venue; 50,000 sq. ft. of meeting space; 404 guest rooms.

The Scottsdale Resort at McCormick Ranch
General Store & Trading Post now open for meeting snack breaks; on-site UPS store; three recently renovated presidential suites; 80,000 sq. ft. of meeting space; 326 guest rooms.
Spooky and Sweet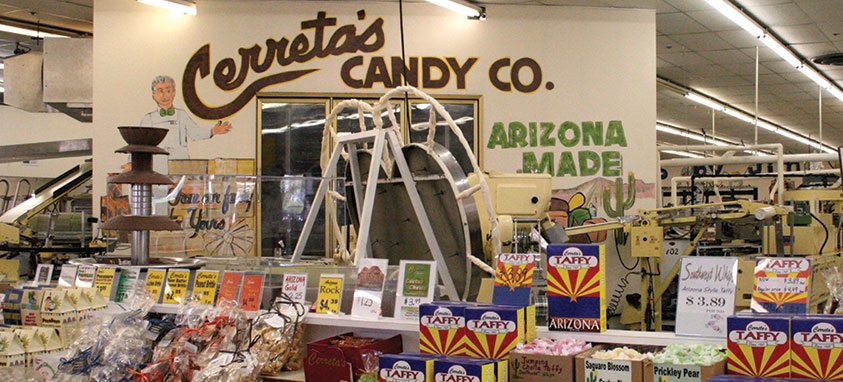 Bring your sweet tooth to Glendale, where "Life is Sweeter" at Cerreta Candy Company (pictured above). This family-owned candy factory has hand-made chocolate, roasted nuts and more for almost 50 years. It offers guided tours and private chocolate pizza-building events.
World-renowned psychic medium and astrologer Dave Campbell hosts monthly group medium nights at The Astrology Store in historic downtown Glendale. He's said to tap into clairvoyant spirits to communicate with the "other side."
Phoenix Ghost Tours and Phoenix Rising Tour Company offer a walking ghost tour for groups through downtown Phoenix. The tour begins at the former Professional Building (now Hilton Garden Inn) and gives you the scoop about reported paranormal activity.
CVBs Pitch Their Cities
Many MLB teams flock to Arizona for spring training. Find out why the Greater Phoenix area would make your event a home run!

Chandler: "Chandler is an ideal choice for meetings. Its thriving business environment, vibrant downtown, world-class shopping, lively dining scene, arts and culture, outdoor recreation, award-winning accommodations and great meeting facilities all come together to mix business with pleasure."
–Kimberly Janes, tourism development coordinator, Visit Chandler
Glendale: "As home to the nation's finest sports and entertainment district, elite meeting facilities, top-notch accommodations and one of the most renowned downtown shopping areas in America, Glendale and Arizona's West Valley are a beautiful blend of new excitement and historic charm."
–Lorraine Zomok, administrator, Visit Glendale

Phoenix: "Phoenix is young, vibrant and ever-changing, which means the experiences are new with each visit. New residential and commercial growth within our downtown has sparked transformation of the city's core into a gathering place for foodies, artisans, hipsters and entrepreneurs alike… Our enviable collection of resort amenities valley-wide keeps Phoenix top of the list as the perfect place for meetings large or small." –Lorne Edwards, vice president of sales and services, Visit Phoenix

Scottsdale: "Scottsdale is a short, 10-mile commute from the nearest international airport and all the outdoor recreation options you could dream of and easily experience, with our 300-plus days of sunshine each year…In the summer months, when our temperatures rise, there are extra incentives for planners that can help them save big." –Kelli Blubaum, vice president of sales and services, Experience Scottsdale