Planners can choose from an abundance of music genres and venues in New Jersey
It's so small that you almost have to strain your eyes to see it on a U.S. map. Sandwiched along the Atlantic Coast and bordered by Delaware and the large states of Pennsylvania and New York, it would seem that New Jersey, the fourth-smallest state in the United States, could easily get lost in the shuffle. The Garden State has many virtues, however, including stunning ocean views, lots of greenery and plenty of woods to explore, as well a generally unheralded feature—an amazing music scene.
Jersey natives Francis Hopkinson and James Lyon were among the country's first composers, releasing music in the mid-1700s. Since then, the state has played a significant role in shaping the history of many genres, including rock 'n' roll, jazz and hip-hop. And the list of famous musicians and groups hailing from the state is staggering: It includes Count Basie, Frank Sinatra, Frankie Valli and the Four Seasons, Whitney Houston, Queen Latifah, Bruce Springsteen, Jon Bon Jovi, My Chemical Romance, Redman, Lords of the Underground and the Fugees, which included Lauryn Hill and Wyclef Jean. Some of these artists—along with plenty of others—still perform around the state in a variety of venues.
"We have great concert venues like New Jersey PAC and Prudential Center in Newark," says Jeff Vasser, executive director of New Jersey Division of Travel & Tourism. "We also have live acts coming to Atlantic City, which is the entertainment capital of the East. All of the casinos are now becoming entertainment hubs for A-list talent, and that's great for meeting planners because they can incorporate some of the smaller showrooms into their meetings."
Many meeting venues encourage groups to come to music events, and they work with planners to incorporate tickets to a live performance into their itinerary.
Here's an overview of some of the best music options for groups, as well as a rundown of the top spots to stay and meet.
Atlantic City
It is only the 61st-largest city (population 37,804) in this very small state, but Atlantic City is one of the nation's major hubs for tourism and entertainment, including music.
More: Atlantic City: It's 'Game On' in AC 2.0
"With local to headline entertainment, tourists can find just about any type of genre of music throughout Atlantic City," says Jim Wood, president and CEO of Atlantic City Convention and Visitors Authority.
"The music scene is one of our most prominent features because we are a resort destination featuring added amenities to the music experience, including the beach, boardwalk, gaming, celebrity chef dining and unique attractions."
Music
Jim Whelan Boardwalk Hall has played host to many of the world's top musicians and other entertainers during its 87-year history, and recently underwent a $10.4 million renovation of its lobby and atrium. It's an outstanding place for groups to see a show or to gather for a private event: Several areas are available for rent, including The Adrian Phillips Theater, which can seat up to 3,200 and serve more than 1,000 guests for catered events.
The Atlantic City Boardwalk Summer Concert Series on Kennedy Plaza features music, food and fun events Friday through Sunday nights from the first weekend in July until the first weekend in September. The events are free, and groups can simply relax or dance the night away. Performers from many major genres are featured.
The city's casino resorts feature headliners as well as local talent in a variety of venues."All of them feature some type of music, whether it's an acoustic act in a lobby bar, headline entertainment at the main venue, guest deejays at the nightclub, or a band or deejay at one of our many beach bars," Wood says.
Hard Rock Hotel & Casino Atlantic City, which opened in June 2018, provides the most intensive music experience, boasting not only live performances but also one of the largest music memorabilia collections—obtained directly from world-famous performers—in the United States. Hard Rock Live (formerly known as Etess Arena), which seats 5,000, is its main venue for major concerts.
Attendees can customize their in-room music experience by choosing from among a carefully curated collection of iconic records compiled by Hard Rock's team of music experts. They can also reserve their choice of one of the hotel's 20 Fender guitars, which come with headphones and a Fender Mustang amplifier, to create a pop-up studio right in their room.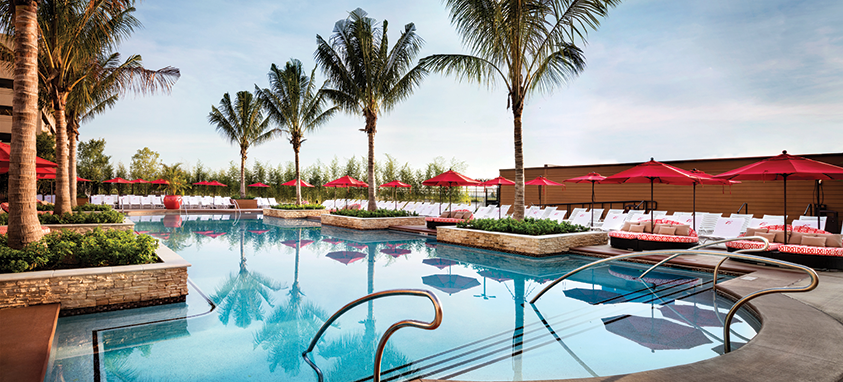 Borgata Hotel Casino & Spa offers music in several locations, including top performers from every major music genre at the Event Center, boasting 30-foot ceilings and 30,000 sq. ft. of space, and The Music Box, featuring an intimate, 1,000-seat setting. The Deck Bayfront Bar & Restaurant in Golden Nugget Atlantic City features live bands nightly during the summer, as well as Fake Fest, an annual July event that includes some of the best tribute bands in the country.
Atlantic City offers other annual music events that are ideal for groups. The two-day Atlantic City Beer & Music Festival at Atlantic City Convention Center in the spring attracts some 25,000 people to enjoy three sessions, each featuring three different musical acts. Participants can choose from among 600 beers, from 150 breweries both near and far.
The late-summer Downbeach Seafood Festival, formerly known as the beloved Atlantic City Seafood Festival, relocated to Ventnor's Ski Beach this year. It included some 25 different local and regional seafood restaurants and purveyors, as well as live music.
The Rock 'n' Roll Marathon Series announced in late July that Atlantic City will become the newest destination for the series, beginning with the Rock 'n' Roll Atlantic City Half Marathon & 5K event on May 15–16. Playing to the rich musical history of New Jersey, the musically themed event included an after-party festival.
Lodging and Meeting Places
Hard Rock Hotel & Casino Atlantic City offers 2,000 guest rooms and more than 150,000 sq. ft. of meeting space, including the 29,757-square-foot Seminole Ballroom, divisible into six sections.
Ocean Resort Casino features 1,399 guest rooms (voted Best Hotel Rooms by readers of Casino Player Magazine), live entertainment, a spa, five pools, 160,000 sq. ft. of indoor meeting space and 90,000 sq. ft. of outdoor space.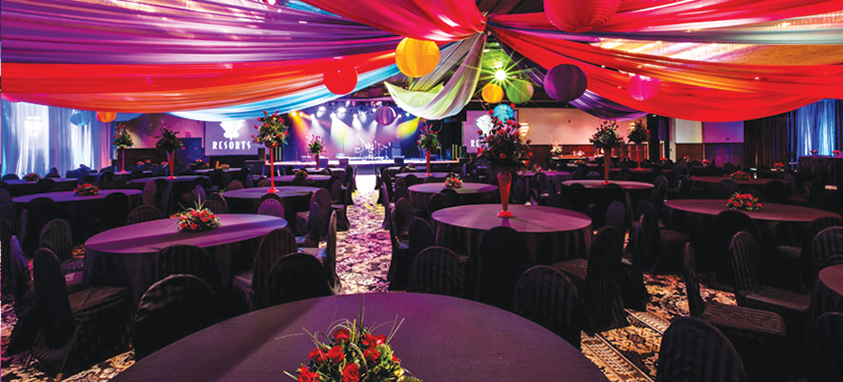 Resorts Casino Hotel recently unveiled Fins Bar, a new large-capacity bar, complete with an additional 150 seats, more outdoor speakers and exterior string lights in its Margaritaville LandShark Bar & Grill on the Atlantic City Boardwalk. Fins Bar's portable stage will host live local bands regularly. Resorts has 942 guest rooms and 64,000 sq. ft. of meeting space.
Tropicana Atlantic City purchased The Chelsea Hotel, which is now linked via skybridge to the larger property and renamed The Chelsea Tower at Tropicana Atlantic City. The Tropicana complex now boasts 2,730 guest rooms and more than 122,000 sq. ft. of meeting space.
The Coastal Tower at Harrah's Resort Atlantic City is receiving a $56 million upgrade that includes 507 guest rooms and suites. The resort, which includes Waterfront Conference Center, offers 125,000 sq. ft. of meeting space.
Atlantic City Convention Center provides 486,600 contiguous sq. ft. of exhibit space, 45 meeting rooms featuring an extra 109,100 sq. ft. and ample prefunction space.
Newark
Grammy Award-winners Whitney Houston, Queen Latifah, Lauryn Hill and Wyclef Jean are just a few of the music luminaries hailing from Newark, which continues to feature top entertainers at a variety of venues.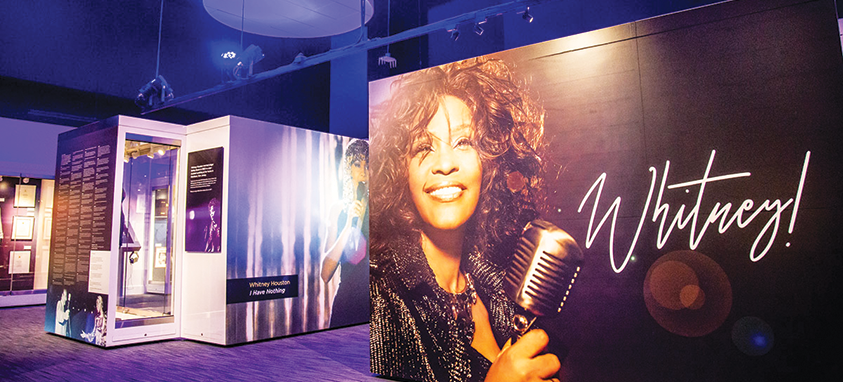 The best initiative to foster homegrown talent is to activate a space where local artists can come and perform," says Emmett Jones, marketing manager for Greater Newark Convention and Visitors Bureau. "That can evolve to a number of different avenues, especially with the power of the Grammy Museum."
Music
One of the best ways for groups to experience Newark's music offerings is to head over to Clements Place to hear some jazz. It's a new, classy, cabaret style venue with a cozy atmosphere and great acoustics. Some of the most prominent musicians from New Jersey perform, as well as talented students seeking to play alongside their musical heroes. Some the top musicians from around the world often pop in and participate in the events. It's located in Rutgers University-Newark's building at 15 Washington St.
The Grammy Museum Experience in the Prudential Center is an interactive, experiential museum devoted to the history and winners of the Grammies. It opened in October 2017, thereby becoming the first Grammy museum in the Northeast. It includes traveling and permanent exhibits, such as a New Jersey Legends exhibit featuring iconic artists, as well as interactive experiences. Guided group tours are available and space can be rented for private events.
New Jersey Performing Arts Center features major performers from all music genres and can host everything from an intimate dinner party to a festive gathering in the 2,850-seat Prudential Hall. The center's Sounds of the City—a free concert series that features several headliners from various music genres—is a great option for groups. Held on Thursday evenings in July and August, the festive events include a dance floor, an artisans' marketplace, a fleet of food trucks and an al fresco bar.
Newark also has plenty of nightclubs that feature deejays and dancing. Lit 21, Three Levels Lounge and Rio Lounge feature Top 40, hip-hop and R&B, while Baru Lounge, Adega Lounge, Marbella Lounge and Mompou QXT's Night Club are known for the LatinX, alternative and dance music genres. La Rouge Restaurant & Lounge holds an open mic night, Vibe in the City, every Wednesday that includes music.
The city's annual events include Lincoln Park Music Festival-A Celebration of Spirit and Dance, which attracts some 50,000 people and features jazz, gospel, house and hip-hop. Held the last weekend in July and the first weekend in August, it also offers a healthy lifestyle pavilion with free health screenings, massages, yoga and fresh produce, as well as a sustainable marketplace with art, craft and food vendors.
Afro Beat Fest, a celebration of African culture, is a full-day event that takes place each July at Military Park. It features plenty of music and more than 200 vendors offering clothing, artifacts, entertainment and food from the African diaspora. The festival is a tribute to Africa Newark Festival, a three-day event that was held in the same location for more than 20 years.
Lodging and Meeting Places
Prudential Center, a multipurpose indoor arena in Newark's central business district, features versatile event space and has the flexibility to host conventions, corporate events, company outings and many other events with capacities of up to 17,000.
Some of the city's hotels are also outstanding meeting venues, including Newark Liberty International Airport Marriott (585 guest rooms, 27,160 sq. ft. of meeting space), DoubleTree by Hilton Newark Airport (503 guest rooms, 18,000 sq. ft.) and Renaissance Newark Airport Hotel (396 guest rooms, 16,618 sq. ft.).
Jersey City
Jersey City is just 4 miles west of New York City, over the Hudson River, and like the Big Apple, it offers great cultural diversity.
Jersey City is one of the most ethnic places in the country," says Rachel Magee, marketing and tourism coordinator for the City of Jersey City. "Being the entrance to Ellis Island has made us a mecca for all cultures, including their music and food."
The music includes a healthy dose of jazz, hip-hop, punk, grunge and rock 'n' roll, to name a few. Kool & the Gang formed in Jersey City, and Frank Sinatra was born just 14 miles away, in Hoboken.
Music
White Eagle Hall is a newly restored and renovated historic theater in the thriving downtown nightlife scene. It features live music, theater, comedy, dance and film. "It is the best medium-sized venue that is offered in the city, bringing big names to the neighborhood scene," Magee says.
Planners can rent this 8,000-square-foot venue, which can accommodate 800 standing, 400 seated or 250 seated for dining.
Located in the bustling Journal Square hub, Loew's Jersey Theatre is one of the city's best large venues for music performances. Opened in 1929 and recently restored, it is available for rent, and can fit more than 1,000 people seated.
Smaller venues include FM Bar, Venue & Restaurant, showcasing local bands and deejays; Miss Wong's at Talde, featuring dancing and live deejays every weekend; and Fox & Crow, spotlighting some of New Jersey's most acclaimed indie rock writers and performers.
Liberty State Park offers concerts on Sundays and Tuesdays in July and August featuring a wide variety of music. The annual Jazz at the Fountain consists of a series of summer evening concerts.
Some groups take a 14-mile drive northeast to Hoboken. There, they can pick up a map and guide to the two-hour Frank Sinatra walking tour at Hoboken Historical Museum. The newly revised tour map starts at the museum and includes 19 other places, including his birthplace and restaurants that highlight his career.
For 10 days in the late spring, the city transforms into a city-wide celebration of jazz during Jersey City Jazz Festival. Formerly the Riverview Jazz Festival, it's the fastest-growing jazz festival in the region. It has rebranded and relocated to the historic downtown neighborhood—Newark Pedestrian Plaza, near the Grove Street PATH station.
An annual music event of a much different sort, Ghost of Uncle Joe's—a Halloween costume ball and fund-raiser for Historic Jersey City and Harsimus Cemetery—takes place at the cemetery each October and features local musicians performing covers of famous bands.
Lodging and Meeting Places
The 350-room Hyatt Regency Jersey City on the Hudson is a downtown, waterfront property with breathtaking views, a restaurant, a lounge and 20,678 sq. ft. of meeting space, including the 7,800-square-foot Manhattan Ballroom.
Also located downtown, The Westin Jersey City Newport is a Forbes Four Star property with 429 guest rooms, two restaurants, an indoor pool, a spa tub, a fitness center and 20,227 sq. ft. of meeting space. Hyatt House Jersey City offers 258 guest rooms, a rooftop bar and 33,368 sq. ft.
Meadowlands
The Meadowlands, also known as the Hackensack Meadowlands (after the primary river flowing through it), refers to the large ecosystem of wetlands in northeastern New Jersey, a few miles to the west of New York City. The area includes portions of Kearny, Jersey City, North Arlington, Secaucus, Lyndhurst, Rutherford, East Rutherford, Carlstadt, North Bergen, Moonachie, Ridgefield, South Hackensack and Little Ferry.
Music
Located in East Rutherford, Meadowlands Sports Complex includes MetLife Stadium, home to the NFL's New York Giants and New York Jets. The 82,500-seat stadium also hosts major concerts and has areas available for group gatherings, including fireside lounges and a rustic wine bar.
The complex also will be home to American Dream Meadowlands, scheduled to open Oct. 25. It will include some 500 stores, 55 percent entertainment and 45 percent retail. Covering 3 million sq. ft., it will contain Nickelodeon Theme Park, DreamWorks Water Park, Big Snow Ski and Snowboard Park and New Jersey Hall of Fame, which includes many of the state's music legends. It will also feature a tree-like sculpture that performs music, and For the Win, a 22,000-square-foot adult arcade that will offer games, bowling, craft beers and live music performances.
Music Under the Stars in Lyndhurst's Town Hall Park is a four-day event featuring two artists each night. The Plaza at Harmon Meadow, a shopping complex in Secaucus, offers a free summer concert series featuring a variety of music.
Bergen Performing Arts Center in nearby Englewood is an outstanding place to see some of the world's top music performers in an intimate, 1,367- seat setting.
Lodging and Meeting Places
Planners with large groups often utilize Meadowlands Exposition Center at Harmon Meadow, located in Secaucus, for their gatherings. It provides 61,000 sq. ft. of exhibit space with a 20-foothigh ceiling, and five additional meeting rooms. The center can accommodate 5,000 people.
Hilton Meadowlands in East Rutherford boasts an excellent Italian restaurant, Bergen Social, as well as 427 guest rooms and a 30,000-square-foot conference center.
The recently redesigned, 15-story Teaneck Marriott at Glenpointe in nearby Teaneck has 346 guest rooms, a wine bar and 39,317 sq. ft. of meeting space, divided among 21 rooms. Also near the Meadowlands, EnVue Autograph Collection in Weehawken features 208 guest rooms, NoHu Rooftop Bar & Restaurant and 25,644 sq. ft. of meeting space, including the 15,000-square-foot SkyLine Rooftop.
Renaissance Meadowlands Hotel in Rutherford offers 167 guest rooms, upscale dining at Finch's and 4,972 sq. ft. of meeting space, including a 2,303-square-foot grand ballroom.
Pearl of the Jersey Shore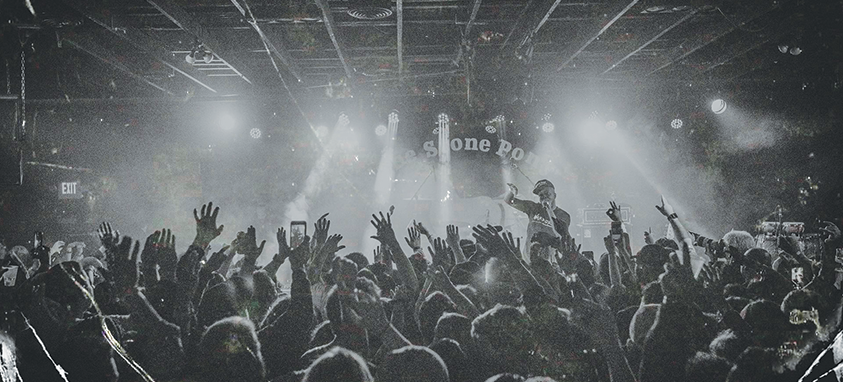 Situated on the Jersey Shore but considered part of the New York City Metropolitan Area, Asbury Park has a legendary music history. It gained prominence in the 1960s with bands such as the Jaywalkers, which merged doo wop, rock 'n' roll, rhythm and blues, and soul to create what became known as the Sound of Asbury Park.
In the late 1960s and early 1970s, the music scene became even more vibrant with the emergence of Bruce Springsteen, Southside Johnny Lyon, as well as early members of Springsteen's E Street Band. Clarence Clemons, Steve Van Zandt, Danny Federici, Garry Tallent, Vini "Mad Dog" Lopez and David Sancious honed their skills in several bands, both with and without Springsteen. Bands included the Bruce Springsteen Band, Steel Mill, Little Melvin & the Invaders, Downtown Tangiers Band, Moment of Truth, Glory Road, Child, Dr. Zoom & the Sonic Boom and Sundance Blues Band.
When Springsteen gained a recording contract with CBS in 1972, he chose the best among these Jersey Shore musicians to record his debut album, Greetings from Asbury Park, N.J.
Music is still alive and very well in Asbury Park, which features primarily young performers. Several venues near the boardwalk host both original music and cover bands. The crown jewel is The Stone Pony, a world-famous rock 'n' roll venue that was a starting point for musicians and bands such as Bruce Springsteen, The Ramones and Jon Bon Jovi, and hosted performers such as Meatloaf, Joan Jett and Blue Oyster Cult. The Stone Pony continues to draw international acts for its indoor and Summer Stage shows.
Asbury Lanes, the earliest music venue in Asbury Park, opened in 1961. It features bands, films, and art and burlesque shows. The Saint started hosting music acts in the mid-'90s. It features local and nationally touring bands. Incubus, Cake and Deftones are just a few of the well-known bands to have come through The Saint.
Atlantic City, Newark, Jersey City and the Meadowlands are all less than a 90-minute drive to Asbury Park, making it an easy off-site trip for groups meeting in those cities.