Just like smartphone apps and computer software, cities need to press the update button to avoid becoming obsolete. Atlantic City upgraded twice last June—two new hotels opened and sports gambling was introduced. This double-dose of milestone events changed the trajectory of the city immediately and for the distant future.
The day that will go down in AC history is June 28, 2018. It began with a guitar-smashing at Hard Rock Hotel & Casino Atlantic City to signify its opening, followed by a ribbon-cutting for Ocean Resort Casino.
Jim Wood, president and CEO of Meet AC, credits these properties with providing a "significant bump" in good news and positive perception. "Plus, it spoke to our customers, saying Atlantic City is back, alive and well," he says. "The openings have provided a new level of confidence in meeting and convention consumers, which has encouraged them to sign multiyear agreements, in some cases booking AC up to seven years out."
In a city heavily reliant on gambling, numbers are everything. And, since last summer, the house is winning big time, with the house being AC.
Hosting meetings industry-specific shows, such as MPI's World Education Congress and TEAMS in 2016, and Meetings Quest in 2017, contributed to the increase in booked convention room nights. In 2014, the total was 171,465 and by 2018 it had risen to 371,996. Since launching Atlantic City Sports Commission in 2015, the CVB has also noticed an upward trend on the sporting event front. Atlantic City Convention Center and Boardwalk Hall have become supreme destinations for volleyball, cheerleading, gymnastics, basketball, wrestling, karate and indoor auto racing competitions.
The convention center's $9.1 million restroom renovation project is expected to be complete in September. The venue has 486,600 sq. ft. of meeting and exhibition space, including 45 breakout rooms. Historic Boardwalk Hall, famous for hosting the Miss America scholarship pageant, is currently undergoing $10 million in renovations to its lobby and atrium. It has a 141,000-square-foot arena with 14,770 seats and 23,100-square-foot Adrian Phillips Theater with 3,200 seats.
"We are trending at 122 percent of pace, which is a very positive indicator for our future business," Wood says. "Our conversion sits around 37–39 percent, while our competition (Philadelphia, Baltimore, Pittsburgh and Providence) is converting business at a 22 percent pace."
A Little Bit Beachy and a Little Bit Rock 'n' Roll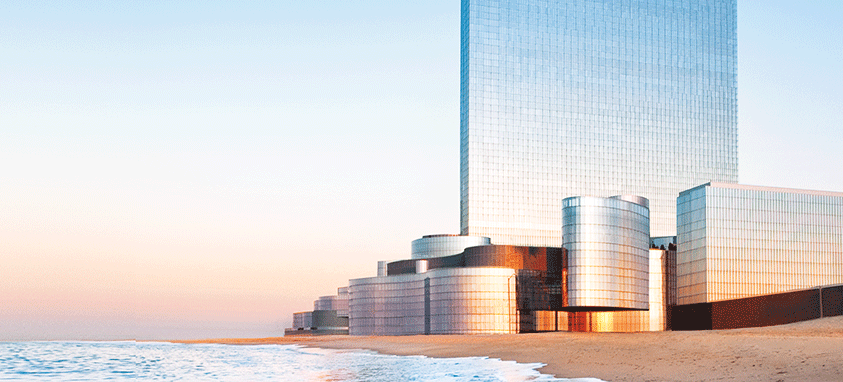 Although they shared the same opening day, Ocean Resort Casino and Hard Rock couldn't be more different. One is all about ocean waves and the other is all about sound waves.
Most casinos are window-less to keep gamblers from being tempted to abandon tables and machines, or reference the time based on light and darkness. Not at Ocean Resort Casino, where the view through floor-to-ceiling panes of glass serves as a constant reminder of the beachfront setting. Previously known as Revel (and briefly as Ten), the newly reopened, monstrous property has 1,399 guest rooms and 160,000 sq. ft. of meeting space.
Even at Ocean, which is a member of The Unbound Collection by Hyatt, visitors can find hints of rock 'n' roll. Villain & Saint, one of the resort's more than 15 dining options, is outfitted in the musical genre. Guests can also enjoy a show at 4,200-seat Ovation Hall. Music and beach become one at HQ2 Nightclub and Beachclub, where some of the world's hottest DJs spin tracks to keep the party going. If peace and quiet is more your thing, book an appointment at 40,000-square-foot Exhale spa.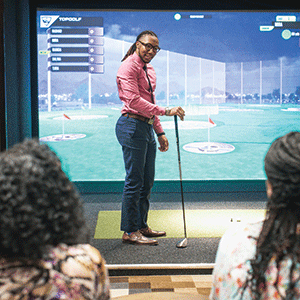 The world's largest Topgolf Swing Suite debuted at Ocean last summer, as well. Each of the 11 simulator bays comes with a giant screen, golf clubs and interactive games, such as a Topgolf point-scoring game, zombie dodgeball and a baseball pitching game.
The Hard Rock property has been drumming up big business since raising the curtain on its 150,000 sq. ft. of meeting space. "There is certainly a curiosity building in the meetings market for this destination, and the Hard Rock brand offers credibility and an experience that is untouched," says Shelley Williams, vice president of sales for the hotel. "Atlantic City has value, charm and nostalgia as a destination, and Hard Rock has turned up the volume in service, entertainment, amenities and attractiveness."
Owned by Seminole Tribe of Florida, the 17-acre property was completely transformed from Trump Taj Mahal to its current musical and pop culture persona, at a cost of $500 million. Williams says meeting professionals have been particularly impressed with the hotel's 31-treatment-room Rock Spa and Salon, as well as the private dining options, including seafood eatery Council Oak Fish and Japanese-style Kuro. There's also live music daily in the lobby, jokes at Howie Mandel Comedy Club, concerts at Hard Rock Live at Ettes Arena and dancing at Daer Nightclub.
It's all about that bass… and treble, at the spa. Vibrations run from head to toe as you lie on a pulsating massage table for a fully immersive massage experience. The Rhythm & Motion menu is a first-of-its-kind, music-centric spa offering.
Hang that "do not disturb" sign on the doorknob and jam out in private. Overnight guests of the 2,000-room hotel can select from three The Sound of Your Stay complimentary in-room amenity options. "Tracks" comes with a downloadable play list featuring recognizable acts and up-and-coming artists. Hone your guitar skills by selecting "Picks," which allows you to borrow one of 20 Fenders to strum to your heart's content. Give old-school vinyl records a spin on a turntable by choosing the "Wax" package.
The Community FoodBank of New Jersey hosted more than 1,000 donors for its Dancing Under the Atlantic City Stars fund-raiser at Hard Rock's 29,000-square-foot Seminole Ballroom on Nov. 3.
"The events team was simply superb! says Renate Taylor, development officer for the organization's Southern Branch. "Hard Rock banquet and production teams [guided] the planning process with their expertise and knowledge.
"The 'day of' event staff executed set-up and guest service with skilled precision, guaranteeing each donor enjoyed the outstanding Hard Rock guest experience. The culinary staff delighted guests with a fresh and exciting menu that ensured a fine-dining experience. I can state with 100 percent certainty that the Hard Rock family provided our donors and guests with an event they will remember for a lifetime."
Everybody is a Winner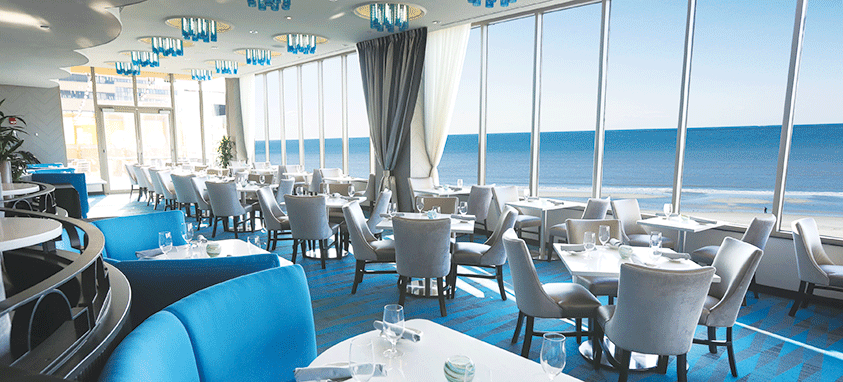 The pre-existing hotels and casinos on and near the boardwalk are also benefiting from the two new properties because they are bringing increased traffic to Atlantic City. It's motivated everyone to up their ante with renovations, improvements and expansions to stay competitive with all that's shiny and new.
"The two new properties that opened this past summer continue to create a positive light for Atlantic City, with hopes to grow the market," says Steve Callender, general manager of Tropicana Atlantic City. "On the heels of our $200 million property-wide renovation and our acquisition by our new parent company, Eldorado Resorts, we recently acquired and reopened the Chelsea Tower and introduced sports betting, which, combined, have yielded a healthy increase in visitation and revenue."
Chelsea Tower debuted at Tropicana over Memorial Day weekend. It added 330 guest rooms, Chelsea Five Gastropub and Whiskey Five Bar. The 10,000-square-foot Sea Spa reopened in Chelsea Tower on Nov. 1. All 500 guest rooms in Havana Tower were renovated in 2016. Altogether, the hotel has 2,400 guest rooms and suites across its five towers.
More than 122,000 sq. ft. of meeting space is available at Tropicana. Planners looking for a challenging, put-your-minds-together team-building exercise can book one of four themed rooms at the hotel's Escape AC rooms—poker, boardwalk, casino cage or backstage. Tropicana also boasts an Imax theater. Two of its restaurants underwent renovations in December. The redesign of Chinese restaurant Golden Dynasty includes four private dining rooms and Il Verdi's face lift now showcases the Italian eatery's expansive 450-bottle wine collection.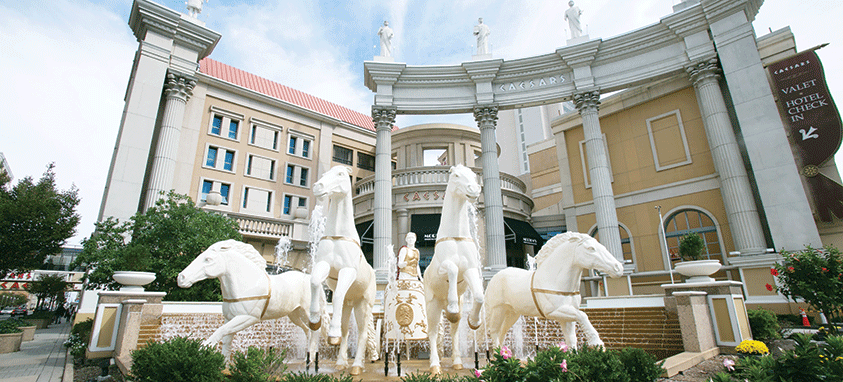 Caesars Entertainment oversees a trio of properties—Caesars Atlantic City (1,144 guest rooms, 24,000 sq. ft. of meeting space and 1,500-seat Circus Maximus theater), Bally's Atlantic City Hotel and Casino (1,254 guest rooms and 80,000 sq. ft.) and Harrah's Resort Atlantic City (3,590 guest rooms and 125,000 sq. ft.).
"The two new properties opening up in Atlantic City are a welcome addition to the destination," says Steve van der Molen, vice president of catering and convention services for Caesars Entertainment in Atlantic City. "Their investment and commitment are long term, and it demonstrates a belief that there is robust demand for great hospitality and convention experiences.
"That is music to the ears for meeting organizers, and it means Atlantic City can and should gain a larger share of the meetings market. That is good for all of us."
In November, Harrah's announced a $56 million renovation to its Coastal Tower's 507 guest rooms, expected to open in phases beginning early this year. Over the past four years, Caesars has invested $250 million into upgrading the Harrah's property.
A few years ago, the $125 million Waterfront Conference Center was built, the largest hotel-conference center complex from Baltimore to Boston. Harrah's features the only Elizabeth Arden Red Door Spa in the area and a 90-foot glass-dome-enclosed pool. The tropical oasis is a chill hangout during the day and transforms into a nightclub after dark. The 172,000-square-foot pool deck can be rented for private events with up to 2,000 guests. Last year, a popular new Gordon Ramsay Steak opened there.
Inland, the gleaming Borgata Hotel Casino & Spa and sister property The Water Club at Borgata stand tall, a bit removed from the boardwalk. In anticipation of the new product about to hit the market, the MGM-owned resort added the two-story, 18,000-square-foot Central Conference Center in May 2017, a year after $50 million was spent on more upgrades.
Borgata is home to 2,000 guest rooms and an additional 800 can be found at The Water Club. There's a combined 106,000 sq. ft. of meeting and event space.
Wheel of Fortune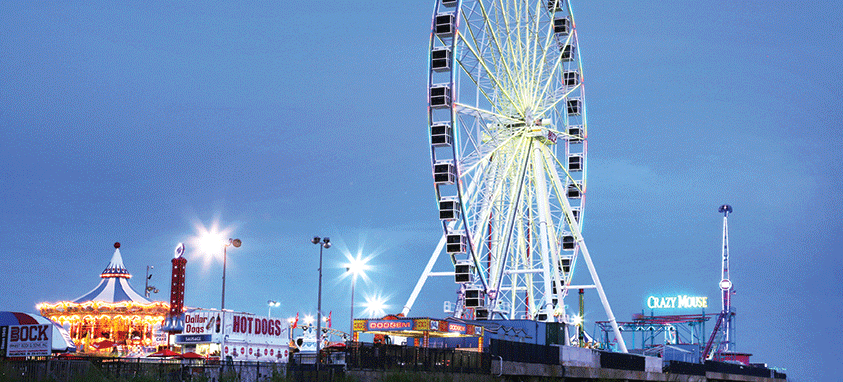 The Wheel at Steel Pier first lit up the AC boardwalk in December 2017. Standing 227 feet tall, the observation wheel has 40 temperature-controlled gondolas. Its 14,500 lights can be programed to match your company colors. Steel Pier's event tents are available for private corporate functions 1,000 feet above the Atlantic Ocean. One fits 150 and the other 250. Guests can enjoy riding the amusement park's rides, playing carnival-style games and noshing on funnel cake.
AC Scores Big with Sports Betting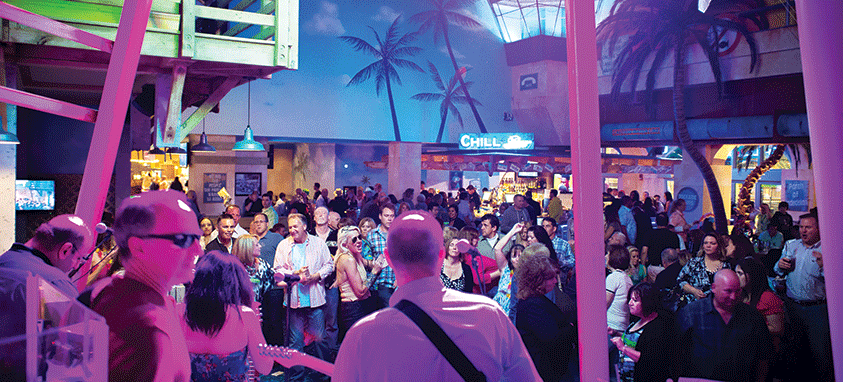 The recent legalization of sports gaming has changed the outlook of the world's first boardwalk. Last May, the Supreme Court overturned 1992's Professional and Amateur Sports Protection Act. Individual states are given the power to set restrictions.
Three days after new Jersey Governor Phil Murphy signed a bill allowing licensed casinos to establish legal sports books, Borgata Hotel Casino & Spa became the first Atlantic City casino to accept bets on sports entertainment when Hall-of-Fame basketball player Julius Erving bet on the Eagles.
Some 14 days later, new kid on the boardwalk Ocean Casino Resort offered sports gaming, helping to usher in a new era for Atlantic City. Actor Mark Wahlberg, whose family has a Wahlburgers restaurant inside the resort, placed the very first bet.
"Opening this summer was a special opportunity for us because of the enthusiasm for the revitalization of Atlantic City from the local and surrounding areas," says Frank Leone, CEO of Ocean Resort Casino.
"The groundswell of interest that developed as a result of the opening and the introduction of sports betting in New Jersey generated a tremendous amount of curiosity and interest from visitors," he says.
Others have followed suit and it's been a game-changer for the once-struggling beach city by offering a new revenue stream. Since its inception on June 14 and through November, sports wagering grossed $73.2 million in the Garden State, according to the State of New Jersey's Division of Gaming Enforcement. "Sports betting is an added amenity for Atlantic City," says Jim Wood, CEO and president of Meet AC. "We currently have eight sports books."
Tropicana announced its partnership with William Hill Race & Sports Book on Oct. 26. The boardwalk's first-ever casino, Resorts Casino Hotel, also jumped on the bandwagon.
"The introduction of sports betting in New Jersey is a wonderful additional to our gaming product at Resorts," says Mark Giannantonio, president and CEO of the property. "With the opening of our state-of-the-art DraftKings Sportsbook at Resorts, we are now in a great position to attract new group business, as well as offer intriguing new options for our repeat groups in 2019 and 2020."
Owned by Mohegan Sun, Resorts has 942 guest rooms and 64,000 sq. ft. of meeting space. Capriccio Italian Restaurant, located inside the hotel, was voted best casino restaurant in the United States by USA Today's 10Best.com Readers' Choice Awards in 2018.
On Tap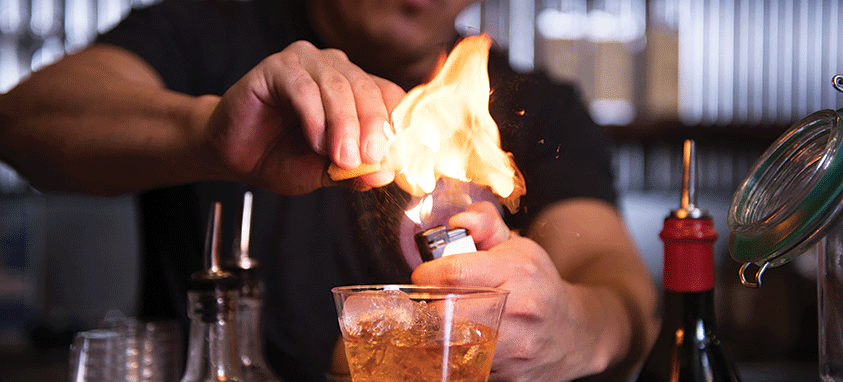 Salty ocean water isn't the only liquid flowing in Atlantic City: The brewery and distillery scene has hit the sandy shoreline like a tsunami. Biergarten Atlantic City, a new addition to the boardwalk, includes an outdoor garden that features oversized games such as Connect Four, making it a fun group hangout. Tennessee Avenue Beer Hall, named after the Monopoly board game, is now open in the Orange Loop. It offers craft beers on draft and more than 100 in bottles and cans, as well as cocktails and food.
Little Water Distillery is AC's first and only distillery to produce whiskey, rum and vodka. Group tours and tastings are available.
"The addition of the two new properties, Ocean and Hard Rock, along with the other great openings around the city this summer—MADE (Atlantic City chocolate bar), Hayday Coffee and Bourre—have all contributed to renewed interest in the many offerings in and around Atlantic City," says Mark Ganter, CEO for Little Water Distillery. "We are thrilled to welcome our new neighbors this spring—Seed Beer Project and Westecunk Axe Throwing—which will be joining us in the Little Water District to add additional points of interest in the north end of Atlantic City."
Before setting up "chop" in their permanent facility, Westecunk Axe Throwing ran a mobile unit primed for corporate and team-building events.