Major investments welcome meeting attendees back
Airports, convention centers and conference hotels, oh my. Billions of dollars of investments committed as much as a decade ago in Missouri's largest cities—St. Louis and Kansas City—have moved from visions on drawing boards to construction sites and are now or will soon be opening their doors to business travelers rediscovering the heart of the country. These advances are being made just in time as conference organizers look for alternative destinations requiring less time in the air and on the road.
The shiny new Missouri attractions are not isolated to the major cities. On the state's southern border near Branson, a massive waterpark resort is in the works that will add to the gravitational pull for groups looking to pair a little action in the form of golf, four-wheel-drive tours and dining with their meetings.
Smart Meetings dove in Lewis and Clark-style to explore all the new landmarks popping up in what was historically the gateway to the west and is now a prime destination in its own right for some of the most high-profile groups in the country.
St. Louis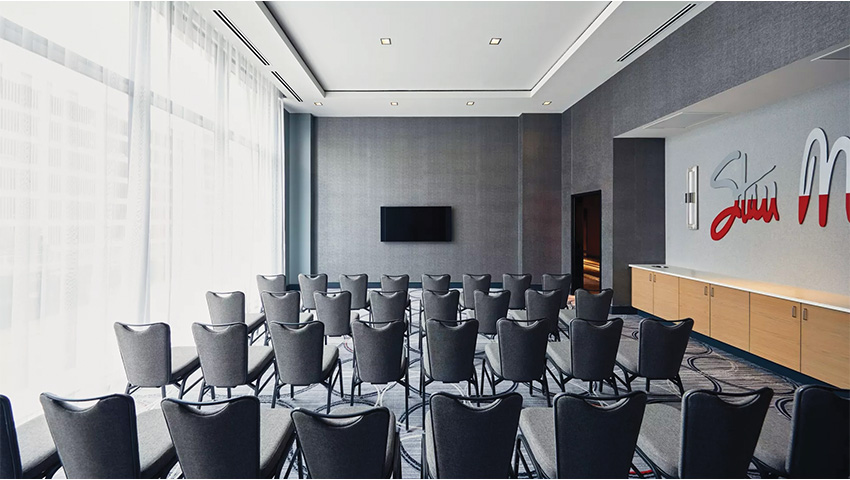 What happens when a convention center renovation is designed for and with input from meeting professionals? Brian Hall, chief marketing officer with Explore St. Louis, explained that Fentress Architects conceived of the $210 million expansion and facelift at America's Center Convention Complex with extensive input from a national customer advisory board.
"This was not designed in a vacuum," he said.
Read More: Louisville Bounds from the Starting Gate to Boost Tourism
Ground was recently broken for the multi-phase project that will result in a 72,000-square-foot, light-filled exhibit space, more than twice the number of loading docks, a food farm and a 61,000-square-foot pillarless ballroom with 32-ft. high ceilings. The new commercial kitchen will feature a built-in tasting room, a 1.5-acre outdoor plaza will facilitate popular outdoor sessions with an assist from local food trucks and artfully jagged floor-to-ceiling glass walls will reflect the flowing convergence of the Mississippi and Missouri rivers beyond. Plus, improved ionized air filtration will cycle air more often.
"We are back and building something new that will benefit St. Louis and event planners for many years to come."
–  Kathleen "Kitty" Ratcliffe
Because the project is being conducted in two phases, with the first scheduled for completion in 2024, conventions can go on in the areas where work is not being done.
"From the first steps in the front door, the building simulates open arms to welcome 600,000 delegates who come to St. Louis each year," said Hall.
Notable Ribbon Cuttings
St. Louis has been steadily adding guest rooms downtown and a total of 7,670 are already within a mile of America's Center. A fun new upcycling came earlier this year when the Art Deco Shell Building was transformed into a dual-branded Home2 Suites and Tru by Hilton St. Louis Downtown. Another noteworthy reuse came in the form of The Last Hotel, a 142-room independent property that opened in 2019 in a former shoe factory and took its name from footwear forms.
Closer to recently expanded Ballpark Village, Live! By Loews-St. Louis brought 216 guest rooms and more than 10,000 sq. ft. of meeting space in 2020 to St. Louis' "living room". St. Louis is still home to the only Four Seasons Hotel in state and its 200 guest rooms boast incredible river views.
New during the pandemic at St. Louis Union Station Hotel, Curio Collection by Hilton (567 guest rooms and more than 100,000 sq. ft. of meeting space), St. Louis Aquarium at Union Station is swimming with creative places to host a reception, including Shark Canyon, a glass J-wall that puts guests in the undertow of ferocious sea creatures, and St. Louis Wheel, which spins them 200 feet up in the air with views of a new MLS soccer stadium opening to groups in September.
At remodeled landmark Gateway Arch, groups can gather in The Museum at the Gateway Arch, with rides on the sky-high tram for stunning city views of the city as dessert.
"We are now talking to groups with large general sessions that need the room afforded by one of the largest ballrooms in the country with easy access to The Dome at America's Center multipurpose stadium," said Hall.
Another big selling point on Hall's list: full return of robust airlift at St. Louis Lambert International Airport (SLT) and easy Metrolink train access to downtown.
Kansas City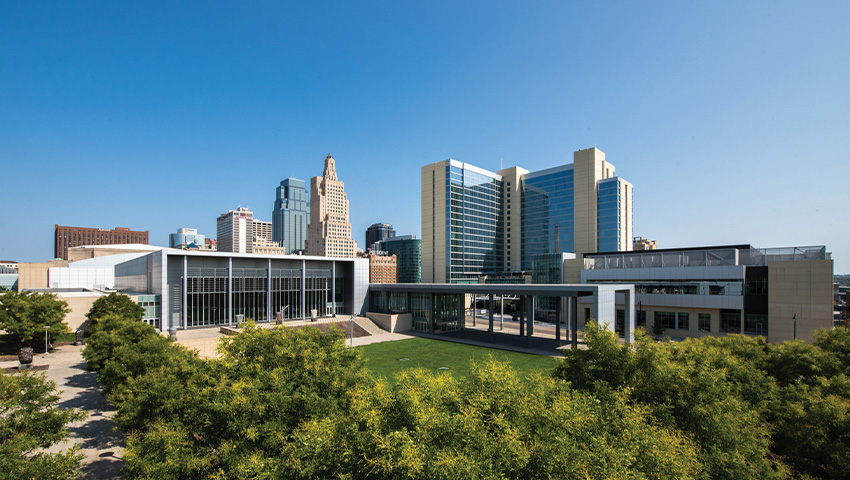 "A decade ago, there was a conscious decision by Kansas City civic leaders to invest in hospitality and assets for the entire community," said Nathan Hermiston, senior vice president of convention sales and services at Visit KC. A total of $6 billion dollars is being invested in the City of Fountains for everything from transportation to hotels and venues. First on the checklist, upgrades at Kansas City International Airport (MCI), including a new terminal and 6,000-space garage slated to open in March, 2023.
Starting in January of this year, Visit KC shares leadership with Kansas City Sports Commission and Foundation. Sports Commission President, CEO and native Kansas Citian Kathy Nelson said she plans to build on the momentum already happening throughout the city. The groups have already collaborated on initiatives to bid for the 2026 FIFA World Cup, the 2023 NFL Draft and the annual Phillips 66 Big 12 Basketball Championships.
Notable Ribbon Cuttings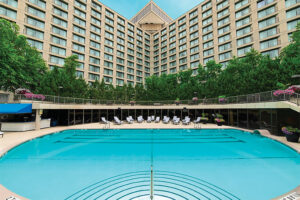 KC Streetcar is being extended so visitors can easily make their way from River Market through Downtown to Crown Center entertainment district where The Westin Kansas City at Crown Center (724 guest rooms and 54,390 sq. ft. of meeting space) and Sheraton Kansas City Hotel at Crown Center (720 guest rooms and 93,047 sq. ft. of meeting space) hold court.
Kansas City Convention Center is now home to 46,484-square-foot Kay Barnes Ballroom, which can hold more than 4,000 people and streams natural light. Meanwhile, a makeover is in progress at Music Hall to reconfigures seats and improve the overall attendee experience.
"Both the Kansas City Sports Commission and Visit KC will continue to lead the charge for our city's ongoing growth and success."
–  Kathy Nelson
The much-anticipated opening of Loews Kansas City Hotel became reality in 2020 with 800 guest rooms and more than 60,000 sq. ft. of meeting space. It is connected via sky bridge to Kansas City Convention Center and in walking distance of Kansas City Power & Light District, T-Mobile Center and Kauffman Center for the Performing Arts.
The same year, Hotel Kansas City opened in the iconic Kansas City Club building as part of Hyatt Unbound Collection with 144 Victorian-inspired rooms and 20,000 sq. ft. of meeting space including a signature rooftop space.
Read More: Missouri Shows What It's Got
Downtown is a lively, bustling place and one of the hot spots is 21cMuseum Kansas City tucked between the Power & Light District and River Market downtown with 8,000 sq. ft. of meeting space and 120 guest rooms. It is steps from more than 50 restaurants and entertainment venues.
"This is a whole new sandbox to compete in," said Hermiston. He pointed to the 2023 NFL Draft as a milestone event made possible by the improvements to the city. "We are having conversations we weren't having six years ago," he said.
Branson Makes a Splash
Big things are coming to Branson, a traditional retreat destination in the southernmost part of the state. The project making the biggest waves is Imagine Resorts & Hotels, a themed waterpark scheduled to open its doors in 2024 in Hollister, a suburb of Branson. The $300 million, 575,000-square-foot resort on 68 acres will bring 450 guest rooms and cabins, themed restaurants and 30,000 sq. ft. of convention space.
Open and operating with advanced safety protocols, 220,000-square-foot Branson Convention Center boasts 47,000 sq. ft. of exhibit space and a 23,000-square-foot modern ballroom.
Lynn Berry, director of communications with Branson/ Lakes Area Chamber of Commerce & CVB and Taney County Partnership, said that is just the beginning of the new entertainment opportunities coming to the area. New restaurants catering to groups include both celebrity names and locally owned gems, including Guy Fieri's Kitchen + Bar, Ramata Italian Cuisine and Tall Tales Bar & Grill.
Pink Jeep Tours Branson opens up all kinds of possibilities for team building and incentive exploration. Tiger Woods' first public-access golf course, 19 holes of scenic play with a big finish at the Big Rock, is Payne's Valley Golf Course at Big Cedar Lodge. It is co-located with Grandview Conference Center, which can accommodate up to 1,000 people with conference, theater and banquet space and 302 guest rooms.
For those groups looking for some heart-racing fun, Missouri Thunder by Bass Pro Shops, started its Professional Bull Riding circuit run in a natural amphitheater nestled in the rolling hills of the Ozark Mountains.
Resources
Branson/ Lakes Area Chamber of Commerce & CVB and Taney County Partnership
Explore St. Louis
Visit KC
This article appears in the July 2022 issue. You can subscribe to the magazine here.