Inspiring outdoor experiences in Pennsylvania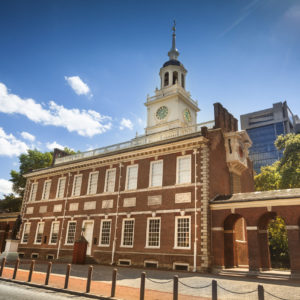 Walking toward Independence Hall in Philadelphia, you can almost feel the pounding hearts of the Founding Fathers as they gathered there in 1776 to change the course of American history. Today, though, Independence Hall is dwarfed by shiny glass towers, and Philadelphia is now a place where meeting attendees can change the course of corporate history.
In western Pennsylvania, Pittsburgh, sitting at the confluence of the Monongahela, Allegheny and Ohio rivers, served in colonial times as "Gateway to the West." It morphed thereafter into a powerful industrial engine that helped drive America's steel and construction industries, among others.
Both cities boast proud local cultures and unique amenities, along with plenty of off-sites where attendees can experience natural beauty so stunning it often sparks creative ideas. Both are also great walking cities.
In addition, the Keystone State is gifted with resorts with excellent meeting spaces, indoors and out, plus additional lures ranging from a theme park to golf and gaming.
Let's take a quick tour.
Cities
Philadelphia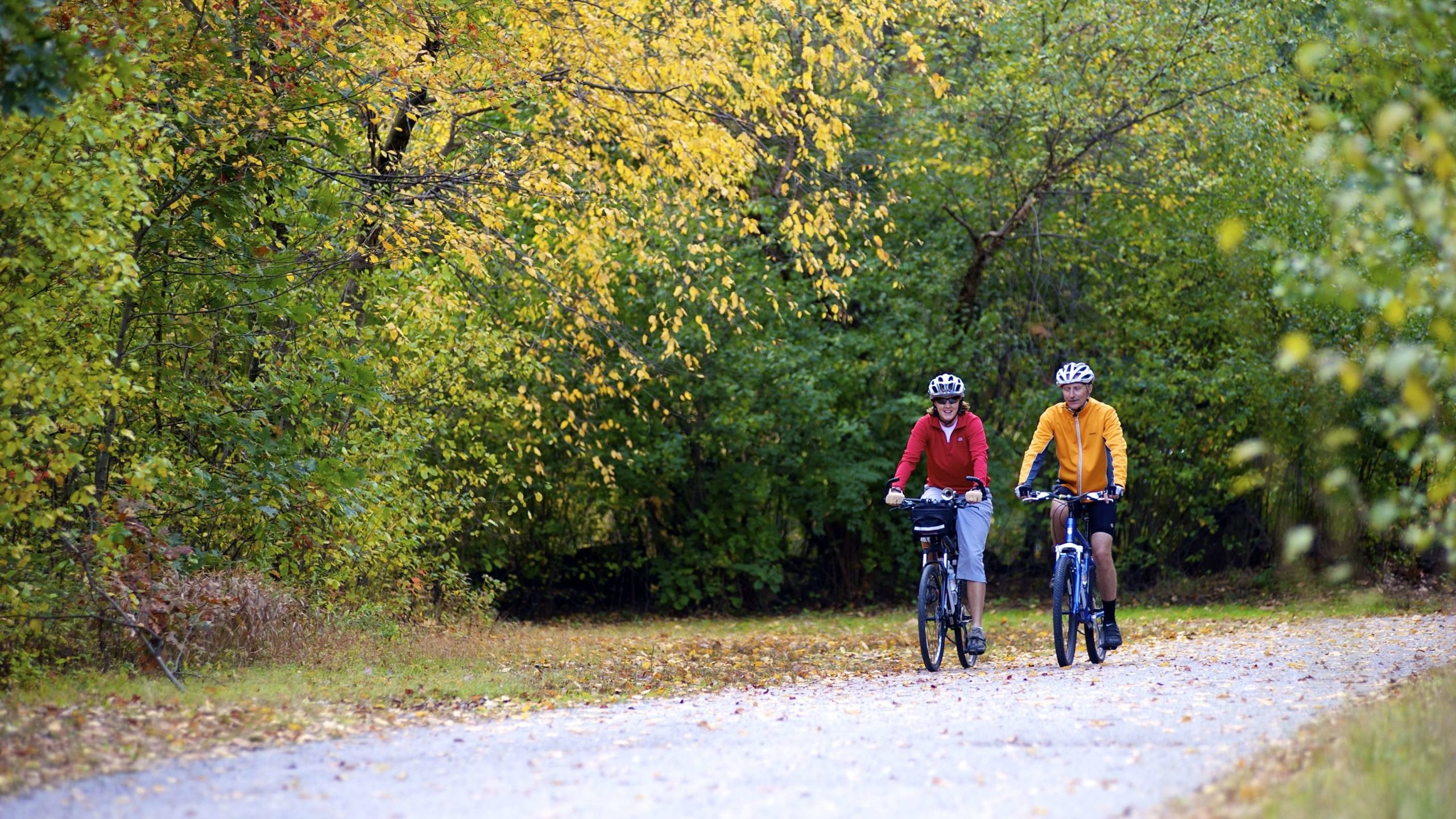 It was the nation's first World Heritage City, and with good reason. Independence Hall, for example, witnessed the signings of both the Declaration of Independence and U.S. Constitution, and anchors a district with dozens of National Historic Landmarks.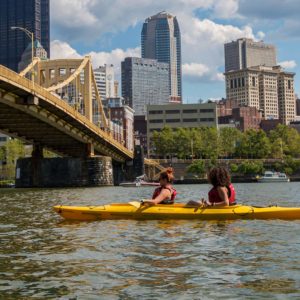 Philadelphia has consistently ranked among the most walkable cities in America. With one of the world's largest city-owned urban park systems, two riverfronts totaling 10,000 acres, and some 270 miles of trails for biking, hiking and kayaking, attendees can be outdoors moments after their meetings end. While there, they can stroll past more public art than in any other U.S. city and join tours by bike, trolley and on foot past sculptures, mosaics, 4,000 murals and colorful street art.
Planners are attracted by the availability of tech and medical speakers from a vibrant local start-up scene and the many dozens of academic specialists from universities and colleges in the greater metro area.
The hotel sphere in Philadelphia is expanding rapidly. There are 13,500 hotel rooms within walking distance of Pennsylvania Convention Center, with its 1 million sq. ft. of space. LEED Gold-certified since 2011, it just upgraded escalator sanitation and added air-handling units, as well as state-of-the-art "digesters" for more efficient and eco-friendly handling of food waste. There's also a $1.5 million art collection.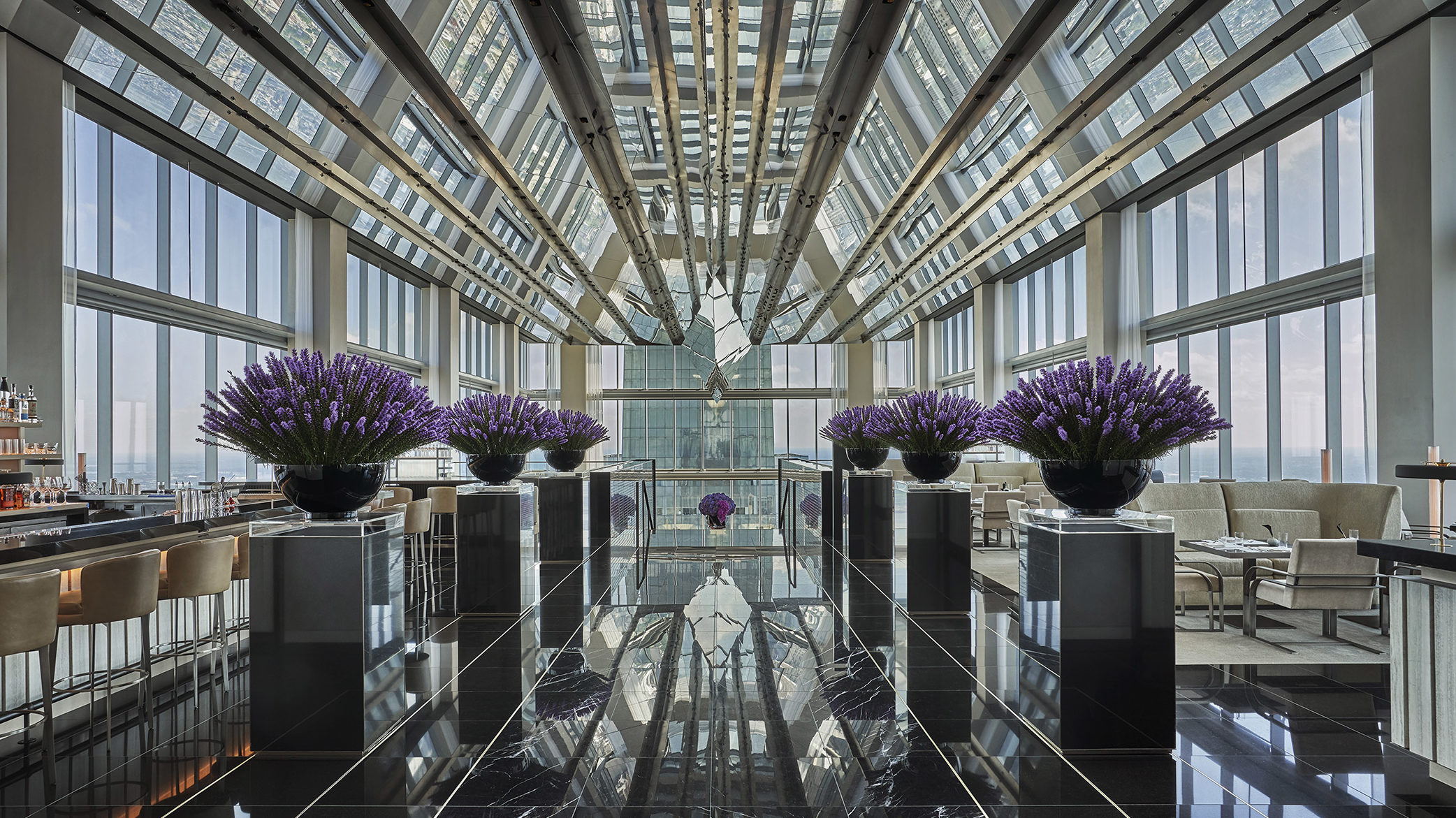 Sheraton Philadelphia Downtown opened in March. The city's second-largest hotel, with 760 guest rooms, it boasts 60,000 sq. ft. of meeting space, three restaurants and stunning views of center city. Four Seasons Hotel Philadelphia At Comcast Center opened in August 2019, on floors 48 to 60 of Philadelphia's tallest building. The hotel offers 258 guest rooms, 15,000 sq. ft., two restaurants, a pool with skyline views and a rooftop lounge.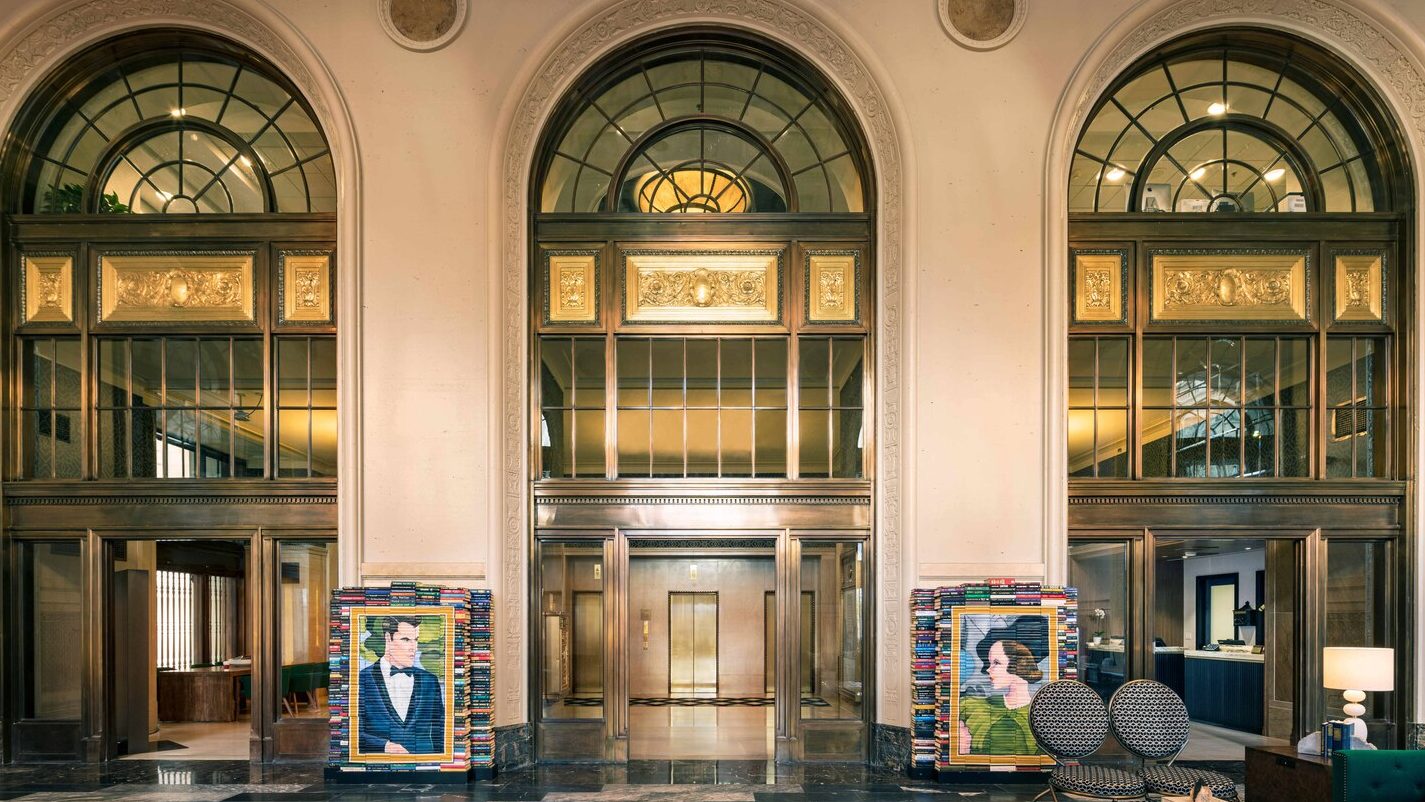 The Notary Hotel, Autograph Collection opened July 2019 in the old City Hall Annex, and the building's $20 million renovation resulted in 499 guest rooms and 10,000 sq. ft. of technologically advanced meeting space. Philadelphia Marriott Old City reopened in January in a former Sheraton property that's been redesigned with a four-story lobby, 364 modernized guest rooms and 21,039 sq. ft.
Canopy by Hilton Philadelphia Center City opened in August in the historic Stephen Girard Building, with 236 guest rooms, 2,606 sq. ft. of meeting space, a restaurant, bar and fitness center. In October, Hyatt Centric Center City Philadelphia, swung open the doors with 332 guest rooms, 7,000 sq. ft., a restaurant, fitness center and retail.
Two new hotels sharing the same building, which is only a minute's walk from the convention center, plan to celebrate December openings. W Philadelphia will have 295 guest rooms, 45,000 sq. ft. of meeting space, a restaurant, pool and fitness center, and Element Philadelphia will offer 460 guest rooms and share event space in the W.
Philadelphia Marriott Downtown, the city's largest hotel, with 1,408 guest rooms and 93,211 sq. ft. of meeting space, will complete a $20 million renovation of guest rooms, public spaces and ballrooms by year's end.
Philly's history endows atmospheric off-site options. For example, Dilworth Park at City Hall is adjacent to majestic City Hall, a National Historic Landmark, and the park's rentable spaces include the vast lawn, fountains and bridge areas, and the Sidebar Cafe.
The Liberty View at Independence Visitor Center offers 25,000 sq. ft. of space that includes a wraparound terrace with great views of National Constitution Center. Attendees also enjoy Water Works, a rentable National Historic Landmark that was the first municipal waterworks in America, with 13,725 sq. ft., indoors and out.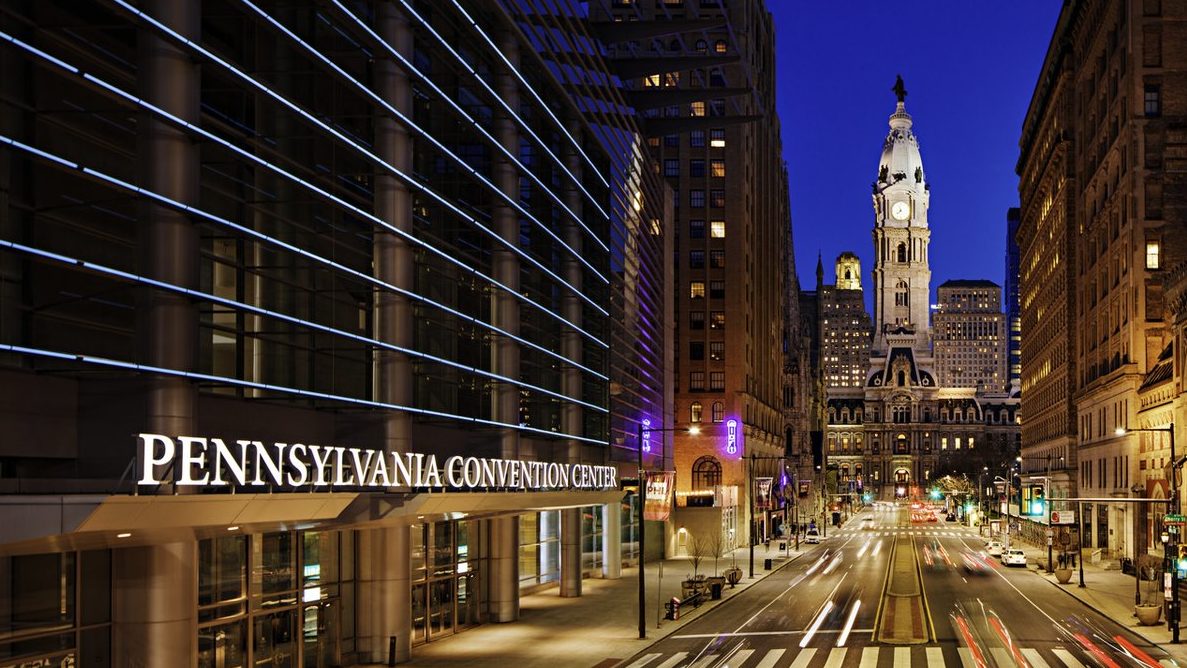 Arlene Kidwell is director of conference logistics for Washington, D.C.-based National Association of Independent Schools. She brought 4,700 attendees to Pennsylvania Convention Center in February for her association's 2020 annual conference. "Our people really enjoyed Philadelphia," Kidwell says. "There's easy access from just about anywhere. The downtown is very lively, with great restaurants and things to do after the meetings. And the historical spots and monuments are of particular interest to a group like ours." Kidwell was also pleased with the layout of the convention center. "All of our meeting rooms were on the same level, and all of the exhibition halls were on the same level," she says.
Pittsburgh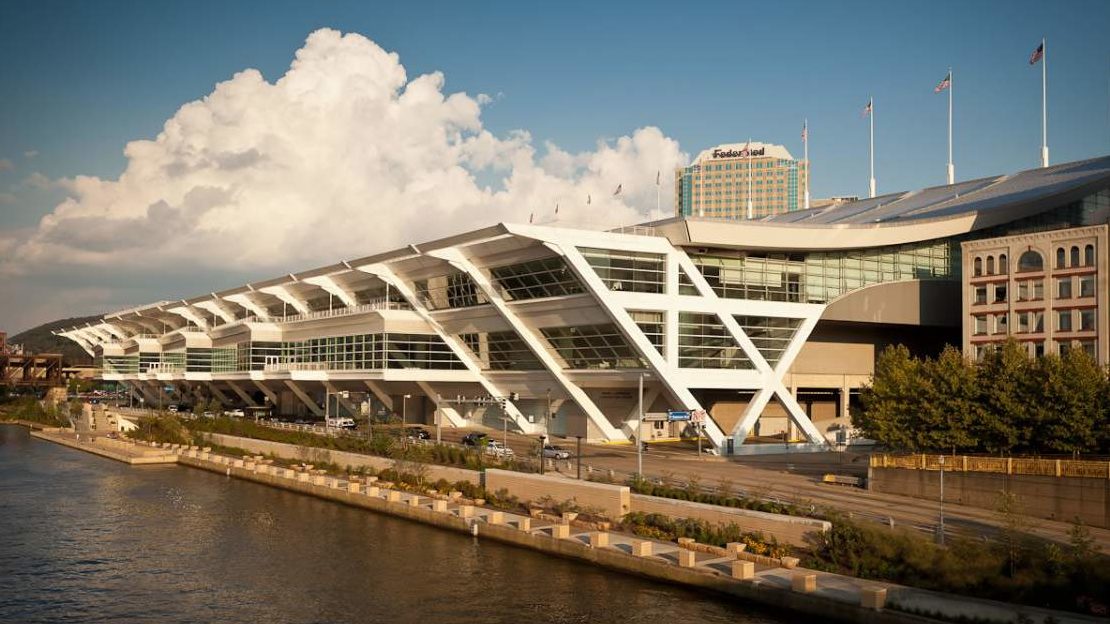 Pittsburgh is a mid-sized city with big-city amenities, and abundant opportunities to get outside.
Once known for smoke-belching steel plants, Pittsburgh is a city transformed, and is now known for robotics, medicine, education, food and the arts. Eight Fortune 500 companies headquartered there and renowned robotics and engineering programs at the University of Pittsburgh and Carnegie Mellon University provide meeting planners with great speakers.
Local folks sometimes refer to Pittsburgh as a city inside a national park. It sits amid rolling green hills, forests, and the merger of the Allegheny and Monongahela rivers to form the Ohio River. And with 24 miles of riverfront biking trails and The Great Allegheny Passage from Pittsburgh to Washington, D.C., this city is a haven for cyclists.
Pittsburgh's compact downtown, one of the city's 90 unique neighborhoods, is alive with restaurants, galleries and hotels. There, attendees can walk from any of the 25 hotels to the convention center; professional baseball, hockey and football; the Strip District, with old warehouses now housing cool shops and nightspots; and the Cultural District.
David L. Lawrence Convention Center offers 1.5 million sq. ft. of meeting space and LEED Platinum certification. It sits at the edge of the Allegheny River, and boasts an on-site water reclamation plant, a ton of natural light and a renovated rooftop on which you can host a meeting or event.
The Oaklander Hotel, Autograph Collection debuted in late-winter 2019, with 167 guest rooms, 3,687 sq. ft. of meeting space and a stylish brasserie. Even Hotel Pittsburgh Downtown opened last December, with 160 guest rooms, 3,000 sq. ft., a fitness center and a restaurant.
Hyatt Regency Pittsburgh International Airport completed a $2.1 million renovation of all 336 guest rooms and the lobby this spring; it features a restaurant and bar and 20,000 sq. ft. of meeting space. Pittsburgh Marriott City Center is wrapping up a $2 million renovation of half its 402 guest-room bathrooms this fall; the hotel has 26,716 sq. ft., a restaurant and bar.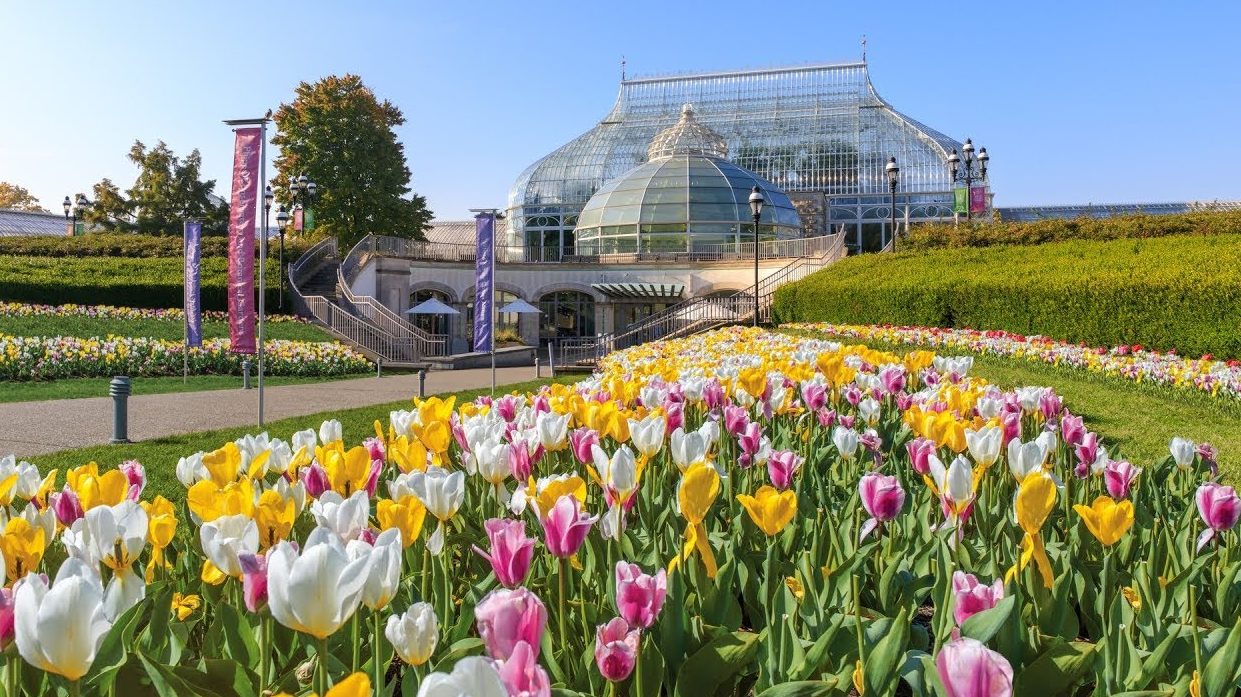 Pittsburgh abounds with attendee-pleasing opportunities to get outside. Phipps Conservatory and Botanical Gardens has one of the stateliest greenhouses in America, along with beautiful gardens. Gateway Clipper Riverboats rents a fleet of paddle-wheelers for a memorable experience afloat.
Point State Park is a National Historic Landmark at the confluence of the three rivers, with a blockhouse from colonial times. Schenley Park has nearly 500 acres of forested trails, and Three Rivers Park runs along the riverfront.
The Monongahela and Duquesne cable cars can lift attendees to the city's highest point, atop Mt. Washington, where they'll have vivid views of the city, the rivers and surrounding hilly terrain.
Diane Morgan is director of meetings and events for Manchester, New Hampshire-based Tree Care Industry Association. She's brought the association's annual expo to Pittsburgh three times, most recently in November 2019, when 1,500 exhibitors and 3,900 attendees gathered for three jam-packed days at the convention center.
"Everything is seamless in Pittsburgh," Morgan says. "The convention center is in the middle of everything, and the CVB and the hospitality community are excellent. There are good restaurants and shops and plenty to do. We had a great event at the football stadium, Heinz Field. And it doesn't hurt that downtown is right on the water, either, and close to beautiful green spaces.
"Pittsburgh works for us. And we'll be going back again," she enthuses.
Resorts
Hersheypark, Hershey
The town of Hershey, and the theme park and hotels that grew up around it, refers to itself as "the sweetest spot in America." Small wonder. The site where Milton Hershey founded America's largest chocolate company in 1903, not quite 100 miles west of Philadelphia, is today both a renowned amusement park and a full-service meetings destination.
Hersheypark is a 121-acre theme park with rides and thrilling rollercoasters, a water park and a zoo. July saw the debut of Chocolatetown, a $150 million addition featuring Candymonium, the park's tallest, fastest and longest rollercoaster, along with a new home for the 100-year-old Carousel. Also found in Chocolatetown is Hyperdeck, a virtual reality experience.
The new Kisses Fountain has also been unveiled, along with more chocolate-themed surprises. In addition, a new full-service restaurant and bar, ice cream parlor and a confectionary store are slated to open next year.
Hershey Resorts is comprised of Smart Meetings Platinum Choice winner The Hotel Hershey, plus Hershey Lodge and Hershey Country Club. The Hotel Hershey is a Forbes Four Star, AAA Four Diamond historic property overlooking the town of Hershey, with 276 guest rooms, 25,000 sq. ft. of meeting space and four eateries. Hershey Lodge is one of the largest convention resorts in Pennsylvania, with 665 guest rooms, 100,000 sq. ft. that is newly upgraded, and six dining options. Another 10,000 sq. ft. of event space is available at Hershey Country Club, along with three golf courses.
In January, Hershey Lodge opened Revelry Chophouse, Bar & Patio, with distinctive chophouse fare and an extensive wine and spirits list. In June, The Hotel Hershey opened a new cafe, Chef's Market, and reopened a renovated Cocoa Beanery, a grab-and-go outlet with coffee, ice cream and Hershey's candy toppings.
Hershey Resorts takes meetings seriously, and offers team-building activities such as the "Chocolate Challenge," where groups build free-standing chocolate structures. Lest you fear it's just for kids, wine, spirits and beer can be paired with these activities.
Attendees also have multiple opportunities to enjoy the outdoors. The Veranda at Hotel Hershey provides 12,450 sq. ft. for outdoor events, and the Formal Gardens offer green space with a touch of elegance. At Hershey Lodge, Swan Lake offers a beautiful pastoral setting of 12,450 sq. ft., while Hershey Country Club has the indoor/outdoor Picard Grand Pavilion, with 3,600 sq. ft. and an all-weather pavilion.
Mount Airy Casino Resort Spa, Mount Pocono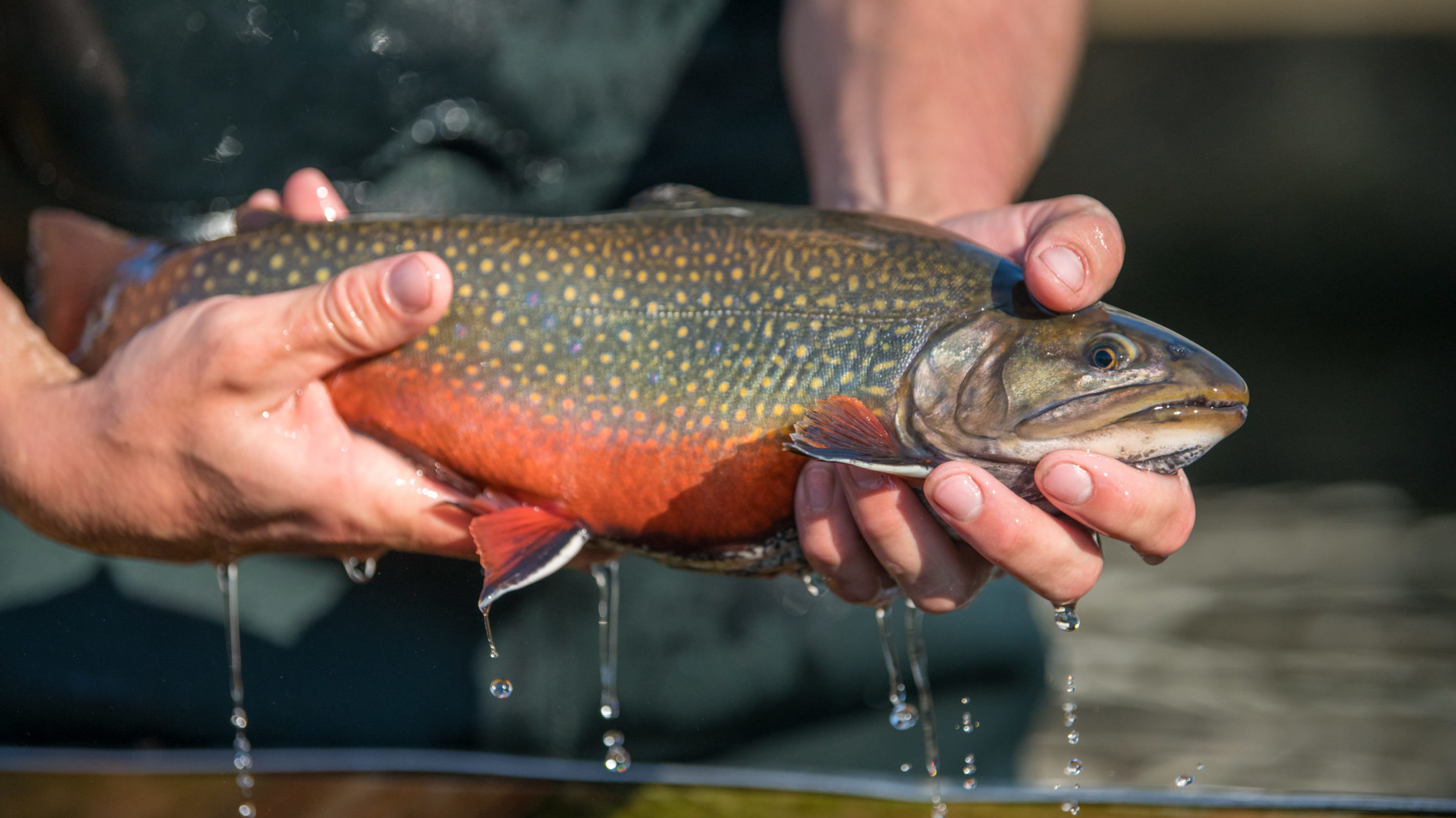 Pennsylvania's first AAA Four Diamond casino resort sits amid the bucolic Pocono Mountains of northeastern Pennsylvania, within 90 minutes of Philadelphia, New York City and northern New Jersey.
Mount Airy Casino Resort Spa offers 288 upscale guest rooms and a 20,000-square-foot convention center/ballroom. There, attendees can sample five signature restaurants, including Guy Fieri's Mt. Pocono Kitchen, award-winning Bistecca by Il Mulino, a pizzeria and an Asian noodle restaurant that also serves sushi. And there's also a Starbuck's.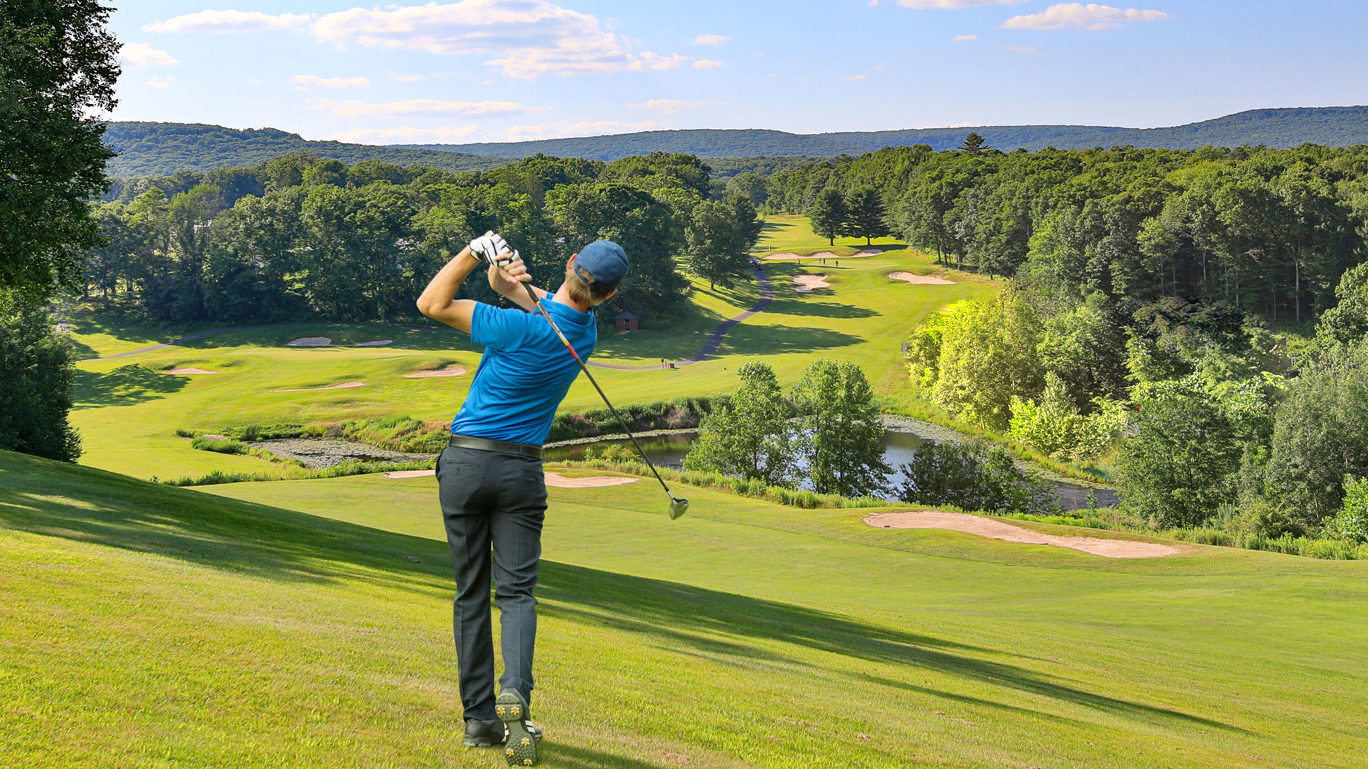 Mount Airy has a lakefront 18-hole golf course; a full-service spa, salon and exercise facility; an indoor/outdoor pool; an entertainment complex; and a covered outdoor pavilion for corporate functions. The convention center/ballroom is a multifunctional, state-of-the-art venue for banquets and corporate events, accommodating up to 750 for dinner and 1,200 for events. In addition, Mount Airy Casino boasts over 1,800 slot machines and 80 table games, and there's a nightclub with live entertainment.
In May 2019, Mount Airy unveiled a $40-million expansion that included the convention center and 100 new guest rooms. Now, meeting attendees are welcomed by a stylish prefunction area with a stunning backdrop of halo-lit panels representing the surrounding mountains. The resort also offers a 15,000-square-foot tented area used for large gatherings such as trade shows.
Mount Airy Golf Club is famous for its design and surrounding natural beauty. There, the resort offers professionally managed golf tournaments, charity events and outings. A full-service clubhouse with a restaurant and bar accommodates groups of up to 128 with tee times and modified shotgun starts.
The outdoor deck at the clubhouse accommodates up to 50 guests for events, with expansive views of the outlying mountains.
It's easy to enjoy the outdoors in more immersive style at Mount Airy, too. Kurmes Paradise Creek Nature Preserve is 400 acres of wooded trails and cool streams. Paradise Trout Preserve is Pennsylvania's first licensed trout hatchery, stocked with trout and bass, and there's equipment for rental. Mountain Creek Riding Stables offers horseback riding, and in winter there's skiing and snowboarding at Camelback Mountain.
A Man on a Sweet Mission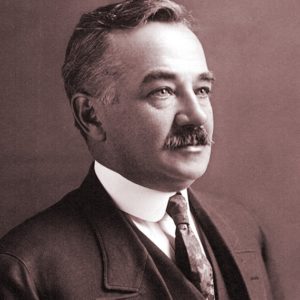 Milton Hershey (1857-1945) was a businessman and philanthropist who pioneered the chocolate bar in America, along with Hershey's Kisses. However, as was often the case with America's greatest entrepreneurs, it didn't come easily.
He was born in rural central Pennsylvania, in Derry Church, and schooled there until the age of 15, when he was apprenticed to a candy maker. There, he developed a fascination for candy production. At the age of 18, after borrowing $150 from his aunt, he set up a candy shop in Philadelphia.
His little shop never really took off, and Hershey eventually ventured out to Denver. It was there he learned to make caramel. He returned to Pennsylvania and started the Lancaster Caramel Company, which became an instant success.
At the Chicago World's Fair of 1893, Hershey was exposed to the art of chocolate-making. Driven by the idea of creating bars of chocolate, he sold his caramel company and launched Hershey Chocolate Company in 1903. Eventually, he became especially fascinated with milk chocolate, which was then pretty much unknown outside of Switzerland…and the rest, as they say, is history.
Hershey was somewhat of a scientist and inventor—he tried countless formulas until he hit on the right one—and he dedicated his life to researching, perfecting, manufacturing and marketing chocolate. Hours after his employees at his new chocolate company had gone home for the evening, Hershey's office light was still on. He worked tirelessly to perfect the mix of ingredients, the ways in which they were blended together and how to mass produce them.
It's fair to say his efforts paid off quite sweetly.