A whopping 42.5 million visitors—a record-breaking 6.6 million of whom were business and convention travelers—made their way to Las Vegas in 2019. Attendees flocked to "only in Vegas" conferences, lured by the wide-open meeting spaces, elevated F&B and entertainment options, outdoor recreation and hyper-focus on hospitality in Clark and Henderson counties.
Whether for business or pleasure, they were all looking for unique experiences under the desert sun of southern Nevada. Without question, Vegas is big, and getting bigger.
That mega-footprint of nearly 150,000 hotel rooms and more than 11 million sq. ft. of meeting space is expanding—some might say exploding—still more in the next 365 days. With 1.4 million sq. ft. of expanded Las Vegas Convention Center (LVCC) space set for ribbon-cutting in December, 550,000 sq. ft. coming online this month at Caesars Forum, 875,000 sq. ft. of technological wonder in the shape of the world's largest man-made globe—MSG Sphere—nearing 2021 completion, and Wynn Las Vegas' 430,000-square-foot expansion of its meeting space, there will soon be 3.255 million new ways to book in the entertainment capital of the world.
Oh, and more than 1,000 flights land at McCarran International Airport (LAS) daily, making getting to the meeting easier than ever.
It's time to take a closer look at all the high-tech, low-emission features being baked into these brand-new spaces.
LVCC Phasing In
Some 22,000 exhibitions come to the dazzling desert city each year—22,001 if you count the recent announcement that OpenWorld, Oracle's annual conference, is taking its 60,000 attendees to Vegas this year. It will be joining many of the largest conferences in the country that already call Las Vegas home.
In January, CES brought 175,000 people from all over the world to town for the most anticipated consumer electronics show of the year. Displays of ingenuity included advanced 5G devices, gaming and VR wearables, plus drones of all types. Informa Markets produces 25 shows each year in the city, including World of Concrete, which brought 60,000 attendees in February. The company recently set up a full-service office in the city to better serve clients. "Informa Markets understands the value the city of Las Vegas provides our customers," said Executive Vice President of Corporate Development Ken McAvoy.
Those conferences will realize even more value as Las Vegas Convention and Visitors Authority (LVCVA), which owns LVCC, finishes up a three-phase expansion and renovation that could put Captain Kirk's USS Enterprise to shame.
A modern spin on the networked space started with the demolition of the old Riviera hotel (It will live on as the backdrop to Ocean's 11, Austin Powers and Vegas Vacation), followed by construction of 1.4 million sq. ft. of new space. LVCC Phase Two Expansion will add 600,000-square-foot West Hall, increasing the total LVCC campus exhibition space to 2.5 million sq. ft. Another 150,000 sq. ft. of meeting space is flexible enough to house 80 individual breakout sessions and can be configured to make even a 100-person group feel special.
The building will present a modern face, thanks to the addition of an undulating porte cochere with a geometric architectural design. It will shelter an outdoor terrace that can hold up to 2,000 people and offers Insta-worthy city views. The interior features a calming vibe with an abundance of natural light.
The entire structure is wired to serve the most advanced meeting needs. Interactive LED screens, integrated audiovisual equipment and high-speed connectivity pave the way for even bigger tech events in the future. Strategic architectural elements also make safety provisions easier and more efficient.
Phase Three will bring the existing 3.2 million sq. ft. of space at the 60-year-old existing facility up to date by 2023.
Construction for the LVCC expansion and renovation project has been planned in phases, so space will always be available to accommodate groups as upgrades take shape in other areas. In Vegas, the show must always go on.
Caesars Forum Lighting Up
On March 18, Caesars Entertainment celebrates the opening of the massive, roll-up glass doors on two of the largest pillarless ballrooms (at 110,000 sq. ft. each), buffered by two 40,000-square-foot ballrooms and six boardrooms. Caesars Forum is designed to earn LEED Gold status, with elevated recycling efforts, an array of solar panels and a host of other eco-friendly features. It will be served by a dedicated kitchen ready to dish up restaurant-quality food at convention scale.
The Forum will be within walking distance of eight Caesars properties and more than 20,000 Caesars guest rooms. The 100,000-square-foot outdoor plaza will open onto Linq Promenade, newly renovated Flamingo Las Vegas, Harrah's Las Vegas and The Linq Hotel and Casino, with direct access via a skybridge and pedestrian bridge.
Caesars Entertainment Vice President of Sales Lisa Messina reported that her team had already booked more than $300 million in business months before the property opened. One of its first high-profile events will be NFL Draft. Selection Square, team tables where representatives from each club make their draft selections, will be on the Forum Plaza; and Main Stage will rise from the adjacent open space for televised moments of instant fame as draftees don their new colors in front of cheering fans. The excitement will spill out onto the rest of The Strip with the Red Carpet ceremony overlooking Fountains of Bellagio.
"Embracing Las Vegas' unique energy and iconic locations as the backdrop for the 2020 NFL Draft will further elevate this growing event," said Peter O'Reilly, NFL executive vice president of club business and league events. Steve Hill, CEO and president of LVCVA, explained the synergy this way: "Our destination prides itself on creating unforgettable and epic events and experiences, and we believe the 2020 Draft will be among the most thrilling events Las Vegas has ever hosted. We look forward to welcoming hundreds of thousands of NFL fans to our world-class destination."
In other words, just another day in the leading sports and entertainment city in the world.
Allegiant Stadium Nearing End Zone
The destination has become a top-tier sports city, hosting high-profile sporting events, such as championship boxing, National Finals Rodeo, NASCAR, NHL's Vegas Golden Knights, WNBA's Las Vegas Aces, Las Vegas Lights Football Club, Las Vegas Aviators—and, soon, the NFL's Raiders. One of the cherished views out the windows of Mandalay Bay is the rapid construction of a metal donut that will be Allegiant Stadium, next door to T-Mobile Arena. The name is a billboard for the hometown airline travel company that bought the naming rights to the new home of the Raiders and University of Nevada Las Vegas football  games. The 1.75 million-square-foot property has already booked Las Vegas Bowl, along with the 2020 and 2021 Pac-12 Football Championship Game—and it doesn't open until this fall.
Raiders President Marc Badain compared his team's move to its new digs to players donning their new uniforms in the draft. "Just as the NFL journey begins on draft weekend for many young players, the Silver and Black's journey in the Sports and Entertainment Capital of the World is also just beginning," he said.
Not all Nevada sports require pads: some operate joysticks. Esports is another rapidly developing market segment supported by large-scale event venues in Las Vegas, including the HyperX Esports Arena at Luxor Hotel & Casino and Millennial Esports in downtown Las Vegas. Meeting professionals are finding these wired spaces perfect for AV-heavy programs and fun team building.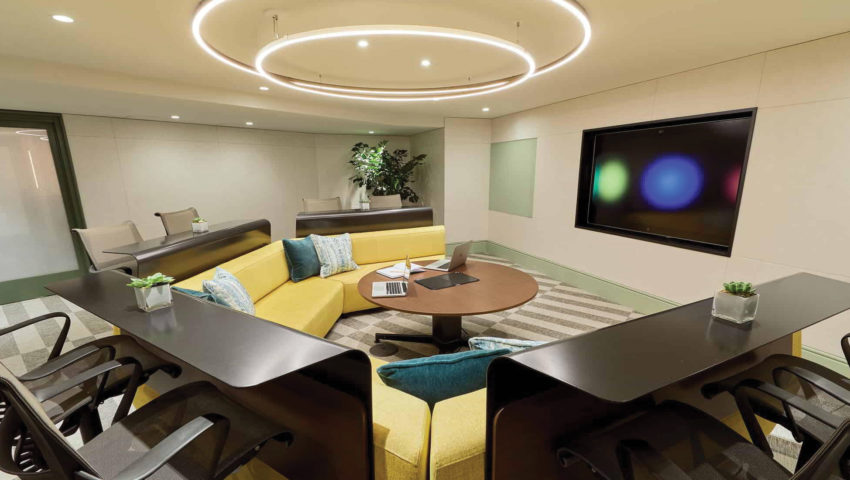 New and Newer
Another of the new kids on the block is MGM Grand Conference Center's recent 250,000-square-foot expansion. The facility now offers a total of 850,000 sq. ft. of meeting space, including an entire floor for Stay Well Meetings equipped with advanced air purification, circadian lighting, healthy menu options and guided meditation to refresh, adjust, nourish and engage—a program designed with guidance from Deepak Chopra and Cleveland Clinic. Although MGM Resorts International sold MGM Grand, Bellagio Hotel and Casino, and Mandalay Bay this year, it has retained a stake in the properties and will operate the casinos.
Also new in the last two years are Park MGM (2,605 guest rooms and 77,000 sq. ft. of meeting space) and NoMad Las Vegas (293 guest rooms) in the former Monte Carlo footprint. Park MGM is home to Ideation Studio, 10 meeting rooms powered by Cisco Webex tech that make a big deal out of small meetings, with smart monitors and shared reception areas. And 5,200-seat The Park Theater features regular shows by the likes of Lady Gaga, Bruno Mars, Cher and Aerosmith.
Good news at the other end of The Strip. The Expo at World Market Center Las Vegas' 315,000 sq. ft. of exhibit and prefunction space is being built downtown to house Gift & Home Temporaries, but the dedicated trade-show floor—with 3,000 parking spaces, an expansive lobby area, a registration area, an on-site shuttle bus depot and two permanent "grab and go" food service areas—will be a resource for conferences looking for a home outside those dates.
Meanwhile, Wynn Las Vegas is more than doubling convention space at Wynn and Encore by adding 300,000 sq. ft., raising the total to 560,000. A 20,000-square-foot outdoor pavilion with a 20,000-square-foot adjacent lawn offers a transition to a new 18-hole championship golf course.
A partnership with Cox Business and Hospitality Network powers dedicated high-speed internet service in the Wynn ballrooms. "It's imperative that guests to our convention space have a dedicated and dependable online experience, from presentations to personal-device connectivity," said Chris Flatt, executive vice president of hotel sales at Wynn Las Vegas.
The dinosaur-sized skeleton of a building originally planned as a Fontainebleau is being reimagined as The Drew Las Vegas. With a planned opening date of November 2022, the vision is an open design with lots of natural materials and 3,719 guest rooms under three flags, including Edition and JW Marriott. Plans call for more than 550,000 sq. ft. of meeting space and a massive casino level.
Moving, Vegas-Style
Once the LVCC expansion is in place, the trek from one side to the other will exceed a mile. That left the destination looking for a fun, innovative solution for getting people who don't have the time to make the walk to their destination. The trip from the new Exhibit Hall to North/Central Hall takes about 15 minutes by foot.
LVCVA charged Elon Musk's The Boring Company with building an underground transportation system. Turbo-charged boring machines averaging 100 feet a day are making speedy, if silent, progress on twin tunnels 40 feet underground. Automated Tesla vehicles will ferry conventioneers on the 1.5-minute ride at speeds of up to 35 miles per hour. The attraction is slated for completion by January 2021.
"This could herald the future of urban transportation," said LVCVA Senior Vice President of Communications and Government Affairs Lori Nelson-Kraft.
Potential future extension of the route could offer the same weather-proof, traffic-proof transportation to hotels on The Strip, McCarran International Airport (LAS) and, eventually, all the way to Los Angeles.
"Vegas likes to be the first," Nelson-Kraft said.
Rewired
Even legacy properties are upping the ante on tech as they prepare for new waves of attendees checking in. Caesars Entertainment offers Ivy, a 24-hour virtual concierge that makes everything from show reservations to housekeeping requests just a text away.
The Cosmopolitan of Las Vegas introduced Rose (pictured), a real-time text messaging service with attitude that can give a tour of the property and help you check out.
At Aria Resort & Casino and Vdara Hotel & Spa, interactive tablets act as guest-room digital-control centers to facilitate room and spa services.
Rising Star Sports Ranch Resort in Mesquite deploys Champ, a robot that delivers room service and provides additional safety for guests.
To make it easier for visitors to find out what they need quickly, LVCVA launched Lili Chat Bot during IMEX and now facilitates direct RFP submissions through VegasMeansBusiness.com. Additionally, the WeChat Go campaign attracts international visitors with help from Chinese gaming company partner Tencent. Meet Vegas offers personalized information and services in applets for Chinese visitors.
New Look, New Life
The push to keep the destination fresh has created an "arms war" that has built up the supply of breakout rooms, creative restaurant concepts and Instagram opportunities that benefit meeting professionals on a quest to attract their biggest groups.
The former Stratosphere, Casino, Hotel & Tower has new owners, a new name and elevated cuisine options. The 2,427-room Strat Hotel, Casino & SkyPod was christened in January by owners Golden Entertainment. The SkyPod, located at the top of the iconic, 1,149-foot-high tower, boasts Top of the World, a 360-degree rotating dining room.
At Treasure Island Las Vegas, or TI as the cool kids call it, all 2,163 guest rooms are being refreshed, and culinary outlets are being modernized to the tune of $60 million. Owner Phil Ruffin just purchased Circus Circus Hotel & Casino from MGM Resorts, and it is in line for its own reimagination.
Just south of The Strip, M Resort, Spa, Casino Las Vegas' 390 guest rooms and 92,000 sq. ft. of meeting space makes small groups feel special. And a new Topgolf Swing Suite with virtual, multisport games has team building covered.
Another off-Strip, but in-the-middle-of-everything property upgrading its meeting cred is South Point Hotel & Casino, which has 2,163 guest rooms, a 64-lane bowling center, a 16-screen movie theater and a 22-room spa. The 180,000 sq. ft. of meeting space includes a pavilion with 80,000 sq. ft. of usable space and a covered equestrian arena.
Tropicana Las Vegas, a DoubleTree by Hilton property, is delighting attendees with its new 12,000-square-foot Havana Room meeting space, anchored by a stunning crystal chandelier and a dramatic dance floor. It boasts 1,470 guest rooms, a 25,000-square-foot ballroom and a 55,000-square-foot exhibit pavilion.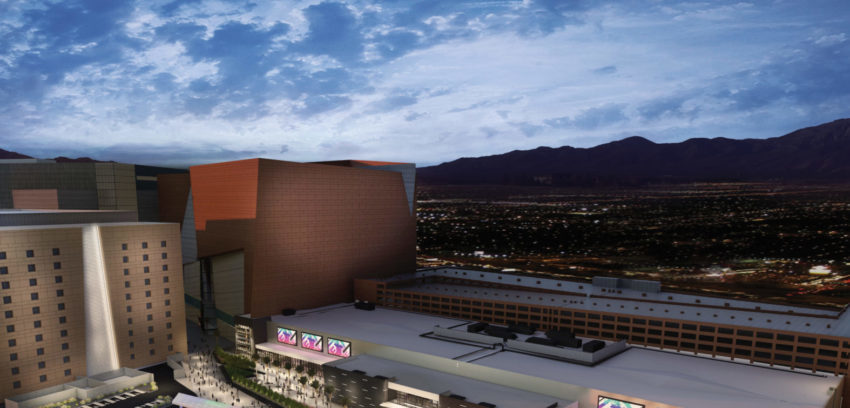 A Global Destination
The audience for Las Vegas events is international. World Trade Center Las Vegas celebrated its 10-year anniversary this year by welcoming 150 international delegates from 20 world trade centers during CES.
Karen Gerwitz, president of World Trade Center Denver, explained that World Trade Center Association, which is headquartered in New York City, supports an ecosystem of worldwide connections. That made the gathering at the global technology conference a perfect place to exchange ideas and get a look at plans for flying taxis and earbud translation devices.
"When we support each other and innovative companies, everyone wins," she said.