Attendees have more choices than ever for spending their most precious resource—their time. They want to know that the return on the experience at a conference will be both educational and entertaining. Planning an event in a city that is pioneering advances in everything from technology and sustainability to F&B and wellness is one way to ensure your event is relevant. A meeting in Las Vegas can elevate the appeal of your next event while simplifying the workload.
Wisdom in Crowds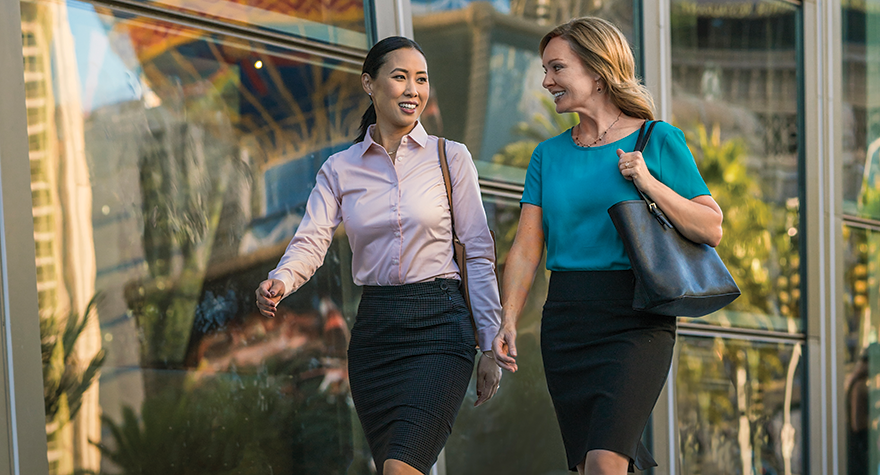 Las Vegas is the world's leading destination for business travel for good reason. Las Vegas is equipped to host large-scale events and a diverse number of smaller meetings simultaneously. The destination is home to approximately 150,000 hotel rooms in some of the top resort properties, providing an incredible value proposition for travelers.
McCarran International Airport (LAS) offers 1,000 daily nonstop flights from U.S. and international cities, making Las Vegas a fantastic option when considering time and budget. And, since Las Vegas is a 24-hour town, business travelers can maximize their time on the show floor without missing out on the incredible offerings available throughout the destination.
More is Better
It's an incredibly exciting time to host an event in Las Vegas. In addition to the Las Vegas Convention Center expansion and renovation, continued investment in the meeting and convention industry remains strong in Las Vegas with nearly 3.5 million additional sq. ft. of meeting space coming online in Las Vegas within the next five years. Large-scale convention and exhibit projects throughout the destination include the recently completed 250,000 sq. ft. MGM Grand Conference Center expansion. Projects slated for completion in 2020 include the 550,000 sq. ft. Caesars Forum, 430,000 sq. ft. Wynn Las Vegas meeting space expansion and the 315,000 sq. ft. Expo at World Market Center.
Innovation in Action
As the home of CES, the largest consumer technology show in the world, Las Vegas is synonymous with innovation. A significant testament to Las Vegas' resolve to elevate standards in technology and hospitality is the recent approval of LVCVA's agreement with Elon Musk's The Boring Company to design, construct and operate a people mover for the Las Vegas Convention Center via a loop of underground express-route tunnels that could carry passengers in autonomous electric vehicles at high speeds.
In September, LVCVA launched 'Lili' as a tool for meeting and planners. Lili is a chatbot that utilizes artificial intelligence to engage visitors on vegasmeansbusiness.com to assist with their planning and booking needs. Many of the properties include emerging tech in their amenities, including Vdara's autonomous indoor robots Fetch and Jett, Caesars Entertainment's virtual concierge Ivy, The Cosmopolitan of Las Vegas' text messaging service Rose and Aria Resort & Casino's digital tablets to control conditions in the guest room.
Recently, LVCVA celebrated new developments in its partnership with Tencent and WeChat with the announcement of a new mini program on the WeChat Go platform. The launch of the "Smart Event Smart Travel" WeChat go campaign is aimed at enhancing the Chinese business traveler experience by communicating using China's largest social media platform.
A Competitive Mindset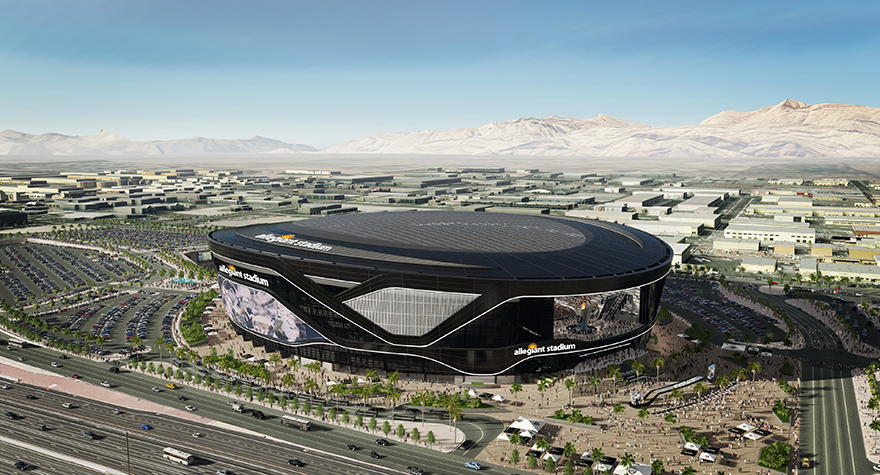 If you can dream it, you can do it in Las Vegas. The destination is rapidly evolving as a top sports city where opportunities to create memorable group experiences are endless. The city has a long history of hosting high-profile sporting events such as boxing, National Finals Rodeo and NASCAR. The addition of new teams and venues including the NHL's Vegas Golden Knights, WNBA's Las Vegas Aces, Las Vegas Lights Football Club, Las Vegas Aviators at the Las Vegas Ballpark and the highly-anticipated arrival of the NFL's Raiders franchise at the developing Allegiant Stadium has only added to this enthusiasm. Esports is another rapidly-developing market segment supported by large-scale event venues in Las Vegas, including the HyperX Esports Arena at Luxor Hotel & Casino and Millennial Esports in downtown Las Vegas.
Some additional options for groups include the introduction of outdoor event spaces, which allow guests to rejuvenate and expand their experiences beyond the walls of the meeting space. With more than 320 days of sunshine annually, Las Vegas has become popular as a place to embrace the great outdoors.
CSR Made Easy
Several Las Vegas-based trade shows have developed environmentally conscious programming for attendees. Some events, including IMEX-America, which hosted 14,000 event professionals at Sands Expo Center, encouraged exhibitors to sign a pledge detailing green initiatives. Other groups have worked with vendors to assure booth materials are donated or recycled when the show floor closes.
Corporate Social Responsibility (CSR) initiatives are also of great importance to many events taking place in Las Vegas. Whether it is National Hardware Show donating $25,000 to Veterans Village and supplies to Opportunity Village or National Automobile Dealers Association helping to reopen an Auto Skills Center at Nellis Support Teams, LVCVA can connect event organizers with local agencies to develop meaningful programming that engages attendees.
Elevated Culinary Opportunities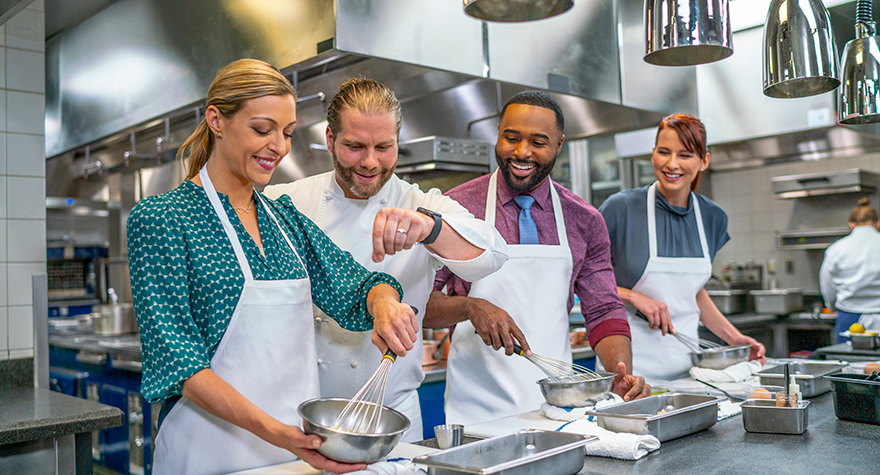 As the Entertainment Capital of the World, it stands to reason Las Vegas is also a natural fit for some of the world's top culinary talent. In addition to attracting top restaurants, many properties offer custom dining packages and experiences to meet event needs of all varieties. Options range from developing a creative conference menu inclusive of a wide range of dietary needs to group dining experiences that may place attendees in the kitchen, creating exciting meals or seated at an elaborate table scape on an iconic Las Vegas stage. You may even have the opportunity for attendees to mingle with celebrity chefs. Tour operators offer intimate dining experiences showcasing several restaurant properties and Las Vegas landmarks.
Las Vegas is a destination rooted in hospitality and reinvention. Whether attendees arrive for their first visit, or their first visit in a while, they will be amazed by the development, innovation and opportunities taking shape in southern Nevada.