Hello Wood's Tunnel Through Time, Toronto
Live the heritage of Montreal, Quebec City and Toronto with hyper-local adventures
The Eastern Canadian cities of Montreal, Quebec City and Toronto offer planners a cornucopia of outstanding choices when planning group itineraries. Each satisfies even the most discriminating planners' wish lists—rich history, tantalizing culinary options, fabulous attractions, world-class hotels and other superb meeting spaces. The choices can be narrowed down for groups seeking hyper-local experiences—including themed attractions—that are central to the cities' identities.
Toronto's themed attractions are reflective of the city itself," says Tara Gordon, vice president of sales and service for Business Events Toronto. "Our museums, festivals and events showcase the history of the city and its people. Toronto has always offered the best of modern Canada. Naturally, that is something that has evolved with the times, as have the attractions that we offer to visitors."
Besides themed attractions, many other experiences—including activities and visits to historic areas—can help groups to not only better understand the three cities, but also feel immersed in them. These experiences can help to educate, inspire and energize attendees at meetings, and have a lasting effect after they return home. Here are a few of the best options that await groups.
Montreal
Canada's second largest city, with 1.8 million people, Montreal boasts an intriguing history and is considered the cultural capital of Canada. French is the mother language, making Montreal the second-largest Frenchspeaking city in the world, behind Paris. It's one of the most diverse cities in North America and has a European flavor, making it a very desirable meetings destination.
"Montreal is a great place for meetings for many reasons, including its location, accessibility, European vibe and great installations, including the convention center and hotels," says Michel Bourdon, vice president of sales and convention services for Tourism Montreal. "Montreal is also a perfect bleisure destination, laid back, a foodies' paradise and a safe city. And creativity is in our DNA."
This creativity is clearly evident in the city's many stimulating attractions.
Themed Attractions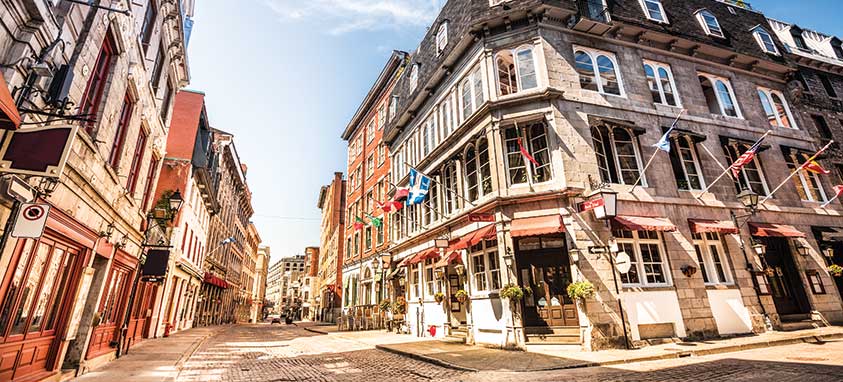 Groups seeking to experience a mix of the city's heritage and modernity often head to Old Montreal (Vieux-Montreal), an easily walkable neighborhood in the center of town. It features intriguing historical sites, quaint cobblestone streets and striking early architecture, along with trendy shops, ultramodern art galleries, and outstanding restaurants and hotels.
Old Port of Montreal also blends the new and the old. Dating back to 1611, it is the original port of Montreal, and features impressive historic buildings as well as many types of cultural and entertainment offerings, such as culinary, sports, music and outdoor festivals. It boasts a beach, marina, skating rink, Montreal Science Centre, an IMAX theater and Montreal Clock Tower. It offers riverfront access for walking, cycling, roller-blading and paddleboating.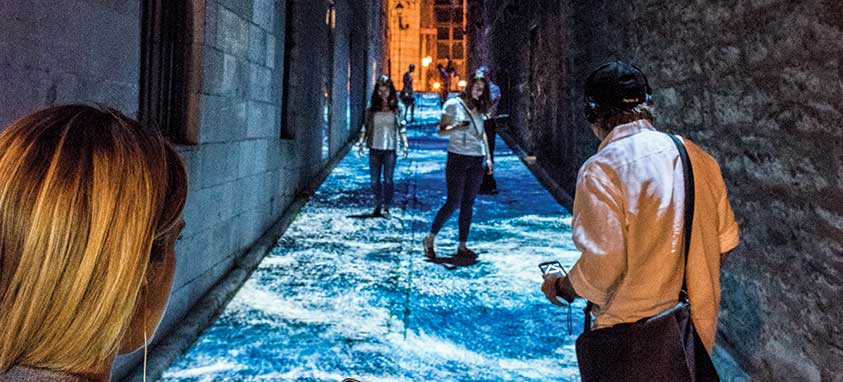 A novel and compelling way to learn about Montreal's history is offered by Cite Memoire, which invites groups to meet a tableau of characters who experienced the city's evolution first-hand during different periods. The tableau—featuring images, words and music—is projected on walls, the ground and trees, among other places, in Old Montreal, Old Port of Montreal and Fairmont The Queen Elizabeth Montreal.
Notre-Dame Basilica of Montreal was the first Gothic Revival-style church in Canada. The style marked a turning point in the Catholic tradition and was imitated by several parishes. Notre-Dame's history is closely tied to the history of the city, including the connections between arts and religion. A 60-minute grand tour, available to groups of 10 or more, provides access to very private areas of the Basilica and the urban legends surrounding it.
Another option is to attend Aura, described as "a luminous experience in the heart of the basilica." It begins on a path of lights, revealing the basilica's exquisite works. "A progressive immersion into a sonically and visually captivating universe guides visitors to the heart of the heart of Notre-Dame," the basilica's website states. "Then, light, orchestral music and grandiose architecture combine to create a unique, three-act multimedia spectacle."
Meeting Facilities Update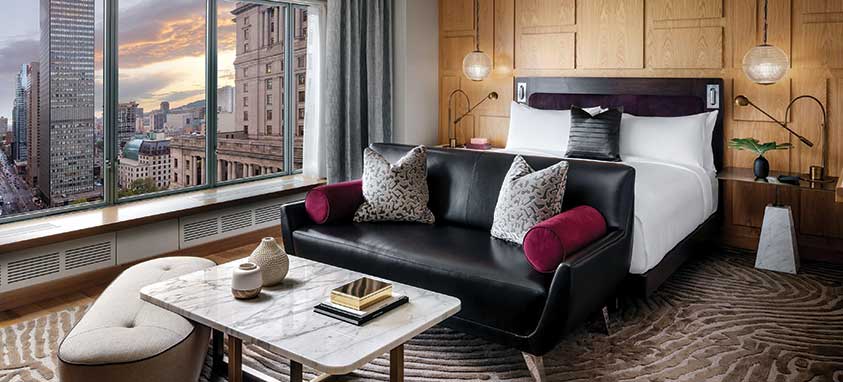 Fairmont the Queen Elizabeth Hotel, which is celebrating its 60th anniversary, has completed a yearlong renovation that added a restaurant, bar and coffee lounge; an urban market; and a multipurpose venue, Agora, featuring dynamic programming, pop-up shops and more. The property offers 950 guest rooms and 85,000 sq. ft. of convention space.
Hyatt Regency Montreal, a four-star property in the heart of the city's downtown festival zone, opened 269 new rooms in 2017 to bring its total to 595. It also offers 35,000 sq. ft. of meeting space, including a 7,540-square-foot grand ballroom.
The $400 million Four Seasons Hotel Montreal, an 18-story, mixed-use downtown complex, is scheduled to open in December with 163 guest rooms and 18 residences, world-class restaurants, a state-of-the-art spa, an indoor pool, a fitness center and meeting spaces.
The sleek, 20-story Hotel Monville, a member of Preferred Hotels & Resorts, recently opened with 269 guest rooms. The four-star property, situated between Old Montreal and the business district, also offers a rooftop terrace with spectacular views and 9,102 sq. ft. of meeting space, divided among 10 rooms.
Le Mount Stephen, housed in an Italian-Renaissance mansion that was a private club for much of the 20th century, recently was unveiled as a sumptuous boutique property with 90 ultra-modern, colorful guest rooms and more than 6,500 sq. ft. of elegant meeting space, including three ballrooms.
Dating back more than 100 years, Alexandra Pier has completed a multimillion-dollar renovation. It is the first Montreal point of entry for cruise ships and now provides better access to the Saint Lawrence River, while offering a network of public spaces that better integrate it into the urban fabric of Old Montreal. Its meeting spaces can accommodate up to 3,000 people.
Quebec City
Quebec City, the capital and soul of Quebec Province, fully embraces its French-Canadian identity. Boasting a population of more than 530,000, it is one of North America's oldest and most magnificent settlements; it was founded in 1608, and has the only remaining fortified walls in the Americas north of Mexico. The picturesque Old Town area is a UNESCO World Heritage site, and features narrow, cobblestone streets, 17th- and 18th-century houses and soaring church spires.
"Quebec City has a rich, 400-year history that seamlessly mixes with its dynamic economy and innovative culture to create an unparalleled destination," says Ann Cantin, director of communication and marketing for Quebec City Business Destination (the official convention bureau) and Quebec City Convention Centre. "We are very proud of our uniqueness, and our venues and attractions perfectly showcase this. From the restaurant of our Parliament, Le Parlementaire, to restored buildings, meeting planners have a plethora of charming choices to get attendees to experience Quebec City's uniqueness."
Themed Attractions
Designed by Eugene-Etienne Tache, the Parliament Building is a monument to the significant people in the history of Quebec and French America. Built between 1877 and 1886 and inspired by the expansion of the Louvre in Paris, it was recognized as a National Historic Monument in 1985.
Group tours lasting 45 minutes can be arranged, and provide insights into Quebec's history, including the history and workings of Quebec's parliamentary institutions and the Second Empire-style architecture of the Parliament Building and the many works of art it houses. Groups might also want to dine at Le Parlementaire, a magnificent beaux-arts dining room that offers a menu suitable for even the most refined palates.
Executive Praise
"Toronto hosted ASAE's Annual Meeting and Exposition in 2009. They did such a great job that we knew we had to return to the city again. Usually, in the host city, one event tends to fall short of our members' expectations, but not in Toronto. Every evening event was well attended and received high marks from attendees, and the events were so different that the city of Toronto was showcased beautifully."
–Pamela A. Troop, CMP, director of meetings, operations and special events, ASAE
Trees, shrubs and plants representative of the wide variety of flora native to Quebec can be observed when walking around gardens surrounding the Parliament Building.
Musee des Beaux-Arts du Quebec (National Museum of Fine Arts of Quebec), situated in the heart of National Battlefields Park, contains four pavilions that house more than 38,000 works dating from the 17th century to the present. It's an outstanding venue to better understand Quebec life and culture, since the vast majority of the works were created by Quebec artists. Group tours for 15 or more are offered, and elegant reception rooms, hosting up to 1,500 people, can be rented.
Central to Quebec City's identity, Le Monastere des Augustines (Augustinian Monastery) is devoted to the heritage and memory, as well as the social and spiritual works, of the Augustinian Sisters. It is located in the historic wings of the former Hotel-Dieu de Quebec monastery, founded in 1639 as the site of the first hospital in North America north of Mexico.
The monastery's museum features selected items from 40,000 artifacts drawn from the Augustine Sisters' 12 monastery hospitals. They vividly capture the community's work in caring for the sick, and how they balanced their traditional vocations for action and contemplation. Guided, group tours are available. The monastery also has a restaurant featuring local, organic foods.
"This restored monastery is truly unique," Cantin says. "It offers meeting rooms and holistic experiences to better balance attendee experience. This is an exceptional example of a venue incorporating the city's history while honoring its heritage."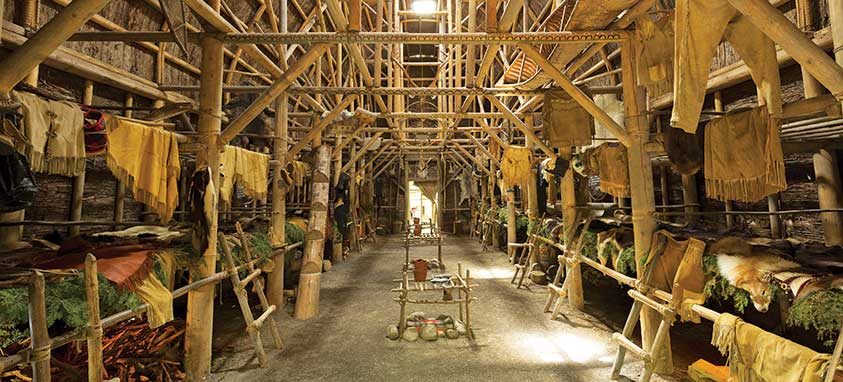 Huron-Wendat Museum, which opened in 2008, was created to protect and promote the heritage of the Wendat people, who once numbered 40,000, in about 30 local villages. It features a permanent exhibit, an ongoing program of temporary exhibits, and several activities and themed workshops. The museum is also a gateway to Wendake Reserve's many heritage sites, such as Notre-Dame-de-Lorette Church and Kabir Kouba Waterfall. Fourteen meeting rooms, including a ballroom, can be rented.
Meeting Facilities Update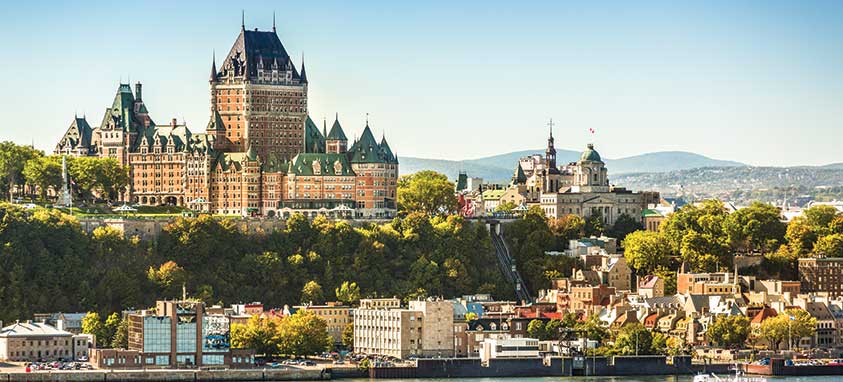 The most photographed hotel in the world, Fairmont le Chateau Frontenac, underwent a $75 million upgrade to commemorate its 125th anniversary. The upgrade blends many more modern touches with the hotel's historic charm. The lobby's color scheme was converted to blue, brightening it up while paying tribute to the ice floes of the St. Lawrence River. LED lighting was installed, and rooms were refurbished and refurnished with modern decor. Chateau Frontenac, which offers an elegant touch of France, provides 611 guest rooms and 40,000 sq. ft. of meeting space.
Situated on a private beach on Lac-Beauport, 166-room Entourage Sur-le-Lac Resort opened last year, and melds modern design, wide-open spaces, gourmet food, a wide array of activities and entertainment options, and more than 6,300 sq. ft. of flexible meeting space.
Voltigeurs de Quebec Armoury, home to the oldest French-Canadian regiment still in existence, was damaged by fire in April 2008, but is scheduled to reopen this spring after a $93 million reconstruction project. It will emerge as a multipurpose building that will include areas commemorating its military history, federal government offices and rentable spaces for events involving up to 1,300 people.
Toronto
Toronto, the capital of Ontario Province, is the largest city in Canada and fourth-largest city in North America, with 2.7 million residents. It has a major meetings lure, with its excellent hotels and meeting facilities, as well as its unique museums, galleries, entertainment districts, national historic sites and sports activities.
"Our themed attractions showcase our unique culture in different ways, whether it is through international diversity, innovation, originality or our Canadian roots," Gordon says. "Toronto is a vibrant expression of progressiveness and inclusiveness for which Canada is known around the world."
Themed Attractions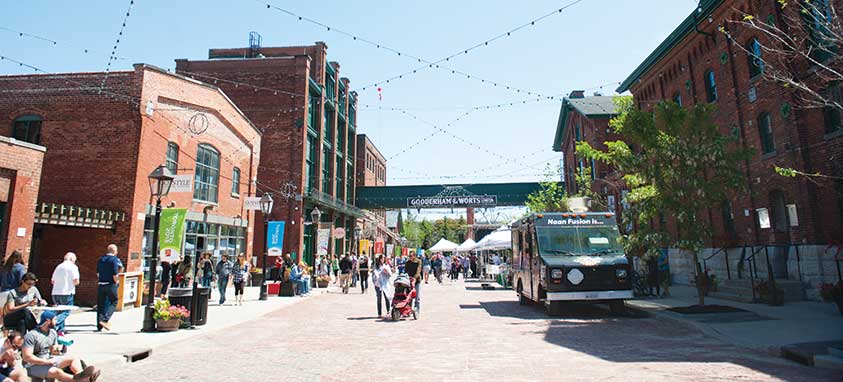 A visit to Distillery Historic District is one of the best ways groups can witness Toronto's blending of the historic and the modern. It opened in 2013 after a derelict collection of industrial buildings were transformed into an inspired mix of Victorian architecture and 21st-century design and creativity. The area is a dramatic fusion of the old and new, and features unique stores, galleries, studios, theaters and cafes.
The visually striking Hello Wood's Tunnel Through Time, a wooden installation in Budapest Park, was created in 2016 to commemorate the 60th Anniversary of the 1956 Hungarian Revolution and Freedom Fight, which was a defining event in Hungarian and Canadian history. It contains 37,565 pieces, symbolizing the number of Hungarian refugees who were welcomed in Toronto and other Canadian cities.
Dedicated to the history of ice hockey—which is near and dear to the hearts of Torontonians (with their unflagging support of the Maple Leafs) and other Canadians—Hockey Hall of Fame contains exhibits about players, teams, National Hockey League records, memorabilia and NHL trophies, including the Stanley Cup. Group tours and private events can be arranged.
Toronto's progressiveness is on full display at Ontario Science Centre, which delights, informs and challenges groups by offering hands-on experiences and engagement with science that is of local, national and global relevance. Several team-building activities are offered, including the simulation of a Mars landing. Customized private events can be arranged.
In the same adventurous spirit, Design Exchange, a nonprofit venue in the heart of Toronto's Financial District, is dedicated to the pursuit of design excellence and preservation of design heritage in disciplines including furniture, architecture, graphics and fashion. Four spaces can be rented, including the Trading Floor, recently restored to its 1937 Art Deco splendor, and can accommodate up to 500 for a reception.
Canada's largest museum, Royal Ontario Museum, boasts collections of art, culture and nature from across time and throughout the world. It features more than 12 million objects and specimens, 40 galleries (two of which highlight the history of Canada, including Toronto)—and fascinating exhibits. Team-building activities using real artifacts can be arranged, along with group tours and facility rentals.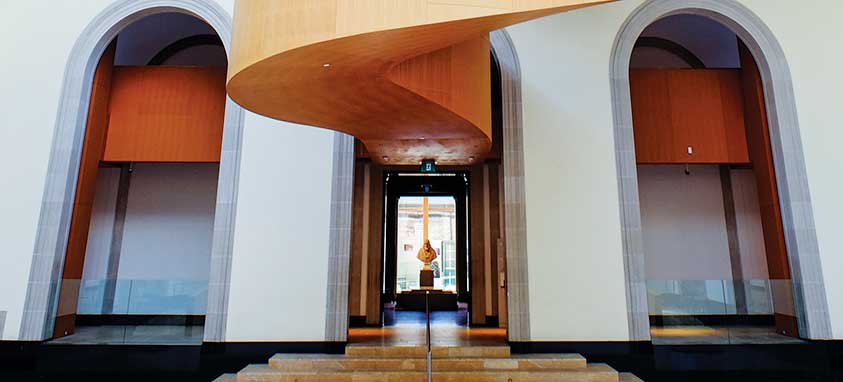 Art Gallery of Ontario contains more than 90,000 works, from the first century to the present day. It has 480,000 sq. ft. of space, making it one of the largest galleries in North America. Corporate events can be arranged. Situated in a building designed by Pritzker Architecture Prize–winning architect Fumihiko Maki.
Aga Khan Museum reflects Toronto's inclusiveness. It provides a window into the artistic, intellectual and scientific heritage of Muslim civilizations across the centuries, from the Iberian Peninsula to China. The museum's mission is to foster greater understanding and appreciation of the contribution that Muslim civilizations have made to world heritage. Tours for 10-60 can be arranged, and nine areas—including a 2,700-square-foot atrium and courtyard—can be rented for private events.
Meeting Facilities Update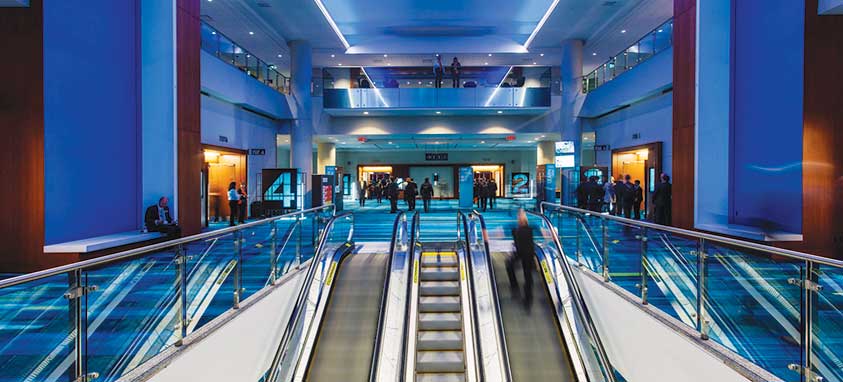 Toronto boasts four convention facilities, including Metro Toronto Convention Centre, which recently revealed a $23 million renovation project that added 11,000 sq. ft. of additional meeting space, with contemporary finishes and LED lighting. This downtown convention center provides more than 600,000 sq. ft. of meeting and exhibition space.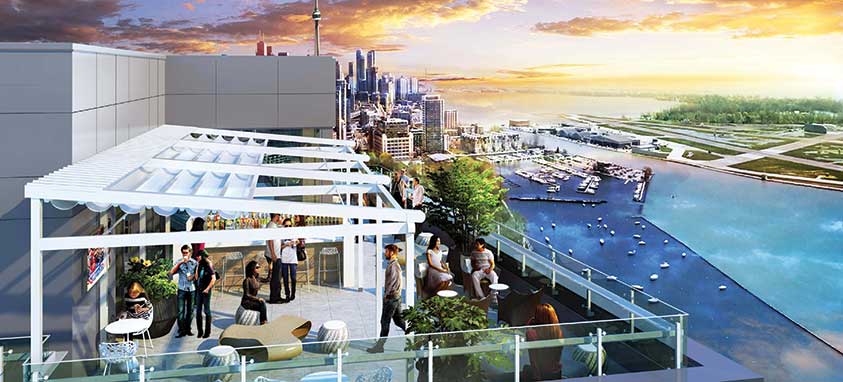 Hotel X Toronto, a 30-story complex with 404 luxurious guest rooms, opened this year. Located on the historic grounds of Canadian National Exhibition, it features restaurants, a photo gallery, fitness and wellness facilities, theaters and more than 83,000 sq. ft. of indoor and outdoor meeting space.
St. Regis Toronto soon will emerge at the property formerly occupied by Toronto's Trump International Hotel and Tower, and the current home to The Adelaide Hotel Toronto. The extensive renovation of the 65-story, 261-room property will provide a new look, a new vibe and new amenities, including butlers to unpack suitcases, steam dresses and draw baths.
Cirque par Excellence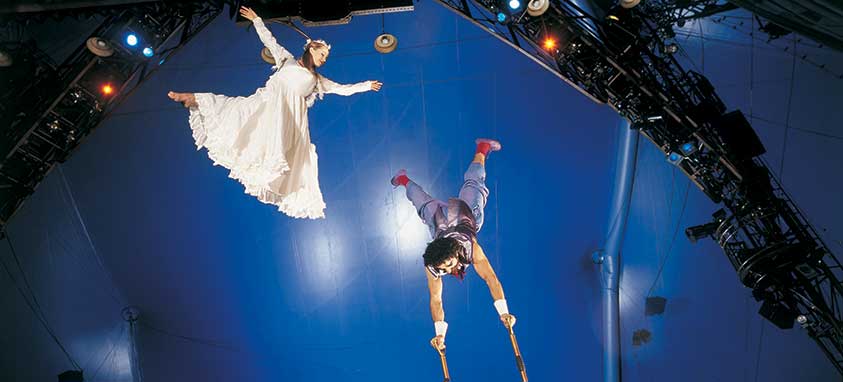 It's only fitting that Cirque du Soleil, the largest theatrical producer in the world, is headquartered in the innovative city of Montreal. Each of its high-energy, wildly imaginative shows blends circus styles from around the world, providing its own central theme and story line while featuring magical lighting, acrobatics, dance and music.
"Cirque du Soleil has established Montreal as the No. 1 circus city in the world," says Michel Bourdon, vice president of sales and convention services for Tourism Montreal. "We have many circus schools, a circus festival, and other companies, including Cirque Eloize and Les 7 Doigts de la Main. Clients like to use the circus theme for their opening and/or closing plenaries. Some circus venues are used for off-site events."
Cirque du Soleil, which traces its roots back to Baie-Saint-Paul in the early 1980s, now offers shows in Montreal and other cities around the world—Corteo (celebrating the life of a clown) is scheduled for Centre Bell in Montreal Dec. 19–30— and is opening a theme park in Nuevo Vallarta, Mexico, this year, possibly to be followed by one in Montreal.