Feature photo of Glacier National Park, Montana.
Going upscale in Big Sky Country
If you've ever been there, you know why they call it Big Sky Country.
There's plenty more "big" than just sky, however. There are big mountains—and big rivers, racing through canyons with a roar that delights outdoorsy types and nature-lovers (which your group will be, too, by the time it leaves). The Big Sky also has rolling plains that unfurl to mountainous horizons that erupt with spectacular displays of color as the flaming sun dips behind them.
In Idaho, Montana and Wyoming, you'll also find quaint Western towns where not all that long ago, cowpokes sometimes settled scores with six-shooters. On the opposite end of the cultural rainbow, attendees may come across Native American lands where ancient traditions are still revered.
Your attendees will see horses and cattle grazing in deep-green pastures, and hear more silence than in most parts of the country. That's not a bad thing, because it enables your group to better focus on all the magnificence around it.
If none of these things seem surprising for a region called Big Sky Country, look again. Amid the natural grandeur and Old West backdrop, you will also find nestled in these mountains and meadows and plains, something fairly recent—splendid resorts with imaginative meeting spaces.
Luxury has come to the Big Sky…
Idaho
Coeur D'Alene Resort
Touching both the scenic town of Coeur d'Alene and the alpine lake of the same name, you'll find one of the Northwest's great resorts.
In a sense, Coeur d'Alene Resort is one of the newest, too, because it just completed a three-year, top-to-bottom upgrade of the 338 guest rooms, 32,000 sq. ft. of meeting space and the public areas. A new lobby features a 32-foot-long aquarium. Guest rooms have bigger windows to admit the views. The Conference Center has an updated design and technology.
A sightseeing boat offers cruises of Lake Coeur d'Alene, including spectacular sunset cruises, while Brooks Seaplane can show passengers 60- mile views that stretch up to Canada.
The golf course features the famous 14th, the world's only movable hole. It sits on a computercontrolled island in the lake, and golfers are ferried there in an antique mahogany boat. Many golfers are ferried back with fewer golf balls, however, because 30,000 of them kerplunk into the lake every year.
Coeur d'Alene, a picturesque village of galleries, funky bars and eateries, and early-1900s Northwestern homes, now boasts a dozen or more craft breweries.
Inn at 500 Capitol, Boise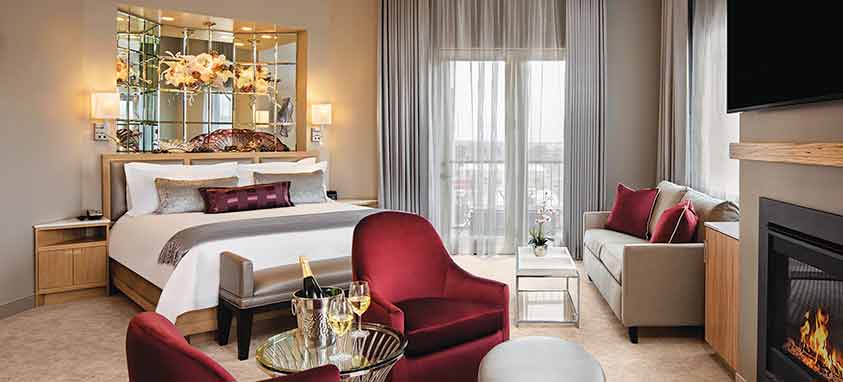 Unveiled last year, Inn at 500 Capitol is not only a hotel, but also an art museum. Its hallways, lobby and guest rooms are adorned with everything from the traditional Northwest scenic to avant-garde works.
Some of the 109 guest rooms and 2,386 sq. ft. of meeting space highlights a common theme, such as the region's Basque heritage, while Boise Art Museum rooms were curated by that museum's staff. The hotel's succeeded in its efforts to create a mini-museum in each room.
Inn at 500 Capitol faces a park on one side and the city skyline and State Capitol building on the other.
The craft beer scene and wine-tasting rooms of Boise are complemented by live music venues and homegrown eateries. Idaho Shakespeare Festival is held annually in a downtown outdoor amphitheater.
Schweitzer Mountain Resort, Sandpoint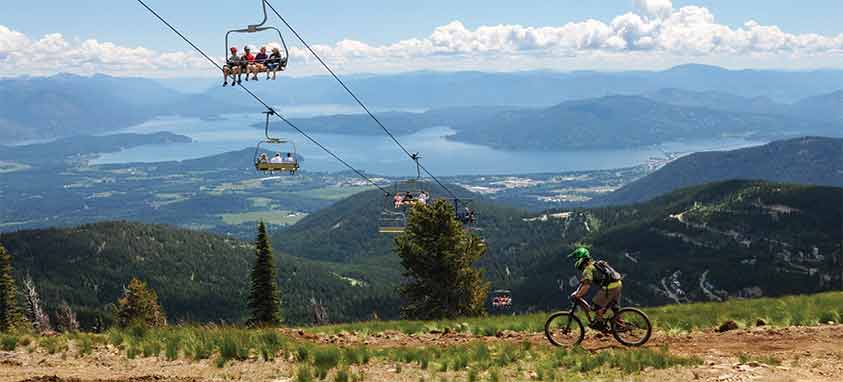 Sitting prettily in the mountains above the beautiful Panhandle town of Sandpoint, 40 miles from the Canadian border, Schweitzer Mountain Resort has perfected the art of rustic luxury. It's also a notable ski resort.
From the top of Schweitzer Mountain, enjoy truly memorable views of enormous Lake Pend Oreille ("pahn or-ayu") in the distance, and Canada just beyond. With 118 guest rooms and 14,246 sq. ft. of indoor meeting space—plus expansive outdoor space—the resort offers a satisfying variety of lodging and conference areas for meeting, dining, team building and recreating.
Twelve miles below the resort is Sandpoint, voted Most Beautiful Small Town in America by readers of Rand McNally guidebooks (see sidebar). Outside of town, Western Pleasure Guest Ranch is the place to saddle up for a guided horseback ride through gorgeous countryside.
Shore Lodge, McCall
Shore Lodge's meetings philosophy is inspiring through nature. Located next to 2.3 million acres of protected nature preserve, it's perfectly situated to accomplish that goal.
Outdoor meetings and team building are favorite options there. Summer activities include mountain biking, hiking, golf and water sports, and winter offers options such as snowmobiling to Burgdorf Hot Springs, elk feeding and after-dark alpine skiing to a moonlit yurt.
Shore Lodge offers 77 guest rooms and 19,000 sq. ft. of meeting space. It's now completing an upgrade that so far has implemented three new dining concepts, with a new pool bar, fire pit and pickleball courts expected to be finished by autumn.
Sun Valley Resort
Sun Valley Resort is no Johnny-come-lately. It was a hit when it opened in 1936, and since then, dignitaries, celebrities and meeting attendees have returned again and again, underscoring its reputation as one of the most beautiful, multifaceted and just-plain-fun resorts in America.
Sun Valley's appeal only increased with a complete renovation of historic Sun Valley Lodge in 2015. Sun Valley Inn has also finished the first phase of an upgrade to its cottages, condos and two meeting rooms; this fall, remodeling will begin on the remaining 80 guest rooms, and completion is expected by January.
With 26,000 sq. ft. of meeting space and 480 guest rooms, Sun Valley is a four-season resort that offers world-class skiing, a Nordic center, 45 holes of championship golf, a 20,000-square-foot spa, plus hundreds of miles of hiking, biking and running trails. Sawtooth Brewing Public House and Sun Valley Brewing Company are among the excellent craft brewers in the area.
Montana
The Lodge at Whitefish Lake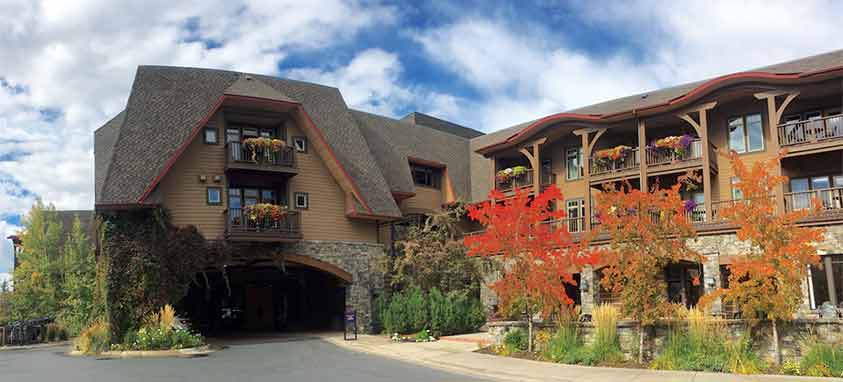 Montana's only AAA Four Diamond property echoes the great mountain lodges of the world. At The Lodge at Whitefish Lake, every common area and every guest room has a fireplace, and interior design showcases natural stone and grand timbers. A towering (stuffed!) bear named Huck L. Beary presides in the lobby.
The lodge, which features 117 guest rooms and 20,025 sq. ft. of meeting space, is only a 30-minute drive from spectacular Glacier National Park. It boasts three eateries, a full-service spa and two business centers. The choices for outdoor recreation in summer are many, and in winter they include sleigh rides, ice-skating on Whitefish Lake, dogsledding, back-country skiing and snowboarding.
Attendees can also find "down" time at Great Northern Brewing Company and Bonsai Project.
The Ranch at Rock Creek, Philipsburg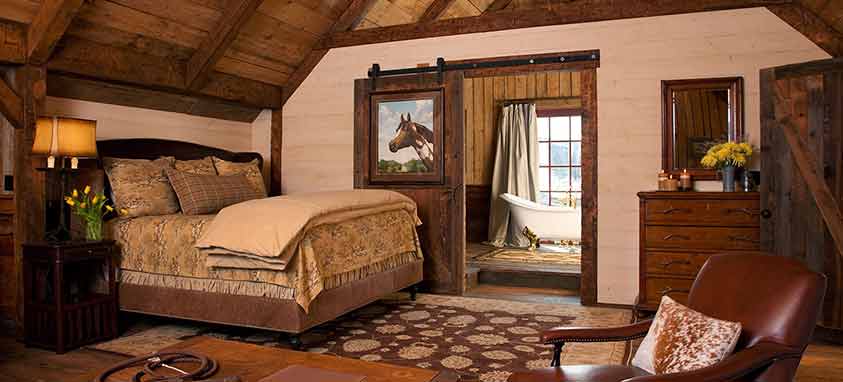 It may sit in an old mining town, and on an 1800s homestead, but The Ranch at Rock Creek is nothing if not luxurious. There are only 29 units, each one different, accommodating 125 people in all.
Indoor meeting spaces total 9,775 sq. ft. and range from the Buckle Barn to Blue Canteen. Many planners stage events on nearby mountain mesas with memorable views, such as Top of the World or Mary Beth's Peak. In addition, the resort's Silver Dollar Saloon is a mongrel of cowboy watering hole and luxe club, and can be reserved for small groups. Western heritage is still honored there with summer rodeos and "cowboy social hours," at which attendees can mingle with cowpokes before joining them for a barbecue.
The Resort at Paws Up, Greenough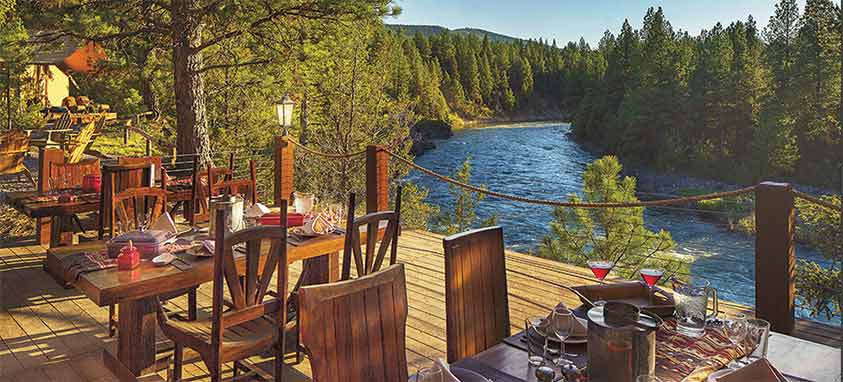 One of the West's most prestigious resorts is situated in the Blackfoot Valley town of Greenough. The Resort at Paws Up is a working cattle ranch set amid 37,000 acres of mountains, valleys, forests and rolling meadows and bisected by 10 miles of the Blackfoot River. You can see forever pretty much everywhere you turn.
The ranch's 112 guest rooms offer accommodations ranging from luxurious private homes to glamping tents, and from secluded wilderness estates to authentic ranch houses. Speaking of authentic, the cowboys there come with weathered faces and leathery hands.
Your group will see creative meeting spaces, too, which comes with cattle being herded right outside. At 21,000 sq. ft. overall, individual space options include 10,000-square-foot Bull Barn Conference Center, in a barn built in 1920; and the newest meeting facility, 11,000-square-foot Wilderness Outpost, built in 2016.
Among the local craft brewers are Great Burn Brewing and Draught Works.
Triple Creek Ranch, Darby
If guests at Triple Creek Ranch arrive back home with stiff necks, it's only because they couldn't resist craning their necks to catch every view.
This ranch has a well-earned reputation as one of the West's most luxurious. Instead of standard guest rooms, it offers 25 cabins (with one to three bedrooms) that can accommodate 162, Each cabin is amply appointed in what might be called Western chic. The 3,600 sq. ft. of meeting space is a three-bedroom cabin, so gatherings feel like a family reunion.
Triple Creek is known for its gourmet food, too, with different menus every evening, plus an award-winning wine cellar and a vaulted ceiling in the dining room.
Wyoming
Four Seasons Resort & Residences Jackson Hole
Four Seasons Resort & Residences Jackson Hole combines the concepts of "Western," "rustic" and "luxury" like few others do. There, in one of the West's coolest towns, and surrounded by some of America's most breathtaking natural beauty, planners can utilize 157 guest rooms and 10,900 sq. ft. of meeting space.
At the resort, there's a spa, pool, fitness center and 24/7 business center. Meals are taken in any of three restaurants, all featuring polished wood, natural stone and fireplaces.
Just out the door, of course, are the renowned shops and galleries of swanky Jackson Hole. Beyond them waits Mother Nature in all her glory, with the jagged peaks of the Teton Range jutting into azure skies, under which romps a thrilling array of wildlife.
Good craft-beer brewers in the area include Snake River Brewing and Roadhouse Pub & Eatery.
Lodge & Spa at Brush Creek Ranch, Saratoga
Nowhere is the Big Sky any bigger than over Lodge & Spa at Brush Creek Ranch. As you gaze toward phalanxes of mountains fading into the horizon, the peaks, sky and clouds seem almost to become one. Groups of 150 or so can buy out the property.
There are hilltop Destination Yurts and a Creekside Dinner Camp, and no two meeting venues are even remotely the same. Gathering spaces total 10,000 sq. ft. and range from Chuck Wagon to Saloon; there are 32 guest units, some with more than one bedroom. The land on which the resort sits was visited by Native Americans for centuries because of its natural hot springs, and the first white settlers built a cabin there in 1884. Today, there's still a working cattle ranch on the surrounding acreage.
Snowy Mountain Brewery is leading the local craft-beer charge.
Red Reflet Guest Ranch, Ten Sleep
This property might be dubbed a "boutique ranch" because it provides a genuine Western experience coupled with luxury. Red Reflet Guest Ranch can accommodate 20–25 meeting attendees in its 32 beds (in three chalets, with units of one, two and three bedrooms, plus a ranch house) and 1,188 sq. ft. of meeting space.
"Reflet" can be roughly translated from the French as "shimmering reflection." The landscape does indeed shimmer like an Impressionist painting, and it is edged by stunning red- and coral-colored sandstone cliffs and the brilliantly contrasting, snow-capped peaks of Bighorn National Forest.
Dining at Red Reflet is a gourmand's delight. Guests are encouraged to survey the property on horseback, and all are welcome to experience the thrill of herding cattle or even participating in the branding.
The Wort Hotel, Jackson Hole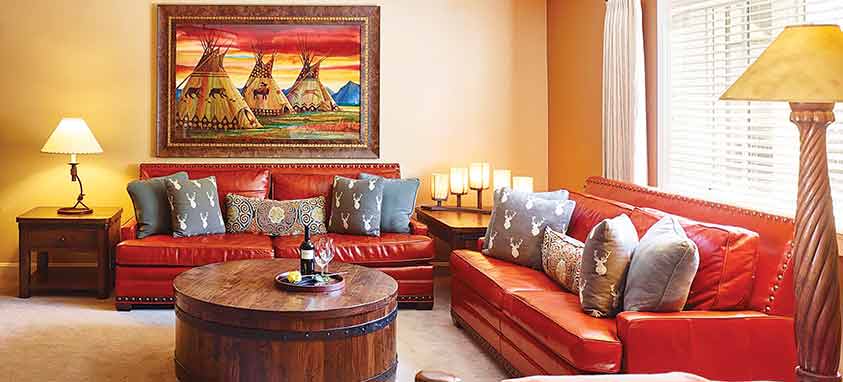 Even inside The Wort Hotel, there's no doubt what part of the country you're in: It is filled with 150 original Western artworks.
From this elegant base camp, you can easily take your team to Yellowstone National Park to see Old Faithful, bison and moose, or to Grand Teton National Park for a boat-float as the fiery orange ball disappears behind the Big Sky-piercing peaks. The Wort was the first luxury hotel in Jackson, debuting in 1941, and the city grew up around it.
The hotel has 55 guest rooms and 4,115 sq. ft. of meeting space. It is located a few steps off the historic town square, and is surrounded by excellent restaurants, one-of-a-kind shops and art galleries. The hotel offers its own full-service restaurant and bar that showcases local fare, including wild game entrees such as bison tenderloin and elk sliders.
The Best Little Town in America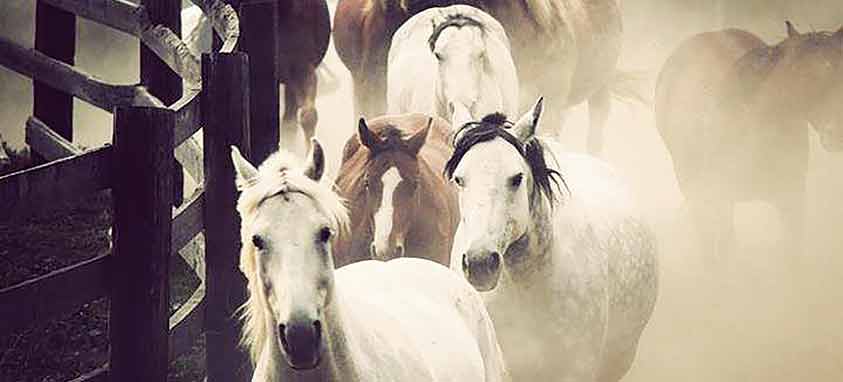 A few years ago, a Rand-McNally survey named Sandpoint, Idaho, as Most Beautiful Small Town in America.
Sandpoint is tucked into the Idaho Panhandle only 40 miles from the Canadian border. Its well-preserved, red-brick Western buildings house interesting shops and galleries, with the Pend Oreille River running right through it. A stroll through its residential streets enters another age, past wooden Northwestern/Victorian homes with rockers on their front porches.
The Panida Theater (Panida is short for "Idaho Panhandle") is an uplifting reminder that, in some American towns, old buildings are cherished rather than demolished. Built in 1927, it became a local icon as it remained open through the Depression, World War II and a post-war downturn in the timber industry. But after a new theater complex opened in 1980, it finally shut its doors.
Soon, however, local citizenry spearheaded a drive to buy the theater, restore and re-open it. When Panida re-emerged in August 1985, it marked one of the most important days in Sandpoint history.
The restoration returned the grand old showplace to its original glory, right down to the plush, redvelvet seats. And it's now busier than ever, with live theater, musical acts and movies.
Above Sandpoint, Western Pleasure Guest Ranch offers the opportunity to add an authentic Western experience that meetings attendees will never forget. Great Lodge and log cabin accommodations sleep 40, and there is 3,500 sq. ft. of space for meetings.
The ranch has pioneered interesting team-building activities, among them cattle-sorting, in which teams on horseback work together to move cattle, and horse soccer, in which the object is to kick a horse-sized ball into the opponent's net.
Third-generation owners Janice and Roley Schoonover will be on hand to cook up some mighty fine vittles. When the Schoonovers are joined by their family's fourth and fifth generations (their children and grandchildren), they all work together to prepare an outdoor barbecue dinner for guests. Then they get out their guitars and fiddles, and your group realizes it's never had a meeting quite like this.