San Antonio, Texas, skyline
Site Inspection: Two Hyatt Properties in San Antonio for Groups
After spending time at Hyatt Regency Hill Country Resort and Spa, it's difficult to imagine a better property for groups in San Antonio. Nestled on a scenic historic ranch, it features a blend of rural relaxation and casual elegance that soothes the soul and facilitates the easy exchange of ideas. It's hard to believe that it's just a 20-minute drive from downtown, where an equally outstanding—but much different—property, Grand Hyatt San Antonio, towers over the surroundings there.
Grand Hyatt, situated near the famous River Walk, offers the buzz and amenities of a big-city hotel. The pace is energetic, sparking plenty of enthusiasm at meetings and events. Both properties offer many of the signature Hyatt amenities, but cater to different clients, providing planners with two excellent choices.
Meet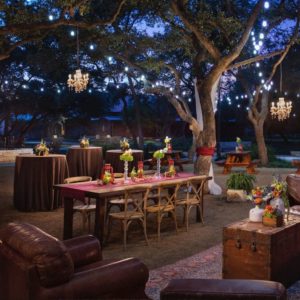 Hyatt Regency Hill Country Resort and Spa offers more than 100,000 sq. ft. of meeting space. The 54,000 sq. ft. of indoor space includes five meeting rooms and three elegant ballrooms, divisible into 33 event areas. Independence Ballroom features a 4,000-square-foot event lawn and Hill Country Ballroom is adjacent to an outdoor deck. The property also boasts 20,000 sq. ft. of prefunction space.
Grand Hyatt's 115,000 sq. ft. of meeting space has everything from elegant ballrooms to gorgeous balcony areas and includes the 30,906-square-foot Texas Ballroom and 21,060-square-foot Lone Star Ballroom. It's the only hotel adjacent to Henry B. Gonzalez Convention Center, which completed a $216 million expansion in 2016 that better equipped not only Grand Hyatt, but also San Antonio in general, to accommodate larger meetings.
Sleep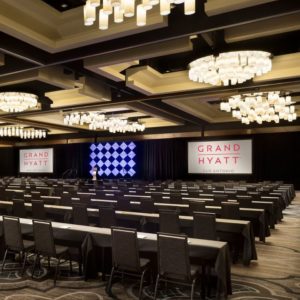 Hyatt Regency Hill Country Resort and Spa has 500 guest rooms, including 58 suites. They feature comfortably stylish decor, which complements the spectacular scenery. All guest rooms include pillow-top Hyatt Grand Beds, mini refrigerators and free Internet. Guests can upgrade to a suite or enjoy gorgeous views of the countryside landscape from a private patio or balcony room.
The 10th anniversary of Grand Hyatt was celebrated last year with the completion of a $19 million renovation, which included the 1,003 guest rooms, including 45 suites, and meeting spaces. All rooms were furnished with new Hyatt Grand Beds, carpeting, wall coverings and furniture, as well as 55-inch, flat-screen televisions.
Need to Know
1718—the year San Antonio was founded.
14,000 hotel rooms available downtown
Eat and Drink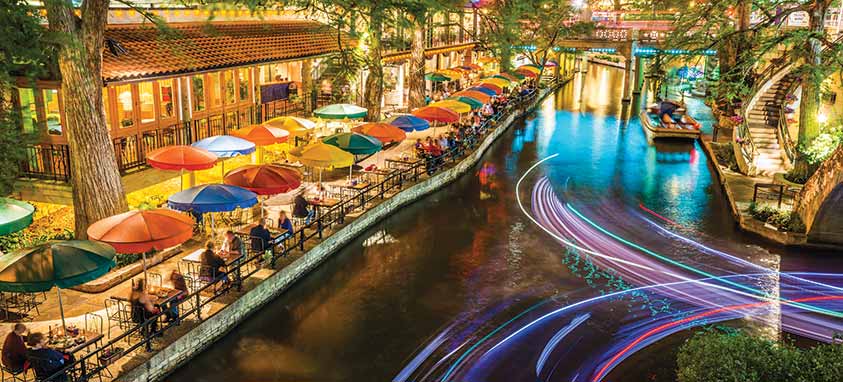 Groups have several food and beverage venues to choose from at Hyatt Regency Hill Country Resort and Spa. Antlers Lodge features a chandelier created from 500 sets of naturally shed antlers, along with a menu filled with innovative twists on traditional Texas fare. Springhouse Cafe is a bright, open, casual spot featuring delicious seasonal buffets, regional specialties and traditional favorites.
At Grand Hyatt, Ruth's Chris Steak House is a prestigious River Walk restaurant specializing in USDA prime beef. The ever-changing menu features classic steak house entrees, innovative dishes and an award-winning wine list. The property's Bar Rojo is known for its handcrafted cocktails and small-plate dishes, along with gourmet pizzas, salads and brisket tacos.
Do
Much of the activity at Hyatt Regency Hill Country Resort and Spa revolves around water. The resort features a 5-acre Water Park that includes swimming pools, the 950-foot Ramblin' River (offering hours of floating fun) and a 22-foot water slide. Other highlights include a FlowRider wave machine and pool cabanas. Windflower Spa offers a variety of massages, some of which use native Hill Country ingredients, and includes a serene outdoor area.
The pet-friendly Grand Hyatt provides panoramic views of the city from the sundeck surrounding its heated, fifth-floor, rooftop pool, which is ideal for a casual dip or lap swimming. The property's proximity to the River Walk and its many restaurants, bars, museums and other attractions is another perk for guests.