Creativity flourishes in Las Vegas and Reno/Tahoe
World-class entertainment, lively casinos and luxurious hotels have lured visitors to Nevada's two major areas—Las Vegas and Reno/Tahoe—for decades. Another outstanding attraction, the diverse visual arts offerings, is not nearly as heralded but is blossoming, providing plenty of exciting options for groups.
"The arts scene in Las Vegas is as vibrant as our skyline, and the opportunities to showcase creativity in a number of forms is beyond imagination," says Cheryl Smith, CMP, HMCC, director of specialty market sales for Las Vegas Convention and Visitors Authority.
Some 440 miles northwest of Las Vegas, Reno—along with the gorgeous Lake Tahoe area—has been elevating its art offerings to unparalleled heights.
More: Q&A with Steve Hill: Las Vegas Appeals to a Larger World
"The local arts scene has been booming for the last decade," says Mike Larragueta, vice president of sales for Reno-Sparks Convention and Visitors Authority. "Local governments have recognized the positive effect visual art has on a community."
Here's a rundown of some of the top art attractions in the two areas, along with an update of some of the best places for groups to stay and meet.
Greater Las Vegas
This city has its share of traditional art galleries, but in true Las Vegas fashion, also features a wide variety of nontraditional, imaginative art experiences.
"Las Vegas is not your typical 'look at a canvas hanging on a gallery wall'-type destination," Smith says. "Our venues offer the unique opportunity to immerse yourself in Las Vegas' history through a different lens."
Amazing Art Experiences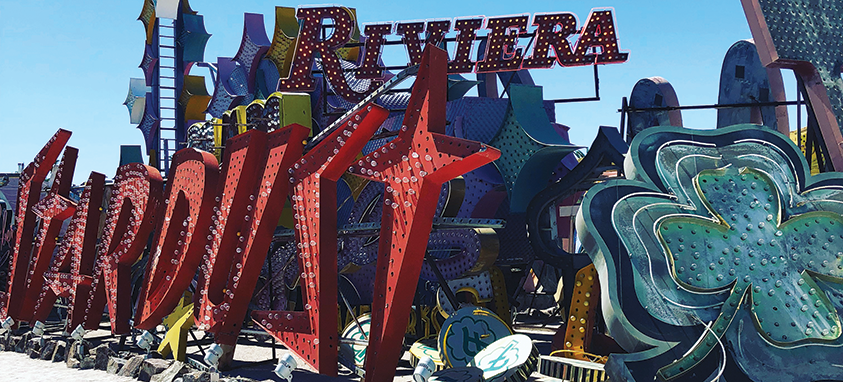 Neon Museum is dedicated to collecting, preserving, studying and exhibiting iconic Las Vegas signs for educational, historic, artistic and cultural enrichment. The Neon Museum campus includes the Neon Boneyard outdoor exhibition space, with more than 150 classic neon signs from the 1930s to present; a visitors' center, inside the former La Concha Motel lobby; and Neon Boneyard North Gallery, which houses additional rescued signs and is available for group gatherings. Private tours of Neon Boneyard can be arranged. Swiss artist Ugo Rondinone's colorful, Seven Magic Mountains is a public artwork located in the desert, near Jean Dry Lake and Interstate 15, approximately 10 miles south of Las Vegas. It consists of seven towering, dayglow totems comprised of painted, locally sourced boulders. Each "mountain" is more than 30 feet high to highlight the presence of color and expression in the Ivanpah Valley desert.
Related: Colorado Springs, Vail Boast Unique Art Offerings
A definite candidate for top "only in Las Vegas" honors, Erotic Heritage Museum, also known as Harry Mohney Erotic Museum, began as a partnership between the Rev. Ted McIlvenna and pornographer Mohney. These two men from opposite sides of the cultural spectrum worked to build a positive erotic exhibition space, resulting in the largest museum in the world for the preservation of erotic artifacts, fine art, film, education and cultural events. Rental spaces are available, including Museum Lobby (accommodating 200) The Jewel Box Theater (150), Paris Theater (40) and LGBTQ Gallery (25).
Las Vegas Arts District, located just south of downtown, was created in 1998 as an 18-block zone where artists can flourish and showcase their art. It is also known as the "18b," referring to the original size of the district—18 blocks—though it now encompasses a larger area.
Highlights include Art Square, composed of three remodeled 1950s-era buildings that house more than a dozen venues, all offering something art-related or creative; The Arts Factory, located in a former warehouse, and including a variety of studios showcasing the creative efforts of local artists; Wonderland Gallery, featuring whimsical artwork; and 17 Moons Art Studio, where art is created out of recycled items by using a combination of collage, sculpture and assemblage.
First Friday, which began in the arts district in 2002, has grown to become the premier art event in Las Vegas. Shops and galleries feature artworks the first Friday of each month from 5 to 11 p.m. Preview Thursday, the night before First Friday, provides a sneak peek at gallery openings and new art.
Magnificent Art in Hotels and Resorts
Some of the best art in Las Vegas can be found in hotels and resorts. Bellagio Gallery of Fine Art in Bellagio Las Vegas helped to launch the city to the forefront of the art scene. The ever-changing gallery displays masterpieces from the world's greatest artists, including more than 45 of Picasso's work from the 1930s through the 1970s.
Aria Resort & Casino's world-renowned Fine Art Collection encompasses a multitude of styles and media—ranging from sculptures and paintings to other works of art, such as large-scale installations that engage guests visually and intellectually. Artists include Maya Lin, Jenny Holzer, Nancy Rubins, Claes Oldenburg and Coosje van Bruggen, Frank Stella, Henry Moore, James Turrell and Richard Long.
The public art collection at Wynn Las Vegas and Encore at Wynn Las Vegas, curated by prominent designer Roger Thomas, is displayed throughout the property and includes pieces in a variety of mediums, including oil paintings, tapestry, sculptures, and more by noteworthy artists such as Jeff Koons, Raoul Dufy, Miriam Schapiro, Timothy Horn and Lari Pittman.
Red Rock Casino, Resort & Spa, situated off The Strip in the Summerlin area, also boasts an impressive collection of fine art. Masterpieces by artists such as Robert Indiana, Takashi Murakami, Vik Muniz and Paul McCarthy adorn the walls of the restaurants and lounges.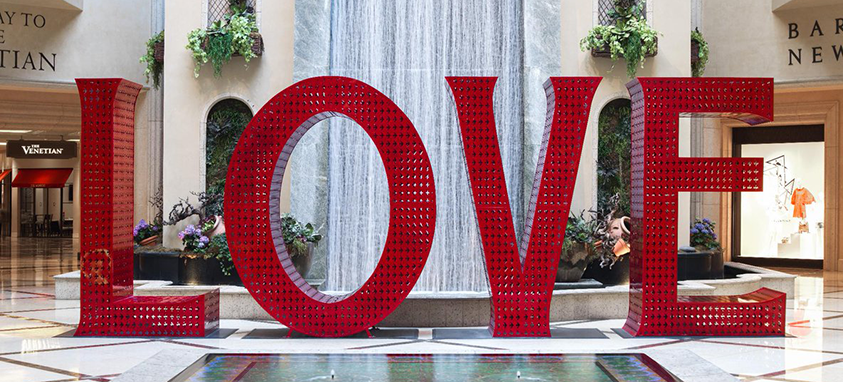 The Venetian Resort Las Vegas is now featuring the striking Love, a large installation in the Waterfall Atrium. Created by celebrated artist Laura Kimpton as part of her Monumental Word Series, it is perforated with bird-shaped stamps and spells "love" in steel, 12-foot-tall, ruby-red letters.
Marvelous Meeting and Lodging Spaces
Eldorado Resorts announced in June that it will buy Caesars for $17.3 billion, increasing its portfolio to 79 casinos. The deal will enable Eldorado to significantly strengthen its presence in Las Vegas, where Caesars is based. Caesars Palace Las Vegas, one of the jewels along The Strip, offers 3,960 guest rooms and 300,000 sq. ft. of meeting space, including four ballrooms.
Caesars Forum, a 550,000-square-foot conference facility, is set to open in 2020 across from Caesars Palace and alongside Linq Promenade. Caesars Forum will be directly connected to 5,000 hotel rooms owned by Caesars Entertainment and will have two 110,000-square-foot, world-class ballrooms—the largest column-free ballrooms in the world.
Located on The Strip, the 1,470-room Tropicana Las Vegas—A DoubleTree by Hilton, features a spa and a fitness center overlooking a pool and gardens. The all-new conference facility can be divided into as many as 38 breakout rooms, and includes a 24,742-square-foot ballroom as well as a 27,244-square-foot pavilion.
One of the busiest convention centers in the world, Las Vegas Convention Center is located adjacent to The Strip and provides some 2 million sq. ft. of exhibit space and nearly 250,000 sq. ft. of meeting space.
Adjacent to the convention center and one block from The Strip, Westgate Las Vegas Resort & Casino offers 2,956 guest rooms, 10 restaurants, a spa and 225,000 sq. ft. of meeting space.
Boasting the 16-screen Century Theatre movie complex, a 64-lane bowling center and a variety of restaurants, South Point Hotels and Casino is an attractive option just off The Strip. It also has 2,163 guest rooms and 175,000 sq. ft. of event space, including a 70,000-square-foot conference center.
Station Casinos has reinvigorated Palms Casino Resort during a $690 million renovation that has included the 342 rooms in Fantasy Tower and some of the 60,000 sq. ft. of meeting space, plus the addition of several new restaurants, a nightclub and a mini art museum. The 1,365-room hotel and casino is about a mile off The Strip.
Other Station Casinos properties in Las Vegas include Red Rock Resort & Spa, with 796 guest rooms, a spa, delectable dining and more than 100,000 sq. ft. of meeting space as well as Green Valley Ranch Resort and Spa in Henderson—16 miles southeast of Las Vegas—with 500 guest rooms, a spa, a health club and 65,000 sq. ft. of event space.
Another Henderson property, Henderson Events Plaza, Nevada's first public outdoor events plaza, encompasses 2.7 acres and provides 60,000 sq. ft. of meeting space.
Reno/Tahoe
The art scene is popping here, largely due to the City of Reno's recent efforts and the unexpectedly enormous impact of Burning Man, an immensely popular festival held annually at Black Rock City, a temporary city erected in the Black Rock Desert, approximately 100 miles north-northeast of Reno. The festival celebrates radical self-expression and art.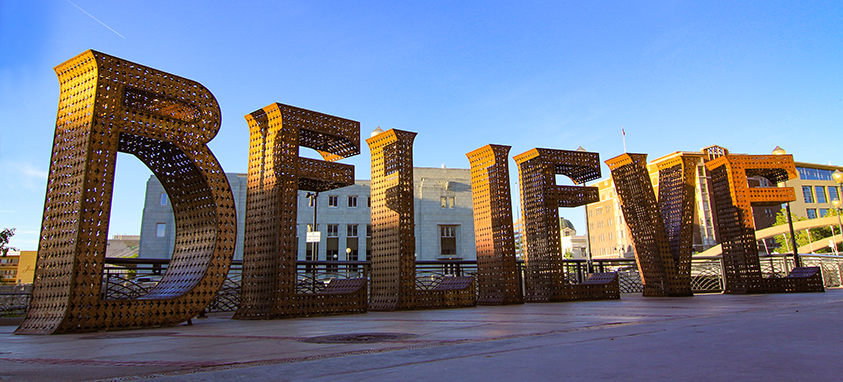 "The City of Reno has made significant investments in bringing large art installations, like The Space Whale [a large, stained glass and steel sculpture of two humpback whales] and the Believe sculpture [a 70-foot-long piece made of steel that spells out the word] to downtown's City Plaza," Larragueta says. "Both of those works were created for the Playa [Playa Art Park] at past Burning Man events.
"Playa Park, in the heart of downtown, also features some smaller installations from Burning Man and is centered between large murals created by some of the region's most prominent artists."
Amazing Art Experiences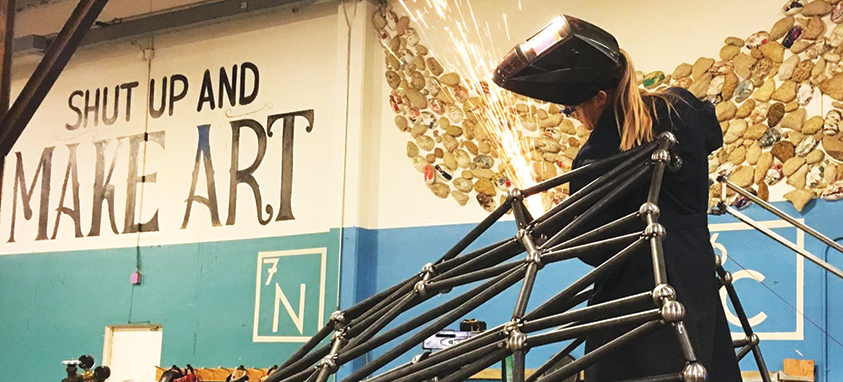 The Generator is an inclusive art space in Sparks, 4 miles west of Reno, for anyone who wants to make things and be part of a creative community. Inspired by the magic and inspiration of Burning Man, artists combine forces and share resources in the space, utilizing industrial equipment and tools in the 35,000 sq. ft. of workspace. Group tours are available.
Jacobs Entertainment has purchased a substantial area of Reno for a $1 billion tourism-related development that will feature a rotating collection of several large sculptures. The display will include Burning Man art and is part of the long-term strategy that Jacobs Entertainment has for what it calls the "Neon Line District" in downtown's West Fourth Street corridor.
Reno's other leading art pieces include an outdoor mural, Nevada Row—located in MidTown, just south of downtown Reno—which features influential figures from Nevada history. Its creators, Erik Burke and Joe C. Rock, are among Reno/Tahoe's most prominent artists.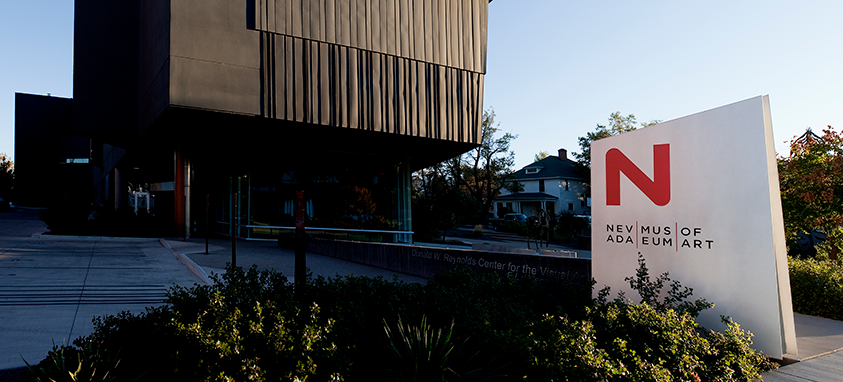 The four-level, 70,000-square-foot building housing Nevada Museum of Art in Reno is inspired by geological formations in northern Nevada's Black Rock Desert, and serves as a visual metaphor for the institution's scholarly focus on art and environment.
The institution's identity is shaped by its proximity to the San Francisco Bay Area, Sierra Nevada, Lake Tahoe and surrounding Great Basin desert region. Meeting spaces can be rented for up to 1,000 and include 4,800-square-foot Nightingale Sky Room.
Nevada is home to many Native-American tribes, and their artwork can be viewed at Nevada Museum of Art and during community events such as Stewart Father's Day Powwow at the former Stewart Indian School in Carson City, 28 miles northeast of South Tahoe and 32 miles south of Reno. The three-day powwow features some 30 arts and crafts vendors.
Reno Art Works offers groups a chance to learn from instructors and then tackle projects ranging from painting to crocheting and tie dye.
South Lake Tahoe also has some excellent art opportunities for groups. The Tahoe Art League's Studio Tour, offered annually during the last weekend of July and the first weekend of August, invites locals and visitors to view the work and working spaces of individual artists and artist collectives working in a variety of media.
Top galleries in South Lake Tahoe include Marcus Ashley Fine Art Gallery, featuring a wide variety of American and international artists. It features many types of exquisite fine art, from oil paintings and fineart prints to glass art, sculpture and contemporary pieces that virtually defy categorization.
Pacific Crest Gallery in Heavenly Village offers an outstanding selection of fine art, sculpture, art glass and jewelry. From the sublime to the "totally Tahoe," there is truly something for all tastes.
Jon Paul Gallery in South Lake Tahoe highlights the work of Jon Paul, one of the few remaining large-format landscape photographers in the world. His self-taught style has earned him an international reputation as a master of photography.
Marvelous Meeting and Lodging Spaces
Eldorado Resorts branded its three adjacent downtown properties—Eldorado, Silver Legacy and Circus Circus—as The Row. Together, they offer 4,100 hotel rooms, 25 restaurants, 22 bars, 11 nightclubs and four entertainment venues. The resorts retained their original names and distinct flavor.
Atlantis Casino Resort Spa Reno is a AAA Four Diamond resort surrounded by sweeping views of the majestic Sierra Nevada. It includes a spa and 50,000 sq. ft. of meeting space.
Peppermill Resort Spa Casino, a AAA Four Diamond resort in Reno, added Windows of the World, consisting of art displayed throughout the resort on screens showing high-definition videos of exotic lands, local scenery, nature, wildlife and fashion. The canvasses are flat LED screens instead of wooden frames so that guests feel like they are actually there. Peppermill boasts 1,621 guest rooms, a fitness center and 106,000 sq. ft. of meeting space.
Big things have been happening at the 1,400-room Nugget Casino Resort in Sparks. A $25 million makeover was completed in late 2017, including renovations to the 800 guest rooms in the West Tower and the 110,000-square-foot convention center; a steakhouse and 8,958-seat event center opened more recently.
Thoroughly renovated Grand Sierra Resort in Reno features many nongaming options, including a spa, a full-sized bowling alley, a driving range with floating balls that are hit into a lake with moving targets, a movie theater and an escape room. The property also has 1,990 guest rooms and 200,000 sq. ft. of meeting space.
Harrah's Reno Hotel & Casino in the downtown area has 928 guest rooms, seven restaurants and 24,000 sq. ft. of meeting space—including 14,000 square-foot Robert A. Ring Convention Center—and 62,000 sq. ft. of outdoor event space.
Renaissance Reno Downtown Hotel is a luxurious nongaming property on the Truckee River with 214 guest rooms, and 13,198 sq. ft. of meeting space. Its gaming floor recently was converted into a large indoor field with several bocce ball courts.
Situated two blocks from the Truckee River Walk and adjacent to the historic Reno Arch, Whitney Park Hotel in Reno features 310 guest rooms with panoramic views of the Sierras and BaseCamp, featuring the world's tallest artificial climbing wall, at 164 feet. It provides more than 20,000 sq. ft. of event space, including 5,125-square-foot Whitney Peak Ballroom.
Montbleu Resort Casino & Spa Lake Tahoe in Stateline, Nevada, boasts 437 luxurious hotel rooms, many with spectacular lake and mountain views, as well as 16,000 sq. ft. of meeting and exhibit space.
Hyatt Regency Lake Tahoe Resort, Spa and Casino is a waterfront property nestled into the Sierra Nevada Mountains that provides 422 guest rooms and 13,100 sq. ft. of meeting space. Offering top entertainment and dining, Harrah's Lake Tahoe is a 512-room hotel with 25,000 sq. ft. of meeting space.
Fabulous Art Festivals
One of the best ways for groups to enjoy art in Las Vegas and Reno/Tahoe is by attending a local festival or another annual event, such as the following.
Life is Beautiful debuted in 2013 as part of the transformation of downtown Las Vegas into a cultural hub. During the three-day gathering, a diverse roster of artists transforms downtown Las Vegas into an open-air art gallery, full of murals, art installations and exhibits.
Located on a grassy park-like area, Summerlin Festival of Arts is a free outdoor art festival in Las Vegas featuring fine art and crafts. The festival displays the work of more than 100 artists, including oil and acrylic paintings, watercolors, clay and ceramics, drawings, glass, jewelry, metalwork, woodwork, photography, print-making and sculpture.
Artown brings the arts to life in Reno each July with nearly 500 events, 100 workshops and more than 30 ongoing programs. Distinguished artists from around the world, across the country and the local community participate.
The lively 24-hour Mural Marathon takes place each July in Reno, featuring a collection of invited artists who each have just 24 hours to paint an original, 19-foot-seven-inch by 14-foot mural on the side of Circus Circus at the Row hotel. Cash prizes are awarded to the winners and the murals remain on display for an entire year, until the next annual competition occurs.
Tahoe City's Pacific Fine Arts Festival takes place each year during two back-to-back weekends in mid-August. Art admirers and creators come together on the open, grassy Boatworks Mall in downtown Tahoe City to participate in the North Tahoe event, which includes works of photography, oil painting, ceramics, jewelry, pottery, woodwork, metalwork and wearable art.