Grapevine and North Texas charm with lights and action
Less than a half hour northwest of Dallas is one of the most popular places not on your radar—yet. If you have flown into Dallas/Fort Worth International Airport (DFW), attended Grapefest—the largest wine festival in the Southwest—or taken in the lights in the Christmas Capital of Texas, you have been to Grapevine. This historic town a stone's throw from Grapevine Lake offers Old West charm and big-resort attractions. That combination of space and access made it the choice when MPI decided to bring more than 600 people from the events world to Gaylord Texan for World Education Congress in November.
Arrive
As the hub for American Airlines, DFW (which is not in Dallas or Fort Worth, but rather sprawls its almost 27 square miles over Grapevine, Euless and Irving) is the largest airport in the state and ninth busiest in the world. It offers service to 204 destinations. You can get there pretty directly from almost anywhere. Once on the ground, Skylink can whisk passengers to Grand Hyatt DFW's 34,000 sq. ft. of meeting space in Terminal D or Hyatt Regency DFW's 92,000 sq. ft. of meeting space in Terminal C. Minute Suites in Terminal D offer nap centers with daybeds, office workstations and well-stocked shower rooms for layovers. TEXRail transit connects DFW Airport Station Grapevine Main Street and points beyond.
Meet and Stay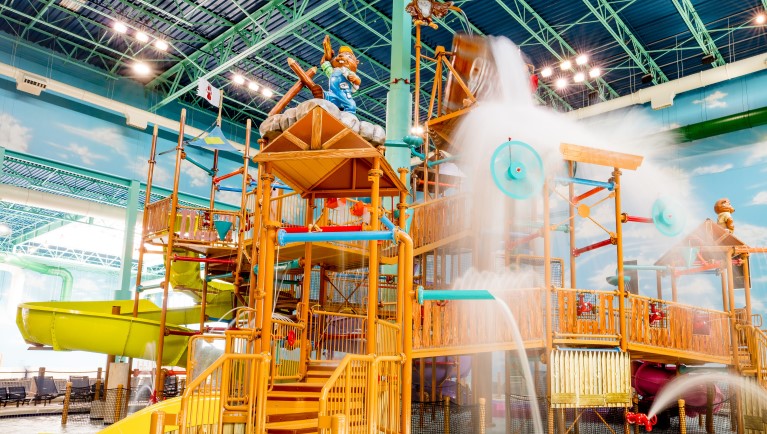 The city welcomes with 5,300 hotel rooms. MPI chose The Gaylord Texan as home base for its big-as-the-sky domed campus and indoor-outdoor feel. It boasts more than 490,000 sq. ft. of meeting space and 1,814 guest rooms. If Grapevine is the Christmas capital of Texas, Gaylord Texan is its Oval Office, with acres of twinkling lights, jolly decorated vignettes and activations ranging from snow tubing and ice skating to Christmas movie pop-ups.
Next door to the sprawling campus is Great Wolf Lodge Grapevine, Texas. With more than 24,000 sq. ft. of meeting space, 605 guest rooms and a heated waterpark, the property is popular with groups that invite their families to join the fun. It transforms each winter into a Snowland of decorations and activities.
Hotel Vin, part of Marriott's Autograph Collection, is the newest arrival. The boutique hotel's 120-room charm with historic touches is steps from the TEXRail station. It is home to eight meeting rooms and 10,327 sq. ft. of event space inside, with another 4,000 outside. The property includes Harvest Hall, a unique experience of curated restaurants from around the world that plays well with groups. MPI shut down the Main Street District next door to host a CDC-compliant dining and concert event for opening night.
Eat & Drink
With more than 200 restaurants, Grapevine has something to serve even the biggest Texas-sized appetite, especially if tastes tend toward local favorites like steak, barbecue, Mexican and Southwestern cuisine. You can't go wrong booking a private room with a dance floor at Boi Na Braza Brazilian Steak House. And to quench that thirst, we counted seven winery tasting rooms in what has become the headquarters of Texas Wine Country.
Do
This is a city that likes to celebrate. From the North Pole Express-themed train rides in November and December to Main Street Fest in mid-May, Grapefest in mid-September and Butterfly Flutterby celebrating the migration of the monarchs in October, meetings in the city are naturally festive.
Need to Know
8,000 acres Size of Lake Grapevine
1843 Year Gen. Sam Houston signed a friendship treaty with 10 American Indian nations
81 Holes of golf at 3 courses, including one owned by NFL's Dallas Cowboys