Colorado's Craft Brewery Scene Offers Instant Local Immersion
Beer archaeologist Travis Rupp at Avery Brewing, Boulder
Planners seeking hyper-local experiences for their groups have an abundance of options in Colorado, with its adventurous outdoor activities, exceptional arts and culture, and innovative restaurants. Its craft brewery scene, arguably the hottest in the nation, also offers hyper-local, interactive experiences.
Colorado was already world-famous for beers, particularly Coors products, when its first craft brewery, Boulder Beer Company, opened in 1979. A few other craft breweries opened in the state in the next two decades, preceding an explosion of them in the 2000s. The state now has more than 400 thriving breweries—including more than 200 craft breweries—with new ones regularly popping up.
It's truly "a place where beer flows like wine," an expression that Lloyd Christmas (played by Jim Carrey) uttered in the film Dumb and Dumber about Aspen, but which pertains to the whole state. In fact, Colorado has earned the nickname State of Craft Beer.
The refreshing taste of Colorado beers stems from the water, which requires limited treatment to the point that everything coming out of the tap is perfectly suitable for brewing, with just minor mineral adjustments and simple filtration.
Here's a look at some of the most exciting and inventive breweries and brewpubs in three of the state's top meetings-friendly cities: Denver, Boulder and Colorado City.
Denver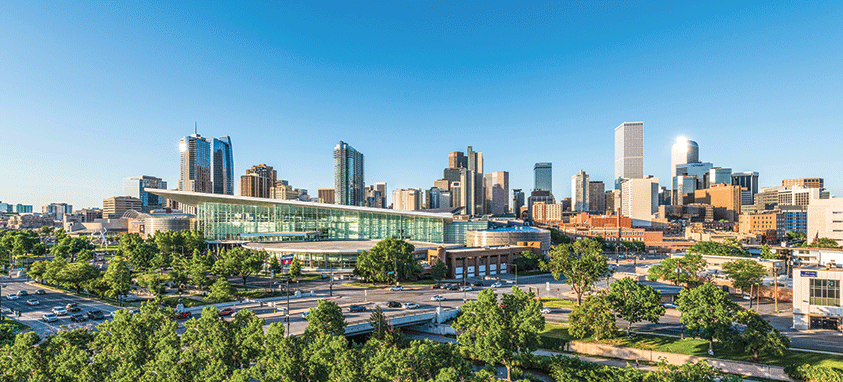 Denver is home to Coors Brewery, the largest single brewing site in the world, as well as more than 70 other breweries (more than 100 in the metro area).
"Denver brews more beer than any other American city," says Rachel Benedick, vice president of sales and services for Visit Denver. "More than 200 unique beers are produced and served every day in the city's tap houses, brewpubs, breweries and gastro pubs."
Planners and attendees can get a great overview of the scene in Denver Beer Trail, a free booklet that offers a map and a guide to breweries. The 2018–19 edition is the largest to date, featuring 38 breweries.
Inventive Craft Breweries and Brewpubs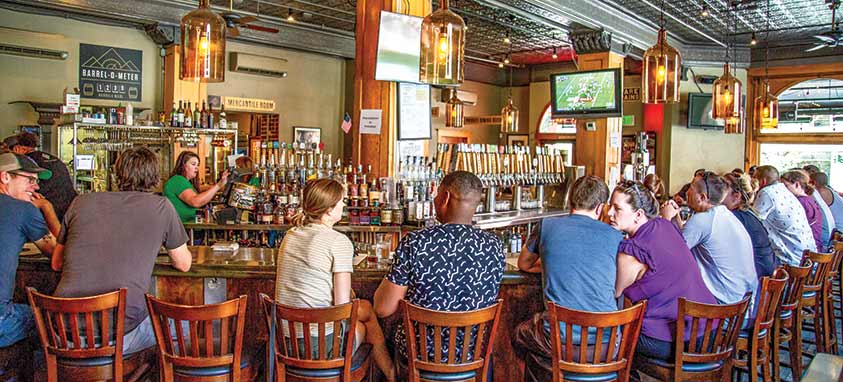 Wynkoop Brewing Company, which opened in 1988, is the city's first brewpub. The company's desire to provide beers beyond the status quo led it to produce hand-crafted porters, meads and caskconditioned beers, and other craft beer fixtures that beer lovers hadn't previously tasted. Wynkoop's flagship beer is Rail Yard Ale, a smooth, amber beer that combines the maltiness of an Oktoberfest lager with the slight fruitiness of ale.
Customized tours are available as a standalone event or as an add-on to a meal at Wyncoop, housed in Lower Downtown's (LoDo's) J.S. Brown Building, dating to 1899. Tours are available for groups of up to 20, and last 30 to 45 minutes. Several gathering spaces, which can seat 12 to 1,200 people, are available.
The beers at Rock Bottom Restaurant & Brewery, located on the 16th Street Mall, are hand-crafted on site. The beers have never been exposed to light, heat, or oxygen like mass-produced beer, so they retain maximum freshness. One favorite, Molly's Titanic Brown Ale, is an English-style ale that balances malt flavor and hops. The brewery has won many accolades, including Brewpub Group and Brewpub Group Brewer of the Year at the 2013 Great American Beer Festival. Private dining spaces are available, as well as full buyouts for up to 500.
Great Divide Brewing Co. was established in 1994, and its original Denver brewery and Tap Room are in the heart of downtown. It features 16 taps of seasonal and year-round hand-crafted brews. Daily group tours are available at Great Divide, which also features food trucks.
The company's new Barrel Bar & Packaging Hall in Denver's River North neighborhood has a new state-of-theart packaging facility, canning line, barrel-aged and sour beer storage, and an intimate new taproom. The Barrel Bar features a full lineup of Great Divide beers, including many seasonal, barrel-aged and limited-release offerings. Free daily tours and three meeting spaces are provided.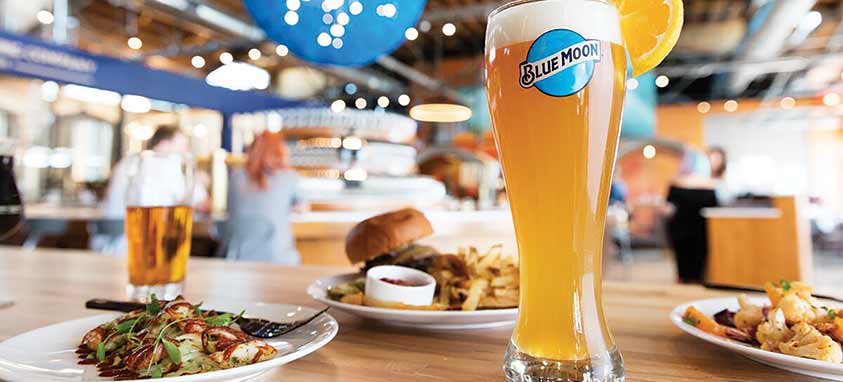 In the summer of 2016, Blue Moon Brewing Company relocated from its downtown location near Coors Field to Denver's River North Arts (RiNo) District. Since then, it has been brewing fan favorites and experimenting with new and unique ingredients on its pilot brewing system. Its first claim to fame was Belgian White Ale, which won first prize at the World Beer Championships. It's a cloudy, unfiltered, Belgian-style wheat ale with deep flavor.
Blue Moon features a private event room for up to 150 that is situated in the middle of the brewery, surrounded by the pilot system and fermentation tanks.
One of the newer spots, Intrepid Sojourner Beer Project's brewery in Lincoln Park showcases beer styles from around the world and experiments with exotic as well as local ingredients to produce house drafts such as Finnish sahti and garlic amber ale. This Arts District venue also provides a beer garden.
Top New and Renovated Properties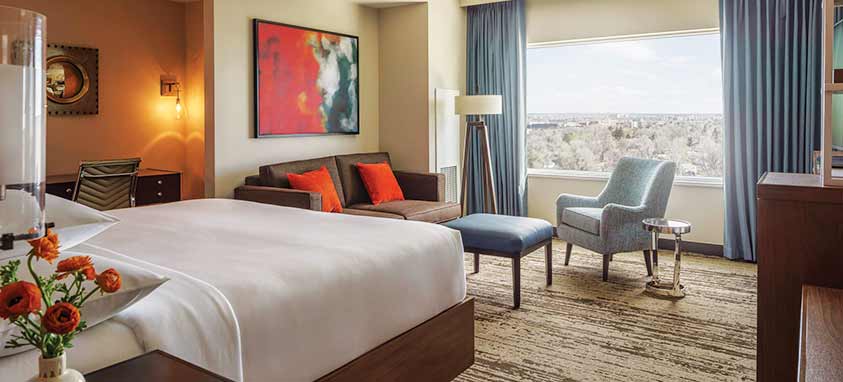 The luxurious Hyatt Regency Aurora-Denver Conference Center—located in the neighboring city of Aurora—opened in 2016 and features 249 guest rooms, a restaurant, 15 meeting rooms (including 20,000 sq. ft. of traditional meeting space), an 11,800 square-foot grand ballroom and another 8,100 sq. ft. of meeting space that holds elite accreditation from International Association of Conference Centers. Approximately 4,000 sq. ft. of outdoor terrace space is also available.
One of the city's newest properties, the 233-room Hilton Garden Inn Denver Union Station, opened downtown in April with an indoor pool, a fitness room, and 10,000 sq. ft. of flexible indoor and outdoor event space.
The Jacquard Hotel, which was unveiled in October in the heart of Denver's Cherry Creek District, provides 201 guest rooms, a rooftop pool and bar with views of the Rocky Mountains, and 12,000 sq. ft. of indoor and outdoor meeting space.
The Source Hotel & Market Hall, which debuted in September in the River North Arts District, features 25 independent food and retail vendors, and two breweries. It also contains The Source Hotel, offering 100 guest rooms blending Scandinavian and Japanese design, a rooftop pool with panoramic views and 2,300 sq. ft. of modern event space with floor-to-ceiling windows.
Boulder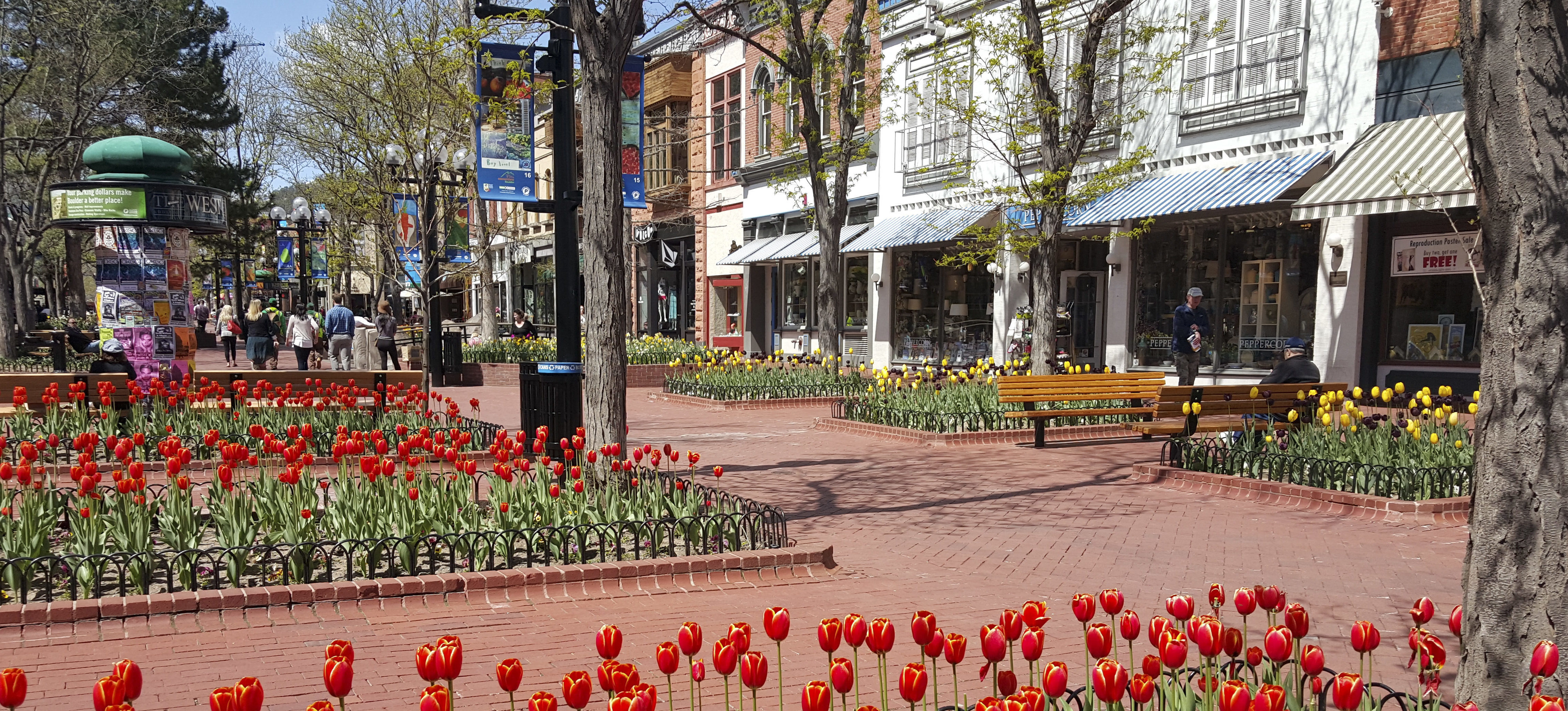 Boulder Beer Company, Colorado's first craft brewery, opened in 1979, starting a trend that today has resulted in the city having more breweries per capita (13.3 for every 100,000 people) than any other city in the country.
"Boulder is the perfect place to open a brewery, as everyone here appreciates the process and hard work of craft beer," says Mary Ann Mahoney, CEO of Boulder Convention and Visitors Bureau, noting that the city now has 21 breweries. "As one of the microbrewing capitals of the country, Boulder is a great place to have a drink after a meeting or a conference."
Like Denver, Boulder's CVB offers a free brochure highlighting its breweries. The Boulder Beer Trail Brochure also includes wineries and distilleries.
Inventive Craft Breweries and Brewpubs
In 2002, Boulder Beer Company introduced Hazed & Infused dry-hopped ale, an unfiltered hoppy session ale. The following year, its Mojo IPA debuted, and every year since, the company has ushered in new flavors and new styles of beer, which often are on the cutting edge of craft brewing trends.
The Pub on Wilderness, situated in the heart of the production brewery, offers free daily tours that provide a behind-the-scenes look at the hand-crafted brewing process. Besides featuring brewery-fresh beers on tap on CO2, nitro and cask, the pub also has a full-service restaurant with food, wine and spirits.
Avery Brewing produces eccentric ales and lagers that define the norms by featuring a blend of Old World tradition and expertise with creativity and boldness.
"One of the coolest things about Avery is that every now and then, they offer what they call an Ales of Antiquity Dinner, which consists of a beer made from an ancient recipe, accompanied by four small plates," Mahoney says.
Avery offers exclusive, interactive tours that enable participants to touch the ingredients used in their beer. The Brewhouse Mezzanine, located on an indoor patio with an active brewing facility, is available to host groups of up to 48 seated and 125 standing. It features a private 10-tap bar with a variety of buffet food options.
Founded in 2008, Upslope Brewing Company operates two breweries with tap rooms. The original brewery, on Lee Hill in North Boulder, is where most of the experimenting and brewing happens, while the main production brewery is at Flatiron Park.
"These guys didn't just float another microbrew into the sea of Colorado microbrews: They created a lineup of quality craft beers that tastes as good poured from a tap as they do pulled out of a fishing vest," Mahoney says. "It is great for groups who want to sit back, relax and enjoy the brew."
The Lee Hill Brewery, which provides a unique view of the 30-barrel brewing system, can be rented for private events, and accommodates 40 seated and 60 standing.
Situated along the famous Pearl Street Mall, Mountain Sun, along with its sister breweries spread throughout the Front Range (the easternmost section of the Southern Rocky Mountains), has been pumping out kegs of fresh Colorado beer since 1993. The breweries produce more than 75 different beers throughout the year, with new releases happening every month.
Top New and Renovated Properties
Boulder Marriott—one of the smallest upscale, full-service, boutique hotels in the Marriott chain—completed a renovation of its 143 guest rooms in June. Located one block from Dairy Arts Center, it provides 2,423 sq. ft. of meeting space.
Also near Dairy Arts Center, Embassy Suites by Hilton Boulder opened last year with 204 guest rooms. The hotel includes a fitness center, a pool and the largest ballroom in the city, the 6,510-square-foot Pearl Street Ballroom.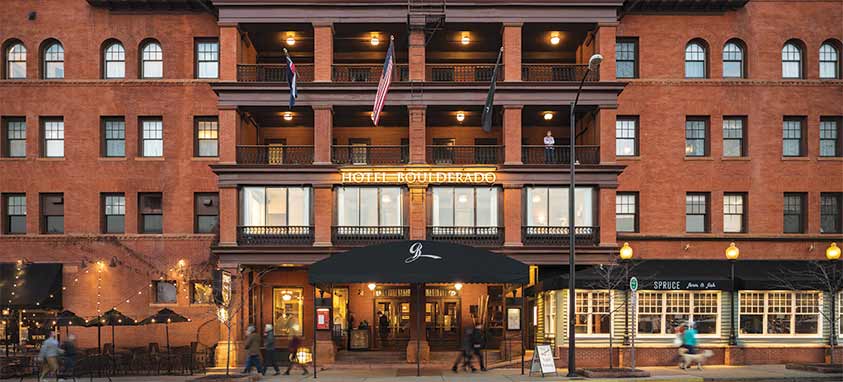 After receiving a $2.5 million lobby renovation recently, Hotel Boulderado now provides more contemporary seating to encourage guests to converse, linger and enjoy the atmosphere. Located in downtown Boulder, the property was built in 1909 and is known for its luxurious Victorian elegance. It offers 160 guest rooms and 10,000 sq. ft. of meeting and banquet space.
Colorado Springs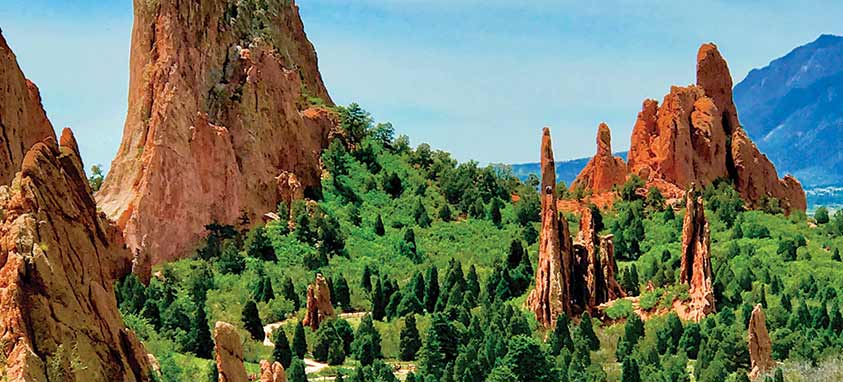 Boasting more than 20 breweries, the Colorado Springs area is ideal not only for sampling outstanding craft beers, but also for enjoying pairings with locally grown food.
"From ciders to moonshine and unparalleled craft beer, what makes Colorado Springs so great for F&B is that many of the locally owned businesses pair with each other, whether that's hosting co-op cocktail and dinner pairings or souring ingredients from local Pikes Peak region farmers," says Kathy Reak, senior director of convention sales for Colorado Springs Convention & Visitors Bureau. "From locally grown hops to fresh-picked apples, each libation location offers only the best of Colorado."
Colorado Craft Tours offers weekly tours to some of the area's leading breweries and distilleries, and can arrange custom tours.
Inventive Craft Breweries and Brewpubs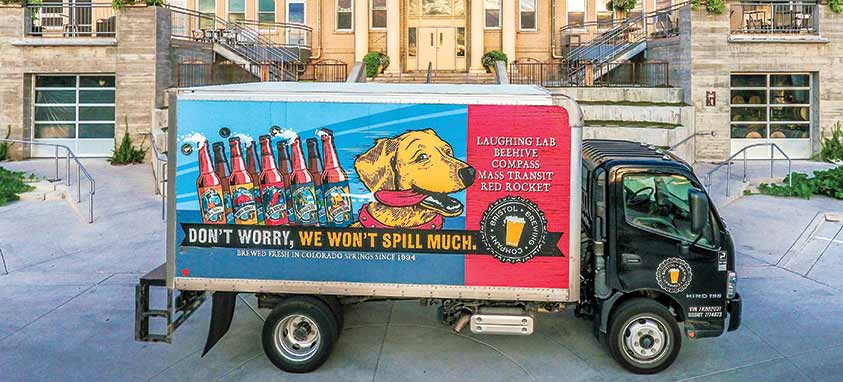 Bristol Brewing Company, located inside Ivywild School—a former elementary school built in 1916 and transformed into a lively community marketplace and local gathering spot—produces fresh, distinctive ales.
"A virtual and literal hot spot of activity throughout the day, Ivywild is always full of energy," Reak says. "Whether it's a barista from The Principal's Office serving a pour-over coffee in the morning, friends meeting for coffee or craft-brewed beer over lunch, gardeners harvesting the fruits of the season or people gathering for a small concert or film in the afternoon, the school provides an inviting space for groups of all sizes."
The renovated school gymnasium can accommodate 120 seated and 300 standing.
Founded in 2016, Goat Patch Brewing Company offers a balanced variety of brews. Like Bristol, it's in a redeveloped former elementary school that houses other tenants—in this case, Nightingale Bread, Building 3 Coffee Roasters, Tailgate BBQ Smorbrod and several food trucks throughout the week. Brewery tours are available and events for 40 seated and 70 standing can be accommodated.
Situated in the heart of downtown, Phantom Canyon Brewing Company is housed in a historic building and features microbrews, a billiards hall and American fare. The company actively searches to find the finest malted barley, quality hops and select ale and lager yeasts to blend with pure, crisp Colorado water.
The newly renovated third floor has event spaces that accommodate groups of up to 170 seated or 225 standing.
Fossil Craft Beer Company, a community-centric microbrewery, is situated on the west side of town. It creates beers using many locally sourced ingredients. Fossil has eight taps, seven of which are beer and the eighth is a nonalcoholic ginger ale. Outside seating is available on a patio, and a rotating lineup of food trucks is available.
Pikes Peak Brewing Company, located in Monument, 20 miles north of Colorado Springs, completed an expansion in March that added 5,900 sq. ft. This will enable it to produce more than 13,000 barrels per year—more than a 333 percent growth in capacity. Events can be arranged that can accommodate up to 70 seated in two private rooms.
Top New and Renovated Properties
Colorado Springs' legendary Forbes Five Star, AAA Five Diamond property, The Broadmoor, celebrated its 100th anniversary last year by updating the main guest rooms and suites, expanding the lobby, and opening Cafe Julie's chocolate store and The Grille restaurant. The Golf Club area also was updated to provide more information about the property's golf history. The Broadmoor offers 785 guest rooms and 185,000 sq. ft. of meeting space.
SCP Hotel, short for "Soul, Community, Planet," emerged this year after a $6 million renovation of the previous property. It features 174 guest rooms and 500 sq. ft. of meeting space. An eco-collaborative design is included in everything from the guest rooms to the public lounges.
Scheduled to open in August, Hilton Garden Inn Colorado Springs Downtown is the city's first newly built downtown hotel in more than four decades. It will include two penthouses, 20 suites, a restaurant, a 24-hour business center, a fitness center and meeting space.
3 Top Places to Enjoy a Meal and Beverage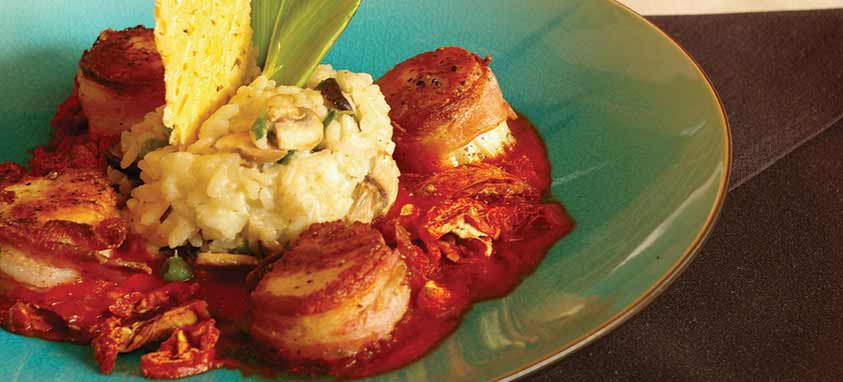 Denver, Boulder and Colorado Springs feature some especially intriguing places, including the following, that creatively pair foods with craft beers and other alcoholic beverages.
Denver
Euclid Hall Bar and Kitchen, located right around the corner from Rioja in Euclid Hall, is housed in an 1883 building. This American tavern focuses on high quality and innovative pub food from around the world, including house-made sausages, po' boys, poutine and schnitzels. It also features an extensive beer selection and creative cocktails.
An open kitchen and two floors, each equipped with a full bar and ample seating, make Euclid Hall ideal for special events of all kinds. The restaurant can accommodate up to 80 people for a seated dinner and up to 200 for a standing reception.
Boulder
Located in the up-and-coming East Neighborhood, BRU Handbuilt Ales and Eats pairs sustainably crafted food with never-filtered, naturally carbonated ales. Beer (or the ingredients) is even used in some dishes, including BRU Wood Roasted Sourdough Pizza, made with IPA tomato sauce, ale sausage, kale and smoked shallots. And food ingredients are used in some of the beers, including Obitus American Brown Ale, handcrafted with roasted dates and caramelized sugar, and Citrum IPA, hand-built with fresh lemon zest and juniper.
Colorado Springs
Located just south of downtown, The Warehouse Restaurant and Gallery offers attendees some of the best of the city's hospitality, local food (pictured right), wine, microbrews and visual arts.
"Chef James Africano prepared unique dishes featuring in-season products that combine Colorado game meats with a New Mexican flavor," says Kathy Reak, senior director of convention sales for Colorado Springs Convention & Visitors Bureau.
Three private event space are available, with a total of 1,275 sq. ft.