Western Colorado Center for the Arts, Grand Junction
Colorado's meeting destinations boast enticing, inspirational options
Colorado's soaring, mountainous terrain, punctuated by striking red-rock outcroppings and snow-capped peaks, is complemented by its vast plains, deserts, canyons and mesas. These stunning landscapes lure and inspire creative people from throughout the world. Painters and other visual artists can be found in abundance throughout the state, including the major meetings destinations.
Art in Denver and other cities can be experienced in the typical ways—at museums, festivals, exhibitions and outdoor installations—but with a distinctive local twist
"People are often surprised at the quality of art they can find in Denver, and often expect to find museums similar to what you would see in most cities," says Rachel Benedick, vice president of sales and services for Visit Denver. "But with our sweeping Rocky Mountain vistas and hip, urban city center, there is an abundance of beautiful art to be found in the Mile High City. Denver is home to a phenomenal year-round art scene, with world-renowned museums, cutting-edge street art, exceptional performing arts and more."
The rich art scenes in Colorado's meeting destinations provide attendees with enjoyable hyper-local experiences and sources of inspiration that in turn boost productivity during meetings. Here's a look at some of the hot spots for groups.
Aspen
Tucked away in the Rocky Mountains, 158 miles southwest of Denver, Aspen is a year-round destination best known for its ski resorts. It's also notable for high-end restaurants and boutiques, as well as landmarks such as Wheeler Opera House, built in 1889 during the area's silver-mining boom.
"An endless array of arts, culture, dining and nightlife give Aspen an urban feel that belies its small-town charm," says Sarah Reynolds Lasser, director of sales for Aspen Chamber Resort Association. "Luckily, almost everything is within walking distance, making it easy for groups to get around."
Intriguing Art
Artists in the Aspen area are known to be very accessible and eager to engage with visitors.
"Many sell their wares at the Aspen Saturday Market from June to October, but others are found at shops in town year-round," Reynolds Lasser says. "Knowing an authentic artist behind a purchase and having the opportunity to meet the artist changes the shopping experience and creates a genuine human connection."
Design-forward Aspen Art Museum, which always offers free admission, presents the freshest, most significant evolutions in international contemporary art.
Maker & Place, a new retail shop that opened last summer, features unique handcrafted wares from throughout the world, from home-ware, furniture and design objects to jewelry, gifts, accessories and garments. It offers open-air studios to local crafts people and invites customers to take part in the creation process.
Top Meeting Sites
The big news in the Aspen hospitality scene is that W Hotel Aspen is slated to open in spring 2019 with 88 guest rooms, a rooftop patio bar with a pool and Jacuzzi, fire pits, cabanas, a dance floor and a view of Aspen Mountain. It also will include an underground speakeasy club, complete with a built-in DJ booth that will be suspended from the wall.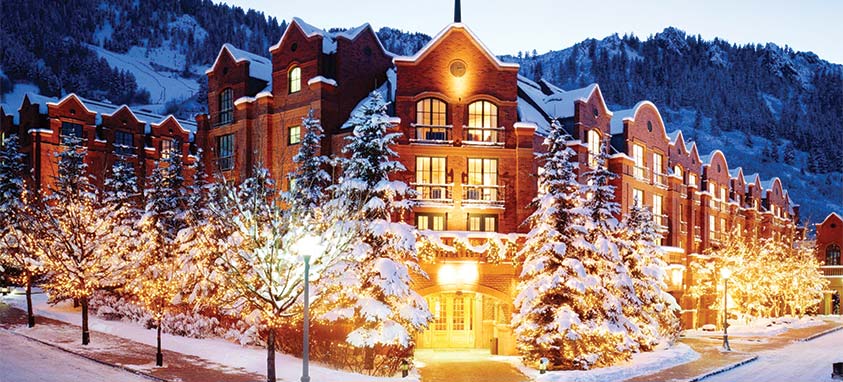 Current Aspen options include The Little Nell (92 guest rooms, 10,000 sq. ft. of meeting space), St. Regis Aspen Resort (179 guest rooms, 29,000 sq. ft.), Hotel Jerome (93 guest rooms, 10,000 sq. ft.) and Aspen Meadows Resort (98 guest rooms, 22,000 sq. ft.).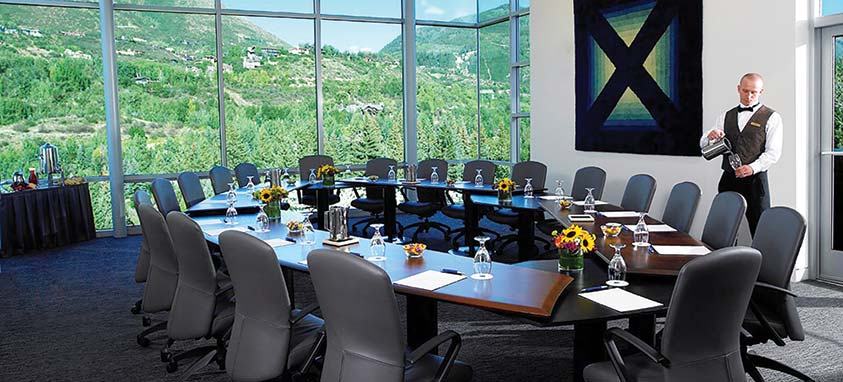 Boulder
Situated 29 miles northwest of Denver, Boulder has carved its own identity with the buzzing University of Colorado campus, year-round outdoor activities, a lively culinary scene, superb breweries and a vibrant downtown.
"Your group can be on a hiking trail within 10 minutes, no matter where the meeting is located in town, and can be enjoying world-class food from farms located right outside of town even more quickly," says Mary Ann Mahoney, CEO of Boulder Convention and Visitors Bureau.
Intriguing Art
Museum of Boulder, a state-of-the art museum with highly interactive exhibits exploring Boulder's past, present and future, is set to open this spring in the former Masonic Lodge building at Broadway and Pine Street. It will feature a rooftop patio and other group spaces.
Located downtown, Boulder Museum of Contemporary Art is one of Colorado's leading venues for the exploration of contemporary art. Each year, it features an ambitious exhibition schedule and an innovative series of educational programs. Groups can arrange for tours and rent spaces in the museum.
Madelife promotes artists and creative entrepreneurs in its 6,000-square-foot work and gallery space, black-box theater and sound studio. It also curates fine-art pieces from local artists, hosts bimonthly art exhibitions, produces live events and workshops, and records and produces video and music projects. Two 30-seat meeting spaces can be rented.
Top Meeting Sites
Embassy Suites by Hilton Boulder, which opened in November, offers 204 guest rooms, a rooftop pool and a 6,500-square-foot ballroom, the largest in Boulder.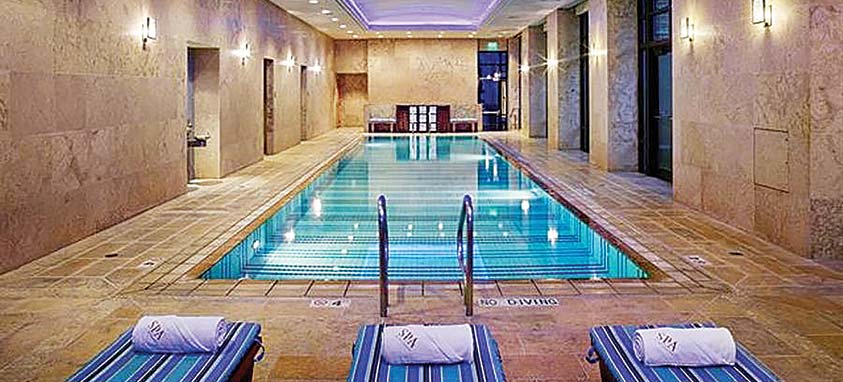 St. Julien Hotel and Spa recently updated furniture, transformed its lobby, and added new carpeting, seating and other amenities. It features 201 guest rooms, a full-service spa and salon, and 16,518 sq. ft. for meeting space.
Another recently renovated property, the grand Hotel Boulderado, boasts 160 guest rooms decorated in either a modern-mountain or historic Victorian style, as well as 10,000 sq. ft. of meeting space.
Snuggled into the foothills of the Rocky Mountains, Boulder Marriott is undergoing a full renovation. It provides 157 boutique-style guest rooms, Canyons Restaurant and Bar, and 2,423 sq. ft. of meeting space.
Colorado Springs
Situated 70 miles south of Denver along Interstate 25, Colorado Springs features breathtaking views of the Rocky Mountains, mild year-round temperatures and first-tier amenities at a low price point.
"More than 55 area attractions and activities make it a great choice for a pre- or post-event adventure," says Chelsy Offutt, director of communications for Visit Colorado Springs. "The region is an optimal choice any time of year."
Intriguing Art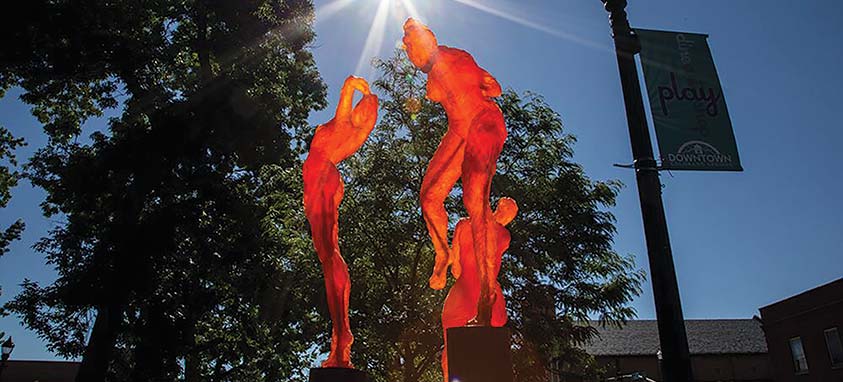 Each year, the Colorado Springs community holds a sculptural art competition, and winning pieces are installed as part of the Art in the Street exhibit. New works by artists from around the world are unveiled, turning the downtown area into a yearlong outdoor exhibit.
Colorado Springs is also known for Starr Kempf's unique kinetic sculptures, consisting mainly of graceful, over-sized steel abstractions—from fantastical birds to undulating spires—that shift and move in the wind. They can be seen near the entrance to North Cheyenne Canon Park, in downtown Colorado Springs and at UCCS Ent Center for the Arts.
Cottonwood Center for the Arts, a nonprofit arts complex located in downtown Colorado Springs, features, galleries, artists' studios, and classrooms. The center can be rented for events—NSR Gallery accommodates up to 100 people, while the Spittler Gallery can handle up 60.
The acclaimed Colorado Springs Fine Arts Center at Colorado College features a 4,000-piece permanent collection focusing on American art, and hosts blockbuster international touring exhibitions. Group tours are available.
Top Meeting Sites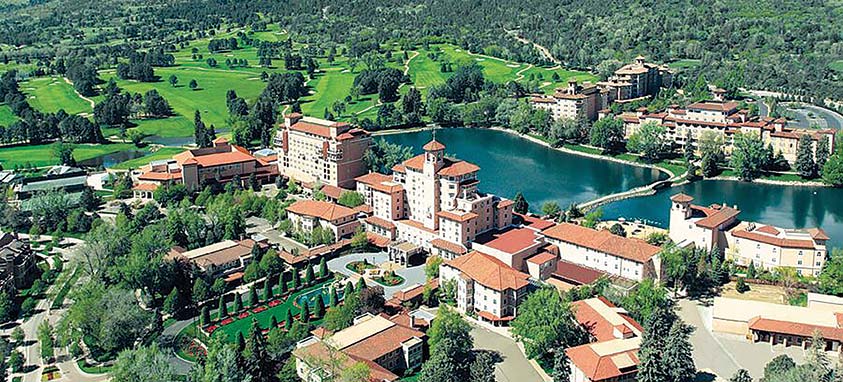 In Colorado Springs, it all begins with The Broadmoor, one of the world's elite luxury hotels. It boasts 784 guest rooms, several fine-dining options, a spa, exciting wilderness activities and adventures, golf, tennis and 185,000 sq. ft. of meeting space.
Embassy Suites by Hilton Colorado Springs completed a renovation last year that included modern updates to all 205 guest rooms, the restaurant and bar, and atrium. Some 7,000 sq. ft. of meeting space also was added.
The 299-room DoubleTree by Hilton Hotel Colorado Springs just finished refurbishing its 25,000 sq. ft. of meeting space and is finishing renovations of its guest rooms, lobby and expanded bar.
The Antlers, a Wyndham Hotel, Colorado Springs finished remodeling its Piccadilly Bar, which now offers 50 beers on tap, 100 wine choices and specialty cocktails. The hotel provides 273 guest rooms and 27,500 sq. ft. of meeting space, divided among 17 rooms.
Denver
Colorado's capital and most populous city (with around 700,000 residents), Denver is a jumping-off point for excellent skiing and hiking in the nearby mountains, but has plenty of its own alluring attributes.
"With a mild climate and 300 days of sunshine, Denver is a great year-round meeting destination with a compact, walkable downtown area," Benedick says. "The convenience of Denver's walkability lends itself well to allowing meeting professionals and attendees to explore the city's chef-driven dining scene, some of the finest craft breweries in the country and, of course, its thriving arts and culture."
Intriguing Art
First-time visitors to Denver quickly become aware that it is a haven for art lovers. During the past 19 years, more than 150 works have been installed under Denver's Public Arts Program, established in 1998 as an executive order from then-Mayor Federico Pena.
"There's an abundance of public art," Benedick says. "You'll find gorgeous murals, whimsical sculptures and other kinds of public art that will delight and inspire."
The Art District on Santa Fe is the hub of Denver's art scene, with more than 30 galleries, shops and restaurants. Golden Triangle Creative District is home to eight museums, along with more than 50 galleries, fine-art studios and specialty stores. River North Art District, known locally as RiNo, is quickly becoming a hot spot for artsy types, with a tremendous variety of creative businesses, including art galleries, designers, architects, furniture-makers, illustrators, painters, photographers and sculptors, and has the highest concentration of public murals in Denver.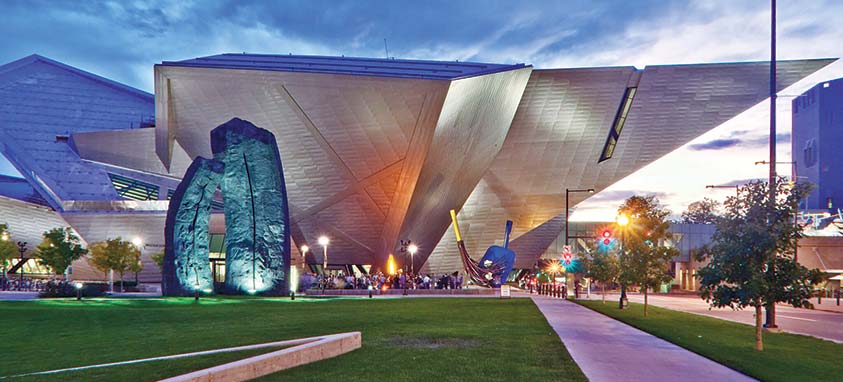 An ultramodern complex situated in the Golden Triangle, Denver Art Museum contains 55,000 pieces from throughout the world, including works by Monet, Picasso, Matisse, Warhol and O'Keeffe. It also features one of the top collections of American West art in the world, along with strong collections from Africa and pre-Columbian America. Group tours are available, and rentable event spaces can accommodate 50 to 1,500 people.
Museum of Contemporary Art Denver, the city's first institution devoted exclusively to contemporary art, recently relocated to a new, environmentally sustainable building downtown. It promotes creative experimentation with art and ideas, and includes a wide range of rotating exhibitions. Group tours are available, and MCA Cafe, situated on the rooftop, is well-suited for seated dinners, networking events and cocktail receptions.
Top Meeting Sites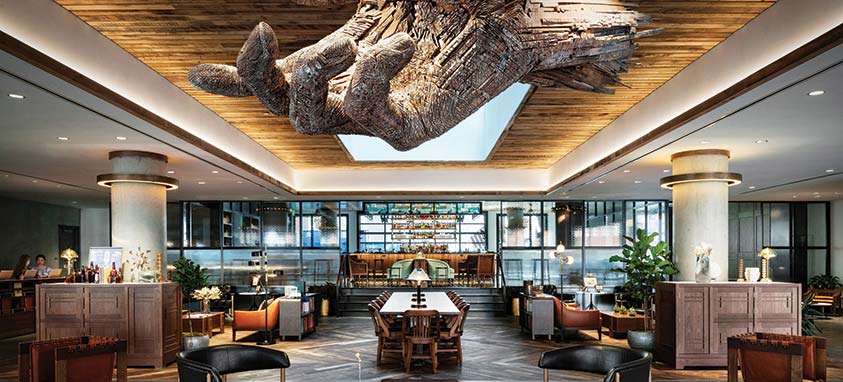 The Maven—a 172-room, boutique hotel that opened in March 2017—features some 400 pieces of original works by local artists. The property anchors Dairy Block, a vibrant new micro-district in Lower Downtown LoDo). It offers 60,000 sq. ft. of retail and restaurant space, and 4,200 sq. ft. of meeting space.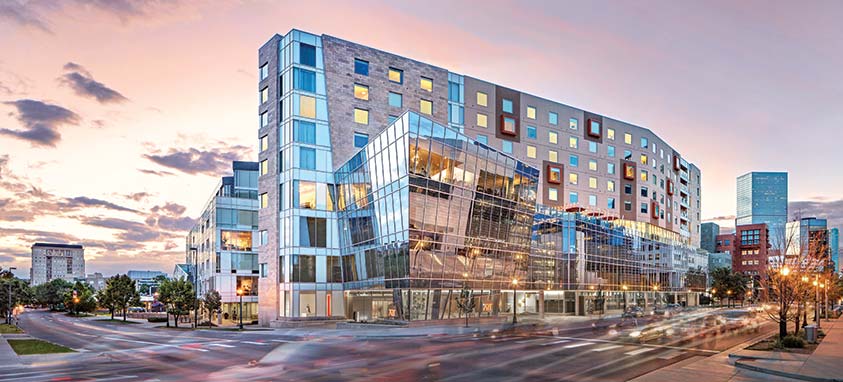 Located adjacent to Denver Art Museum, The Art, a Hotel showcases modern art, and even has its own curator—Dianne Vanderlip, former curator of modern and contemporary art at the museum. The boutique hotel provides 165 guest rooms and 4,100 sq. ft. of meeting space.
Hotel Teatro, a boutique property situated in an a 108-year-old building in LoDo, recently completed a $2.5 million renovation of its 110 guest rooms. It also offers two restaurants and 5,500 sq. ft. of attractive meeting space.
Other meeting options are Colorado Convention Center (2.2 million sq. ft. of meeting space), Hyatt Regency Denver at Colorado Convention Center (1,100 guest rooms, 60,600 sq. ft.), Grand Hyatt Denver (516 guest rooms, 52,600 sq. ft.) and Sheraton Denver Downtown Hotel (1,313 guest rooms, 133,000 sq. ft.).
Grand Junction
Sitting at an altitude of 4,000 feet along Interstate 70, 243 miles west of Denver, Grand Junction is becoming increasingly recognized as an outstanding destination. It boasts top restaurants, a burgeoning wine region, and excellent hiking, mountain biking and white-water rafting.
The city is surrounded by The Book Cliffs, Colorado National Monument and Grand Mesa, the world's largest flat-top mountain. This trio of natural wonders provides a stunning backdrop for landscape artists.
Intriguing Art
Western Colorado Center for the Arts, founded in 1953, is a community arts organization that promotes the visual arts, partly through a permanent collection dedicated to Colorado's history and culture, and more than 25 annual exhibits by nationally and internationally renowned artists. The facility can be rented, and accommodates up to 500 people in its galleries, studios, courtyard and garden.
Art on the Riverfront Trial was designed in 2016 to transform bleak underpasses along the city's Riverfront Trail into vibrant, colorful artistic expressions that enhance trail users' experience. It consists of murals that change annually, bringing new and fresh designs to the Riverfront Trail.
Art on the Corner, established in 1984, is a year-round outdoor sculpture exhibit—consisting of permanent and temporary pieces—in the downtown area. The exhibit, one of the first of its kind in the United States, is free to the public and includes more than 100 sculptures in a variety of mediums and styles. The temporary pieces can be purchased.
Top Meeting Sites
Two Rivers Convention Center is the main facility in Grand Junction for large meetings, events and dinners. It offers nearly 23,000 sq. ft. of meeting space, including three ballrooms that provide at least 5,800 sq. ft. each, and six smaller rooms.
Lodging/meeting options include DoubleTree by Hilton Hotel Grand Junction (273 guest rooms, 12,000 sq. ft. of meeting space) and Clarion Inn Grand Junction, (236 guest rooms, 15,412 sq. ft.).
A new hotel (not yet named) with 10,000 sq. ft. of meeting space—and connected to Two Rivers Convention Center—is set to break ground in 2019.
A Scintillating Jewel, High in The Rockies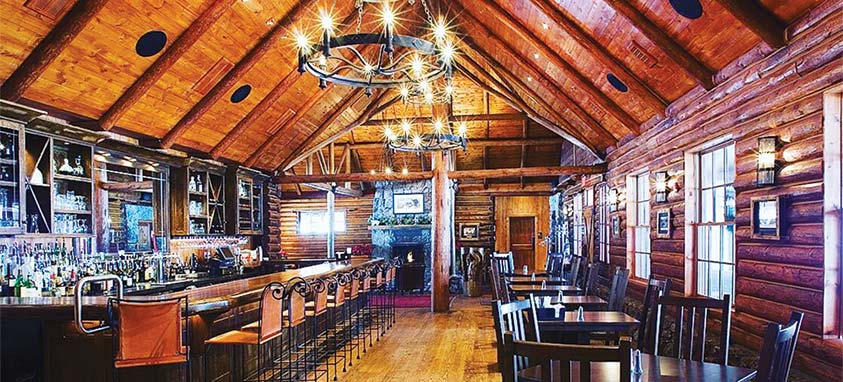 Located on more than 6,000 acres in the Rocky Mountains, 75 miles northwest of Denver, Devil's Thumb Ranch Resort in Tabernash is a destination unto itself. It's surrounded by lush meadows, babbling creeks and towering pines. Activities include Nordic skiing, horseback riding, cattle driving, fly-fishing, hiking, biking and ziplining. The resort features 130 rustic yet upscale accommodations, as well as a world-class spa, two restaurants and 20,000 sq. ft. of meeting space.
The property has received a host of distinctions, including the Environmentally Sensitive Remodeling award from the U.S. Environmental Protection Agency. Devil's Thumb also was the only U.S. property on Travel & Leisure magazine's recent list of Top Ten EcoFriendly Resorts in the World and was named one of the Top 25 Hotels in the West by Sunset magazine.