Bixby Creek Bridge, Big Sur
California's Central Coast Features a Diverse Array of Group-Friendly Celebrations
Running 656 miles along California's coast, Pacific Coast Highway is the stuff that dreams are made of, with its stunning ocean views, mountainous landscape, abundant wildlife and mild weather. It's also very peaceful, with laid-back cities and towns scattered along the way.
Groups are lured by several areas along or near the coast that offer a refreshing change from the busyness of the workplace and big-city life while providing all the necessary modern conveniences.
More: The Most Instagrammable Places in California
"The coast provides an escape from the stressors that come from being in cities like Los Angeles or San Jose, but still give groups the ability to jump back into work if needed," says Amy Herzog, executive director of Visit Carmel. "The coast provides a peaceful change of pace: The gentle ocean breeze, calming waves and overall relaxing mindset are rejuvenating for groups."
One of the main stretches of the Pacific Coast Highway (aka Highway 1) is in Central California, extending from Santa Cruz to Gaviota, 30 miles north of Santa Barbara. Some very attractive meeting destinations—including Santa Cruz, Carmel, Monterey, Paso Robles and San Luis Obispo—lie along or near this stretch. They all exude the tranquil qualities of central coast cities, but become much livelier during annual festivals and events, which never fail to provide fresh insights into their culture and history.
These annual celebrations offer groups opportunities to have unforgettable hyper-local experiences that complement the serene features of the areas. Here's a sampling of intriguing options for groups.
Santa Cruz
Located 65 miles south of San Francisco, Santa Cruz features sunny beaches and coastal redwood forests. It also boasts legendary Santa Cruz Beach Boardwalk amusement park, vintage steam engine rides through redwood trees, boutique wineries, and more than a dozen state parks and beaches.
The city features annual festivals and events throughout the year, but especially during summer. "Santa Cruz has an abundance of fairs, festivals and a wealth of music events," says Laura Manriquez, director of sales and marketing for Visit Santa Cruz. "These types of weekend events are great for corporate planners to use to entice a group to stay during a weekend or holiday, or to ease the ever-so-hard Sunday check-in."
Exciting Annual Events
One of the city's main festivals, Woodies on the Wharf, features more than 200 pre-1952, wood-bodied cars, making it the largest woodie show in Northern California. Groups can also enjoy the wide variety of bands, rent kayaks, learn to surf, enjoy local restaurants and shop. This free event takes place over a Friday and Saturday in June on Santa Cruz Municipal Wharf.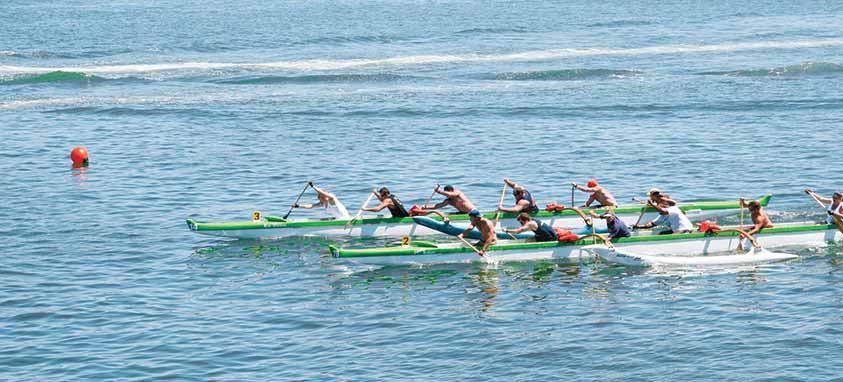 Aloha Outrigger Races & Polynesian Festival, also staged on the wharf, celebrates the three Hawaiian princes who first rode redwood surfboards at the mouth of the San Lorenzo River during the summer of 1885, 29 years before the wharf was built. Newbies can climb into sleek, outrigger canoes with expert paddlers and compete for prizes. Other highlights include island-style music and dancing, and culinary treats such as poi, laulau, shave ice and tropical drinks. Unique Polynesian items are available from vendors lining the wharf at this August weekend event.
Top Lodging and Meeting Spaces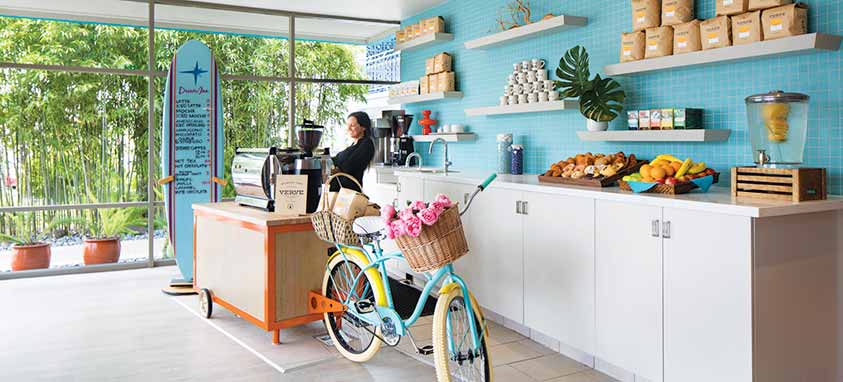 Santa Cruz offers many options for groups, including Hilton Santa Cruz/Scotts Valley, which is built into the Santa Cruz Mountains. If features 178 guest rooms and more than 8,000 sq. ft. of meeting space. Hotel Paradox, an Autograph Collection Hotel, which mixes natural elements and urban design, provides 170 guest room and 9,000 sq. ft. Santa Cruz Dream Inn, the only beachfront hotel in the city, offers 165 guest rooms and 3,500 sq. ft. The luxurious Seaside Beach Resort on Monterey Bay in nearby Aptos offers 285 guest rooms and more than 17,000 sq. ft.
Monterey
The city of Monterey extends from pristine Monterey Bay to pine-forested hillsides with sweeping bay views. The city's natural beauty and intriguing historic sites lure meeting groups and tourists from throughout the world.
"Monterey County epitomizes what California stands for," says Rob O'Keefe, chief marketing officer for Monterey County Convention & Visitors Bureau. "It is the epicenter of inspiration. Ultimately, the most important outcome for attending a meeting is new thinking—new ideas that will foster growth for a company or an organization. The most important ingredient is inspiration, and time and again, planners tell us that is the rare element that we have in abundance—and that is what they're looking for."
Exciting Annual Events
The famed Monterey Jazz Festival, held each September, is the longest-running jazz festival in the world. Since its inception in 1958, it has been offered annually on the 20-acre, oak-studded Monterey County Fairgrounds. More than 500 leading artists perform throughout the weekend on eight stages spread throughout the grounds.
The Monterey Wine Festival, which celebrated its 42nd year in June, is arguably the premier wine and food event in Monterey. Guests enjoy savoring bites of specialty foods that pair well with beers and spirits and sips of world-class wines. New additions include cocktail camp, featuring craft spirits served in classic cocktail tastings, and fundamental technique training that teaches participants how to prepare cocktails like a pro. The event also offers live music.
Top Lodging and Meeting Spaces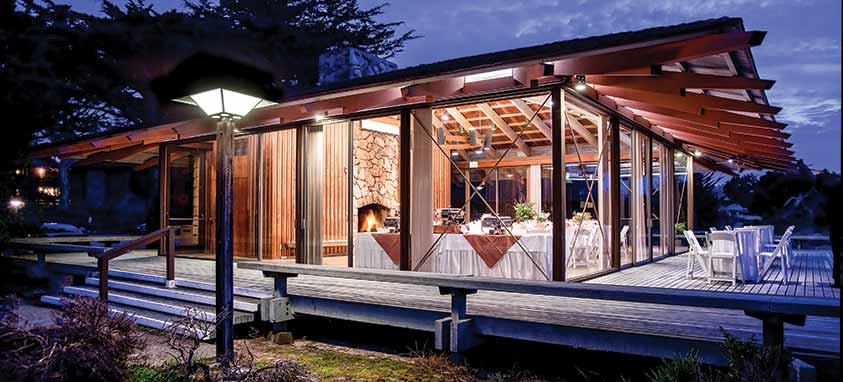 Monterey Conference Center completed a $60 million renovation last year and re-emerged as a state-of-the-art venue featuring a 20,000-square-foot exhibit hall and a 10,000-square-foot ballroom, along with meeting rooms, prefunction space, an art gallery and administrative offices. The adjacent Portola Hotel & Spa at Monterey Bay offers 379 elegantly appointed, residential-style guest rooms and suites, three restaurants and 120,000 sq. ft. of meeting space. Perched dramatically on historic beachfront property, Monterey Plaza Hotel & Spa has 290 guest rooms and 30,000 sq. ft. Situated at the tip of the Monterey Peninsula, Asilomar Conference Grounds in nearby Pacific Grove features 65,000 sq. ft., divided among 30 event spaces.
Carmel-by-the-Sea
Just 4 miles south of Monterey, Carmel-by-the-Sea has carved its own identity as an upscale meetings and tourist destination.
"Carmel is the perfect setting for smaller-sized meetings and groups, as it provides a unique and intimate experience," Herzog says. "Not only is it filled with world-class restaurants: It is completely walkable, being 1 square mile in size, and includes stunning natural beauty, from the hiking trails to the white-sand beach."
Exciting Annual Events
Carmel Art Festival, held the weekend after Mother's Day weekend, is centered around the visual arts. It features sculptures, a juried plein air painting competition, art activities, live music performances and more. The event is centered around Mission Street between Ocean Avenue and Sixth Street. Galleries throughout Carmel hold receptions and demonstrations during the festival.
Nearby Pebble Beach offers AT&T Pebble Beach National Pro-Am golf tournament each February. One of the most exciting events on the PGA Tour, it attracts thousands of spectators and millions of television viewers on three of Monterey Peninsula's premier golf courses—Pebble Beach Golf Links, Spyglass Hill Golf Course and Monterey Peninsula Country Club Shore Course. All tournament proceeds benefit charities in Monterey County, Santa Cruz County and San Benito County. April brings Pebble Beach Food & Wine, one of the leading epicurean lifestyle events on the West Coast. Great for groups, it matches 250 acclaimed wineries and 100 celebrity chefs at one of the most picturesque strips of coastline in the world.
Top Lodging and Meeting Spaces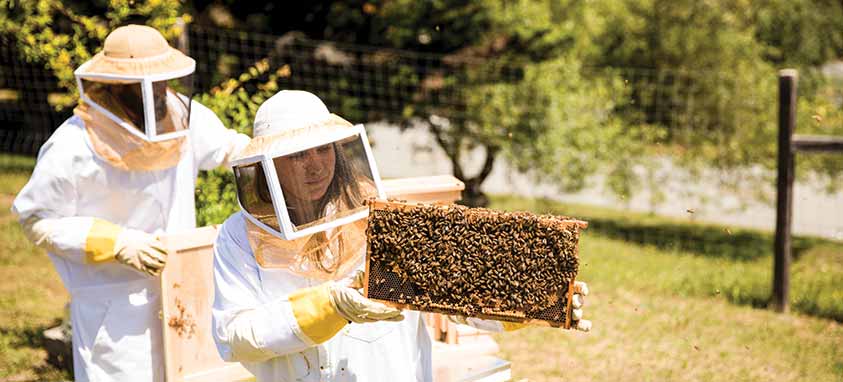 Carmel Valley Ranch, a recently reimagined 500-acre property, features 181 guest rooms, an organic garden, a honeybee apiary, a 10,500-square-foot spa and 10,000 sq. ft. of meeting space. The boutique Carmel Mission Inn, located downtown, provides 165 guest rooms and 4,500 sq. ft. The Lodge at Pebble Beach, an iconic property that will be celebrating its centennial next year, offers 161 guest rooms and 10,000 sq. ft.
Big Sur
Home to fewer than 1,000 permanent residents, Big Sur is a world-renowned area stretching approximately from Carmel Highlands to San Simeon. Situated 25 miles south of Monterey, Big Sur offers stunning ocean views on one side of Highway 1, and the deep woods of the Santa Lucia Mountains on the other side.
Big Sur has three small communities—in Gorda, Lucia and Posts—and includes state parks, campgrounds, hotels, restaurants, art galleries and shops. A haven for the creative, its residents have included Henry Miller, Hunter S. Thompson, Jack Kerouac, Kim Novak, Al Jardine and Ansel Adams.
Exciting Annual Events
The three-day Big Sur Foragers Festival in January affords Big Sur area restaurants the opportunity to feature the culinary expertise of notable chefs, who prepare unique fare ranging from rustic to elegant, paired alongside the central coast region's amazing selection of wine and beer. The festival has traditionally served as a big fund-raiser for the nonprofit Big Sur Health Center.
Each October, the Big Sur Jade Festival brings together musicians, artists and crafts people—and 45 vendors of jade, gems, wood and stone—for three days in an annual fund-raiser for the South Coast Community Land Trust. It's held at Pacific Valley School, 60 miles south of Monterey and 40 miles north of Cambria.
Top Lodging and Meeting Spaces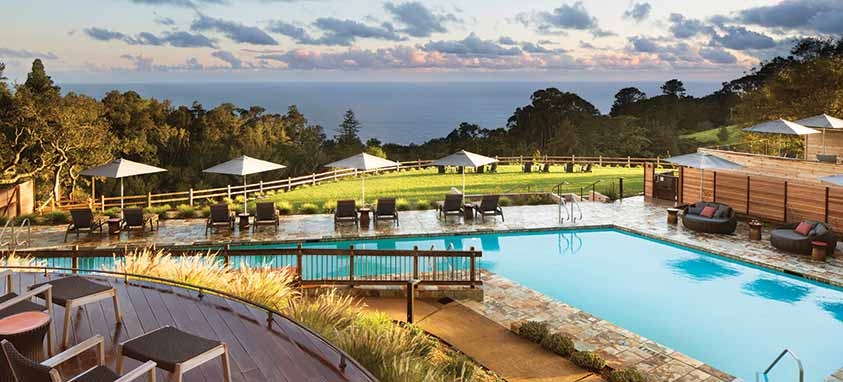 Ventana Big Sur, a Forbes Five Star resort, is set amid 160 forested acres on the rugged Pacific Coast. It offers 59 guest rooms and 12,000 sq. ft. of meeting space, including stunning outdoor spaces overlooking the coast. Nestled deep in the mighty redwood forest of Pfeiffer Big Sur State Park, Big Sur Lodge is well-known for its serenity, exquisite beauty, dramatic vistas and temperate climates. It features 62 cottage-style guest rooms and 1,000 sq. ft. of indoor and outdoor meeting space.
Paso Robles
Located halfway between San Francisco and Los Angeles—and a 30-minute drive from the coast— Paso Robles is an attractive destination that is wellsuited for small and mid-size meetings. It has a rich history and is set against a backdrop of vineyards, olive orchards, farms and ranches that inspire its local, casual business culture, which is on full display at annual events.
"Many of our visitors who return to Paso Robles again and again were first introduced to our quaint community through an event or festival," says Danna Stroud, executive director of Travel Paso, the official destination marketing organization for the city. "Our events are diverse and appeal to crossgenerations, and deliver fun and entertainment reflective of our year-round wine country lifestyle and relaxed pace, compelling our guests to return for other experiences. Many of our events also allow our community to celebrate its local heritage while inviting visitors to join in those celebrations."
Exciting Annual Events
Paso Robles Wine Festival is held during a four-day period in May at various locations in the city. Much of the activity takes place at Paso Robles Downtown City Park, where more than 70 wineries showcase their products during the Grand Tasting. Wineries at the Grand Tasting are arranged by "regions"— Bordeaux-style, Rhone-style, Zinfandel, Burgundian- style, Italian varieties and "other wild wines." The event also includes food samples, local artisan merchants and live music.
Pioneer Day started more than 80 years ago as a way for city residents to break bread with local farmers and ranchers. It now features several activities, including a parade, mounted equestrian groups, antique tractors, a dance and a famous, free bean feed. The October event offers groups a great opportunity to experience the history and culture of Paso Robles.
Top Lodging and Meeting Spaces
Paso Robles Event Center recently renovated a collection of meeting spaces, adding a 100,000-squarefoot pavilion that accommodates meetings, exhibits, events and dinners. Members of Paso Robles Event Center, Travel Paso and the City of Paso Robles are exploring the possibility of building a large-scale, $26 million conference center there.
Allegretto Vineyard Resort Paso Robles, a Mediterranean- inspired refuge on the east side of the city, features acres of sprawling vineyards and orchards as well as 171 guest rooms and 40,000 sq. ft. of event space, including 35,000 sq. ft. of outdoor space with vineyard views.
San Luis Obispo
San Luis Obispo (SLO CAL) is an inland city of more than 47,000 residents, and just 13 miles from the coastal cities of Morro Bay to the north and Pismo Beach to the south. The city, and San Luis Obispo County in general, feature a relaxed environment and plenty of annual gatherings.
"From the annual California Mid-State Fair to concerts and culinary festivals—jam-packed events throughout the year—SLO CAL has something to offer to everyone," says Keba Baird, director of communications for Visit SLO CAL. "The abundance of agriculture and locally sourced products bring a multitude of festivities celebrating strawberries, beer, wine and even macaroni and cheese."
Exciting Annual Events
Harvest on the Coast is a fall event that's a weekend full of wine and fun, including wine-maker dinners featuring local cuisine paired with the best wines from San Luis Obispo wine country. More than 50 wineries and restaurants participate in the harvest party, held at Avila Beach Resort, 8 miles from San Luis Obispo. Guests can sample wine and food, bid on live and silent auction lots, and enjoy music and more. Saturday attendees receive free admission to Sunday open houses at participating wineries.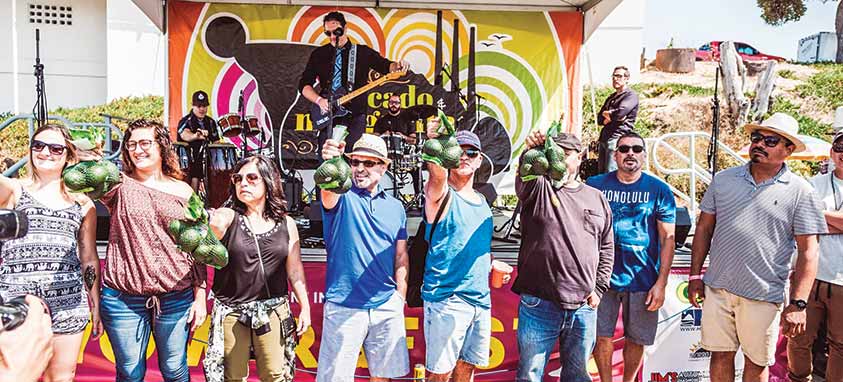 The Avocado & Margarita Street Festival in Morro Bay celebrates the California Central Coast's love for wonderful flavors and tasty culinary dishes. California avocados are highlighted at the September event, which also includes premium margaritas, street fair entertainment, live music, specialty foods and the Grove, in which chefs indulge guests in avocado-themed dishes.
Top Lodging and Meeting Spaces
Set on an oceanfront bluff overlooking a beach, The Cliffs Hotel & Spa features Marisol restaurant, with locally sourced menu items, including seafood, produce, and naturally raised meats and poultry. The cuisine is complemented by an award-winning wine list. The property has 160 guest rooms, a spa and 30,640 sq. ft. of meeting space, including a 2,944-square-foot grand ballroom. Madonna Inn in San Luis Obispo boasts 110 whimsical guest rooms, each with its own unique charm and decor, as well as the 20,000-square-foot Alex Madonna Expo Center.
Set to debut in early spring, Hotel San Luis Obispo will include 78 luxurious guest rooms that showcase views of the surrounding mountains and hotel gardens, as well as meeting facilities for up to 350.
Santa Maria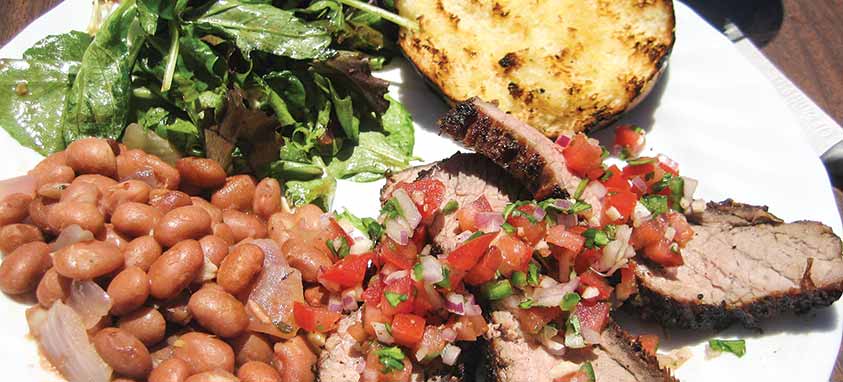 Santa Maria Valley, 40 miles south of Morro Bay, is known for its great year-round weather, striking coastal dunes and sprawling vineyards. The city of Santa Maria, home to some 108,000 people, also includes parks, seaside piers and engaging museums.
The city is perhaps best known, however, for its tasty barbecue selections, prompting Sunset magazine to rate it "The West's Best BBQ Town." Santa Maria-style barbecuing dates to the mid-19th century. It centers around a beef tri-tip, seasoned with black pepper, salt and garlic salt before grilling over coals of native coast live oak, often referred to as "red oak" wood. Santa Maria-style barbecue is featured not only at local restaurants and stores, but also at local celebrations and events.
Exciting Annual Events
For the past 48 years, car lovers have come from near and far to participate in and attend North-South F-100 run, featuring 1953 through 1956 Ford F-100 pickups and panels (it's actually open to all makes and models from the period) from Northern and Southern California. The August event includes the popular Mystery Cruise on Friday morning, Show N Shine on Saturday and an awards banquet on Saturday afternoon. Santa Maria-style barbecue is served at the event, which also includes other food, drink and raffle prizes.
Also in August, Tule Village comes to life during Village Days at La Purisima Mission, held at La Purisima Mission State Historic Park in nearby Lompoc. Guests experience the blending of traditional, Native-American Chumash and Colonial Spanish ways of life as demonstrators help participants learn skills such as grinding acorns, basket weaving, building a Tule house, making soapstone beads and Tule dolls, and playing Chumash games.
Top Lodging and Meeting Spaces
Radisson Hotel Santa Maria features 184 guest rooms, two restaurants and 9,000 sq. ft. of meeting space. Blending the style and elegance of an English country inn with modern hospitality, the historic Santa Maria Inn, which dates to 1917, offers 164 guest rooms and 9,4260 sq. ft.
Santa Ynez Valley
Situated between Santa Maria and Santa Barbara, Santa Ynez Valley (SYV) is home to 20,000 residents living in the Solvang, Los Olivos, Santa Ynez, Buellton and Ballard communities. Its small population belies the valley's status as a popular meetings destination.
"The SYV is a great place for meetings because of its beauty; authentic, relaxed, luxury vibe; world-renowned wine region; and locally grown food," says Shelby Sim, president and CEO of Visit the Santa Ynez Valley, adding that its easy accessibility, great weather and welcoming people also enhance its appeal.
Exciting Annual Events
On one Sunday every March, Buellton Wine and Chili Festival takes over the small town of Buellton. The event, held at Flying Red Flags RV Resort & Campground, is lively and fun. "There's nothing quite like pairing a spicy chili with a crisp, refreshing rose, or even an IPA, at this 'anything goes' festival," Sim says. "Featuring a chili cook-off and salsa competition, guests can take part in voting for their favorites while sampling wine and beer, with live music and lawn games to round out the day."
This month, Solvang Grape Stomp will debut in the "Danish Capital of America." Created to celebrate the annual wine harvest in the Santa Ynez Valley, the annual event will include a traditional grape stomp, selections from dozens of Santa Barbara County's best wineries, local food trucks and dancing.
Top Lodging and Meeting Spaces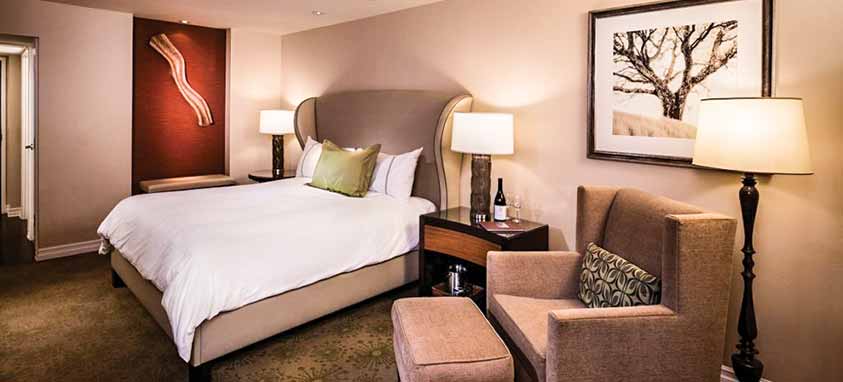 Hotel Corque, a AAA Four Diamond property in Solvang, features 122 luxurious guest rooms and decor specially designed to complement Solvang's peaceful wine country. It also includes 7,500 sq. ft. of meeting space. Also in Solvang, 10,000-acre Alisal Guest Ranch & Resort is an outdoors-lover's paradise, with 50 miles of riding trails, a 100-acre spring-fed lake, two championship golf courses, tennis courts, a pool and a spa. It has 73 guest rooms and 32,500 sq. ft. of meeting space, including 25,500 sq. ft. of outdoor space. The recently renovated Santa Ynez Valley Marriott in Buellton provides 163 guest rooms and 14,747 sq. ft. of meeting space.
Ventura
Ventura County Coast consists of the cities of Ventura, Oxnard, Camarillo and Port Hueneme, all located off Highway 101 south of Santa Barbara. Groups are attracted by many of its features, including luxury hotels, engaging water sports, fresh seafood and hand-crafted beer.
The city of Ventura, located around 30 miles north of Santa Barbara, is a coastal city known for its beaches, including San Buenaventura State Beach, with its long, wooden Ventura Pier. One notable spot is Surfer's Point, which is popular among surfers and windsurfers.
Crowne Plaza Ventura Beach, the city's only beachfront hotel, is just two blocks from the historic downtown area. It boasts 19,000 sq. ft. of meeting space, including newly renovated Top of the Harbor Ballroom, with 6,660 sq. ft. of space and floor-to-ceiling windows with a 300-degree panoramic view of coastline. Ventura Beach Marriott features 270 guest rooms, fresh seafood at Pacifico Restaurant & Lounge and 11,132 sq. ft. of meeting space, including nearly 6,000 sq. ft. in Costa de Oro event room.