Amazing restaurants and properties mirror each area's uniqueness
It's hard to imagine a more idyllic place than the Central California Coast for anyone seeking calming, breathtaking natural settings and cozy communities. This area of charming hamlets, jagged sea cliffs and rolling wine country has long attracted writers and artists mesmerized by its dreamlike beauty—and these and other alluring features haven't escaped the notice of planners and attendees.
More: Meeting and Eating in Northern California
Historically, the area—which comprises part of the Pacific Coast Highway—also has boasted some of the world's top restaurants and wineries, which continue to increase and skillfully utilize the farm-to-table options available from local farms, wineries and purveyors.
"Farming is at the core of the destination, and we are a destination of culinary makers and innovators," says Krista Rupp, president of Central California Tourism Council, the volunteer destination marketing organization for the region. "For example, the Central Coast is the origin of tri-tip barbecue, hailing out of Santa Maria. You'll find the best-quality craft ingredients and in-season menus in the restaurants and meeting venues.
"This allows for some great group activities, as well—wine and cooking tours, chef demos and 'u-pick' farms. The festival docket is also full of culinary events, so meeting attendees can take advantage of those while in the area."
More: Find Your Southern California Groove
After consulting with convention and visitors bureaus and tourism boards in nine areas, and receiving planner feedback, we've identified one particular restaurant and one lodging/meeting place in each location that not only reflects the personality and identity of the area, but also is outstanding for meeting groups.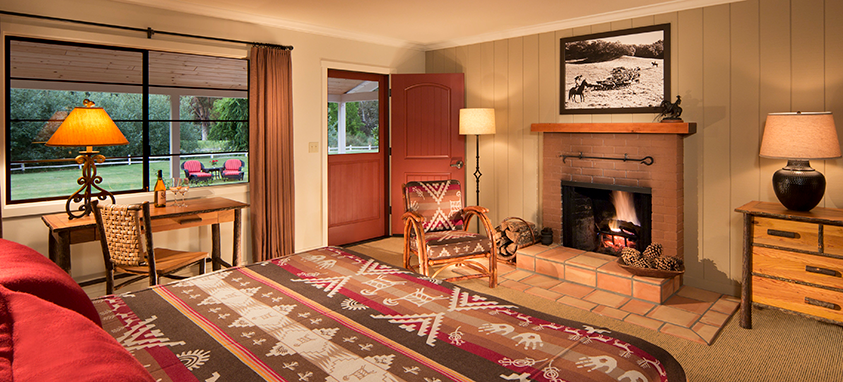 So, let's head west as we experience everything from the Old World allure of Shadowbrook restaurant in the Santa Cruz area to the refined rustic elegance of Alisal Guest Ranch in Solvang.
Santa Cruz
Located 73 miles south of San Francisco along the Pacific Coast, Santa Cruz features an abundance of local farms, which provide fresh, organic ingredients to local restaurants and enable them to satisfy many different dietary preferences. And, like the city in general, the lively restaurant scene features a healthy diversity.
"We have become a booming restaurant scene, with a diverse amount of ethnic cuisine," says Laura Manriquez, director of sales and marketing for Visit Santa Cruz County. "Also, over the years, we have seen a lot of pop-up restaurants and farmers markets meals. New trends are the prix fixe meals at luxury restaurants and celebrity chefs."
Exceptional Dining
Sitting on a hillside with stunning views of Soquel Creek, Shadowbrook—located in Capitola, 6 miles east of Santa Cruz—provides Old World allure and menu offerings that include salmon, fresh seafood, pasta, prime rib and steak, along with excellent pairing from its extensive wine list. Three rooms can be reserved for groups and accommodate up to 18 in the Owner's Private Reserve or 46 in the Wine Cellar, which features a large fireplace.
Stellar Property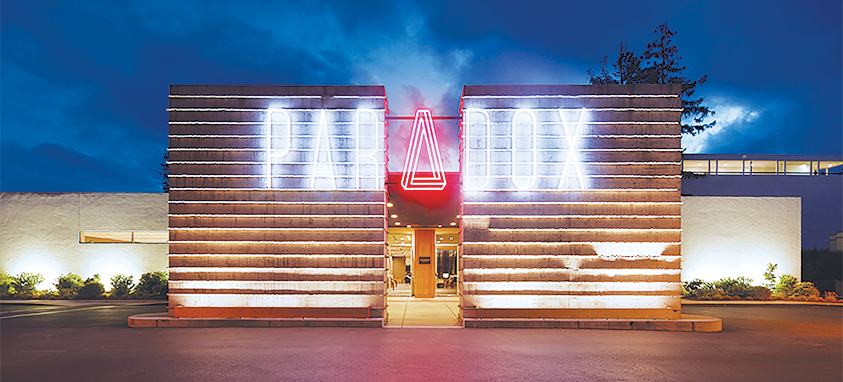 The upscale, boutique Hotel Paradox, Autograph Collection in Santa Cruz recently underwent a dramatic transformation designed to create an intriguing alternative to the traditional beach hotel experience. It features a contemporary urban, outdoor decor infused with natural elements. The lobby includes a front desk made from a reclaimed eucalyptus tree and an interactive, "living" bookcase.
Groups can enjoy Modern American cuisine at Solaire Restaurant & Bar. The pool deck and outdoor bar offer a perfect setting for mixing and mingling, with fire pits, poolside food-and-beverage service and private cabanas.
Hotel Paradox offers 170 guest rooms and 8,858 sq. ft. of meeting space—including 4,400-square-foot Sequoia Ballroom—plus 1,800 sq. ft. of outdoor space.
Monterey
Monterey boasts a storied history and some world-renowned attractions, including Monterey Bay Aquarium, Cannery Row, Fisherman's Wharf and the annual Monterey Jazz Festival. Situated on the southern edge of Monterey Bay, 27 miles south of Santa Cruz, it's also known for having some of the freshest food in the country, particularly seafood.
"Our destination is located along the Monterey Bay National Marine Sanctuary, and is home to Monterey Bay Aquarium, which initiated the Seafood Watch program in 1999 to help consumers and businesses choose seafood that's fished and farmed in ways to support a healthy ocean," says Mark McMinn, vice president of business development for Monterey County Convention & Visitors Bureau. "Many of our restaurants follow this program, serving fresh seafood that is caught responsibly."
Exceptional Dining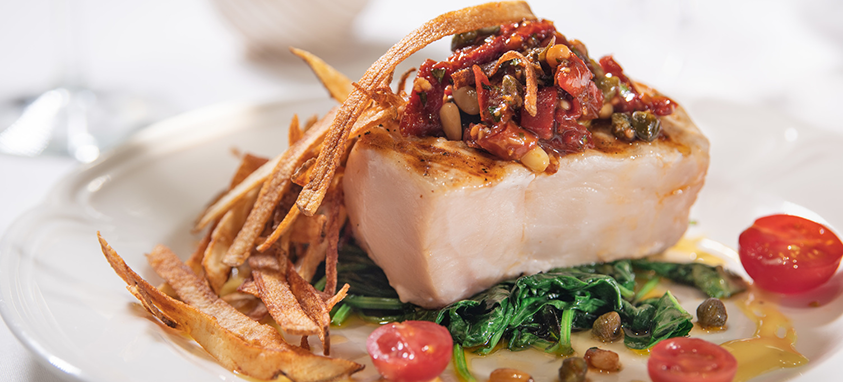 Since 1968, The Sardine Factory on Cannery Row has served delectable creations of fresh, sustainable seafood and USDA prime-aged beef. It has earned many culinary, service and wine list awards, including Restaurant Hospitality Magazine's Best Wine List in America designation.
Through the years, The Campbell Sardine Factory has added dining rooms, thereby expanding its seats to 250. Options include The Conservatory, providing a lush garden setting (accommodating 100).
Stellar Property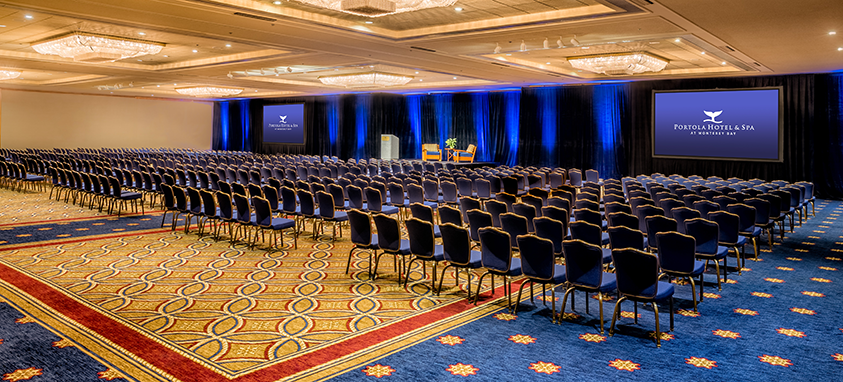 Portola Hotel & Spa at Monterey Bay, which is connected to Monterey Conference Center (with more than 40,000 sq. ft. of meeting space), features 379 guest rooms and Spa on the Plaza, an outdoor pool and Jacuzzi spa area with cabanas.
The AAA Four Diamond property also provides four on-site dining experiences, including Jacks Monterey, which added a new terrace this year featuring bistro lighting, fire pits and a "living" wall outside. Portola also includes Peter B's Brewpub, an award-winning craft brewery, and offers wine tastings in the lobby from nearby vineyards.
When combined with Monterey Conference Center, Portola Hotel & Spa boasts more than 60,000 sq. ft. of flexible indoor meeting space, as well as 60,000 sq. ft. of outdoor space.
Carmel
Carmel-by-the-Sea, just 4 miles south of Monterey, is filled with restaurants, ranging from casual bistros to fine dining. Collectively, the restaurants blend Old World elegance with modern charm, all with an artistic flair, and several new ones have been added to the mix.
"Carmel is experiencing a culinary renaissance, with eclectic restaurants that span the gustatory globe and focus on serving fully sustainable and locally sourced ingredients," says Amy Herzog, executive director of Visit Carmel-by-the-Sea. "Combined, there are more than 60 coffee houses, bakeries, pubs, bistros and full-service restaurants serving a bounty of international and regional cuisines."
Exceptional Dining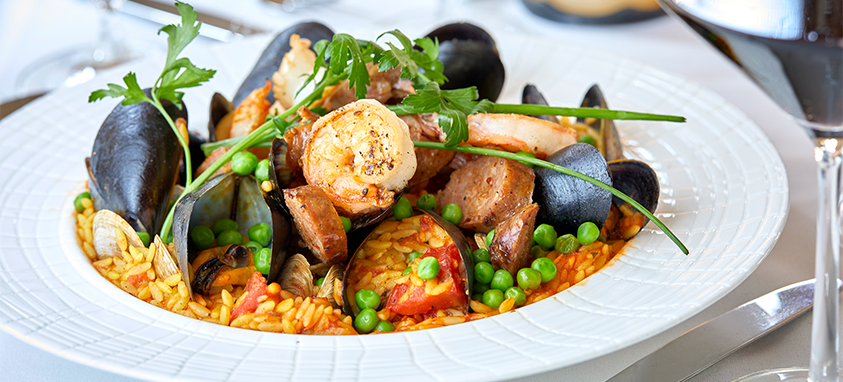 Grasings Restaurant features warm hues and contemporary decor in its restaurant and bar. Chef Kurt Grasing, who opened the popular spot 20 years ago, has developed a menu that uses fresh ingredients gleaned from the Carmel Coast and Central Valley. Steamed mussels, portobello steak and fresh Napa cabbage salad are among the highlights. It's received a host of honors, including Wine Spectator's Best of Award of Excellence for the past six years.
Four private spaces are available for groups: the Main Dining Room (seating 48), West Wing (32), Rooftop Deck (24) and Courtyard Patio (16).
Stellar Property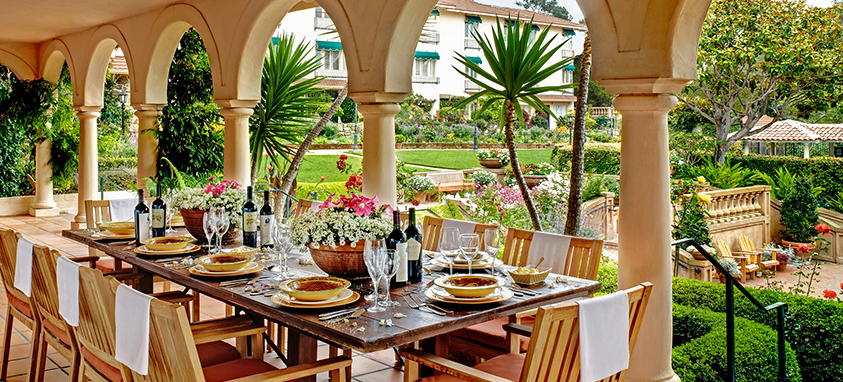 Built in 1905 by an artist as a gift to his wife, La Playa Carmel is known as the Grande Dame of Carmel. This newly restored, 75-room historic hotel is just steps from Carmel Beach and renowned restaurants, shops and galleries. It features 75 guest rooms and suites, intimate patios, secluded courtyards and a tranquil terrace swimming pool.
It is the city's premier hotel for meetings, featuring more than 6,000 sq. ft. of indoor and outdoor space amid lush gardens, soaring cypress trees and the sounds of the Pacific. La Playa Carmel offers an enchanting setting for everything from executive retreats to large-scale events with up to 200 attendees.
Big Sur
The town of Big Sur is 26 miles south of Carmel, but the greater Big Sur area stretches 87 miles, from the Carmel Highlands to San Simeon, along the coastal range of the Santa Lucia Mountains. It is one of the most awesome areas on Earth, featuring dramatic coastline adjacent to tall trees that lead deep into the woods. More than 3 million visitors per year are drawn to the area, which offers amazing hiking, adventurous horse-riding on the beaches and unique art galleries.
Big Sur also provides some fabulous dining and libation options, from five-star restaurants to local pubs. Many of the restaurants offer striking views of the mountains or coastline.
Exceptional Dining
Perched on a cliffside along U.S. Highway 1, Nepenthe is located between Pfeiffer Canyon Bridge and Castro Canyon, with views that stretch down the coast.
This nature-inspired retreat was created in 1949, and soon became a hangout of prominent artists and writers, including Henry Miller and Jack Kerouac. Nepenthe is still known for its Bohemian look and feel, poetry readings and belly dancing.
The menu features locally and California-grown products. Probably the most popular item is the Ambrosiaburger, a ground-steak sandwich served on a French roll with a custom sauce. A limited number of group reservations are offered, but no private spaces are available.
Stellar Property
Situated in the town of Big Sur, Ventana Big Sur is set amid 160 forested acres on the rugged Pacific Coast. Ventana (Spanish for "window") is inspired by and reflects its majestic setting. Executive chef Keith Potter showcases the area's seasonal bounty at the restaurant's Sur House, featuring ingredients from Ventana's organic garden and local purveyors in American cuisine.
The resort features more than 12,000 sq. ft. for meetings, including stunning outdoor areas overlooking the rugged Pacific Coast and surrounded by towering redwoods. One of them, the new, 7,000-square-foot Ocean Meadow Lawn, provides cozy fire pits and relaxing Adirondack chairs. Custom catering is available to groups.
Paso Robles
Paso Robles has long been known for its wineries and olive groves. Situated midway between San Francisco and Los Angeles, it also boasts an evolving culinary scene featuring several restaurants with menu items that pair well with local wines.
"The menu options focus on farm-to-table items, and highlight the creativity and innovation behind the diversity of chefs who are producing everything from fine dining to cultured food-truck, wood-fired pizza and barbecue cuisine," says Danna Stroud, executive director of Travel Paso.
Exceptional Dining
The restaurant at Niner Wine Estates, located just a few minutes from downtown, is at the forefront of the community's farm-to-table movement. It was named one of the Best Winery Restaurants in America by Food & Wine magazine in 2017 and one of the 10 Best Winery Restaurants in America by USA Today in 2018.
Overlooking Niner's Heart Hill Vineyard, the restaurant goes to great lengths to source ingredients: Eggs come from a flock of 20 chickens, much of the produce is pulled from the Estate Garden and extra-virgin olive oil is milled from the property's 350 olive trees.
Stellar Property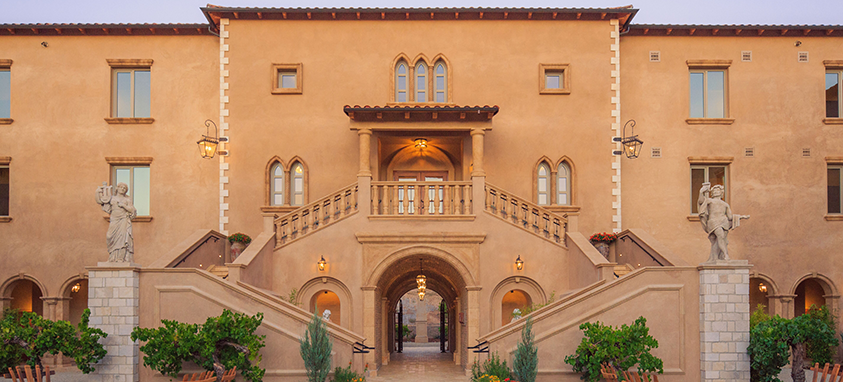 Allegretto Vineyard Resort is a Mediterranean-inspired refuge on the east side of Paso Robles consisting of acres of sprawling vineyards and orchards, and lush gardens. It features cuisine cultivated from local farms and purveyors, and some of the finest regional wines, including its own private label. Spa treatments, horseback rides and poolside cabanas are among the offerings.
The 171-room resort features several meeting spaces, including the 3,933-square-foot Veneto Ballroom & Conference Center, which can be divided into three breakout rooms, as well as a 350-square-foot executive ballroom and an 11,784-square-foot outdoor piazza.
Morro Bay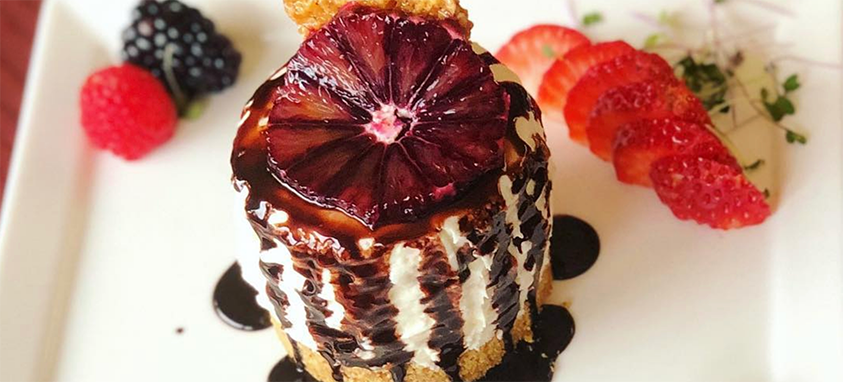 Featuring miles of beaches, an active harbor and bay, and plenty of open spaces, Morro Bay is a quiet city, with 10,065 residents, and ample hiking and dining opportunities. It's centrally located on the coast, 31 miles southwest of Paso Robles and 13 miles northwest of San Luis Obispo.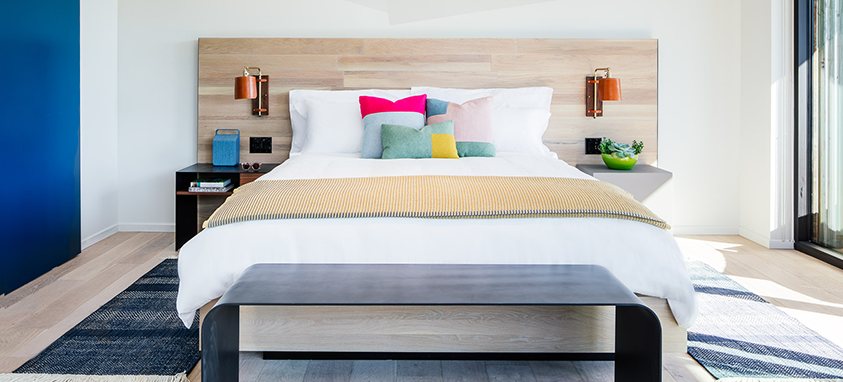 "Morro Bay's restaurant scene is really unique in that all the waterfront restaurants are locally owned and operated, and each has its own unique vibe," says Jennifer Little, tourism manager for the City of Morro Bay. "Many also allow patrons to choose between indoor and outdoor seating. Our restaurants serve fresh, sustainably caught seafood purchased right off the local docks, ensuring only the highest quality. Morro Bay is home to one of the last small-fleet commercial fishing operations in California, and seasonally catches salmon, Dungeness crab, many varieties of cod, squid, halibut and so much more."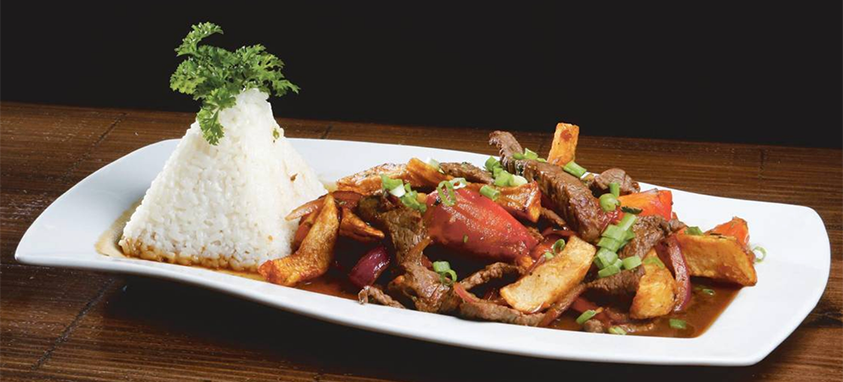 Exceptional Dining
Windows on the Water offers dishes—including its award-winning local halibut—that draw from locally raised livestock, seafood and organically grown produce. The menu changes with the seasons, benefiting from local producers for fresh fish, vegetables, fruit and herbs. The extensive wine list showcases many local wines, current selections from other parts of California, as well as renowned French vintages.
Two rooms can be rented for group gatherings. The Bay Room, which can accommodate up to 100 standing and 88 seated, boasts a wonderful view of the bay, famous Morro Rock and the northern dockside lights. The Vineyard Room, suitable for up to 75 standing and 60 seated, enjoys the same views as the Bay Room. The Port Cigar Deck, a small deck exclusive to the Vineyard Room, provides an unobstructed view of the bay. Planners can also buy out the restaurant, which can accommodate 200 standing or 150 seated.
Stellar Property
Surrounded by 4,000 acres of rugged woodlands overlooking Morro Bay and the Pacific Ocean, newly renovated Inn at Morro Bay is a serene destination for groups.
"From corporate retreats to large-scale banquets, this property is well-suited for events with up to 120 guests," Little says.
The inn's 60 State Park Restaurant & Lounge showcases fresh seafood, colorful produce and world-class wines of the region, along with stunning views of the bay. The property provides 98 guest rooms and 10,000 sq. ft. of meeting space.
San Luis Obispo
Located 30 miles south of Paso Robles and just 10 miles from Avila Beach, San Luis Obispo has always been a top option for meeting groups, partly because of its proximity to fresh products and ingredients year-round, including wine, cheese, avocados, citrus, strawberries and kiwis—and it keeps getting better.
"The restaurant scene in cities throughout SLO CAL [San Luis Obispo County, California] has experienced a revitalization over the past decade as the local lifestyle of fresh food, crafted beverages and agriculture has come to life," says Chuck Davison, president and CEO of Visit San Luis Obispo County. "For example, groups can walk through downtown San Luis Obispo from places like the new Sidecar Cocktail Co. to Mistura Restaurant and enjoyable sustainable, native products."
Exceptional Dining
Mistura, which relocated from Paso Robles to San Luis Obispo this year, is a modern restaurant that captures the multicultural spirit of Peru, blending its native pre-Columbian and Incas gastronomic heritage with the Spanish, Italian, Chinese and Japanese influences in the country's vibrant cuisine. Each creation at Mistura uses locally sourced, natural free-range meats, sustainable seafood and fresh organic produce.
The restaurant seats 120 and accommodates small and large groups at different dining areas or at the private banquet room. It also features a private chef's table.
Stellar Property
Scheduled to open this fall, Hotel San Luis Obispo will be a modern urban resort that is as grounded as the inland hills that surround it and as easygoing and playful as the quintessential California beach towns on the coast.
Executive chef Ryan Fancher's Piadina will serve casual farm-fresh fare and Ox & Anchor will feature his modern spin on a classic steakhouse and a carefully curated list of the best wines from the Central Coast. The hotel will also offer a spa and 10,000 sq. ft. of meeting space, including 1,745-squarefoot Seven Sisters Ballroom and a 1,500-squarefoot rooftop terrace.
Santa Maria
Nestled between Pismo Beach and Santa Barbara, Santa Maria Valley features coastal dunes, expansive vineyards and plenty of great food.
"The restaurant scene in Santa Maria is very unique," says Yarely Corona, tourism coordinator for Santa Maria Valley Chamber & Visitors Bureau. "Of course, we are known for arguably the best barbecue on the West Coast—you can get great Santa Maria-style barbecue here, and many restaurants have mastered the wonderful art of grilling. Keeping with our roots, we have a great selection of authentic Mexican cuisine."
Exceptional Dining
Far Western Tavern in Orcutt, which is adjacent to Santa Maria, is recognized as a landmark of Santa Maria-style barbecue, rooted in native ingredients and slow-cooking methods that were first popularized by 19th-century rancheros.
Several rooms can be reserved for group dining, including Graciosa Hall, which can accommodate up to 200 guests for a reception, 150 seated at rectangular tables and 120 seated at round tables. The restored antique bar is the centerpiece.
Stellar Property
The historic, 164-room Santa Maria Inn, which opened in 1917, blends the style and elegance of an English country inn with modern hospitality. Featuring palm trees and soothing fountains, the boutique property, one of the city's registered historic landmarks, offers tranquility and luxury. Groups can enjoy California cuisine in The Century Room and sip local wines in the Wine Cellar and Martini Bar.
The inn also offers packages that include wine, golf and theater experiences. The 9,000 sq. ft. of meeting space includes luxurious banquet spaces, picturesque grounds and sensual gardens.
Santa Ynez Valley
Situated between the Santa Ynez Mountains to the south and the San Rafael Mountains to the north, Santa Ynez Valley features a laid-back vibe, world-class wine and a rapidly developing restaurant culture.
"Wine in the valley has been around for 50 years, but the restaurant scene is relatively new," says Shelby Sim, president and CEO of Visit the Santa Ynez Valley. "I'd say we've had good eats starting 10 years ago, and it continues to flourish, with nationally recognized restaurants, ranging from wine country fare to Italian, barbecue, French and Asian fusion. We now have a Michelin-plated restaurant, First & Oak. Groups love the variety of offerings and the fact that most everything is sourced within 30 miles."
Exceptional Dining
Situated inside the Mirabelle Inn, First & Oak in Solvang is arguably the premier dining establishment in the Santa Ynez Valley, serving fresh local fare. Its selection of small plates emphasizes flavor and finesse, progressing from start to finish.
Selections include Butter Poached Halibut, consisting of celeriac puree, lemongrass, braised leeks and crispy capers, and Kimchi Risotto, composed of braised pork osso bucco, peanut gremolata and kimchi crackling.
Several private areas can be utilized as corporate meeting spaces and/or breakout rooms. First & Oak Dining Room accommodates up to 40 guests and the restaurant's Coquelicot Tasting Room—located in Los Olivos, just 5 miles from Solvang—has a large outdoor backyard that can seat up to 150 guests for dinner and 250 guests for a cocktail reception.
Stellar Property
The recently renovated Alisal Guest Ranch in Solvang offers 10,000 acres of refined rustic charm. Besides its 73 premium guest suites and studios, Alisal boasts fine dining, singing cowboys, rodeo events, 100 quarter horses and 50 miles of riding trails, two golf courses, spa treatments and many team-building activities, including ropes courses, games and tournaments.
The ranch's 6,000 sq. ft. of indoor and outdoor meeting space includes Alisal River Terrace, which accommodates 250 and features striking views of the Santa Ynez Mountains, and the elegant Sycamore Room, which can seat 200 and is fashioned with high-beamed ceilings, expansive windows that allow for plenty of light, and a stone hearth and wood mantle.
Magnificent Hearst Castle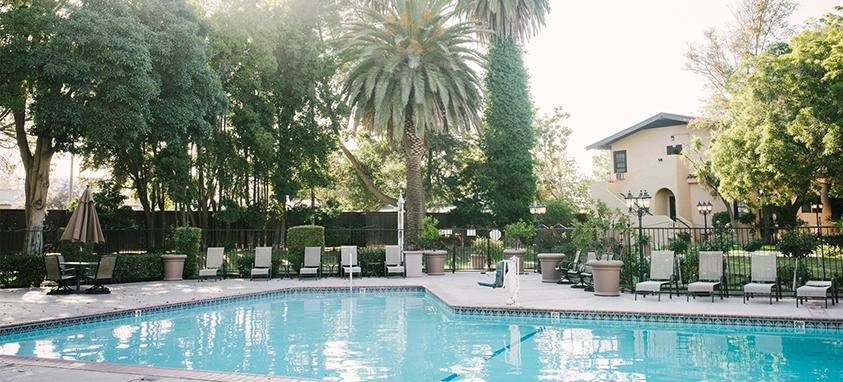 Arguably the most famous attraction on the Central California Coast is the vast, opulent Hearst Castle in San Simeon, situated off Highway 1, 39 miles east of Paso Robles and 29 miles north of Morro Bay. The location makes it an easy off-site journey for groups meeting in those and other nearby locations.
American businessman, newspaper publisher and politician William Randolph Hearst began working with prominent architect Julia Morgan in 1919 to design the castle. When it was completed in 1947, it included Hearst's legendary art collection, 165 rooms and 123 acres of gardens, terraces, pools and walkways. It sits on a hilltop overlooking San Simeon, prompting Hearst to name it La Cuesta Encantada (The Enchanted Hill). The castle also provides breathtaking views of the Pacific Ocean.
World-renowned Neptune Pool—with water that refracts light to create a stunning turquoise hue—was refilled in August 2018 after two years of restoration and repair.
Twelve different tours of the property—both a National Historic Landmark and a California Historical Landmark—are available and can be arranged online up to 60 days in advance. Groups can remain on the hilltop between and following daytime tours to enjoy the gardens and visit the Neptune and Roman pools at their leisure.
The Visitor Center features Chief's Galley Cafe, serving casual international fare and boasting organically raised Hearst Beef. The menu includes Asian-inspired cuisine, such as teriyaki chicken as well as sweet and sour tofu or pork, along with sandwiches and salads.