In the Tar Heel State, nontraditional meeting spaces are trending
Boasting several attractive cities with excellent meetings infrastructure, North Carolina is a favorite destination of many planners. Typically, groups hold their meetings in traditional settings, such as large hotels, resorts and conference centers—but that's been changing of late.
"The trend and eagerness to host meetings and events in unconventional spaces has grown in recent years," says Malinda Harrell, CMP, CASE, director of sales for Greater Raleigh Convention and Visitors Bureau. "Lately, several new nontraditional meeting spaces have opened in Raleigh to assist with this demand from planners.
"Utilizing nontraditional spaces gives attendees a genuine, local feel for Raleigh while allowing them to experience more of the city. These creative and innovative settings add an extra element of uniqueness and fun to meetings and events."
The same can be said of Wilmington, another major destination in The Tar Heel State.
"Venues like the Battleship North Carolina, Civil War-era historic homes, breweries, an event pier and a saltwater aquarium…provide unexpected choices for meeting and event attendees in the Wilmington area," says John Sneed, vice president of sales and services for Wilmington and Beaches Convention & Visitors Bureau.
Here's a look at some of the top nonconventional meeting spaces in the state.

Raleigh
Located in the heart of North Carolina, Raleigh has been the state capital since 1792, and boasts a rich history as well as a cutting-edge coolness. It features a very walkable downtown filled with lively pubs and cafes, shaded parks, and 11 universities and colleges.
"Raleigh is a lively, celebratory and smart destination for meetings and events," Harrell says. "As a city growing not only in population, but also in the sheer number of meetings facilities, Raleigh has become a modern, innovative Southern capital city."
The city's alternative meeting venues span everything from unique food halls to live-music venues, outdoor parks, amphitheaters and high-end gaming facilities.
"These nontraditional meeting spaces add an extra dimension to your event and take attendees out of the ordinary meeting room to convene in a unique setting," Harrell says.
Wonderfully Unique Meeting Spaces
Situated in downtown's Olde East neighborhood, Transfer Co. Food Hall, which opened last year, features a 43,000-square-foot hall, market and meeting place. Vendors have restaurant or retail counters as well as dedicated space for gatherings. The ballroom can handle up to 300 for a reception, 198 theater style and 130 banquet style. The Loft provides space for up to 49 guests, while Lift Bay can accommodate 40 and an outdoor courtyard area can fit 500.
Fresh off an extensive renovation, 4-acre Moore Square Park now features Square Burger restaurant, a shaded treehouse area and five meeting spaces, including two open lawns that together can accommodate up to 4,000 people. Since 1792, Moore Square has been a place of gathering, reflection, entertainment and recreation for locals and visitors. It is on the National Register of Historic Sites and is a Raleigh Historic Landmark.
The city's new transportation hub, Raleigh Union Station, opened in July 2018 in the Warehouse District. It succeeds Southern Station and accommodates larger trains and provides larger platforms, and connects Amtrak passengers to city transit services. Featuring a modern, lofty design, the station can also host more than 400 people for corporate events, banquets, galas and other gatherings.
Junction West bar and event space, which opened in October 2018, got its name from adjacent Raleigh Union Station. It offers more than 3,000 sq. ft. of indoor meeting and event space. "Junction West artfully transformed a historic warehouse into a sprawling but intimate space, flooded with natural light and an outdoor courtyard," Harrell says.
Watts & Ward is a large, luxuriously appointed craft-cocktail speakeasy that pays homage to dens of the Prohibition era. It provides a unique atmosphere for gatherings, which can utilize in-house catering. Planners can choose from among three private rooms or rent the entire place, which can accommodate 300 and includes an outdoor area. Mixology classes can also be arranged.
Drive Shack, a three-level interactive golf range, opened in August, featuring 96 all-weather bays, a bar-and-grill restaurant and an arcade. Great for groups, it offers several menu options, team-building activities and space for up to 1,200 in its multiple lounge areas, rooftop bar and other areas.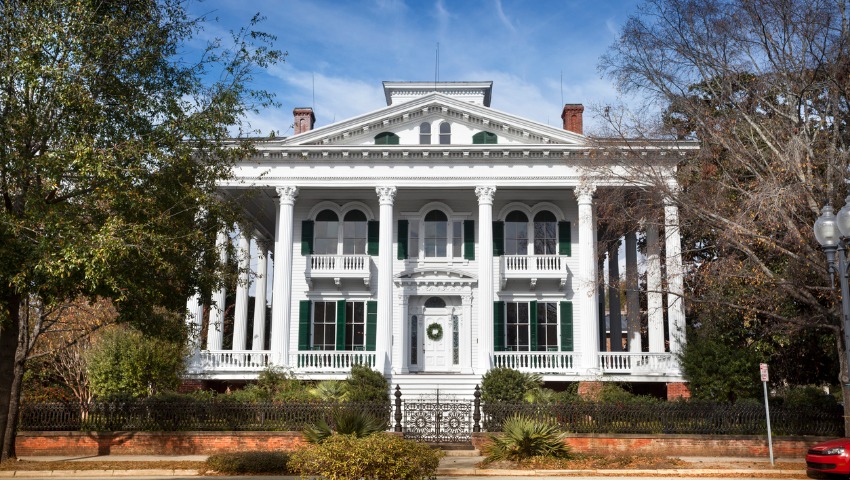 Wilmington
The port city of Wilmington features the River District, which is lined with restaurants, galleries and shops, most of which are within walking distance of Wilmington Convention Center.
"The burgeoning River District combines the city's historic charm and rich past with modern design and new attractions, offering planners a fresh possibility to host a meeting in North Carolina and at the coast," says Sneed from Wilmington and Beaches CVB.
The city also provides an easy gateway to Cape Fear Coast beaches, including Wrightsville, widely known for its very strong surf, and Carolina, with its long boardwalk.
Wonderfully Unique Meeting Spaces
Located at Port City Marina in the River District, Pier 33 Entertainment Venue can accommodate more than 4,000 people for private events, cocktail parties, concerts and other gatherings. It features breathtaking waterfront views, large open-air seating areas, and spaces for performers and dancing. Many of the area's food trucks are available for private events, including Catch the Food Truck, which is run by Bravo Top Chef contestant Keith Rhodes and features scrumptious tacos made with seafood and organic produce.
Moored across the Cape Fear River from downtown Wilmington, Battleship North Carolina Memorial is an authentically restored World War II battleship, a National Historic Landmark, a museum and a memorial honoring North Carolinians who died in World War II. Groups are welcome to explore nine levels of the ship, including the mess decks, berthing areas, engine room, bridge and Combat Information Center. Guided group tours are available on Saturdays and Sundays. The battleship can be rented for private group events with up to 300 people.
The $31 million North Waterfront Park, located near the convention center, broke ground in 2019 and is now projected to open in spring 2021. It will include walking trails, a fountain-style water feature, a splash pad, beer gardens, extensive open lawn space and an amphitheater with a capacity of 6,780, which will make it the largest concert venue in southeastern North Carolina.
Bellamy Mansion Museum, one of North Carolina's most spectacular examples of antebellum architecture, was home to the wealthy Bellamy family and now serves as a museum of history and the design arts, offering daily tours and many dynamic educational and cultural programs throughout the year. Planners can rent their choice of interior rooms on the two main levels of the house, spacious porches, and exterior grounds and gardens. Groups of 20 to 150 can be accommodated.
Built in 1852, Latimer House interprets life in Wilmington during the Victorian Era through the guise of three generations of the Latimer family. Groups can meander through 14 rooms that are home to more than 600 objects, including neoclassical statues imported from Paris, stoic portraits by famed antebellum artist William Garl Browne and dozens of 19th-century furnishings that are original to the home. Group tours are available and a space that accommodates up to 100 can be rented.
Fabulous Repurposed Meeting Spaces in Other Cities
Several of North Carolina's other major cities offer unique, nontraditional meeting spaces in old structures and areas that have been converted or renovated.
Asheville
Jeff and Frances Tacy purchased land in Leicester that was overgrown with brambles and turned it into Franny's Farm, 10 miles from downtown Asheville. It's an organic farm that is home to chickens, turkeys, sheep, goats and even a donkey. The farm also features vegetable, fruit, flower, bee and pollinator gardens, as well as a u-pick blueberry hill. It is available for public and private events; its rustic, yet modern, barn accommodates up to 125 people, and the sliding barn doors can be opened to expand the space.
Charlotte
Located in a historic neo-Gothic building that formerly housed Associate Reformed Presbyterian Church in Uptown Charlotte, McColl Center for Art & Innovation is a nationally acclaimed artist residency and contemporary art space. The center contains nine individual artist studios, multiple common-use spaces and four meeting areas that collectively can accommodate 275 to 500 people standing and 130 to 260 seated.
Durham
The Power Plant Building at the American Tobacco Campus in downtown Durham consists of three venues. The Boiler Room—consisting of a main pavilion, great hallway and rear corridor that form a horseshoe around the base of the iconic Lucky Strike smokestack—offers 2,195 sq. ft. of event space. Full-frame Theatre is a brand-new, state-of-the-art screening facility. And Flex Room is a 540-square-foot multipurpose venue that is perfect for small meetings.
Greensboro
Situated behind Greensboro Coliseum Complex, Piedmont Hall emerged in September after a $4 million renovation of a former Coca-Cola bottling plant. It's a flexible, dynamic, nontraditional space with multiple levels, including a stage, house sound, performing lights and a hardwood dance floor, along with concrete floors and a restaurant.
Winston-Salem
The buildings at Reynolda Village, modeled after an English village, once supported the 1,067-acre estate of the R.J. Reynolds family of tobacco fame. Today, The Barn at Reynolda Village has been converted into a 3,300-square-foot venue for corporate and social events.