Ready for mountains, boulders and desert meetings?
The fall season is one to behold in Arizona. And, as things cool down, the perfect time to bring your groups for some good ol' Arizonian meetings. Gorgeous mountaintops, beautiful deserts and scenic drives are just the start of what's waiting to experience.
Frank Lloyd Wright-inspired architecture and meeting spaces with inspiring views abound all over the Grand Canyon State. At press time, some spaces were still closed, but looking ahead to when the curtain lifts, you'll want to keep Arizona in mind.
Here's the latest lay of the land.
Phoenix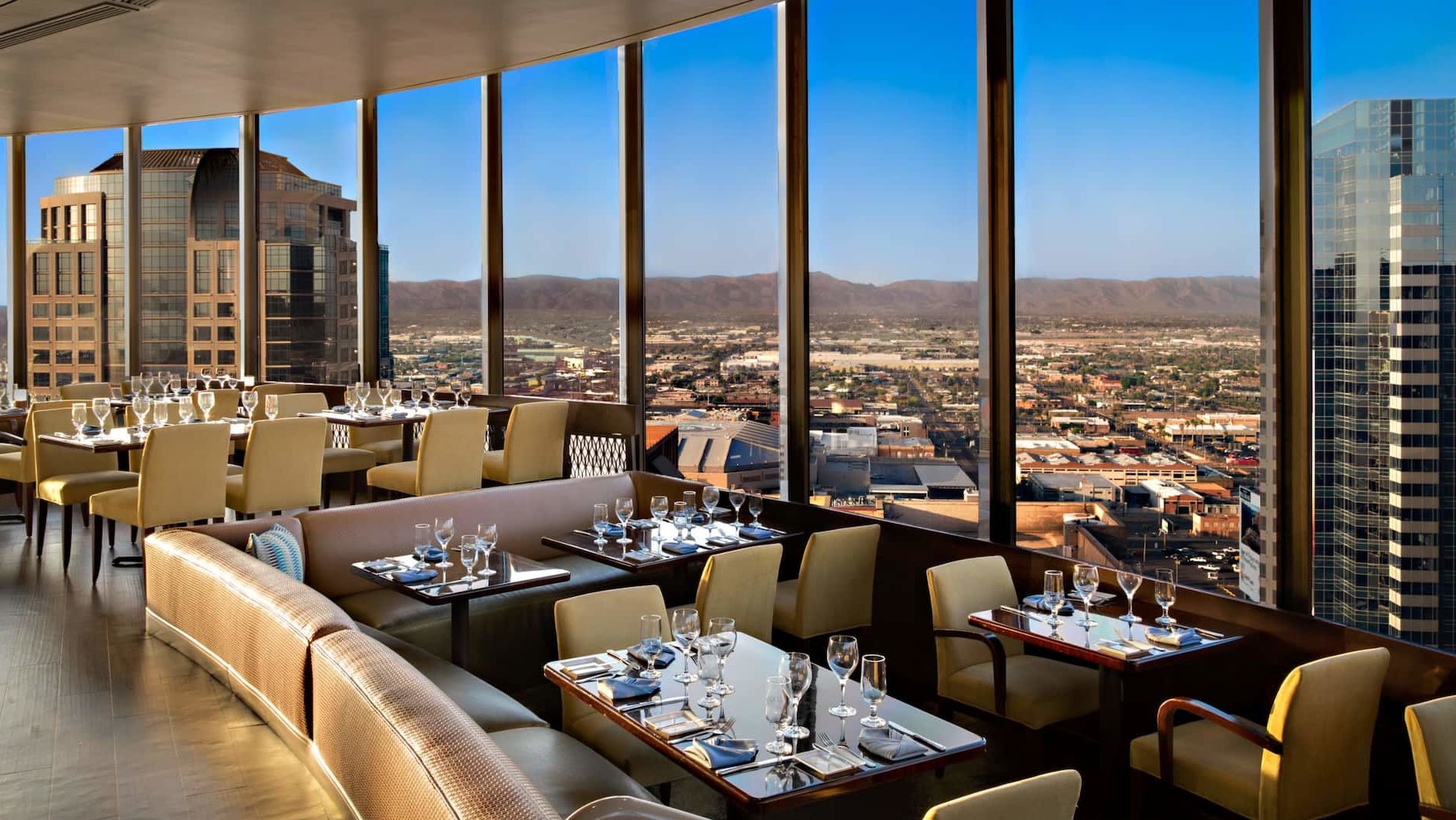 The state's capital, largest city and centerpiece of what's known as Valley of the Sun, has grown up into a thriving metropolis with everything a planner might want—plus that ethereal desert scenery backed by majestic peaks.
Using shipping containers as modern spaces, The Churchill is one of the newest attractions, made up of 10 local businesses, including apparel store State Forty Eight; Cosas, which offers craft goods from Guadalajara, Mexico; and winery Sauvage Bottle Shop. All meeting areas are outdoor, can accommodate either up to 50 or 100 attendees and are covered by a sun-shielding canopy. The entire 9,000-square-foot venue can also be bought out for as many as 500 people.
A few streets away is Phoenix's Warehouse District, home to many tech startups, studios, restaurants and event venues. Among them is The Croft Downtown, a contemporary warehouse with more than 100,000 sq. ft. of meeting space for events of all kinds.
Phoenix Convention Center is the first convention center in Arizona to receive GBAC STAR accreditation. The more than 900,000-square-foot facility is just four miles from Phoenix Sky Harbor International Airport (PHX), which is ranked America's Friendliest Airport by The Wall Street Journal. Just across the street from the convention center is Hyatt Regency Phoenix, featuring 50,000 sq. ft. of meeting space. Also in close proximity are more than 150 places to satisfy your attendees' culinary curiosity, including Thai, Japanese, Italian and Jamaican.
The venerable Arizona Biltmore, a Waldorf Astoria Resort, celebrated its 90th birthday last year. Its 200,000 sq. ft. of indoor and outdoor meeting space comes with a seasoned team of culinary and banquet professionals at the ready. One of the largest hotels in the state, its 740 guest rooms include ocatillas, where personal concierges attend to guests' needs.
Across 440 acres of pools, water slides, tennis courts, 54 holes of championship golf, 331 casitas and suites, rests The Wigwam, in Litchfield Park, about 20 minutes west of Phoenix. More than 100,000 sq. ft. of indoor and outdoor spaces are nestled throughout the property. At two of its restaurants, Wigwam Bar and Red's Bar & Grill, groups can team build after lunch or cocktails over games of volleyball, bocce ball and cornhole.
Chase Field, home of MLB's Arizona Diamondbacks, is in downtown Phoenix. It's a field of dreams for attendees to network and build relationships. Square footage for meetings and events ranges from 500 to 150,000 and is both outside and in.
Tempe
Several great cities make up the Greater Phoenix area, and one of these is Tempe, 10 miles east of downtown Phoenix and just 5 miles from PHX. The 353-room Marriott Phoenix Resort Tempe at The Buttes is a perfect place to mix business and leisure. Inside and out, a Rocky Mountains theme prevails, from the dining rooms to the outdoor pool. More than 40,000 sq. ft. of indoor and outdoor space is available for meetings.
Not far from this hotel is the 1.3 million-square-foot Tempe Marketplace, a retail space that features more than 100 restaurants for your group's post-meeting dinner—along with lots of shopping. Or if you're looking for something more specialized—say, beer—Four Peaks Brewery offers in-depth tours covering all aspects of the brewing process every Saturday. You'll even get a chance to sip some of the product.
Scottsdale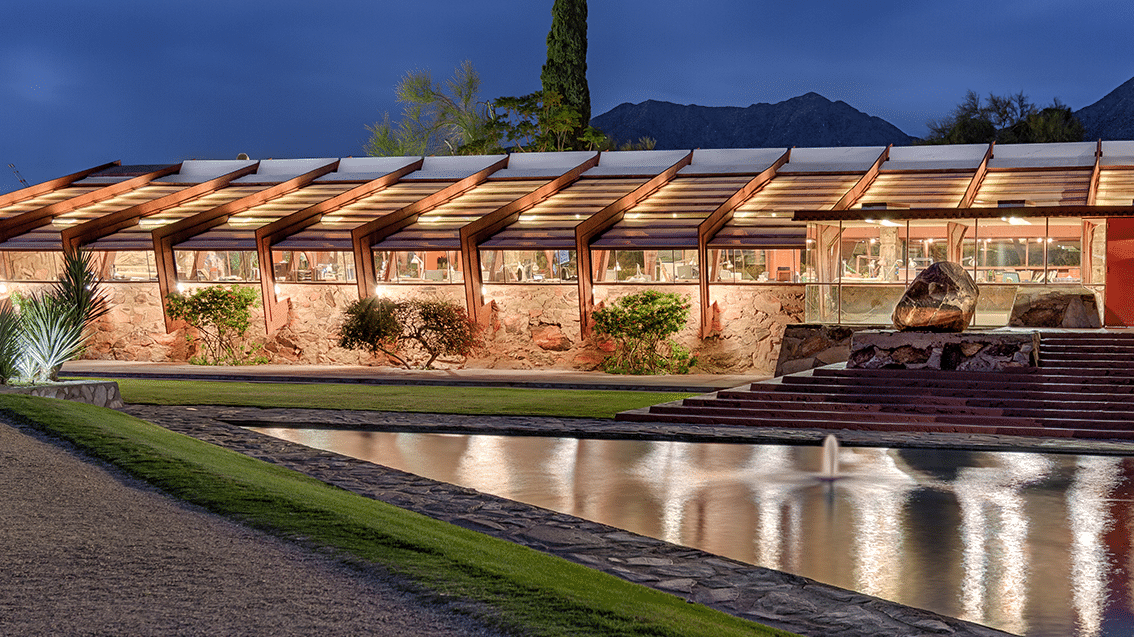 Just northeast of Phoenix and 10 miles west of PHX lies the desert city of Scottsdale. There, you and your group will find even more of the inventive meetings spaces, beautiful backdrops and interesting attractions Arizona has on offer.
Taliesin West has been a renowned Scottsdale asset since 1937 and was the former winter home of architect Frank Lloyd Wright. The property is now operated as an architectural school and homage to Wright. Taliesin West can host corporate events for groups of up to 350.
Boulders Resort & Spa Scottsdale, Curio Collection by Hilton has the name for a reason—it's surrounded by huge, picturesque boulders. These 12 million-year-old behemoths will be front and center from the more than 50,000 sq. ft. of floor-to-ceiling indoor, and abundant outdoor, space. For added guest safety, the 219-room property has implemented a 72-hour vacancy between each guest room stay.
With more than 70,000 sq. ft. of space, from gorgeous lawns to incredibly spacious ballroom floors, Hyatt Regency Scottsdale Resort & Spa at Gainey Ranch is the place to be. While the property may be tailored towards families, with its waterslides and water volleyball on a 2.5-acre water playground, there's no reason your group can't have a little between-meeting fun, too. Or perhaps mixology classes and guacamole-making are more to their liking.
Nearly a third of Scottsdale is dedicated space for hiking, biking, climbing and other outdoor adventures, and Hyatt Regency Scottsdale can arrange hot air balloon rides, Hummer tours to spot wildlife in the desert and cycling escapades.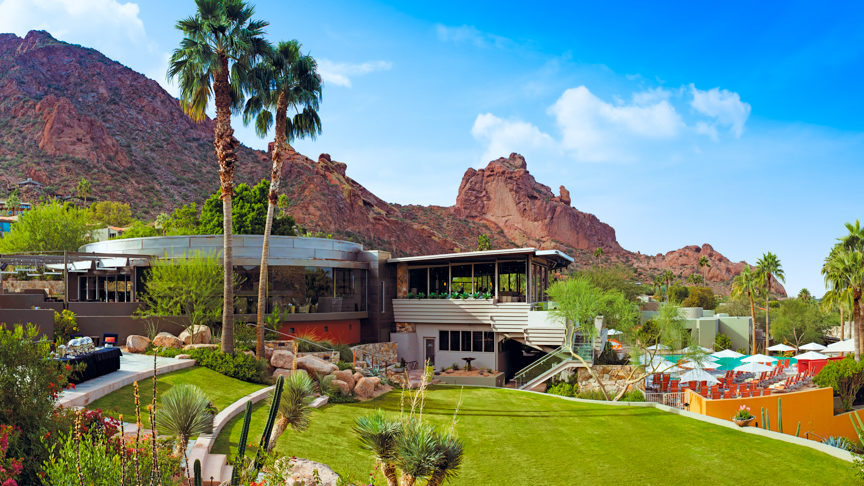 A short drive from Phoenix Convention Center will land you at Sanctuary Resort at Camelback Mountain, in Paradise Valley. A little cozier than most, 9,000 sq. ft. of indoor and outdoor space gives remarkable views of the desert. If you want to see Camelback Mountain from a different angle, you can make that happen at Talking Stick Resort and Spa, home to more than 100,000 sq. ft. of space, including a 25,000-square-foot grand ballroom.
We've only scratched the bottom of the boulder. Arizona affords groups idyllic meeting locations, fun post-meeting adventures, and all kinds of places to eat and grab a drink—in fact, everything a planner needs to win high scores in destination satisfaction and requests to return soon.
5 Places to Hike in AZ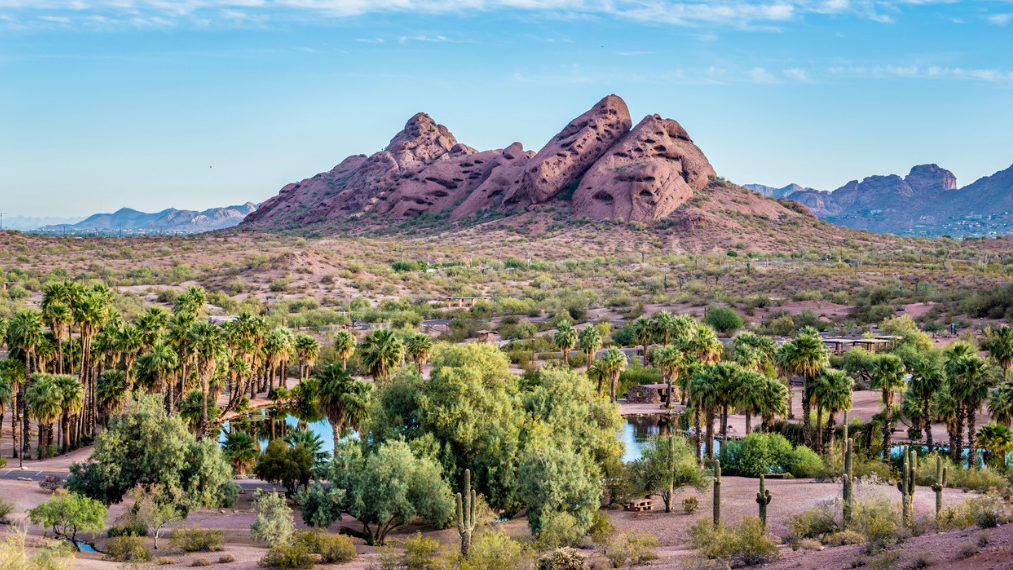 Hiking not only is great exercise, but it also fosters conversation and camaraderie, which is what in-person meetings do best. Arizona has an exhaustive list of hiking trails to explore and learn a thing or two about local flora and fauna along the way.
Jane Rau Trail, McDowell Sonoran Preserve is the largest urban preserve in the United States and is home to three major trails: Kovach Family Trail, Bajada Trail and Jane Rau Trail, each about a half mile.
The 1,200-acre Papago Park features the Phoenix Zoo, baseball fields, a golf course and lagoons, but the trails are where this park really shines. There are several loops, such as Big Butte Loop Trail, Double Butte Loop Trail and Elliot Ramada Loop Trail, where you can catch views of the downtown Phoenix skyline, Tempe Town Lake, the zoo and 92-year-old Tovrea Castle.
Trail 100 at North Mountain Park Visitor Center is a favorite of area hikers, runners and mountain bikers, so if your group is into being among the locals, this is it. This 2.5-mile trail has a little more elevation and mileage than the previous two, so go for it if you want to dial it up a notch.
Phoenix Sonoran Preserve, in the northern region of Phoenix, comprises more than 9,600 acres and features 36 miles of trails, from easy to difficult. The Apache Wash Trail, the newest addition to the desert preserves, passes through a mixture of landscapes, including verdant greenery and imposing saguaro cacti.
At the 3.1-mile North Trail, McDowell Mountain Regional Park, members of your group will be assisted by markers identifying plants and landmarks. McDowell Mountain Regional Park encompasses more than 21,000 acres.